From:

Part of:

Published:

23 August 2016

Last updated:

26 May 2017, see all updates

Applies to:

England
Everything rural businesses need to know about the Basic Payment Scheme (BPS) in 2017 including how to apply.
Latest news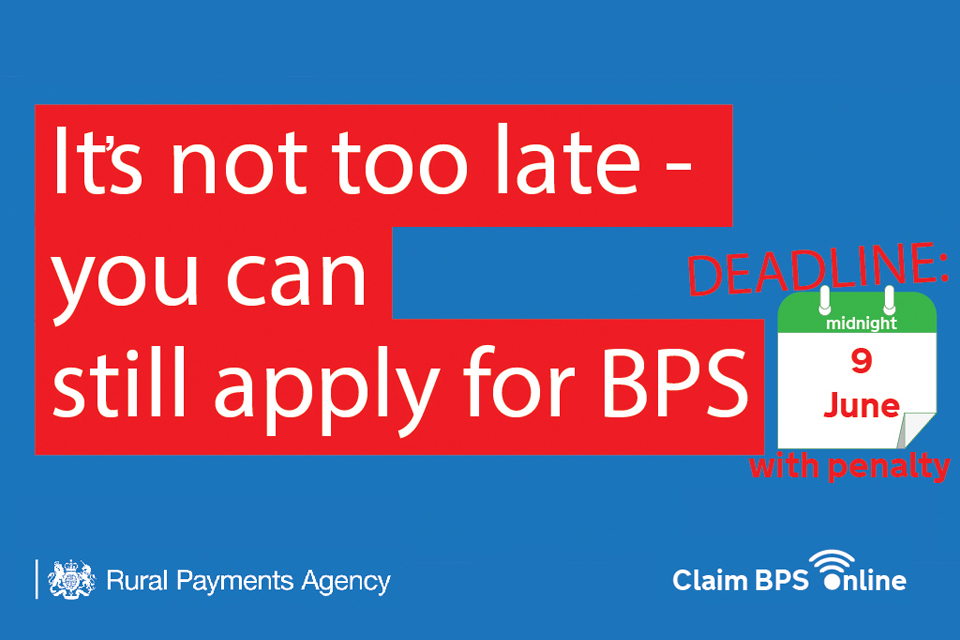 BPS application deadline
Although the main deadline has passed, you can make a late BPS application until midnight on 9 June 2017.
However, you'll get a 1% penalty for each working day the application is late, including applications for the young farmer payment. For new entitlements applications, the penalty rate will be 3% for each working day.
The last day to contact RPA - through the helpline - to ask for a paper application form is Monday 5 June. This will allow enough time to complete and return the form by midnight on 9 June.
Transferring land and entitlements
As 15 May has now passed, it's no longer possible to:
• transfer entitlements for use in the BPS 2017 scheme year
• transfer land parcels online using the Rural Payments Service (RPA can still accept RLE1 forms for land changes for BPS 2017, as long as the land was at your disposal on 15 May).
If you want to transfer entitlements or land parcels online for the BPS 2018 scheme year, RPA will confirm how to do this in due course.
Changing an application after you've submitted it
You have until midnight on 31 May 2017 to make certain changes to a submitted application without a penalty (read the 'Basic Payment Scheme: rules for 2017' to find out more).
To change your online application, go to the 'Apply for BPS' screen in the Rural Payments service and create a new application (click 'Create a new DIRECT PAYMENTS application'). Send us an email explaining the changes you've made – include 'Amendments to BPS 2017 application' in the header of the email and your Single Business Identifier (SBI) in the email. For more information, read 'How to claim BPS online'.
If you've already submitted a paper application form and want to make a change to it, write to or email RPA explaining the changes you want to make - include 'Amendments to BPS 2017 application' as the subject line, and your Single Business Identifier (SBI).
Scheme rules and other guidance
Other guidance and forms you may need
Read the RLE1 form and guidance if you need to use an RLE1 form to change your online maps, or to transfer entitlements by paper.
Guidance to help you apply
Continuation booklets
Payment queries from previous years
If you have a query about a BPS 2015 or BPS 2016 payment that you've received, please fill in a BPS payment query form and send it to RPA. Then carry on with your 2017 application, declaring your land as it is at 15 May 2017.
Rural Payments service
Watch the 'BPS 2017 application now open' video
You can use the Rural Payments service to do more than just apply:
Register for rural payments
View your BPS 2017 application summary
Apply for BPS 2017
Update your personal and business details
Give someone else (like an agent) permission to act on your behalf
View your BPS entitlements
Transfer your BPS entitlements
See and print digital maps of your land parcels
Transfer your land parcels
Forgotten your online password?
If you're logging in with a Customer Reference Number (CRN) and have forgotten your password, you can create a new one from the sign-in page.
Click 'Having trouble signing in?' then 'create a new one'.
If you can't remember your CRN, call RPA on 03000 200 301.
How to use the Rural Payments service – help is available
There's help onscreen in the service to guide you if you get stuck (you can also download a copy of the onscreen help (PDF, 2.45MB, 55 pages) )
Last year's video tutorials - showing how to use the service - are also still available.
Planned maintenance of the Rural Payments service
There will be times when the Rural Payments service is unavailable because of essential planned maintenance and updates.
Check 'Rural Payments: registering and updating your details' to keep updated about availability of the Rural Payments service.
Drop-in Centres
The centres will be open until 9 June to accept fully completed forms and supporting documents, and provide receipts for them.
Opening times are Monday to Friday, 8.30am to 5pm (except for Monday 29 May, when the drop-in centres will be closed).

The centres are located at the main RPA sites.
Carlisle
Eden Bridge House
Lowther Street
Carlisle
Cumbria
CA3 8DX

Exeter
Sterling House
Dix's Field
Exeter
EX1 1QA

Newcastle
Lancaster House
Hampshire Court
Newcastle-Upon-Tyne
NE4 7YH

Reading
North Gate House
21 - 23 Valpy Street
Reading
RG1 1AF

Workington
Curwen Road
Workington
Cumbria
CA14 2DD

York
Foss House
Kings Pool
1 - 2, Peasholme Green
York
YO1 7PX

Document information
Published: 23 August 2016
Updated: 26 May 2017
Added Spring Bank holiday opening times
Update to text about Changing an application after you've submitted it.
Updates to 'latest news' section - it's not too late, you can still apply for BPS; and to information about transferring land and entitlements online. Information included about changing an application after it's been submitted. Information updated about drop-in centres.
Reminder about the application deadline for BPS 2017.
Slight formatting changes to BPS 2017: Hints and tips document
BPS 2017: Hints and tips document added
Updated opening times for Drop in centres and Contact centre for weekends of application period
Not applied online before leaflet added
Easter and bank holiday opening hours published
New and Young Farmer guidance and form updated
Added Maize and Mangosteen to the eligible crop list within the BPS 2017 scheme rules
Launch of BPS 2017 on 1 March, including publication of BPS scheme rules for 2017 and associated forms and guidance.
Updated with a reminder about what BPS applicants can do now - in advance of applications being available in early March.
Updated with link to the newly published 2017 cross compliance rules.
Updated with important information about the 2017 scheme year - including the scheme rules and how to apply.
First published.