Speech
UK and China's long-term relationship: Prime Minister's speech
David Cameron's speech on the UK trade mission to China. It covers trade, investment and shared global challenges.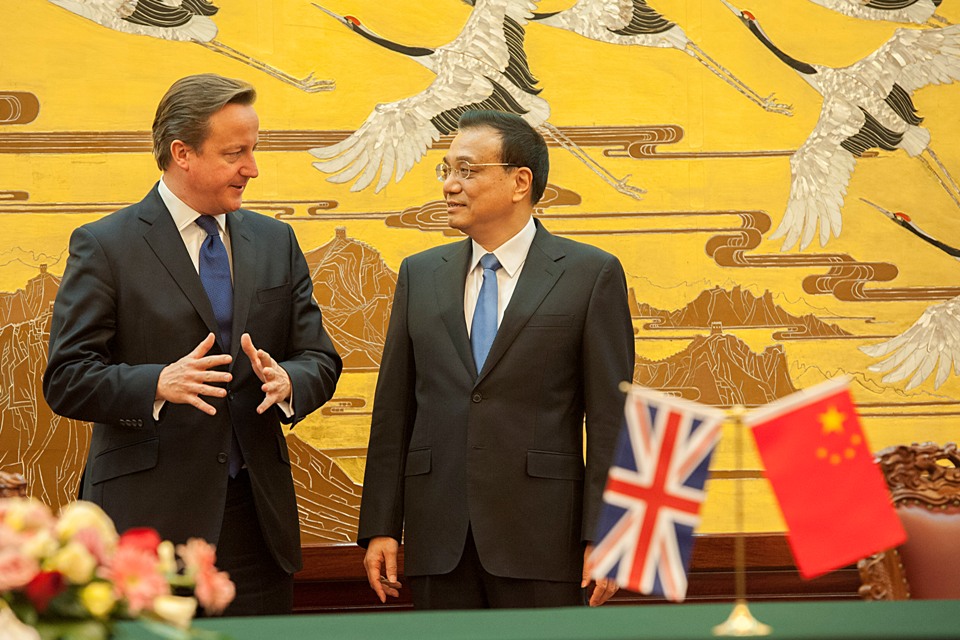 Well, thank you very much, Premier Li, and thank you for what you said about our relationship becoming more strategic, becoming more significant, for operating at a higher speed and getting to a higher level. And also what you said about our partnership being one that is indispensable for both of us; I appreciate those words and I agree with every one of them.
And it's good to meet again on my first visit to China since you became Premier, and at such an important time as you embark on the next decade of reform. I enjoyed our meeting in Downing Street in 2011. We've had similarly warm and productive discussions today, and I'm looking forward to visiting the National Museum together with you later on.
China's transformation is one of the defining facts of our lifetime. The pace and the scale of economic development and urbanisation dwarfs the British Industrial Revolution 2 centuries ago. And let me say something about the relationship between our 2 countries: I see China's rise as an opportunity not just for the people of this country, but for Britain and for the world. Britain wants China to realise its dream, and I believe we can help each other succeed in the global race.
Some, in Europe and elsewhere, see the world changing and want to shut China off behind a bamboo curtain of trade barriers. Britain wants to tear those trade barriers down. I believe, as I said to Premier Li just now, the way forward for Britain and China is more openness and dialogue, delivering mutual benefits for people here and back at home.
An open Britain is the ideal partner for an opening China. Britain is a leading advocate of open trade in the European Union, and together with China at the WTO and the G20. We should go further, and I've said to Premier Li that I will champion an EU-China trade deal with as much determination as I am championing the EU-US trade deal. No country in the world is more open to Chinese investment than the United Kingdom, and we are proud of the Chinese investment in our energy sector, in our airports, and proud of London's role as a renminbi trading hub.
This is a defining moment for China as it sets its course for the next 10 years. I believe it is also the right moment to shift our relationship up a gear. That is why I brought 6 senior ministers with me on this visit. That is why we are visiting 3 cities to understand this vast country better, and to help China understand Britain too. That is why we'll open a new consulate in Wuhan, our first in Central China.
Premier Li and I focussed on 2 specific dimensions of our relationship. First: how do we get more from the partnership for growth that Premier Wen and I agreed during my last visit? Our economic relationship is accelerating, with exports up by almost 20% in the first half of this year. As China expands and hundreds of millions of Chinese become richer, they will want the products in which Britain excels – Jaguar Land Rover cars, Burberry fashion, top quality entertainment including television and film. And we're proving that we're well-matched economic partners with the business deals being done today, from Jaguar Land Rover's £4.5 billion of new sales, to small companies like Modern Water, whose pioneering technology has landed contracts worth an anticipated £20 million, to one of Britain's best museums, the V&A, undertaking to develop a new museum in Shenzhen.
As governments we're building the environment for our businesses to flourish in the long-term, with new agreements on investments and patents, a new £200 million joint research fund, as the Premier has mentioned, which will boost innovation, and a digital alliance which could unleash £2 billion of investment.
Second, we agreed on the importance of broadening our relationship beyond trade and working together to tackle the 21st century challenges, like the new treaty signed today to strengthen our ability to tackle cross-border crime. We're also working together on global challenges, whether it is nuclear negotiations with Iran or joint work on trade and investment to lift African countries out of poverty. We both want an ambitious WTO deal in Bali this week, and we have agreed to share expertise and strengthen peacekeeping missions in Africa.
Ultimately, the best way to cement this long-lasting relationship is to strengthen links between our communities and between our peoples. I'm delighted that more and more Chinese people are visiting Britain as tourists each year and that over 100,000 of your young people study in our country. Next year's round of our People-To-People Dialogue, led by Jeremy Hunt and Vice-Premier Liu Yandong, will further strengthen our ties.
A consistent theme in our discussions has been reform as a driver of growth. I welcome the Plenum's comprehensive vision for reform, including issues like governance and the judicial protection of human rights, and recognising that all types of reform are inextricably linked. I believe we can learn from one another as we rise to the challenges ahead: building sustainable cities; equipping our children with the skills they need to succeed; meeting the healthcare needs of an aging population.
Of course, the full range of reform challenges should be part of our discussions, including those issues where we have differences. We should approach these with mutual respect and understanding, as we did today, and I welcome our agreement to hold the next human rights dialogue early next year.
Premier Li, thank you for your hospitality today. Confucius once said, "If you think in terms of a year, plant a seed; if in terms of 10 years, plant trees; if in terms of 100 years, teach the people." I believe these are wise words, and ones that we should both follow. Thank you.
Published 3 December 2013