Speech on the Big Society
Prime Minister David Cameron has delivered a speech setting out his commitment to the Big Society.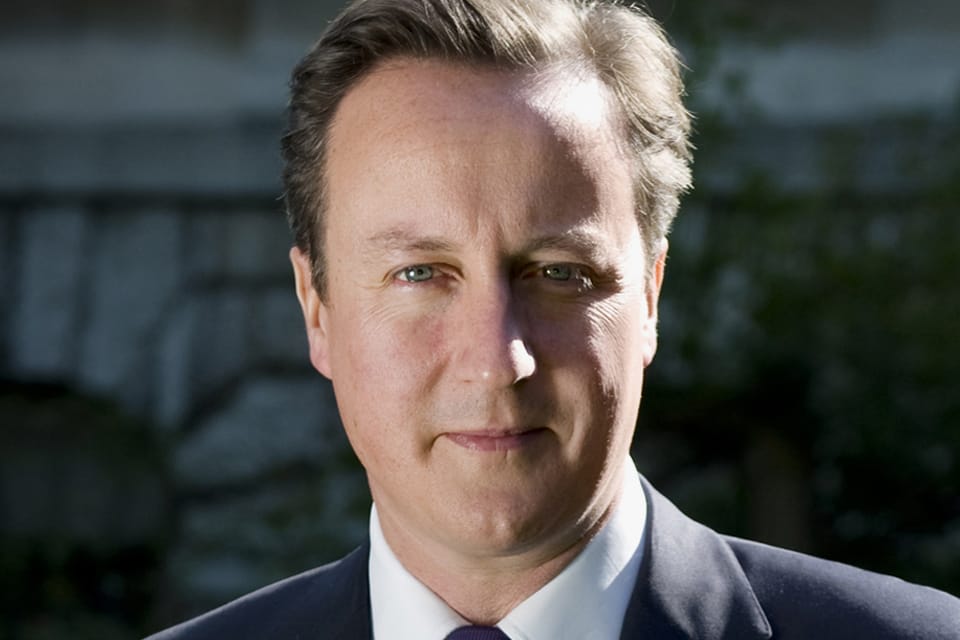 Everyone knows that sorting out our nation's finances, and dealing with the terrible economic mess that we inherited, is this government's most urgent priority.
 
But too many people think that's the limit of our ambitions…that all we care about is balancing the books.
 
Wrong.
 
I want to balance the books so we can achieve the things I really care about.
 
And that's what I want to talk about today.
 
Inside the Westminster bubble, we may think that people are hearing about our plans for bold education reform or our radical changes to welfare, for example, but we shouldn't kid ourselves.  So today, I want to address a question that I know real people are asking: is this government about anything other than cuts?
 
The answer is yes.
 
Because spending cuts are not the ends; they're not even the means to the ends…they're just a symptom of the inescapable reality that you cannot get anything done if your country goes bankrupt.
 
So like other countries that have over-spent and over-borrowed, we need to take the necessary action to achieve fiscal sustainability.
 
But there are two great challenges beyond the short-term need to avoid fiscal disaster.
 
We need to build a dynamic economy, to generate the growth that will give us new jobs, wealth and opportunity.
 
No country is owed a living in the modern, global economy.
 
It's got to earn it - and earn it the hard way.
 
It's got to design products, build new industries, have a real entrepreneurial streak and we're putting in place a plan to make that happen.
 
At the Budget we set out a range of measures to get behind Britain's entrepreneurs, manufacturers and workers - and to show that Britain is back open for business.
 
Our bold cuts in corporation tax, even at a time of tight public finances, are part of a clarion call to business to come to Britain, invest and grow.
 
Soon after the budget, I helped launch Start-Up Britain, a dynamic new organisation led by entrepreneurs for entrepreneurs, to help encourage a new spirit of enterprise in our country.
 
Earlier this month we announced action to increase youth employment.
 
And in the coming months we will be taking forward our ambitious growth strategy - with a particular focus on measures to help small and medium-sized businesses the bedrock of our economy and the place where we will find the high growth firms we need to power our economy ahead.
 
So our plan for growth - our long-term plan to rebalance and revitalise our economy - shows that this government is not just about cuts, it's about growth too.
 
But there's something else, and that's what I want to focus on today.
A bigger, stronger society
Alongside the task of building a dynamic economy, there is another great long-term challenge we must meet.
 
We must build a bigger, stronger society.
 
We must build that bigger, stronger society because we can't keep tolerating the wasted lives and wasted potential that comes when talent is held back by circumstance.
 
But above all we must build a bigger, stronger society because in the end the things that make up that kind of society…
strong families, strong communities, strong relationships…
 
…these are the things that make life worth living and it's about time we had a government and a Prime Minister that understands that.
 
Creating a bigger society.
 
Creating a country which feels like a community, where our relationships are better and the glue that binds people together is stronger.
 
Where we actually think about people's well-being when we make decisions.
 
These are the things I'm most passionate about in public life.
 
This is what is in my heart.
 
It's what fires me up in the morning.
 
Anyone who's had even a passing interest in what I've been saying for years will know that.
 
It's what I spoke about when I ran for the leadership of the Conservative party, when I was elected, throughout all the years in opposition, during the election campaign and from the moment I first stood on the steps of Downing Street.
 
So, as our debts are paid off, this is what I want to endure as the lasting legacy of this administration…
 
…helping to build a society where families and communities are stronger, where our nation's well-being is higher…
 
…and where all these things are accepted as central, not peripheral aspects of what modern governments should hope to achieve.
 
So the Big Society is not some fluffy add-on to more gritty and more important subjects.
This is about as gritty and important as it gets: giving everyone the chance to get on in life and making our country a better place to live.
 
As the leader of the opposition starts his search for a National Mission, no one needs to be in any doubt about mine - this is it.
 
The question of course is: how do we help to make it happen? 
Public services
For me, there are two aspects to this.
 
The first is the way in which we modernise our public services.
 
The public services that we all rely on - schools, hospitals, policing, parks and public spaces, these are vital building blocks of the bigger, stronger society I want to see.
 
And that's why it's so important to me that we don't just cut public spending, but we modernise public services.  And it is also important how we do it.
 
We're not introducing free schools and expanding Academies because it's a way of saving money from the schools budget.
 
We're doing it because it's the best way to improve education. 
More choice for parents.
More freedom for professionals to innovate. 
A greater ability for new providers to come forward. 
It is the Big Society way to improve education.  
 
In our health service, we're not giving patients more control and doctors more professional freedom because we want to save money.
 
We're doing it because it's the best way to improve the NHS. 
 
During the past month as we have paused our reforms and listened again to those who care most about our NHS, I have been struck by the incredible passion there is amongst patients, professionals and charities to take more control and improve our heath service.
 
People with long term conditions who want to help determine the care they get.
 
Cancer charities desperate to use their expertise and resources to save lives. 
 
Physios, OTs and so many other Associated Heath Professionals who believe they hold some of the keys to building a healthier nation, but who have been locked out in the past.
 
Again, enabling them to drive change is the Big Society way to improve the NHS.
 
And when it comes to law and order, we're not introducing Police and Crime Commissioners to cut the police.
 
We're doing it to cut crime.  And to anyone who doubts there is a public appetite for greater public engagement and greater power and control over policing, I would say - look at our crime maps, that have already received over 410 million hits.
 
It's because our public services - and the results they deliver - matter so much to my mission of building a bigger, stronger society that I'm so determined to modernise them.
 
I set out the case for modernisation in a speech at the start of the year.
 
And I showed then, whether in welfare reform or school reform, early years support or drug rehabilitation, the NHS or prisons that we plan important changes based on clear principles.
 
Get rid of centralised bureaucracy that wastes time and money.
 
Break open state monopolies and open up them up to new providers, saying - 'if you've got the ideas and the people and the commitment to tackle our most deep-rooted social problems, come and play a role in our public services.'
 
Wherever possible put power - and money - in people's hands to choose what's best for them.
 
Pay providers by the results they achieve.
 
Be as tough on private sector monopolies as on state monopolies.
 
Make sure there is transparency so people can see what they're getting in exchange for the taxes they pay.
This is real people power, and there has never been a better time to do it.
Technology is helping to turn the traditional power relationships on their head.
For the first time, we can give everyone the information they need to hold government and the public sector to account.
For the first time, we can give everyone the information they need to make choices about the services they use.
For the first time, we can involve people on a mass scale in helping to design policy, scrutinise legislation, get rid of pointless regulation.
And it's because this technological revolution is matched by our philosophical belief in the principles that underpin it - openness, competition and true people power…
…that we are applying it so enthusiastically to our mission of making government and public services more open, more transparent and more accountable.
 
This is a whole new way of looking at public service delivery - the modern way, the 21st century way, the Big Society way.
 
By opening up public services, putting the people who use them and pay for them in the driving seat, restoring professional discretion and calling on our charities, social enterprises and private companies to get involved, we can build world-class public services that are engines of opportunity and that help build our Big Society.
Social responsibility 
But it's the second aspect of building a bigger, stronger society that I want to focus my remarks on today, and that is the challenge of creating a culture of responsibility in our country.
 
Now, I know I use that word a lot. 
 
Some say it sounds too much like a theoretical concept that's hard to define and others complain that it just sounds like a burden on people: an obligatory thing we have to do.
 
To me, the idea is simple.
Responsibility is people doing the right thing - by themselves and each other.
 
It is the essential quality of the good society - of a strong society.
 
That's not theory - it's fact.
 
And yes it is a "burden" in that it requires commitment, but it is one that we should actively want to undertake.
 
As human beings, as social animals, we relish the opportunity to interact positively with one another.
 
The problem today is that a culture of responsibility is too often absent in our country.
 
And we need to restore it.
 
Of course, this has to come from people.
 
But government has a vital role to play - and we're playing it.
 
To begin with, government has to send out the right signals.
Reward and effort
First and foremost that means making sure that reward is linked to effort.
 
For too long, we've lived in an upside down world where people who do the right thing, the responsible thing, are taxed and punished, whereas those who do the wrong thing are rewarded.
 
There are so many examples of this over the past decade, there are almost too many to mention.
 
Marginal rates of taxation that have punished single mothers who want to work.
 
A benefit system that has paid couples to live apart.
 
A social care system that all too often has penalised those who have worked hard and saved hard by forcing them to sell their home.
 
A welfare system that has paid people who had no intention of getting a job to stay at home.
 
In so many areas of our national life, the rational thing for people to do is quite clearly the wrong thing.
 
We can't be surprised that people behave irresponsibly if government is sending out these signals.
 
But bit by bit we are turning the tables on these perverse signals, and making sure reward really is linked to effort, that responsibility is rewarded, not punished.
 
Nowhere is this more evident than in our welfare reforms.
 
For that single mother who wants to work - we are making sure work pays.
 
And for that person intent on ripping off the system, we are saying - we will not let you live off the hard work of others.
 
Tough sanctions. Tougher limits.
 
In short we're building a system that matches effort with reward…
 
…instead of a system that rewards those who make no effort.
 
That is not cutting welfare for the sake of it.
 
That is a vital step in building a more responsible society in Britain. 
Taking responsibility for your family
But responsibility isn't just about what you get from the state, it's about what you give to society too.
 
By that I don't mean paying your taxes.
 
I mean all those aspects of life that fall outside our dealings with the state, or with the market.
 
I mean family.
 
I mean community.
 
Let's start with the family.
 
Now I have always made it clear what I think about the family.
 
I think families are immensely important.
 
I am pro-commitment, I back marriage and I think it's a wonderfully precious institution.
 
Strong families are where children learn to become responsible people.
 
When you grow up in a strong family, you learn how to behave, you learn about give and take.
 
You learn about responsibility and how to live in harmony with others.
 
Strong families are the foundation of a bigger, stronger society.
 
This isn't some romanticised fiction.
 
It's a fact.
 
There's a whole body of evidence that shows how a bad relationship between parents means a child is more likely to live in poverty, fail at school, end up in prison or be unemployed in later life.
 
Don't think that I've forgotten about our pledge to make this country the most family-friendly in Europe.
 
We've commissioned and received excellent reports from Frank Field and Graham Allen, and are acting on their recommendations.
 
We've already announced action on parental leave, flexible working, relationship support and a hugely ambitious campaign to turn around the lives of Britain's most troubled families.
 
Unlike the last government that focused almost exclusively on children, we have had the courage to say loud and clear that if you want what is best for children you have to address not just children but families and relationships too.
 
We will shortly be publishing our strategy for the vital early years of a child's life, including radical new ideas for supporting parents.
 
We'll soon receive Reg Bailey's report on the sexualisation and commercialisation of childhood - and I'm hoping for some tough recommendations that we can get right behind.
 
And we are thinking creatively about how we can do more to support family life and to ensure that every child grows up in a stable, loving home.
 
This is not a cuts agenda. 
 
It is an agenda to strengthen what I believe is the single most important institution in the country, and it's a vital part of building the Big Society.
Taking responsibility for your community
But responsibility extends beyond the family to the wider community too.
 
We are not just responsible for those we know and love.
 
We have obligations to those beyond our front door, beyond our street.
 
In part that's about how people behave and the respect they show towards their fellow citizens.
 
In other words, it's about the things you don't do - like not littering and not engaging in any forms of antisocial behaviour.
 
But it's also about the things you do do.
 
It's about getting involved.
 
It's about how we as a government help people come together in their communities and how we remove the barriers that get in their way.
 
The basic premise is that if everyone gives a little of themselves, the benefits for the whole of society can be enormous.
That's a big part of the Big Society.
 
I didn't invent the idea.
 
It's just how I describe all the many brilliant things that people are doing to help each other in our communities and it's how I show my determination that we as a government should get behind people and encourage more of their commitment in every way that we can.
 
So it's not just me standing here and calling on individuals and communities to do more, it is a whole approach and programme to help make this happen.
 
In the Localism Bill, we're changing the planning rules to give people real influence over what gets built in their area, devolving power to executive mayors in our major cities and giving people the right to take over local assets.
 
So if a local service you rely on is threatened with closure, you're no longer powerless to act because a new "Community Right to Buy" gives local people the chance to save a valued local resource - be it a pub, village shop or leisure centre.
 
Another way is through the Giving White Paper which Nick Hurd is launching today.
 
This sets out how we are going to encourage a stronger culture of giving in Britain - with more people giving more money and more time to good causes around us.
 
First, we're going to make it easier to give.
 
That includes taking advantage of the technology that can make giving more flexible, intuitive and convenient - like giving money when you go to the cash machine.
 
Second, we're going to make giving more attractive
 
So we're removing gift aid paperwork for donations up to £5,000 and reducing the rate of inheritance tax for estates that leave 10 per cent or more to charity.
 
And in areas of deprivation, we are matching the commitment people make to giving with government support.
 
Our Community First scheme will reward groups that come together to improve their neighbourhood, by matching the time they give with money.
 
So in future when our host today, Make a Difference, brings youth volunteers together to transform a bus station in to a wonderful centre like this, they could get some government cash to help them out.
 
Third, we're going to drive a real culture change in our society by making giving more of a social norm.
 
For young people we are introducing National Citizen Service, with over 10,000 16 year olds currently being recruited to take part in the first wave this summer.
 
With employers, as part of Every Business Commits, we will launch a major new campaign to promote payroll giving.
 
That means making it easier for their workers to give money to charity automatically through their paycheques.
 
In America around a third of employees already do this. In the UK it's only around 3 per cent.  We want that to be a lot higher.
 
Already there are great examples of businesses backing volunteering.  There are also the great media campaigns, often involving staff, presenters and journalists.
 
As part of our efforts to celebrate giving to society, my Big Society Awards have been created to recognise outstanding examples of innovation and commitment in social action, community leadership and public service reform.
 
And there's something else we're doing to make giving more of a social norm.
 
And when I say we - I mean literally we - the Cabinet.
 
We're all giving at least a day a year volunteering.
 
And we're encouraging all our civil servants to do the same.
Approach to policy
But there's something else our civil servants are going to be doing - and it's the final point I want to make today.
 
For too long, government policy has been made without enough understanding of the things I've been talking about today - family, community, relationships.
 
When it comes to decisions about how and where to spend money, how policies are designed and implemented, how reforms are carried out…
 
…government has sometimes seemed to carry on oblivious to the fact that we are human beings, behaving in ways that ministers and officials can't possibly plan or predict.
 
Government has ignored the fact that at heart, as the American writer David Brooks eloquently points out in his new book - we are social animals.
 
In this past decade we have surely tested to destruction the idea that a bit more state action here, a welfare payment, law or initiative there will get to grips with the crime, the drug addiction, the family breakdown that plagues too many of our communities.
 
Social problems need social solutions.
 
And in a way that I don't think has been sufficiently appreciated, we are bringing that insight right into the heart of the business of government.
 
Right across Whitehall we are today applying to the design of policy the best that science teaches us about how people behave - and what drives their well-being.
 
We are revising the 'Green Book' - the basis on which the Government assesses the costs and benefits of different policies - to fully take account of their social impact.
 
We are developing a new test for all policies - that they should demonstrate not just how they help reduce public spending and cut regulation and bureaucracy - but how they create social value too.
 
And, the Office for National Statistics is developing new independent measures of well-being so that by the end of the year, we will be the first developed country in the world that is able rigorously to measure progress on more than just GDP.
Taken together, these may be the most quietly radical things this government is doing.
Conclusion
These are big changes, and they all show how serious I am about building a bigger, stronger society.
 
They also show how different our approach really is.
 
In the past, the left focused on the state and the right focused on the market.
 
We're harnessing that space in between - society - the 'hidden wealth' of our nation.
The idea that the centre right is simply about the philosophy of individualism - of personal and commercial freedom - is a travesty of our tradition.
From Edmund Burke and Adam Smith in the 18th century, from Hegel and de Tocqueville in the 19th, to Hayek and Oakeshott in the 20th - all have been clear that individual freedom is only half the story.
Tradition, community, family, faith, the space between the market and the state - this is the ground where our philosophy is planted.
 
The things I've spoken about today - modernising public services, rebuilding responsibility, strengthening family and community all this represents a massive cultural change.
 
But if we get it right, it will not just benefit our society, it will benefit our economy too.
 
If we link effort to reward, if we encourage people to step forward and play their part, we won't just make our society fairer and more cohesive, we will create the conditions for a more aspirational, entrepreneurial culture.
 
A country of do-ers and go-getters, where people feel they are in control of their destiny, where they trust those around them, and where they have the power to transform their lives, where nothing will stop them from pursuing their dreams.
 
That's the culture we need in our economy as much as our society.
 
So is this government about more than cuts? Yes.
 
Is the Big Society some optional extra? No.
 
It holds the key to transforming our economy, our society, our country's future and that's why I will keep on championing it and keep on building it, every day that I have the privilege to lead this country.
Published 23 May 2011