Speech
Public policy exchange event
Video address mentioning driving speed limits, road safety, local sustainable transport funding, on-the-spot penalties and drug driving.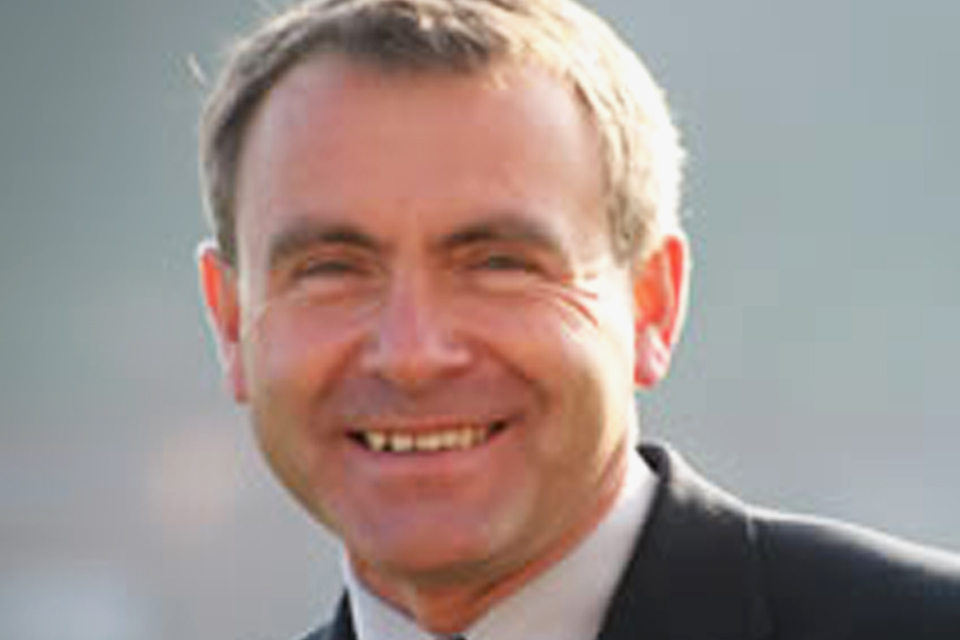 Transcript
Good morning. My thanks to you all for making the time today (12 November 2013) to discuss what is are very important issues about road safety.
I am sorry that I can't be here in person, but wanted to take this opportunity to talk through the government's views on improving road safety, saving lives and protecting responsible drivers.
Following the consultation in the summer of 2012 on revisions to DfT's circular Setting Local Speed Limits, we published a summary of the consultation responses as well as the updated circular itself - DfT Circular 01/2013, Setting Local Speed Limits - on 18 January this year.
Setting the right local speed limits is vital for road safety, local growth and local health outcomes and the updated circular gives guidance to local councils which will help them implement more consistent speed limits on local roads. It incorporates recent changes that create more flexibility for authorities to implement 20mph limits and zones.
The revised circular also introduces the Speed limit appraisal tool, which was launched at the same time. Use of the tool is optional but we hope that it will help authorities assess the full costs and benefits of any proposed schemes.
I've already provided flexibility for local authorities to consider speed limits in residential areas and a process for applications for further rural 40mph zones.
It's now up to local authorities to consider the speed limits on their roads based on their local knowledge and the views of the community.
The department does all it can to encourage councils to consider more 20mph and 40mph limits in appropriate places as this will certainly help make our towns and rural areas safer and more pleasant places for cyclists and indeed pedestrians too.
As you would expect, the department's road safety policies are based on a large body of evidence from research and from evaluation of interventions in the field. All the evidence clearly shows a strong link between speed and road collisions across a range of measures. Reduction in speed reduces the impact of a collision and thus reduces the likely severity of any injuries resulting from it, as well as the probability of a collision in the first place.
We mustn't forget the important road safety role of local authorities, especially in terms of investment.
These are testing economic times.
So I recognise that local government, just like central government, faces tough spending choices.
But I also know that it is local communities, rather than Whitehall bureaucrats, who are best placed to design local road safety solutions to meet local road safety challenges.
And that includes deciding where to focus their resources.
That's what localism is all about the power to choose for yourself backed by the funding to deliver.
We are giving more than £1 billion to local councils enabling them to improve the transport infrastructure – including the design of better and safer roads.
We're investing £600 million in local transport through the Local Sustainable Transport Fund – which again gives authorities greater power to deliver their own transport projects.
We've just launched a road safety comparison site, which plots the performance of local authorities over the last seven years.
The site shows how many people have been involved in collisions on a particular road.
This gives residents a more accurate picture of each council's progress in reducing casualties.
In March, a new road safety research website called the Observatory was also launched.
Part funded by the department, it gives road safety professionals access to extensive research.
Better information is a key weapon in the fight to make our roads safer.
And together, these websites will keep us more informed, so we can target local action where it is most needed.
In short, I'm convinced that localism is a core part of our road safety agenda.
Great Britain has one of the best road safety records in the world, but this should not lead to complacency. I firmly believe that our road safety record is a sign of what can be achieved with the right policies, actions and behaviours.
Another major government objective has been developing our policy on careless driving.
As of August this year, careless drivers face on-the-spot penalties.
The police now have the necessary powers to issue fixed penalty notices. This gives them greater flexibility to deal proportionately with less serious offences - such as tailgating or poor lane discipline – while reducing the number of cases that end up in court.
The response to the new powers has been mostly positive.
I think most police welcome the opportunity to use their judgement with careless driving cases.
And certainly freeing officers from court cases has gone down well.
However I do acknowledge that with all new policies like this it will be important to monitor and review progress and feedback.
It's important that the legislation not only makes our roads safer, but also works for those of you who do the enforcing.
We've increased the fixed penalty levels for most motoring offences - like using a mobile phone at the wheel and not wearing a seatbelt – to £100.
But the fixed penalty will also enable educational training to be offered as an alternative to endorsement.
I'm a firm believer that these sort of initiatives can make a real difference. That's why I'm pleased to see that national driver offender re-training schemes are being used by police forces throughout the UK. Almost 1 million National Speed Awareness Courses were taken up in England, Wales and Northern Ireland in 2012.
Road traffic laws can be broken by mistake and there are degrees of seriousness in infringements. So I remain committed to giving drivers who commit low level traffic offences the opportunity to take remedial training.
Besides recognising this in sanctions and sentencing, we want education, training or rehabilitation to be more widely available for lower level offences.
This proportionate approach also means that harder enforcement and sanctions should be applied most towards serious, deliberate and repeat offenders.
As you know, the coalition is also committed to tackling the menace of drug driving.
The Crime and Courts Act received Royal Assent last April, so it is now an offence to drive a motor vehicle if you have certain controlled drugs in your body above set limits.
In fact we have been consulting on proposals for drug types and limits – and that consultation closed on 17 September.
We'll publish our responses in approximately 3 months.
Once the limits have been specified, the regulations will be laid before Parliament next year.
Clearly the availability of reliable, accurate and practical drug screening devices at the roadside and in police stations will be crucial.
They will act as "preliminary" screeners, giving an indication of whether a drug is present in a driver's body above a certain concentration.
A blood test will still be required in order to provide evidence for a conviction, but a positive result from a preliminary screening removes the need for a doctor's opinion before the blood test. This will simplify the process for officers dealing with suspects.
The Home Office has type approved a station screening device. Now we look forward to its deployment.
But the roadside screeners will take a bit longer to reach the market.
We've also published a series of measures to tighten up enforcement of drink-driving laws and make police processes easier in the Deregulation Bill.
They include widening the pool of people who can take blood tests beyond qualified doctors.
And closing a loophole which drink drivers can use to avoid failing a breath test.
The prescribed drink drive limit can be measures in breath, blood or urine. Currently, drivers above the legal limit of 35 microgrammes of alcohol per 100ml of breath but below 50 microgrammes can opt to have the breath test replaced by a test of blood or urine.
This is known as the "statutory option".
This dates back to when breathalyser technology was first introduced, when there were concerns over the reliability of the devices. Thirty years on, those concerns have long disappeared and delays in performing the replacement blood or urine tests can result in sufficient alcohol being eliminated from the body to enable them to pass the evidential test
The current proposals will remove this option for individuals.
These changes are included in the Cabinet Office De-Regulation Bill which was published this summer.
These changes should make the job of dealing with drink drivers faster and less bureaucratic when it comes to bringing offenders to justice.
Improving the safety and ability of young drivers is a key priority for the government which is why we have made the driving test more realistic. As part of the ongoing work to reduce the risks of accidents involving young drivers, the department is considering several options to ensure that newly qualified drivers are properly prepared and drive safely. I intend to issue a green paper later in the year. The green paper will explore a range of options for improving the safety of newly-qualified drivers.
Once again, my apologies for being unable to attend in person, but I hope you're going to make good use of this opportunity to network, exchange ideas and best practice. I wish you a good conference and thank you for watching.
Published 2 December 2013