New penalties for careless driving come into force
Police given powers of on-the-spot penalties for careless driving including tailgating and poor lane discipline.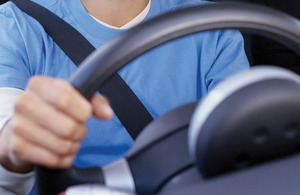 Changes giving the police powers to issue fixed penalty notices for careless or inconsiderate driving have come into effect today (16 August 2013).
From today (16 August 2013) careless drivers who put other road users at risk by committing offences such as tailgating or poor lane discipline will face on-the-spot penalties.
The changes give the police greater flexibility in dealing with less serious careless driving offences, freeing them from resource-intensive court processes.
Existing fixed penalty levels for most motoring offences - including using a mobile phone at the wheel and not wearing a seatbelt - rise to £100, bringing them into line with penalties for similar non-motoring fixed penalties.
Road Safety Minister Stephen Hammond said:
Careless driving puts innocent people's lives at risk – that is why we have made it easier for the police to tackle problem drivers by allowing them to immediately issue a fixed penalty notice for low level offending rather than taking these offenders to court.

We have also increased penalties for a range of driving offences to a level which reflects their seriousness and which will ensure that they are consistent with other similar penalty offences.
The fixed penalty for careless driving is now £100 with 3 points on the driver's licence. The most serious examples will continue to go through court, where offenders may face higher penalties.
The police will also be able to offer educational training as an alternative to endorsement. Drivers will still be able to appeal any decision in court.
Fixed penalty levels for most of these motoring offences have not increased since 2000, making them lower than other penalties of a similar severity.
The changes – which were announced earlier this year – are being introduced following extensive public consultation with road safety groups and police forces.
There are no changes to penalty levels for parking offences.
Related documents
Notes to editors
Most motoring fixed penalties offences rise under the changes:
a non-endorsable (where the driver does not receive points on their licence) £30 fixed penalty notice has risen to £50
an endorsable (where points are given) £60 and non-endorsable fixed penalty notice has risen to £100
an endorsable £120 fixed penalty notice has risen to £200
the fixed penalty notice for driving with no insurance has risen from £200 to £300
Graduated fixed penalties (mainly for commercial goods and passenger carrying vehicles and including offences like drivers' hours and overloading) and financial deposits (for drivers without a satisfactory UK address) have also increased:
a £30 non-endorsable fine has risen to £50
a £60 endorsable and non-endorsable fine has risen to £100
a £120 endorsable and non-endorsable fine has risen to £200
a £200 endorsable and non-endorsable fine has risen to £300
The consultation took place from 14 June 2012 to 5 September 2012.
As with other existing fixed penalty notice offences, such as speeding, police forces are also able to offer careless drivers the option of remedial training.
Endorsable road traffic offences contribute to a significant number of casualties. For example, in 2011, excess speed contributed to 213 deaths and using a mobile phone while driving contributed to 374 road casualties.
Though penalty levels have increase, penalty points will not change. Fixed penalty notices for parking, waiting and obstruction offences remain unchanged.
Roads media enquiries
Media enquiries 020 7944 3021
Out of hours media enquiries 020 7944 4292
Switchboard 0300 330 3000
Published 16 August 2013