Speech
Prime Minister David Cameron's speech at Tetley, Stockton-on-Tees
Speech delivered by Prime Minister David Cameron on visit to Tetley, Stockton-on-Tees 12 May 2015.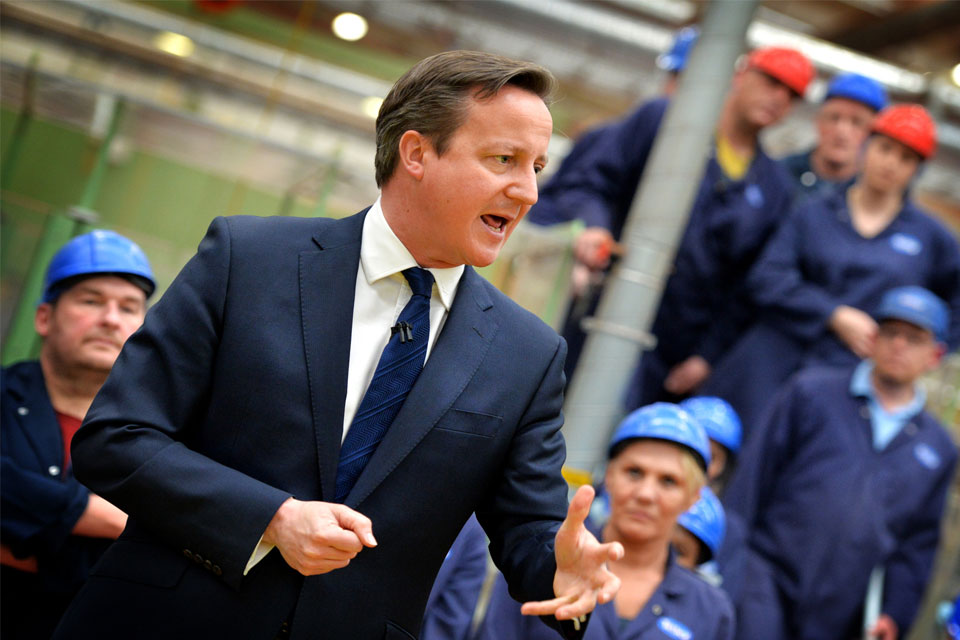 Thank you very much indeed, thank you. Well it's great to be back here at Tetley, and great to be back in Stockton, and I wanted to come to Stockton for my first visit after the general election. So thank you for the welcome.
First of all, thank you for what you do, here: a fantastically successful business exporting all over the world, employing people here, training people here. It's a great brand, and one that I'm proud to come and visit today. It was one of my predecessors as Prime Minister, Gladstone, who said, 'The great thing about a cup of tea is that if you're cold it warms you up, if you're hot it cools you down, if you're depressed it makes you happy, and if you're too excited it can calm you down.' And there have definitely been times, over the election campaign, when I've needed all of those things, and several cups of Tetley to go with it.
But actually, it's another former Prime Minister that inspired me to come here today, which is Harold Macmillan, who was Member of Parliament for Stockton‑on‑Tees, who cared passionately about the North East of our country, and cared passionately about bringing our country together. And I think that's the most important thing a Prime Minister can aim to do, which is to bring our country together. Not just bringing our country together in terms of England, Scotland, Wales and Northern Ireland, although obviously that is vital, but bringing our country together to make sure every part of our country benefits from a growing economy, and there's opportunities for everyone in our country.
And I think the best way that we can do that is to make sure that this new government really delivers for working people, helps working people to live a better and a more secure life. And that is what I dedicate this government to doing, and I know what that means: it means more training and better jobs, so that's why in the last Parliament we trained 2 million apprentices; in this Parliament we want to train 3 million apprentices. We want to give more people the opportunity of a good job and a good career. It means more jobs: we've got 2 million more people into work in the last Parliament. Here in the North East, another 44,000 people are in work, but that's not enough. We need to have full employment and that should mean another 2 million jobs in this Parliament, and that is what I want to see us achieve.
But jobs and training on their own are not enough, it's about helping people with the cost of living and with living standards. And that is why one of the first things we are going to do, is to make sure that we legislate to help with childcare. I think for so many families in our country it's absolutely essential that they get that help with childcare, so that people who want to work and want to work more hours or longer shifts, or more shifts to bring home more money, are able to do that. And that will be in the Queen's speech in a few days' time.
And alongside jobs; apprenticeships; and childcare, also trying to leave people with more of their own money to spend as they choose. It's your money, you've earned it, you know how to spend it better than the government and that is why we will be aiming to cut people's taxes and to leave you with more of your own money to spend as you choose. I want a country where work pays, where it pays to work, where we reward work. And that is why I will continue to reform welfare and put a cap on the welfare that a family can get, because you shouldn't get more, out of work, on welfare than you get in work, and that will be part of this government's approach.
But it's a privilege to be here with you today. I'm serious about this work of rebalancing our country and rebalancing our economy. And your local Member of Parliament, James Wharton, is going to help with that. I've just appointed him as a Minister in the government, in the Department of Local Government and Communities, where he, together with Greg Clark, are going to work on this agenda of empowering our great northern cities and making sure we drive power out of London, out of Westminster, out of Whitehall. And I know that James, who got a stunning election result, here in Stockton, will be a really key part of that agenda.
But thank you again for what you do. I hope this business continues to succeed. I hope you continue to export teabags all over continental Europe, because as we all know, as soon as you cross the Channel, it's almost impossible to get a cup of tea and I know that you're going to fix that for me in the coming weeks and months. But thank you for the welcome; great to be here, and I am so proud to make my first visit as the newly elected Prime Minister here in Stockton. Thank you for the welcome. Thank you very much.
Published 12 May 2015