Speech
PM's speech at DECC
A transcript of a speech given by the Prime Minister at the Department of Energy and Climate Change on 14 May 2010.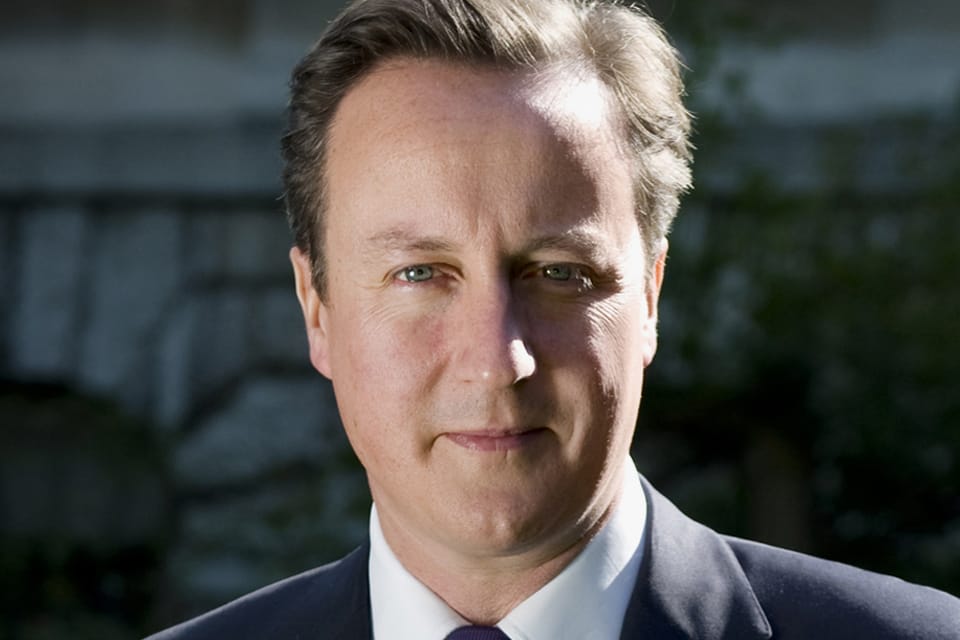 Prime Minister
Thank you very much, Chris, and I'm absolutely delighted to be here. And every hour that goes by, as I think of what this coalition government can mean, I get more excited about the potential. Because, when you think about it, we have five years to take the long-term decisions that are going to get this country on track. And nowhere are long-term decisions more needed than actually in the fields of energy and climate change and environment. So I think this is a fantastic opportunity for this department; a fantastic opportunity for our country.
And I hope that I have sent you - in fact I know that I have sent you - some unbelievably talented and committed ministers. You've got, in Chris Huhne, someone who cares passionately about this agenda; you've got an energy minister, in Charles Hendry, who will give it absolutely everything he has; and Greg Barker, someone who's done an enormous amount to 'green' the Conservative party. So you've got some incredibly enthusiastic ministers.
Something I hope we can do, as well, is try and improve the record in terms of tenure of ministers. The average minister, recently, has been lasting for one year and three months; I want us to have ministers who are good ministers, in post, knowing the agenda, getting things done, year after year. That is the aim; that is the ambition. Now, I know some of you will be disappointed that you only have three ministers, rather than more, but let me tell you this: there is a fourth minister, in this department, who cares passionately about your agenda, and that is me, the Prime Minister. And I mean that from the bottom of my heart. We've got a big, big opportunity, here. I want us to be the greenest government ever - a very simple ambition and one that I'm absolutely committed to achieving.
Now, the agenda you've got is obviously enormous and pressing. The three things that I would pick out are, first of all, the green economy. We've got a real opportunity to drive the green economy - to have green jobs, green growth, and make sure that we have our share of the industries of the future. Clearly there's the climate change agenda, where we've got to get back on track, both nationally and internationally. And third, there is the issue of energy security, which I think is vitally important, which we need to do a huge amount of work on. And in Charles Hendry you'll have a great minister to do that.
I can announce today an early step that I think we need to take, and an important step, which is that over the next 12 months, government departments have got to reduce their carbon emissions by 10%. That has to be done. You're going to drive it, you're going to lead it, but my ministers are going to help make it happen. And they're going to be helped in that by another involved party in terms of climate change, and that is the great British public. Because we are going to publish, in real time, how much energy each department is using. So this is transparency in action, to drive forward the cuts in carbon emissions. It's a new way of doing climate change; it's a new way of doing politics; it's in the spirit of our age; and I think it will make a very big difference.
Clearly, the last couple of days have been about putting together a government, and I think I have here some very talented ministers. The future's going to be about making this government work very well. And there's just one last thing I want to say about that. Yes, this is a coalition government, and that means working together. But in many ways, all governments are a coalition - a coalition between politicians, ministers and civil servants. And I think we have to make that work really well in the years ahead, respecting the professionalism and ability of the civil service.
I can tell you something, as Prime Minister - seeing how quickly that you can, in this country, have a transition from one government to another government, is a huge compliment to the extraordinary professionalism of all of you. And so I want us to work together, in this coalition - Liberal Democrats and Conservatives, politicians and civil servants - to really get things done over the next five years. And nowhere is that more important than in the area of energy, climate change, and reducing our carbon emissions. So now it's time to roll up our sleeves and get down to work. Thank you very much.
Published 14 May 2010