National Digital Conference 2015: keynote speech
Matthew Hancock spoke about simplicity, iteration and transformation in government services at the National Digital Conference 2015.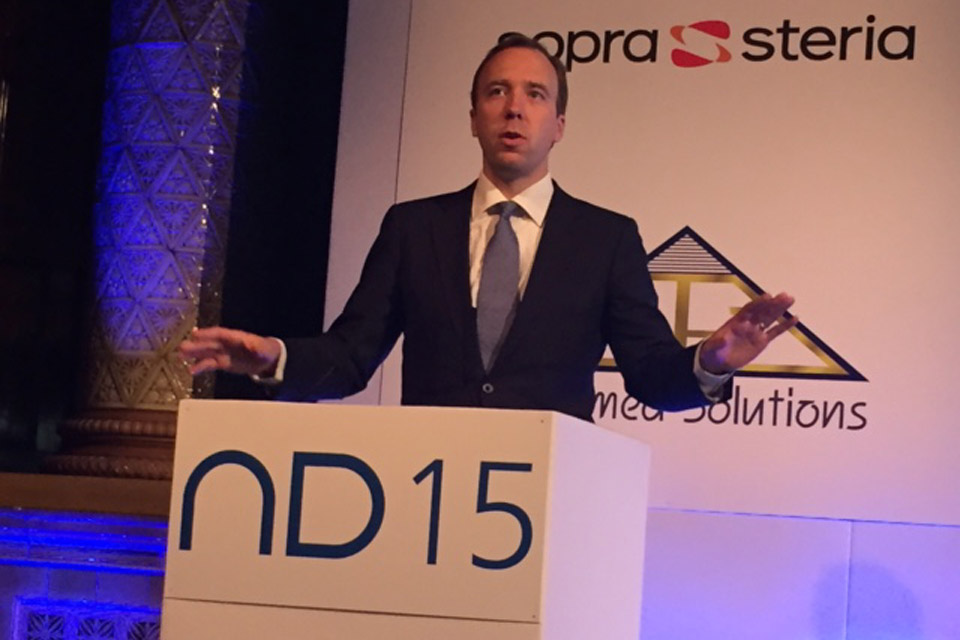 Almost everyone, almost everywhere, carries with them one of the most profound symbols of digital transformation the world has ever seen.
I'd bet a large sum you've got one on you. That everyone reading this has one on them. And that if you're reading it online, you're probably using it right now.
The smartphone.
In my lifetime this didn't exist. Ten years ago it was a communications device.
Today it's an office in miniature, a London A to Z, an entertainment centre, a digital camera, a fitness monitor – for some of my younger officials it's a dating agency – and hundreds of other things besides.
You couldn't even use one in 1990. If you tried, the equivalent memory and components alone would cost around $3.6 million.
Today over a quarter of the world's population own one. It's both a symbol and a cause of the change we're living through.
And one of the biggest questions for government today is how do we use that technology to govern better? How do we drive digital in government to improve the lives and the finances of millions?
The fastest growing economies of the East have made rapid progress by tailoring Western market institutions to their own local circumstances.
We can't copy and paste. On digital government we, and a handful of other countries, are the source code. There isn't a playbook for this, so over the last 5 years we've had to innovate and experiment, seeing what works and what doesn't.
Today I want to set out some guiding principles based on the lessons that have been learnt.
Simplicity
The first principle is simplicity. I can't stress this enough: simplicity is the end. Digital is just the means.
The point of using complex technology is not to make things more complex, but to make them easier: for the public, for frontline staff and for government itself.
For the public, when government services are on paper they're almost inevitably designed for the demands of the machine, rather than the needs of individual users.
If you want to access a service you have to fill out a form. Many of the questions aren't aimed at you, but at the small minority who want to exploit the system. Yet everyone has to plough through them. It's a dragnet approach and it's why paper government means a one-size-fits-all service.
Yet in a digital world we're much better placed to understand and detect those risks. For example, if a welfare claim is being made from a non-UK IP address, that sets alarm bells ringing and we can ask the claimant more questions.
The flipside is we can then design the system to make life easier for everyone else, with fewer hoops to jump through. And because digital forms talk back, we can also tackle costly error, prompting users: 'did you really mean that' if the answer doesn't look right.
In the last Parliament we focused on making some of the most important transactions between government and the citizen digital by default. Everything from viewing your driving licence to booking a prison visit. Twenty of them are now live and more are on the way.
We always start with the question 'what does the user need' and work from there. And the standard we must set is that government digital needs to be as good as anything in the private sector. In step with, or in front, not lagging behind.
We believe all our citizens should have the chance to benefit from these services, which is why we're committed to making sure as many people as possible have the skills they need to get online.
But simplicity doesn't end with the citizen. It's not just that services need to be user-friendly, they also need to be Whitehall-friendly.
There are around 700 interactions between government and citizen, many of which could be digitised. Yet one of the biggest barriers to widespread adoption of digital services is that it's time-consuming and expensive for departments to build the underlying infrastructure.
That's what 'Government as a platform' is designed to tackle.
Many of the most successful companies in the world take a platform-based approach, companies like Google, Apple and Paypal. We too are building a common set of platforms, core digital plumbing which can be used by services across government.
For example, almost every part of government maintains a separate system for making and taking payments, often from the same people. A common payments platform can help integrate services while saving money.
And we know citizens care about the status of their transactions. They've been able to track their parcels online for years. We should be aiming for the same level of service in the public sector, at the bare minimum.
Around a quarter of phone-calls to the DVLA are drivers checking up on the status of their applications.
That's why we're prototyping a status tracking platform that could be used by any service, allowing citizens to track and trace an application, a request, a purchase or a repayment in a few simple clicks. We're thinking of calling it 'where's my stuff.GOV'.
So whether you're tracking a passport, or a driving licence application, a common platform has the potential to give better service at a lower cost.
It makes life simpler for public servants too, freeing them to focus on what really matters: delivering their core service.
And with common platforms it's not just that we bring new services online quicker, we can also rebuild them quicker if they're not working out as planned.
Which brings me onto my second principle: iteration.
Iteration
Iteration is the opposite of the big bang model of policymaking.
We've all seen it. The big announcement, the big contract for 'big IT', the endless delays, the grand launch… the thing falling over when you press the 'on' button.
Iteration is all about small: small teams of developers taking small steps: getting a small prototype out quickly and cheaply, watching to see how people actually use it, then incrementally improving the design. Rinse and repeat. Rinse and repeat.
Take the Office for National Statistics' (ONS) website, once described in the FT as a 'national embarrassment'.
A small, highly skilled team built a new alpha version in 3 months and it went live just before Christmas. The feedback has been fantastic, and the ONS team are about to finish their beta version, catering to the needs of everyone from A-level students to academic economists, at a fraction of the cost of the original.
Iteration means basing decisions as much as possible on observation not prediction.
Come with me to Helsinki for a moment. In Finland, town planners will visit a local park immediately after a snowfall, because the footprints reveal the paths that people naturally choose to take. These 'desire paths' are then paved over the following summer.
We too must pave the paths people travel. How? Let's take a small example.
Registry offices are officially known as register offices. That's what it says on the forms. But everyone knows in real life they're called registry offices, so no-one ever really searches for register offices online. We've paved the path that people travel, so the GOV.UK page comes top of the search results, even if you search 'registry' office.
GOV.UK is the total of thousands of little observations.
Let's take another. People search for 'pay council tax', but they don't usually say where they live. We've paved the path so you're taken from GOV.UK to the relevant page of your local council website in just one click.
And it's not just about making websites more user-friendly. As we adopt this approach more widely we will transition from a target culture, where ministers try and manage services from on high, to a data culture, where services adjust in response to user-feedback.
Iteration also has profound implications for policy design.
Traditionally, policymakers relied on a model of human behaviour borrowed from neoclassical economics: one in which rational well-informed individuals, responding to incentives, always made rational well-informed choices. This allowed for confident predictions about the take-up of a new scheme, or the impact of a new regulation. Confident, but wrong. In fact the only thing you can be confident about is the predictions will be wrong.
Because real-life isn't like that. People aren't rational. Some schemes sink without a trace. Most regulations have unintended consequences.
In a digital world we can test our core policy assumptions easily and cheaply, building a representative sample of users, presenting them with a working model of the new service, then using data and feedback loops to iron out the problems we can't foresee. We pave the path people travel.
This lesson is broader than just digital. When I was a minister at the Department for Business, Innovation and Skills we encountered a policy problem: a gap in support for people not yet ready for an apprenticeship. Our answer was traineeships, which combine mentoring, work experience and extra help on English and maths. We designed it openly, iteratively and starting small. Now we're scaling up.
Now paving the path like this might sound like we're resigned to marginal improvement. No.
Our ultimate goal is not just to improve, but to transform. To get how people actually behave in real life: and not just change the technology but transform the whole business model. Tight budgets and rising demand mean we have to reimagine the way government is done.
And Moore's Law means you really can do more for less, if you use technology.
So my final principle is transformation.
Transformation
It's been a long time coming. We've had a paper-based government since around the 12th century. The centralised Westminster bureaucracy developed around the Court of Chancery, which responded to royal petitions, and the Exchequer, which dealt with tax.
And to this day we continue to operate on paper foundations. The 19th century structures we've inherited, of government departments running services from Whitehall, reflect the fact that decision-makers and information needed to be in the same place. Paper files, which could only be moved around on trolleys, had to be within easy reach.
This has led to silos, to information hoarding, and to people with complex needs getting lost between the cracks. I suppose it was better than the vellum that came before.
But now, for the first time, we are in a position to build digital foundations: made of data not paper, holding up platforms not silos. Common registers, common payments platforms, and common licence systems, all based on common data standards.
This digital infrastructure is the modern equivalent of the canals and railways that made industrialisation possible. And once it's established we can build platforms on top: integrated public services with the citizen at their heart.
So we can deliver on simple company registration for new business. This could see your bankruptcy status verified, HM Revenue and Customs notified, your company name confirmed as unique, and an application for a trading licence filed with your local authority – all in one go, simply by tapping into the data.
Quick and painless: think what an economic boost this would be.
This is our chance to build a new state, crafted around the needs of the user. Using the best and most innovative technology to cut costs and improve services.
Not the all-encompassing state of the 20th century, but a state you can hold in the palm of your hand.
And as if to show that the onward march never ceases, the symbol of transformation is no longer the iPhone in your hand, but here, miniaturised in the iWatch on your wrist.
These are exciting times. Technology marches on. And we who see the transformative power of technology, we who would pave the path people travel: we have work to do.
Published 25 June 2015