Francis Report: update and response
Secretary of State for Health Jeremy Hunt statement on NHS whistleblowing and progress on implementing recommendations from Francis Inquiry.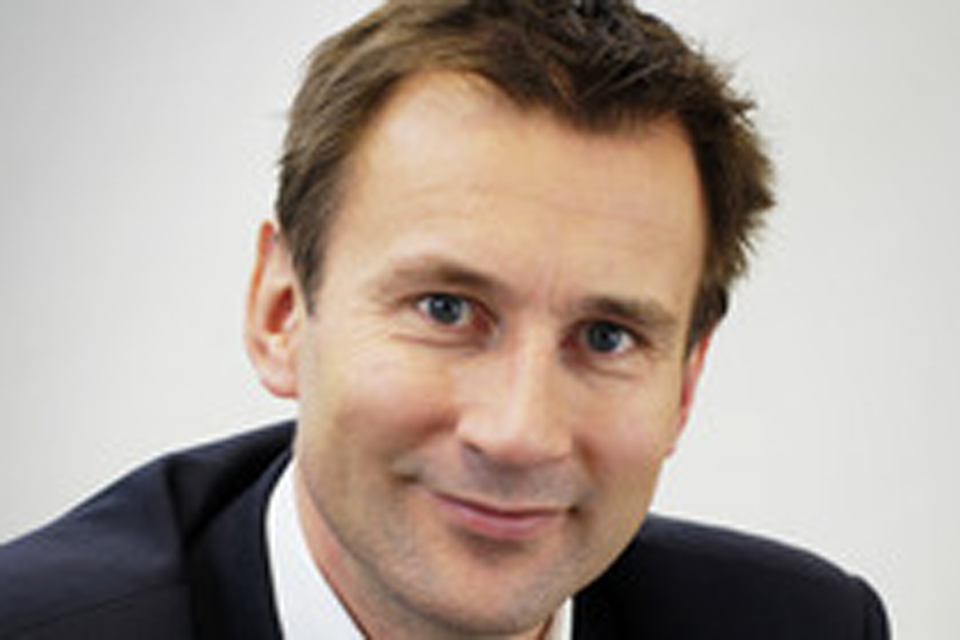 Mr Speaker, with your permission, I would like to make a statement on the government's response to today's report on NHS whistleblowing by Sir Robert Francis, and progress to date in implementing previous recommendations from his Public Inquiry on the failures of care at Mid Staffordshire NHS Foundation Trust.
I asked Sir Robert to carry out this follow-up review because of concerns I had that, despite good progress in implementing his original recommendations, the NHS was still not making fast enough progress in creating an open and transparent culture in which staff feel supported to speak out with worries about patient care. As a result, I was concerned there were still changes necessary if the NHS is to protect patients properly by adopting a transparent, no-blame learning culture as is common in other sectors such as the nuclear, oil or airline industries.
Sir Robert confirmed the need for further change in his report today. He said he heard again and again of horrific stories of people's lives being destroyed because they tried to do the right thing for patients: people losing their jobs; being financially ruined; brought to the brink of suicide; and family lives being shattered. Eminent and respected clinicians had their reputations maligned.
There are stories of fear, bullying, ostracisation, marginalisation as well as psychological and physical harm. There are reports of a culture of "delay, defend and deny" with "prolonged rants" directed at people branded "snitches, troublemakers and backstabbers" and then blacklisted from future employment in the NHS as the system closed ranks.
We recognise, of course, the high standards of care that happen day in day out in much of the NHS. We also know that many staff do feel supported to raise concerns about patient care with many dedicated managers going out of their way to address those concerns.
But the whole House will be profoundly shocked at the nature and extent of what has been revealed today. The only way we will build an NHS with the highest standards is if doctors and nurses who have given their lives to patient care always feel listened to if they speak out about patient care. The message must go out today that we are calling time on bullying, intimidation and victimisation which has no place in our NHS.
Progress to date
Before outlining the government's response to today's report, I would like to update the House on progress made in implementing previous Francis recommendations.
I have today laid in the House of Commons Library a report showing progress on all 290 recommendations originally made by Sir Robert, as well as progress made in implementing other recommendations by Professor Don Berwick on safety; by the Hon Member for Cynon Valley and Professor Tricia Hart in their complaints review; by Camilla Cavendish in her work on healthcare assistants; and by the NHS Confederation on reducing bureaucratic burdens.
The progress was acknowledged today by Sir Robert Francis. I particularly want to highlight the impact of Professor Sir Bruce Keogh's review of hospitals with high mortality rates. The special measures regime that followed introduced the toughest and most transparent hospital turnaround regime anywhere in the world, with 19 hospitals – more than 10% of all NHS acute trusts - put into special measures so far.
Amongst a vast array of improvements since the start of that process, those trusts have recruited 109 additional doctors and 1,805 additional nurses and made 129 board-level changes. The independent research company Dr Foster estimated this week that excess avoidable deaths in those trusts had fallen by 450 in less than a year. That means that between them they may have saved as many lives as some estimated were tragically lost at Mid Staffs between 2005 and 2009.
Mr Speaker, we have moved from a system that tolerated or denied high mortality to one that whilst by no means perfect does now seek out problems, share them with the public, take action and save lives. And today I can announce that the CQC, Monitor and the TDA have published a new Memorandum of Understanding to enshrine and further improve the special measures process.
Other measures we have introduced include giving the CQC, under its new leadership, legal independence and the legal powers it needs for its Chief Inspectors both to root out failure and highlight excellence. The Chief Inspector of Hospitals has already inspected more than half of acute trusts and will have inspected them all by the end of the year.
We have also introduced criminal sanctions against those who wilfully neglect patients and those who provide false or misleading information.
A new Duty of Candour, for institutions and for professionals, means that when mistakes are made, patients or their families must be told.
Fundamental Standards are now in place, which will ensure that all providers are required to treat people with dignity and respect.
All acute hospitals are now asking patients if they would recommend the care they receive through the Friends and Family Test, and it is being rolled out to other parts of the NHS including primary care.
Two thirds of hospitals are now implementing the 'name above the bed' initiative to make sure hospital care is better joined up.
Over 200 NHS organisations have joined the Sign Up To Safety campaign committing to halve avoidable harm and save 6,000 lives by 2017.
And the entire NHS is now committed to patient-centred culture change as a key part of the Five Year Forward View plans put forward by NHS England last autumn. In that plan we recognise the important point that safe care and efficient use of resources go hand in hand – doing the right things first time in healthcare saves lives and saves money.
Francis response
Mr Speaker, with respect to whistleblowing, the government has already taken some significant steps to protect NHS staff – including enshrining the right to speak up in staff contracts, amending the NHS Constitution, issuing joint guidance with employers and trade unions, extending the national helpline to social care staff, and changing the law to make employers responsible if whistleblowers are harassed or bullied by fellow employees.
But today Sir Robert makes clear there is more to do and I am extremely grateful to him and his team for their work.
He sets out 20 principles and a programme of action. I can confirm today I am accepting all his recommendations in principle and will consult on a package of measures to implement them.
These include asking every NHS organisation to identify one member of staff to whom other members of staff can speak to if they have particular concerns that they are not being listened to. Drawing on the inspirational work of Mid Staffs whistleblower Helene Donnelly, these 'Freedom to Speak Up Guardians' will report directly to Trust Chief Executives on progress in stamping out the culture of bullying and intimidation that Sir Robert today says is still too common.
We will also consult on establishing a new independent National Whistleblowing Guardian as a full time post within the CQC to review processes followed in the most serious cases where concerns have been raised about the treatment of whistleblowers.
Because too often the system has closed ranks against whistleblowers, making it impossible for them to find another job, I can today announce that the Government will legislate to protect whistleblowers who are applying for NHS jobs from discrimination by prospective employers. With Opposition support these necessary regulation making powers could be on the statute book in this Parliament.
We will also provide practical help through Monitor, the Trust Development Authority and NHS England to help whistleblowers find alternative employment. The three bodies have agreed a compact for action on this issue and will publish the detailed arrangements later this year.
Going forward we will ensure that every member of staff, every NHS manager and every NHS leader has proper training on how to raise concerns and how to treat people who raise concerns. As a vital last resort, the right of whistleblowers to contact the press with any concerns they have must always be safeguarded. But it should not have to come to that.
So I will today be writing to every Trust Chair to underline the importance of a culture where frontline staff feel able to speak up about concerns without fear of the repercussions. In addition, Monitor and TDA will write to Trust Chief Executives today and ask them to make sure that all managers discuss these issues as a matter of urgency with those who report to them.
Mr Speaker, there must be consequences for Trusts who fail to develop a culture of openness, so I am today publishing consultation options to ensure that where hospitals are found to have knowingly withheld information from patients, the NHS Litigation Authority can impose financial sanctions, such as reducing the indemnity it offers against litigation awards.
The final decision on how we implement these recommendations will be made after proper consultation with both NHS providers, whistleblowers and patient groups to ensure we both honour the spirit of what Sir Robert has recommended and avoid unnecessary layers of bureaucracy or financial burden. But there is no reason for individual Trusts not to get on with implementing Sir Robert's recommendations right away, particularly in making sure staff have an independent person they can raise concerns with.
Transparency
A further foundation of a safe and open culture is one where both the NHS and the public have access to meaningful and comparable information about the performance of their local NHS organisations.
The new MyNHS website has already kick-started a transparency revolution by making the NHS in England the first healthcare system in the world to offer key, up-to-date safety information on every major hospital including: how open and honest their reporting is, nurse staffing levels in every ward, the number of falls and the number of hospital-acquired infections.
Some estimate that we have as many as 1,000 avoidable deaths in the NHS every month. So by the end of March 2016, the NHS will become the first country in the world to publish an annual estimate of avoidable deaths by hospital trust based on case note reviews and the safety record of those trusts.
I will strengthen the accountability of Trusts by asking the Chair of every Trust to write a letter to the Secretary of State for Health by the end of May each year outlining the measures they themselves will be taking to reduce the number of avoidable deaths in their Trust and in all cases we will make clear that this is not a process of naming and shaming, but learning and improving so that our NHS becomes the first healthcare system in the world to adopt system-wide the safety standards that would be considered normal in other industries.
We also need to understand better avoidable mortality outside hospital settings and whether we can adopt the methodology to identify avoidable harm as well as avoidable death. So I can also announce today that we will fund a national study to establish the extent of avoidable death in community settings and the feasibility of developing locally attributable death rates.
We will also be taking steps to hard-wire transparency into the health and care system. I am today publishing a transparency architecture with plans for further information to be released on MyNHS going forward. This includes comprehensive reporting on the results of the Friends and Family test; new data on residential care homes and a new balanced scorecard on the work of CCGs and health and wellbeing boards.
The CQC and the National Information Board have confirmed to me that, starting this year, they will report annually and in public to the Secretary of State and the Health Select Committee on the progress of this transparency architecture and any recommendations as to how we could improve it. The Secretary of State will report to parliament annually on progress in implementing those recommendations.
And I am publishing for consultation today changes which will enshrine a right to transparent, accessible and comparable data in the NHS Constitution.
Accountability
One of the biggest causes of poor care is when no one takes responsibility for a vulnerable patient and the buck is passed. This leads to greater costs and also numerous personal tragedies as people are passed unnecessarily around the system.
The 'name above the bed' initiative has strengthened accountability in hospitals, as has bringing back named GPs outside hospitals. But there is still not enough clarity on the role of professionally accountable clinicians, particularly in community settings. So today I can announce that the Academy of Medical Royal Colleges has agreed to develop guidelines for meaningful clinical accountability outside hospitals.
They will publish their findings this Spring, and before the end of the next financial year all CCGs will publish how many of their patients with long term conditions are being looked after by clinically accountable community clinicians in the meaningful way the Academy will define. Proper proactive care for our most vulnerable patients will not only reduce hospital costs, but will also reduce avoidable harm and improve the quality of compassionate care.
Conclusion
Mr Speaker, we can fund the NHS with a strong economy, we can put in place new models of integrated care to support an ageing population, we can champion innovation - but if we do not get the culture in the NHS right we will never deliver the ambitions that everyone in this House has for our NHS.
Today is about tackling that culture challenge head-on so we build an NHS which supports staff to deliver the highest standards of safe and compassionate care and which avoids the mistakes that have led to both unacceptable waste and unspeakable tragedy.
If we succeed, we will be the first country anywhere in the world to put its entire healthcare system firmly on the path to eliminating avoidable harm and death. Our NHS deserves no lesser ambition, so I commend this statement to the House.
Published 11 February 2015