Speech
Foreign Office Minister Hugo Swire talks to Port Moresby Chamber of Commerce
Hugo Swire MP, Minister of State at the Foreign & Commonwealth Office delivers speech during his visit to the South Pacific.
Good morning. Whilst I am delighted to be here today, you will understand that my thoughts are in London where the Ceremonial funeral of Margaret Thatcher is taking place. She truly was, as Prime Minister David Cameron has said: "A great Prime Minister, a great leader and a great Briton.
Entrepreneurs from across the UK have taken to social media to praise her for "creating opportunity for anyone to succeed in the UK" and for being a "believer in competition.
I am sure she would have approved of these business breakfasts – as a way to bring the business community together: establishing networks, sharing information and supporting new investment.
I am pleased too that the British High Commission is supporting initiatives set up and backed by organisations and people in this very room. Initiatives that will help businesses right now, whilst at the same time developing the next generation of business leaders, both here in Port Moresby and across the rest of Papua New Guinea.
Initiatives such as the Women's Advisory Centre, which will ensure that women can participate fully in Papua New Guinea's economic future; or the Ginigoada [Guinea Go Arda] Foundation's work to provide financial skills training to disadvantaged young people.
Organisations like the Chamber of Commerce are the economic lifeblood of a country, and as the Port Moresby Chamber of Commerce's work goes to show, they are vital to succeeding in the global economic race.
Western countries must adapt to new ways of working and seek out new partners, while emerging economies must harness their resources if they are to make a difference to peoples lives.
We are moving away from a world dominated by geographic or political blocs, to one of global trading networks. And the historic relationship between the UK and Papua New Guinea makes us natural partners for trade and co-operation – from which we will both benefit. And trade between our two nations is certainly not new; pioneering businessmen from the UK have been investing in Port Moresby and Papua New Guinea since before the turn of the 19th Century. Today we seek to renew and strengthen these links.
Trade between the UK and Papua New Guinea is already growing fast – a significant achievement in the current financial climate. The exchange of goods and services between our nations is now worth almost £160 million a year. In 2012, more than £120 million of goods from Papua New Guinea were exported to the UK. Not to mention our import of six of your finest rugby players to play in the UK Super League!
Distance matters less in the modern world. Spices and commodities like tea, coffee, palm oil, shell fish and gold from Papua New Guinea and the Pacific region, are brought and consumed in the UK.
The finest produce from across the globe finds its way to Fortnum and Mason, Her Majesty The Queen's Grocer, in Piccadilly; and their shelves are stocked with Papua New Guinean products like coffee and chocolate. Such is their universal appeal that the UK is the second biggest importer of Papua New Guinean produce in the EU – only Germany imports more – and goods produced just a few miles from here can be found in independent corner shops across the UK, from Cornwall to Aberdeen.
And it's not only finished products that are being imported to Britain. Raw materials also form a vital part of our shared economy. New Britain Oils Ltd has invested £18 million in a state-of-the-art palm oil processing plant in Liverpool. This has created new British jobs and increased demand for sustainable - certified palm oil from plantations in Papua New Guinea.
Just a few weeks ago a British company, Heritage Oil Plc, announced an expansion into Papua New Guinea's gas market, acquiring operating rights and a substantial interest in two sites.
The EU-Papua New Guinea Economic Partnership Agreement, which allows duty free access for Papuan products entering the EU market, can only increase trade – to the immense benefit of the Papua New Guinea economy and society.
Indeed, trade between Britain and the whole of the Pacific is on the increase.
For example, I recently visited the flagship Tate and Lyle facility on Docklands in London's East End: 800 jobs in the capital of the UK which exist thanks to trade with the Pacific region – in this case refining sugar from Fiji. It's another reason why the British Government, like so many throughout this region, are concerned at recent developments in Fiji and those which led to its suspension from the Commonwealth. We must all continue to press the Fijian government to honour its commitment to hold credible, democratic and independently supervised elections this year. Should democracy be restored, we stand ready to consider further assistance and look forward to the day we can again admit Fiji into the Commonwealth of Nations – where she belongs.
The United States talks of a "Pacific pivot" in its foreign policy. Britain needs no such shift. With the longstanding bonds of the Commonwealth, we already have a truly global foreign policy. Britain has always been an outward-looking nation – island nations tend to be – but it is something that is now more important than ever. Not simply because of trade and economic opportunities, but because, with a population drawn from every corner of the globe, the ripples of events that take place thousands of miles away are felt keenly across the United Kingdom.
It is why our global presence, through diplomatic missions like the one here in Port Moresby, is so important. I know that the decision to close the High Commissions in Kiribati, Tonga and Vanuatu caused uncertainty: a perception that Britain is disengaging, retreating from the region and that we no longer value our trade, cultural and historic links in the Pacific. Whilst I cannot this morning commit to reversing that decision, I can give you the assurance that our commitment to the region remains firm.
And, lest there be any doubt about this commitment, in the last year alone the region has hosted visits by two generations of the greatest Ambassadors for both our nations, and the Commonwealth: the Monarchy. With highly successful visits from the Duke and Duchess of Cambridge in September and the Prince of Wales and the Duchess of Cornwall in November. The Diamond Jubilee Tour clearly demonstrated that Britain is once again in the business of celebrating the great institution of the Commonwealth, not apologising for it.
My role carries a broad range of responsibilities, from the Far East to Latin America. But I am most proud to say that I am Minister with responsibility for the Commonwealth.
Closer to home, we are looking to reform the European Union, to make it more competitive and flexible. At its best, the EU shares many of the strengths of the Commonwealth
A family of independent, sovereign nations brought together by common values and a common goal – to cement democracy by spreading stability and prosperity. Using our collective power and a collective voice to advance our shared interests: increasing trade links; opening new markets; tackling disease, poverty, terrorism and crime.
The Commonwealth recognises that it is the very diversity of its members, large and small, east and west, old and new, which give it its strength. And although the Commonwealth now includes almost a third of the world's population, it has never lost sight of its fundamental purpose. To improve and enrich the lives of each of those 2 billion people who live within it. That is why such importance is attached to the fact that the Commonwealth isn't just about contact between governments. It is about creating new links at every level - from citizen-to-citizen; community group to community group; business to business. That is why I am so pleased that there is a British trade delegation here today. To help forge those links.
But there is still much more to be done. I am very excited by the prospect of a Pacific-UK business forum being established in the coming months. 'Pacific Business UK' will bring together businessmen and women who have an interest, or a potential interest, in the Pacific's small island states, providing information and a network of contacts, linking countries with international investors, and highlighting potential investment opportunities.
The forum will provide a much needed source of information for anyone considering doing business in the Pacific: helping to guide potential first-time investors to the region through the unfamiliar legal and cultural practices they may encounter. It will also provide a platform for political and business leaders from across the region to identify potential investors, talk to them and secure new funding.
I am sure that Paul Kone, the new, permanent UK Trade and Investment officer, stationed here in Port Moresby, will be a key figure in the Forum.
The cultural and educational, as well as economic, links it aims to provide will further strengthen the bonds of history, language, understanding – and sport, not to mention cricket! – that the Commonwealth has brought to the region.
These bonds are based on more than just sentiment. The Commonwealth remains highly relevant in the modern world, giving smaller nations a powerful voice, and uniting us to resolve international problems that no nation on its own can solve: problems that transcend borders and require an equally multilateral response; problems like climate change.
The Pacific Islands Countries contribute just 0.03 percent of global greenhouse gas emissions. But small island states, such as those in the Pacific are already feeling the terrible effects of climate change and, in some cases, it is already wreaking devastation.
In 2007 the Carteret Islanders, in the Autonomous Region of Bougainville, became some of the first in the world to be forced from their homes by rising sea levels and extreme weather. I fear they will not be the last. The number of people displaced by environmental change is set to increase dramatically, with projections of those likely to be affected reaching hundreds of millions.
Communities and unique biodiversity will be lost forever. For an area that amounts to little more than 1 percent of the world's land mass, Papua New Guinea holds an estimated 5 percent of the world's biodiversity. Only last month, an expeditionary team from the BBC discovered more than 80 new species in the rainforests of Papua New Guinea, including carnivorous plants, butterflies and a giant rat!
In 2011, the global green economy was valued at around £3.3 trillion and is projected to grow by around 4% for the next four years. In the UK, the demand for green goods and services is growing faster than the general economy. We must continue to find new ways of working together, sharing expertise and experience, especially on how transitioning to a green or low carbon economy can ensure that economic development flourishes but not at a cost to communities or the environment.
That is why the UK joined the Secretariat of the Pacific Regional Environmental Programme – the region's leading body on climate and environmental issues – so we can engage directly with governments here, alongside EU efforts. And why the UK is supporting the regional projects the Programme is running that will benefit all Pacific Island countries.
And it's why, last month, I opened the UK-Pacific Dialogue on Climate Change at Lancaster House in London; bringing together the heads of Pacific missions from London and Brussels, academics, NGOs, representatives of the renewable energy sector and officials from across the UK Government. The Pacific Island Forum in the Marshall Islands later this year presents a key opportunity for further agreement - and action.
Between 2008 and 2013, €785 million from the European Development Fund – to which the UK is a significant contributor – was spent on projects to tackle the most pressing issues in the Pacific.
The UK is also a strong supporter of the EU-Pacific Island Development Partnership, agreed last June , which puts the threat posed by climate change where it belongs – at the very top of the development priorities for the region.
The UK has committed £2.9bn by 2015 to help countries cut their emissions and tackle climate change. We are leading the way in pledging financial support and would encourage others to follow. I am pleased that the UK finances a number of large multilateral funds which spend extensively in the Pacific region, including providing 50% of the funding for a pilot programme on climate resilience, which is making grants with USD 75m in Papua New Guinea, Samoa and Tonga.
I can also announce the launch of a UK/German programme to assist countries to decrease their reliance on fossil fuels among other initiatives to reduce their greenhouse gas emissions. This €40m fund is open to bids from the Pacific so I would encourage you to consider it carefully.
But just as the UK is supporting nations in the Pacific to secure their future, this generosity is being reciprocated. Not just through shared information and co-operation, however vital that may be, but also through the deployment of troops in support of the international community.
The huge budget deficit we inherited left us no choice but to reduce the size of our Armed Forces. Difficult decisions have been made: redundancies have, regrettably, become necessary.
Despite a reduction in our standing army we remain focused on a more flexible, better equipped expeditionary military capability. Our strategy will see the UK supporting national governments across the world as they develop their own capabilities, and encouraging individual nations to play a greater role in fostering security in their region.
I am extremely pleased that, last month, the Tongan government extended its commitment to the international effort in Afghanistan until 2014. Its presence, and the bravery and sacrifice of Tongan troops, is deeply appreciated and demonstrates very clearly that national interests no longer stop at our own borders.
That is why global links are essential. They offer security and opportunity; they drive prosperity, development and growth. It is why institutions that bind us together like the Commonwealth are becoming more relevant, not less. And it's why we are all here – to encourage companies in the UK and the Pacific to do business.
Papua New Guinea already has the largest economy of any of the Pacific Islands, and has the resources and the potential to grow even more rapidly.
A partnership with the UK will help to drive this long term economic growth: offering trade links, access to European markets, increased foreign investment and world-class expertise in the protection and sustainable development of natural resources.
What I have seen and heard so far gives me great reason to be optimistic about our shared future, and I very much look forward to further successes.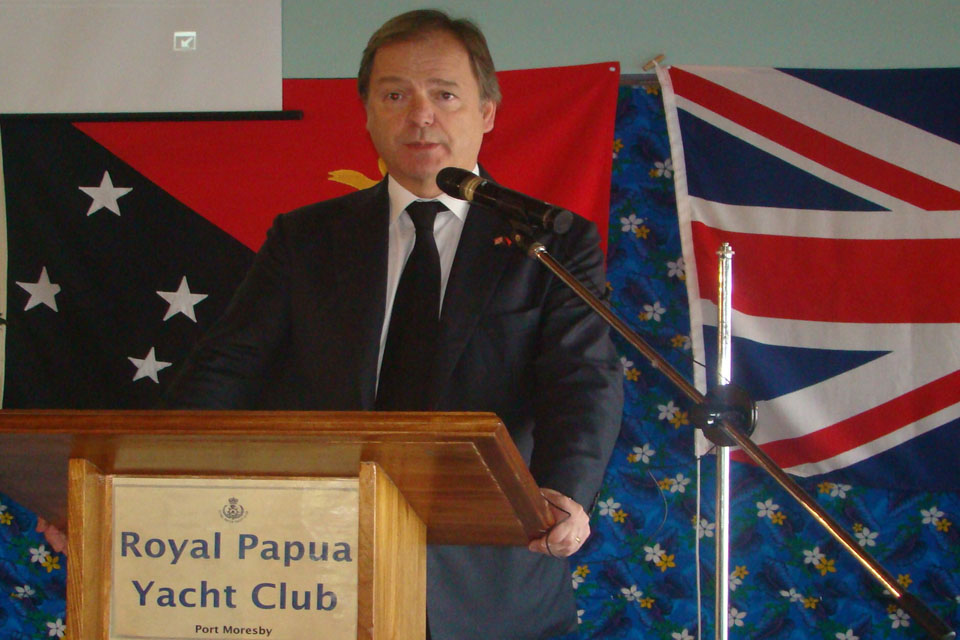 Further Information
Follow Hugo Swire on Twitter @HugoSwire
Follow Foreign Office Minister Hugo Swire's visit to the South Pacific on Storify
Published 17 April 2013