Speech
Farming sector: earned recognition and responsibility
Why the government is committed to 'earned recognition' as a principle that should be applied more widely than just farm regulation.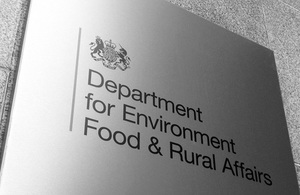 Thank you for the invitation to speak today on this important topic. I am here today to talk about earned recognition and responsibility. The former is something that I am very keen to promote both with the farming sector and associated businesses; in particular wearing my new hat on as Chairman of the AHWBE.
The concept of responsibility sharing between government and Industry is something I have long experience with, as Chairman of the National Fallen Stock Company which was a very early example of government and industry working together to meet common ends.
Earned recognition has become quite a fashionable term recently with the publication of the report of the Task Force on Farming Regulation in May 2011. But what does it mean? The report said and I quote:
"We recommend adoption of earned recognition – that is giving official recognition to the effective efforts made by individuals and business in understanding legal requirements and getting things right. Adopting and applying this principle should reduce the burden on business and help regulators to make risk-based decisions and to make better use of their expertise."
In response in Feb 2012 the government accepted this recommendation inviting farmers and associated industry to suggest areas where there is potential for earned recognition but went further by saying: government added:
"We are committed to establishing earned recognition as a principle that should be applied more widely than just farm regulation."
My Board endorses the Task Force recommendation and welcomes the government's response. We firmly believe this principle could be usefully adopted by the animal by-products sector and that the rendering industry is ideally placed to lead the way in making it a reality.
I therefore similarly invite the industry to take a greater role in sharing responsibility with government by taking steps to promote compliance with the regulations and high standards of public and animal health and environmental protection.
Earned recognition allows industry to contribute to risk assessment, it does not seek to transfer enforcement responsibility to the industry or ask assurance schemes to police the regulations. That remains very clearly the responsibility of the regulator. In the Animal by-products sector AHVLA is the regulatory body tasked with carrying out risk based inspections and I know it already takes into account a wide range of evidence when making risk-based decisions about inspections but there is no reason why non-official evidence from independently audited industry schemes should not help it prioritise its work.
However, industry will need to be sure that any such schemes ensure that standards are maintained – so there must be agreement on the evidence that can be used (including robustness and reliability) before changes can be made. Of course this cannot replace entirely the need for government carrying out official controls but if the industry can provide robust, accredited information this will help the government focus its limited resources on lifting the burden of inspection on competent business and focus on enforcement and checking those businesses where non-compliance is more likely.
In other sectors we already have examples where this approach is yielding benefits or is being actively pursued:
in 2011 FSA changed the frequency of official hygiene inspections on dairy farms from two to ten years for members of the Red Tractor assured Dairy Farm Scheme
from the beginning of this year AHVLA regard as low risk farms that are members of specified accredited assurance schemes (including Freedom Foods, Red Tractor) when making risk-based selections of premises for animal welfare checks
Defra and the RPA are considering taking account of membership of Red Tractor and LEAF Marque when selecting farms for cross-compliance inspection in 2013
meat hygiene audit levels are already determined through Business Agreements between the operator and the FSA - the FSA has invited the industry to develop a proposal that would allow high performing premises to use accredited private sector bodies to provide meat inspection services
Accredited assurance is one model that the industry might consider as way to benefit from less frequent government checks, and develop a level playing field for recognised members and greater confidence in the safety and integrity of the products from the industry's customers.
One final point: we have entered a period where government cannot and will not be doing everything it has been previously expected to do. This presents an exciting opportunity to challenge the status quo and investigate new ways of working. Where government does still have a role it will be looking to recover the costs of carrying out those existing functions.
Responsible businesses that recognise this and want to minimise the burdens of regulation and the costs associated with it, should consider very carefully how they can look at alternative approaches to meet these challenges. It is my belief that earned recognition schemes will have a big part to play in helping them do this.
Further information
You can read more information about the work of the Animal Health and Welfare Board for England.
Published 26 April 2012