Environment Secretary speech at the Northern Farming Conference
Environment Secretary Elizabeth Truss speech to the Northern Farming Conference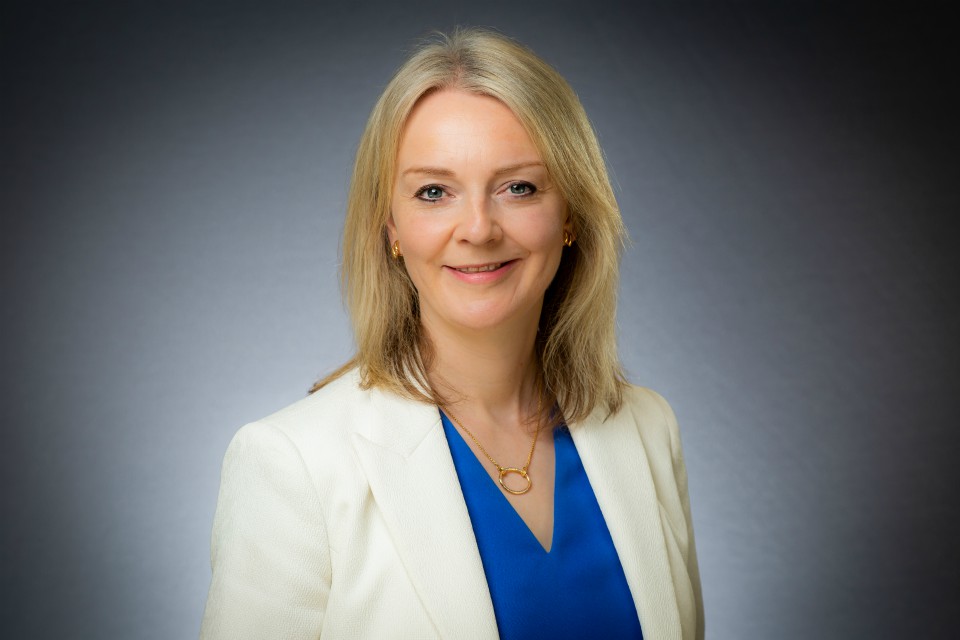 Thank you very much for inviting me to this conference.
It's great to be here at the Northern Farming Conference and here at the Hexham Auction Market which is at the heart of one of our fine market towns in England. What Hexham shows is how much of our economy and landscape is built on food and farming: Livestock, arable and forestry being important to this area.
Farming has shaped the landscape for centuries and our countryside is unimaginable without it. South of here in Weardale there are sheepfolds dating back to the 13th century. But there are also huge opportunities in the future. British lamb is a great product. It is part of our culture across Britain - from the fleeces in coats of arms to our churches. I am an MP in Norfolk and virtually all the churches there were built on the wealth generated by the sheep industry.
Arable crops have also been very important here. So much so that the Corn Road was built in 1753 from Hexham to Alnmouth to support the grain trade. Beef too has a great heritage. In the north Pennines native breeds like Belted Galloways, celebrated for their delicious meat, are now remerging. They thrive on a diet of grass and hay and low-intensity production.
But although food and farming has a fantastic past, a fantastic heritage in this country, what I see is an industry with huge opportunities and huge change taking place.
Some people seem to think that farming is a sunset industry. But I think it is a sunrise industry. It is an industry with huge amounts of opportunities.
If we look at the contribution of food and farming to the economy, it generates £100 billion a year. One in eight people is employed in food and farming. It's our largest manufacturing sector. It is bigger than cars and aerospace put together. One of the things I am keen to do is get the message loud and clear across our government and across our country just how vital it is.
I want to see more young people coming into the industry with new ideas, new ways forward. I see fantastic roles available in food and farming but too many young people don't know about those opportunities down the road from them.
I want to communicate what is going on. One of the things I did as a minister at DfE is put food and farming on the curriculum so children are not just learning how to cook food but also learning where food comes from.
I want to see a bigger market for British food. Since 2010, we have opened up 600 markets oversees. In recent months we have opened up markets in Singapore and Niger to British beef. We are making good progress with America and China. In three weeks' time I will be going out to China to talk about opening up markets in pork, beef, dairy and lamb.
We know there is a growing opportunity in China. Forty per cent of lamb we produce is sold abroad. But there is more potential. I also want to see us promoting British foods here in Britain. One of the first things I did as Secretary of State is launch the Bonfield Report which is all about making it easier for our schools, hospitals and public sector to buy quality local food rather than going for the cheapest price on the day. I am glad to say we are doing this across government - including the Defra canteen.
We know British consumers value products from this country. Apart from price, all the market research shows that 'being British' is the number one factor. I want to encourage supermarkets to get good labelling on their products so that people know where their food comes from. So, from April 2015 country of origin labelling will be compulsory for pork, lamb, poultry and goat products. This government is making real progress on ensuring our food is properly labelled.
This part of the country - the North East - does have some great food on offer - Teasdale Lamb launched jointly by 7 local families. I want to see more producers come forward and apply for protected food name status for their products. Lakeland Herdwick Lamb has already got this status, so has Swaledale and Wensleydale Cheese and so has Forced Yorkshire Rhubarb. We are very happy at Defra to help. It helps sales and export opportunities. It shows local roots can lead to a global reach. These heritage products have world-wide appeal - not just here in Britain.
I understand the industry is facing many challenges such as animal disease and CAP.
At Defra we have world-class scientists working on plant and animal disease in our new agency - APHA. We have protected the number of vets working in this agency. We think it is such a priority being ready to respond to any animal disease and picking up things early. We all know how terrible it was when Foot and Mouth hit our country in 2001.
One of my priorities is to ensure we are protected which is why I am taking action against bovine TB. We have the highest rates of bovine TB in Europe and it's a serious threat to our beef and dairy industry. That's why we are determined to take decisions that aren't always popular. We want to eradicate the disease completely by 2038. In this area we are on track to be TB free by 2018. We have a comprehensive strategy. It has been effective in other countries. In Australia, New Zealand and Ireland they are making progress.
On the subject on CAP, many of you in this room will recognise it is not as good as it could be. We are were we are. My aim is to make it as simple as possible, we administer it well and pay farmers on time and we disrupt as little as possible what the farmers want and what the consumers want. I know how problematic the system was. I have far fewer complaints that I had four years ago thanks to the efforts of Jim Paice and the RPA. We are working hard to make things more efficient. We also recognise the situation of moorland farmers and their payment will rise from £26 to £56 per hectare. I think it is vitally important that we protect the important work that hill farmers do.
But what I recognise about CAP is there is more work we need to do on greening and the three crop rule. The three crop rule is fundamentally a bad idea and it is wrong for people in Brussels to tell farmers in Britain what to grow.
I was at the first Agriculture and Fisheries Council on Monday. I told Commissioner Hogan it would make him popular here and across Europe if he got rid of the three crop rule. I also met Commissioner Vella and the health commissioners. I made clear to them that we want decisions on issues like GM and pesticides to be made in Britain. At present, the process is too convoluted. Decisions must also be made on scientific evidence and we need to be able to compete on a level playing field with the rest of the world.
I have invited all the commissioners to come to Britain to visit our high-quality farms. I am determined to keep pushing our points.
We are building a new digital system to claim payments. In this area, 75 per cent of farmers claim online. For those not online, there will be help centres. We are working to ensure everyone is informed. I want farmers to do what they do - not get caught up in form-filling and box-ticking. We are committed to reducing inspections. It not only costs you money, but it costs the government money.
I know my colleague George Eustice is looking at cross-compliance issues - in particular sheep tagging. It is not fair that a farmer is penalised for the whole flock when just one tag is missing.
Farming is the critical core of our rural economy. It employs 400,000 people and covers 70 per cent of our land and it is worth £210 billion a year. It is the core and centre of our northern economic powerhouse, outlined by the Chancellor, George Osborne. It includes companies like Fentimans, which exports its botanically-brewed ginger beer and other soft drinks to 40 countries. It's a great ambassador for our £100 billion food and farming industry.
Tourism is also important and generates £30 billion. It depends on those marvellous landscapes maintained by farmers. Tourism will be increasingly important, forecast to grow more than 4per cent a year between now and 2020.
Northumberland Tourism has benefited from the Harry Potter effect - at one of the locations for the films, Alnwick castle, £9 million of extra spending was put down to Potter magic.
We are working hard on broadband and mobile. As a rural MP, I know the frustrations of not-spots. We are aiming to reach 95 per cent of UK properties with superfast broadband by 2017. We are exploring how to reach those final five per cent. There are eight pilot projects running around the country to look into how to do this, including one in north Yorkshire and one in Northumberland.
In summary, I recognise that we face many challenges over the coming years but the importance of food and farming and the rural economy is clearer than it has ever been before.
It is extremely clear to this government how importance it is and the importance of food security and food and farming as an exciting sunrise business. We all have a very bright future to look forward to and I look forward to working with you on that future.
Published 12 November 2014