Speech
Building the maritime workforce of the future
With sea trade expected to grow, the need for a highly skilled workforce has never been greater.
Introduction
Thank you Commodore Bill Walworth for that introduction, and for inviting me to speak today (15 September 2015).
Trinity House is a building steeped in maritime heritage - and a perfect location for this skills event in London International Shipping Week.
So I'm delighted to be here.
This week is all about opportunity.
An opportunity to meet new people.
An opportunity to make new connections.
And an opportunity for the UK to showcase its maritime sector to an influential international audience.
Training and skills agenda is key going forward
I am particularly pleased to see so many of you today representing maritime training and skills.
It's a critical part of what we can offer as a country to those starting on their careers and to businesses looking to recruit employees with the skills needed for today's maritime environment.
As you may know, earlier today Lord Mountevans published the Maritime Growth Study – which was titled: 'Keeping the UK competitive in a global market'.
The study challenges both government and industry to reinforce their already strong relationship to tackle the issues identified and to better promote the maritime sector and so ensure the UK retains its place as a world leading maritime centre.
So although much of our focus this week is directed towards the international shipping community and global matters of interest it's also a time to reflect on our own, national issues.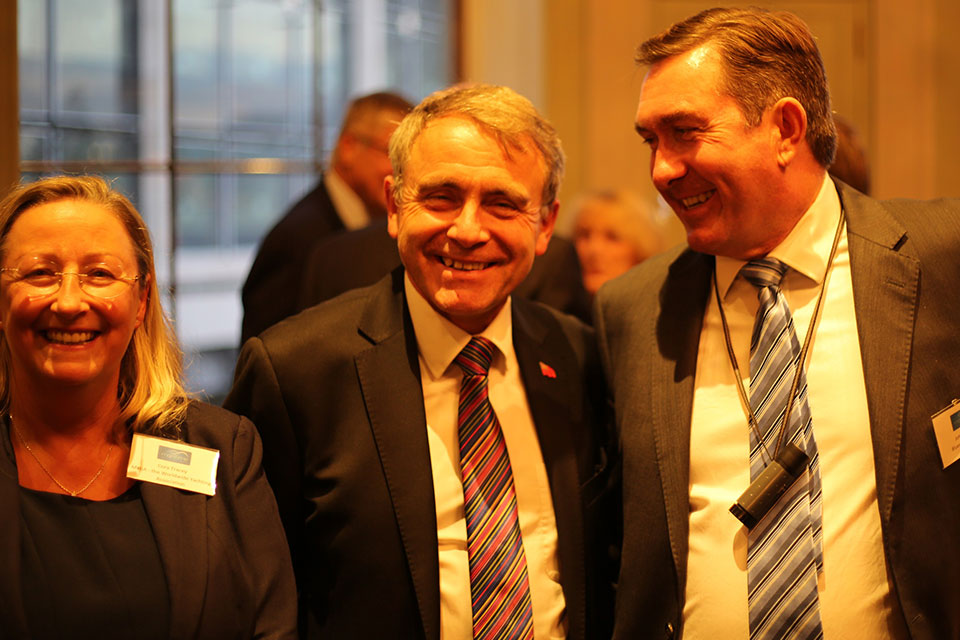 Addressing today's challenges
One of the biggest challenges discussed in the growth study is attracting the right number of people, with the right skills, to meet the industry's future needs.
With sea trade expected to grow significantly in the next 20 years, the need for a highly skilled workforce has never been greater.
Investing in the next generation of maritime professionals is essential if the UK is to remain the world's premier maritime centre, a position it holds in part because of its highly trained workforce.
That's why we are committed to continue building capacity in our maritime workforce, so we can capitalise on every opportunity a growing market provides.
We recognise the importance of transferable skills, the critical role seafarers play in supporting the wider maritime sector when they return from sea to shore based careers.
That is why we continue to invest in the training of officers and ratings through the £15 million Support for Maritime Training (SMarT) fund to help companies train Merchant Navy ratings and officer cadets as well as existing seafarers who sign up for 'rating to officer' conversion training or further professional courses including second certificate of competence.
To further support the growth of our maritime skills base we are piloting an extension to the tonnage tax training commitment to allow three able seafarer ratings to be recruited and trained each year in place of one trainee officer cadet.
In addition, the Maritime and Coastguard Agency provides highly respected and valued seafarer certification, prized by UK seafarers and the shipping companies they work for.
Government is also working with shipping and ports employers to develop maritime apprenticeships for a range of occupations — both at sea and ashore, helping to bring today's youth into this exciting sector.
These developments will radically change and improve the apprenticeship programme, with new apprenticeship standards replacing existing frameworks over the next few years.
Industry leadership in this skills and training agenda, together with government support is key to its success.
Our maritime and education offer is second to none
To deliver our maritime education and skills programmes we are proud that the UK's maritime education and training infrastructure is second to none
It is home to the largest number of maritime training institutions in Europe.
The prestigious universities and colleges benefit from significant input from, and collaboration with, the world's most successful maritime businesses.
Our collaborative approach, across our education, training and apprenticeship programmes, will provide companies with the most skilled workforce possible at sea, in our ports and in the specialist maritime business sector.
Conclusion
So let me conclude.
We have a lot to be proud about but there is still more to do.
We need to continue growing and promoting our maritime workforce and ensuring the future maritime sector has the right people with the right skills.
We want to enthuse the young about the fantastic opportunities available to them within the maritime sector.
The Maritime Growth Study sets out a number of recommendations. These are not for government to deliver alone, but for industry to take a lead, working hand in hand with government.
All of us in this room tonight have a role to play in building the maritime workforce of the future.
So I thank you once again for inviting me to speak, enjoy the rest of your evening and the rest of London International Shipping Week.
Published 15 September 2015