Speech
"All parties in Syria must ensure humanitarian agencies can deliver life-saving aid"
Statement by Ambassador Lyall Grant, Permanent Representative of the UK Mission to the UN at the Security Council Open Debate on the Middle East.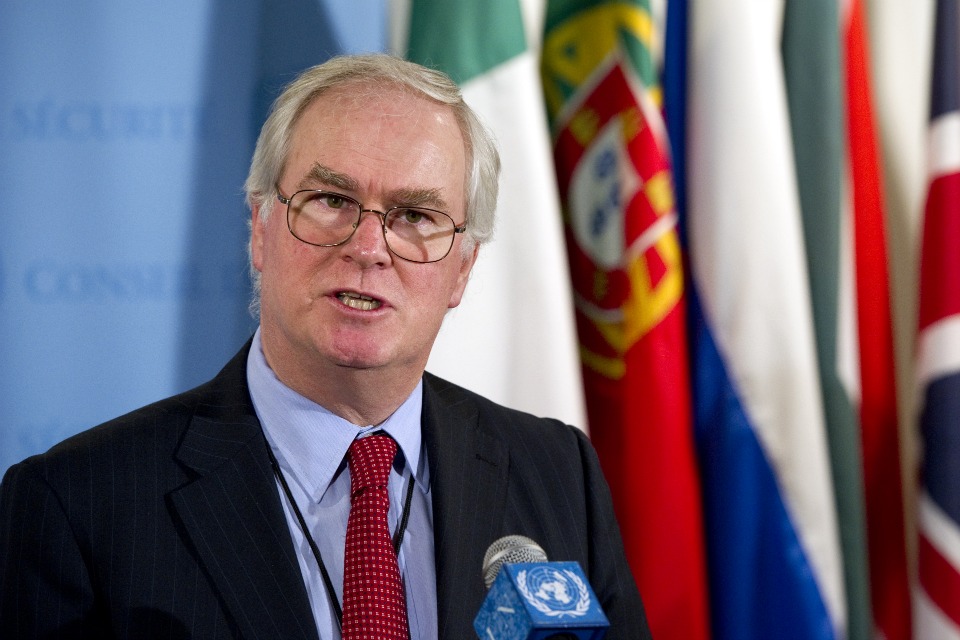 Thank you Mr President,
And I thank Under-Secretary-General Feltman for his briefing this morning and the Permanent Representative of Israel and the Permanent Observer of Palestine for their important statements.
Mr President,
The Middle East peace process remains central to events in the wider region. As President Obama said in Jerusalem last month, peace is necessary, just and possible. We welcome the efforts already undertaken by Secretary Kerry, and the good will with which they have been received by the parties themselves.
The UK stands ready to mobilise the European Union behind any decisive moves for peace. We share the vision of a world where Israeli people live in safety and security, alongside Palestinian people who have a sovereign, viable state of their own.
But For this vision to be realised, both parties must urgently take steps to rebuild confidence and faith. Events this month present a mixed picture:
We welcome reports of an agreement to end the hunger strike by Palestinian prisoner Samer Al-Issawi. However, the United Kingdom remains concerned at the continued, widespread use of Administrative Detention by Israel, particularly given Israel's agreement in May 2012 to limit its use.
The continued use of live fire by the Israeli Defence Forces resulted in the deaths of two Palestinian teenagers and on the other side, Molotov cocktails were reportedly used against the IDF during clashes in Tulkarem earlier this month. My government has called for an investigation into these clashes.
There have also been a worrying number of rockets fired from Gaza into Israel over the past month. We condemn such actions. The period of calm since November has been welcome and we call on those responsible to respect in full the ceasefire.
Lastly, the disturbing trend of settler violence continues. We welcome the investigations launched so far by the government of Israel and look forward to all perpetrators of such acts being held to account.
Mr President
Economic and political stability are key to creating the conditions for peace. As my Foreign Secretary said on 14 April, we regret the news of Dr Salam Fayyad's resignation as Palestinian Prime Minister. His dedication and energy allowed the Palestinian Authority to take great strides forward in building the institutions necessary for a future Palestinian State. We must continue to support these institutions.
In this context, we welcome Israel's decision on 25 March to resume the transfer of tax revenues to the Palestinian Authority, in line with its international obligations, and we expect this to continue. The United Kingdom remains a strong supporter of, and major financial donor to, the Palestinian Authority.
As I said in January's debate, we want 2013 to be a 'year of peace' for the Israelis and Palestinians. This requires Prime Minister Netanyahu and President Abbas to show the bold and decisive leadership needed to achieve the lasting peace that the people of the region deserve. We hope that they will live up to our expectations.
Turning now to Syria Mr President,
I would like to start by expressing outrage at Monday's reports of the killing by Syrian Government forces of hundreds of people, including numerous women and children, in the suburbs of Damascus. As my Foreign Secretary said on Monday, this is yet another reminder of the callous brutality of the Assad regime and the terrible climate of impunity inside Syria.
Mr President,
Our primary and urgent goal remains a political settlement to the conflict. We remain steadfast in our support for the efforts of Joint Special Representative Brahimi, but his room for manoeuvre is shrinking rapidly.
The Assad regime's violence, fuelled by the few countries that still support it, is becoming increasingly extreme: from the use of scud missiles against civilians to the regime's alleged use of chemical weapons. We strongly support the UN Secretary General's investigation into all allegations of chemical weapons usage and urge the Syrian authorities to provide full and unfettered immediate access to the investigation team.
The catastrophe caused by Assad's brutal regime is rapidly becoming the biggest humanitarian disaster of the 21st century. Ten million people – half of Syria's population – are likely to be in need of humanitarian aid by the end of this year. This includes up to four million refugees who the United Nations assesses will have fled Syria by the end of 2013.
More than 50,000 people have died since the last draft Security Council resolution on Syria was vetoed in July 2012. Yet action by this Council remains conspicuously absent.
Mr President,
With our partners, the United Kingdom will do everything we can to support the moderate opposition in order to build pressure for a political settlement for a free and democratic Syria. Last weekend in Istanbul, Foreign Ministers from the Friends of Syria Core Group met with the National Coalition. In their declaration the Coalition underlined their commitment to a political solution and transition; to guarantee the rights and participation of minorities in shaping Syria's future; to reject terrorism; to guarantee the safety of chemical weapons; and to reiterate their commitment to human rights and international humanitarian law.
In return the Core Group of 11 countries reiterated their support for a political solution; agreed to increase significantly their support to the Coalition and to channel all practical assistance through the Supreme Military Council; and urged the international community to provide more support to those countries hosting Syrian refugees.
Mr President,
The United Kingdom commends Jordan, Lebanon, Turkey and Iraq for their generosity in offering vital sanctuary to those fleeing Syria. Despite the strain on their resources, we urge them to continue to keep their borders open. The devastating impact of the crisis on regional stability underlines the urgent need for a political solution. There can be no doubt that the situation poses a clear threat to international peace and security.
But neighbouring countries cannot shoulder the refugee burden alone. The United Kingdom has provided $216 million in humanitarian funding, and has delivered fully on the pledges we made at the Kuwait Donor Conference. We call on all states to do likewise and immediately translate pledges into actual financial contributions – doing so will enable the United Nations to scale-up its response. And we hope that those countries yet to make financial commitments will reconsider their position.
Mr President,
The Syrian government, and other parties to the conflict, must immediately remove all impediments to the delivery of aid. The situation outlined by Valerie Amos to this Council last week is totally unacceptable: every truck needing a permit has to be signed by two ministers; as many as ten Note Verbales are needed for one aid convoy; a reduction of approved NGOs from 110 to 29.
All parties in Syria must ensure humanitarian agencies can deliver life-saving aid effectively, safely, fully and without impediments in-line with their obligations under international humanitarian law. We call on the Syrian Government to urgently facilitate free and unfettered access to all areas of Syria including both for agencies delivering assistance cross-lines and cross-border from neighbouring countries. The Security Council must address this issue urgently.
Mr President,
Finally, those who commit human rights abuses must be held to account. We call on the Syrian authorities to grant the Commission of Inquiry immediate, full and unfettered access throughout Syria. We strongly support calls for the Security Council to refer Syria to the International Criminal Court. The United Kingdom remains at the forefront of international efforts to ensure those committing war crimes and crimes against humanity feel the full weight of international justice.
Published 24 April 2013