Policy paper
The UK's work in Afghanistan: timeline
Published 14 January 2014
© Crown copyright 2014
This publication is licensed under the terms of the Open Government Licence v3.0 except where otherwise stated. To view this licence, visit nationalarchives.gov.uk/doc/open-government-licence/version/3 or write to the Information Policy Team, The National Archives, Kew, London TW9 4DU, or email: psi@nationalarchives.gsi.gov.uk.
Where we have identified any third party copyright information you will need to obtain permission from the copyright holders concerned.
This publication is available at https://www.gov.uk/government/publications/uks-work-in-afghanistan/the-uks-work-in-afghanistan-timeline
This Ministry of Defence video explains UK operations in Afghanistan over the last 10 years.
1.

1996: Taliban seize control in Afghanistan

September: the Taliban seize control of Kabul, ending a 7 year civil war following the withdrawal of the Soviet Union. They introduce an extreme version of Islamic law, banning music, television and sports, removing women from education and work, and introducing Islamic punishments such as stoning to death and amputation. The terrorist group Al-Qaeda relocate their headquarters to Afghanistan and operate under the protection of the Taliban government. The Taliban are recognised as legitimate Afghan rulers by Pakistan and Saudi Arabia, and by 2007 control two thirds of Afghanistan.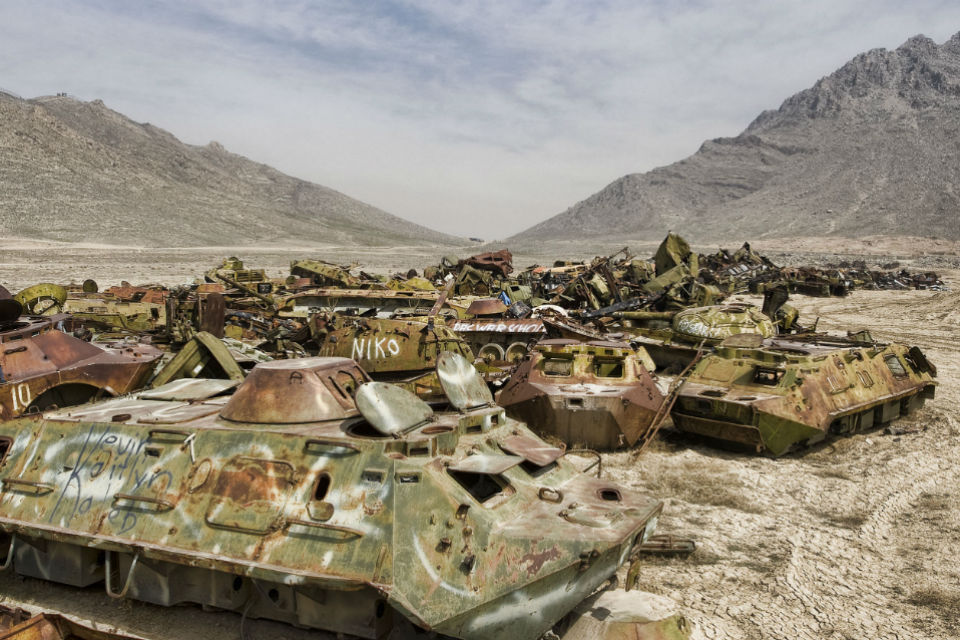 2.

1998: Al-Qaeda attacks linked to Afghanistan

August: Al-Qaeda is accused of bombing US embassies in Africa, killing 200 people and injuring over 500. US launch strikes on suspected terrorist bases in Afghanistan.
3.

1999: Taliban protects Osama Bin Laden in Afghanistan

October: United Nations imposes air embargo and financial sanctions on Taliban rulers to force Afghanistan to hand over Osama Bin Laden for trial. The Taliban continue to protect him.
4.

2001: 9/11 and the international response

September: 9/11 attacks take place. The US demand that the Taliban hand over Osama Bin Laden and expel the Al-Qaeda network from Afghanistan.

October: Operation Enduring Freedom begins following the Taliban's refusal to extradite Bin Laden. US, UK and allies launch military strikes against Al-Qaeda training camps with the objective of removing the terrorist threat. First UK troops are deployed to Afghanistan following an operation by 40 Commando Royal Marines to secure the airfield at Bagram (near Kabul).

November: British Embassy Kabul re-opened.

November: Taliban rulers flee from Kabul, most to Pakistan or remote mountainous area in the north of the country.

December: battle of Tora Bora takes place following suspicions that Osama Bin Laden and Al Qaeda are operating from caves in the area.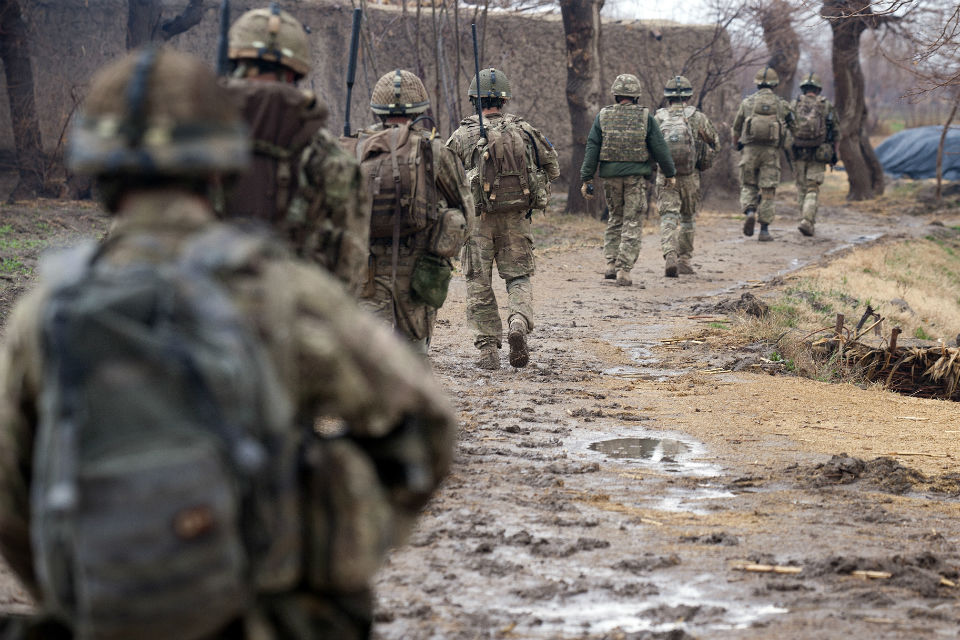 December: the Taliban lose their final stronghold, the southern city of Kandahar, as international troops push southwards.
December: Bonn Conference in Germany brings together non-Taliban Afghan leaders to set up a new interim government structure, the Afghan Transitional Authority, and a new international force with a UN mandate to maintain security, the International Security Assistance Force (ISAF).
5.

2002: Hamid Karzai rises to prominence

January: first contingent of ISAF troops deployed to Afghanistan, marking the start of a 12 year campaign.

March: the US-led Operation Anaconda begins, targeting Taliban and Al-Qaeda fugitives in Paktia province in the east of the country.

May: Operation Jacana begins, with UK Royal Marines deployed to mountain regions to hunt out remaining fugitives following Operation Anaconda.

June: Loya Jirga elects Karzai as interim head of new Afghan Transitional Authority for 2 year period.
6.

2003: ISAF in Afghanistan

August: NATO takes control of ISAF operations, ending the 6 month national rotations - first ever operational commitment outside of Europe.
7.

2004: Hamid Karzai confirmed as President of Afghanistan

September: Helmand Provincial Reconstruction Team opens, initially led by the US.

November: Hamid Karzai is declared winner of the presidential elections with 55% of the vote.
8.

2005: NATO helps elections take place in Afghanistan

September: first parliamentary elections held in Afghanistan for over 30 years, alongside provincial council elections.
9.

2006: UK armed forces deploy to Helmand Province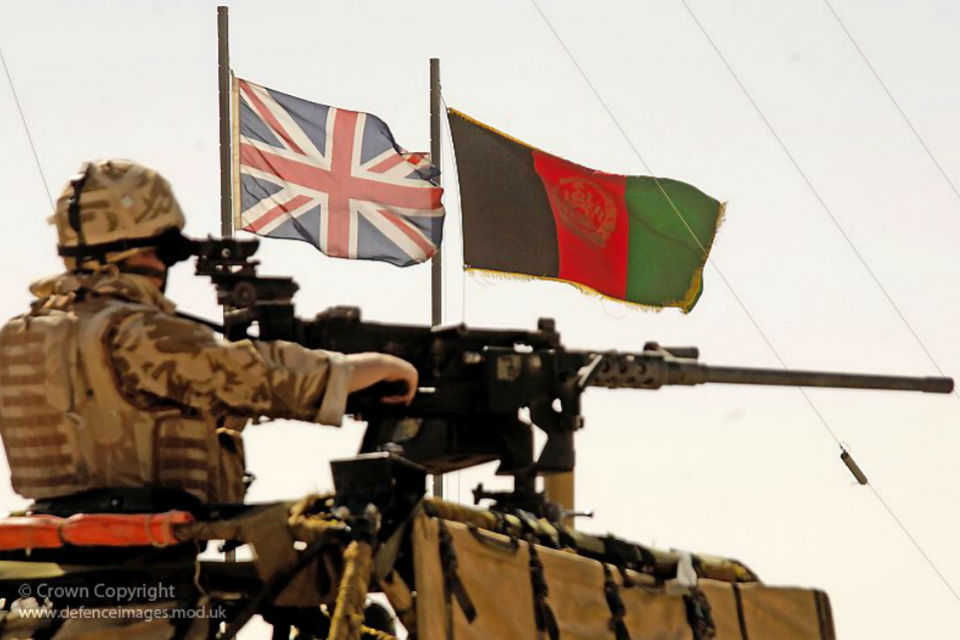 January: the UK announces the deployment of 3,300 British troops to lead ISAF in Helmand province in southern Afghanistan, one of the most volatile regions in the country.
May: the UK assumes the lead for the Helmand Provincial Reconstruction Team
October: NATO ISAF assumes responsibility for security across the country, taking command from US-led coalition force.
10.

2007: Operations in Helmand Province

December: UK forces are involved in heavy fighting and intense tactical operations in Helmand province, alongside Afghan forces, against insurgents in areas including the town of Musa Qala.
11.

2008: Prince Harry serves on the frontline in Helmand province

March: Prince Harry returns from his first tour in Afghanistan as a Forward Air Controller in Helmand Province for nearly three months. He is the first member of the Royal Family to serve in a conflict zone since the Falklands War.

June: Taliban still operational in border areas of Pakistan, Karzai warns he will deploy Afghan troops to Pakistan if the Pakistani government do not act.
12.

2009: NATO troops increase in Helmand province

June: Operation Panther's Claw is launched in Helmand, a British-led offensive involving over 3,000 troops. Following 5 weeks of fierce fighting, the Taliban are driven from their former stronghold, key strategic crossings are secured, and a lasting ISAF presence is established in the area.

February: NATO countries pledge increase of military and other commitments in Afghanistan after US announce dispatch of 17,000 extra troops.

August: presidential and provincial council elections take place amid concerns around low turnout, corruption and violence.

October: Hamid Karzai wins second term as President.

October: UK Prime Minister Gordon Brown announces the deployment of an extra 500 British troops, taking the total to 9,500.

December: Obama announces a surge of 30,000 extra troops, increasing the US contribution to 100,000. NATO commits an extra 7,000.
13.

2010: New ISAF Commander in Afghanistan

January: London conference brings together foreign ministers and senior representatives from over 70 countries to plan for a new phase of transition- handing over control of security operations to the Afghans.

February: Operation Moshtarak commences. This is the largest joint offensive to date, involving 15,000 British, American and Afghan troops, to eliminate the Taliban from their strongholds in central Helmand.

June: Prime Minister David Cameron makes his first visit to Afghanistan, meeting President Karzai in Kabul and British troops in Camp Bastion.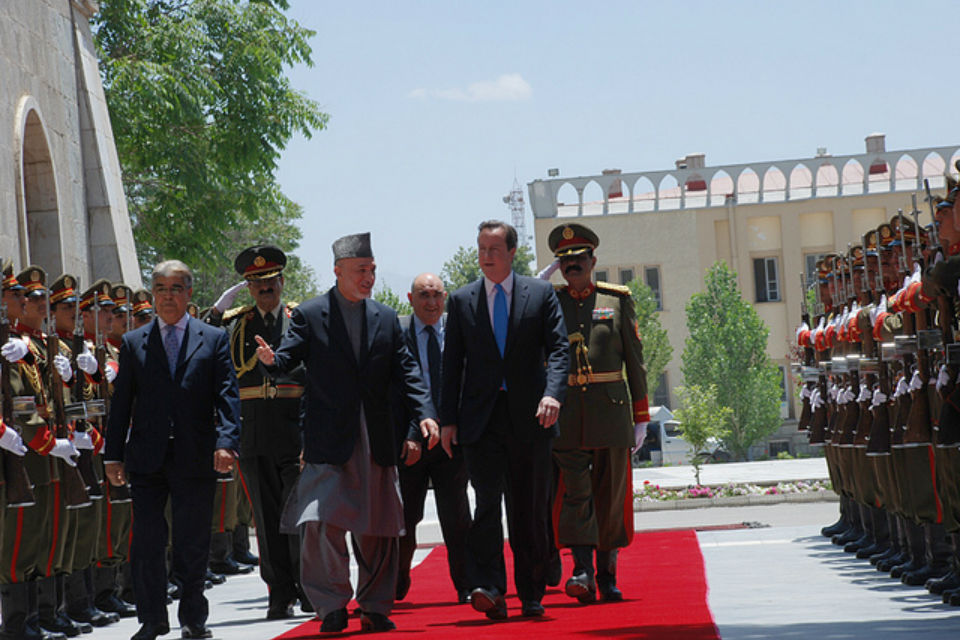 June: President Karzai establishes the Afghan Peace and Reconciliation Programme, aimed at bringing insurgent fighters and commanders over to the side of the government and reintegrating them into their communities.
June: General David Petraeus takes over from General Stanley McChrystal as Commander of the multinational ISAF forces.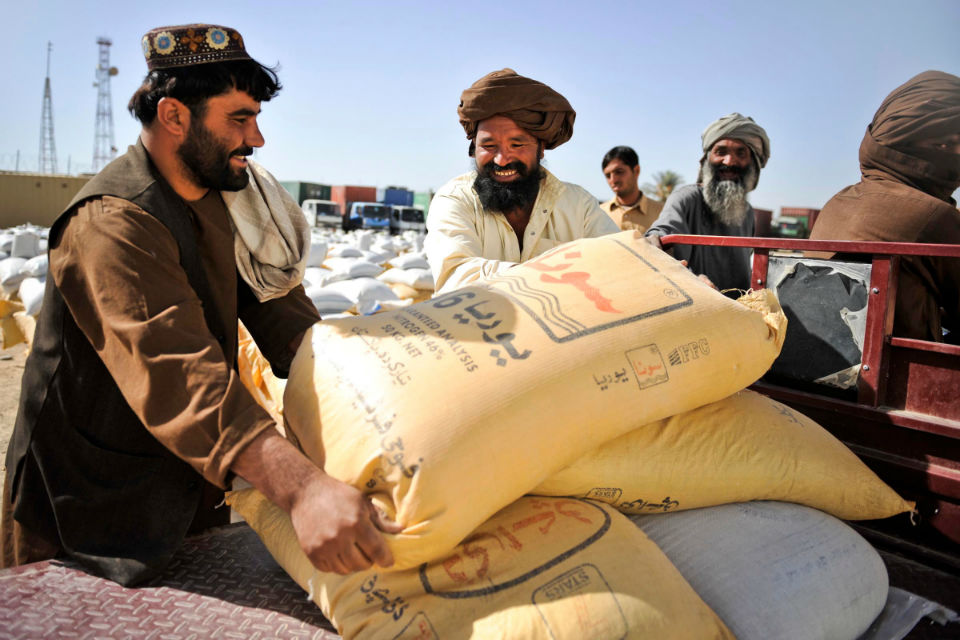 July: the UK announces 40% increase in UK development aid to Afghanistan, including a new Business Challenge Fund to increase enterprise.
July: Kabul International Conference on Afghanistan. The Afghan government presents the international community with an Afghan-led plan for improving development, governance and security. President Karzai announces his objective that Afghan forces should lead and conduct military operations in all provinces by end 2014.
September: Afghanistan's second parliamentary elections take place. Results are disputed, and the new Parliament is not seated until January 2011.
November: NATO Summit at Lisbon. The timetable for the handover of security control from ISAF to the Afghan forces by the end of 2014 is agreed. ISAF Heads of State and the Afghan government sign an enduring partnership agreement.
14.

2011: Afghan forces take over security in Helmand province

May: Prime Minister David Cameron announces the return of over 400 troops from Afghanistan over the course of the coming 9 months.

June: President Obama announces the withdrawal of 10,000 US troops from Afghanistan this year, and another 23,000 by the end of September 2012.

July: British troops hand over responsibility for security of the capital of Helmand province, Lashkar Gah, to Afghan forces.

October: 10 year anniversary of the start of operations in Afghanistan.

December: Bonn International Conference. Focus on the role of the international community after the handover and long-term political stabilisation. Attendees pledged to support Afghanistan in the decade following 2014 handover. Pakistan and the Taliban boycott proceedings.
15.

2012: Security and development commitments to Afghanistan

May: NATO Summit at Chicago reaffirms the commitment to withdraw ISAF troops by the end of 2014. $4.1 billion in sustainment funding for the Afghan National Security Forces is pledged by the international community, of which the UK commit £70 million.

July: Tokyo Donor Conference. The international community pledge $16 billion in civilian aid to Afghanistan up to 2017, of which the UK has committed £178 million per year. In return, Afghan government pledges to continue with reforms, including combating corruption, and supporting credible elections.

September: Prince Harry/Captain Wales arrives in Camp Bastion, southern Afghanistan to begin a 4 month tour as a co-pilot and gunner for an Apache helicopter.
16.

2013: Afghan forces take over security across Afghanistan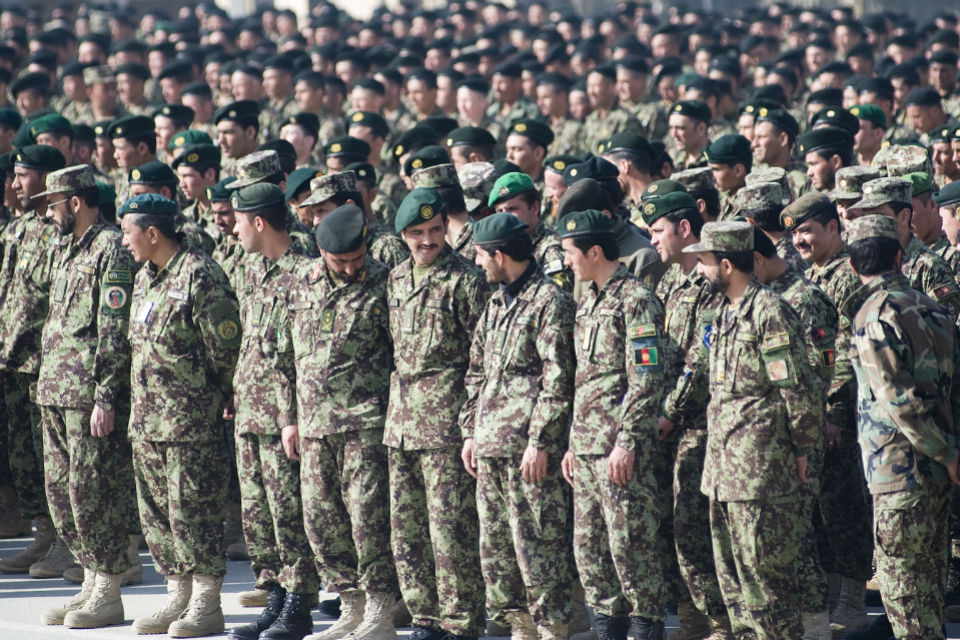 June: the Afghan National Army assumes control of all military and security operations in the country, taking over from ISAF.
17.

2014: Elections and the end of NATO's combat mission in Afghanistan

March: Helmand Provincial Reconstruction Team scheduled to close.

April: Afghan Presidential election.

September: NATO Summit scheduled: NATO Wales 2014.

Late 2014: Development conference on Afghanistan.

See also the UK's work in Afghanistan.