National Data Strategy
Updated 9 December 2020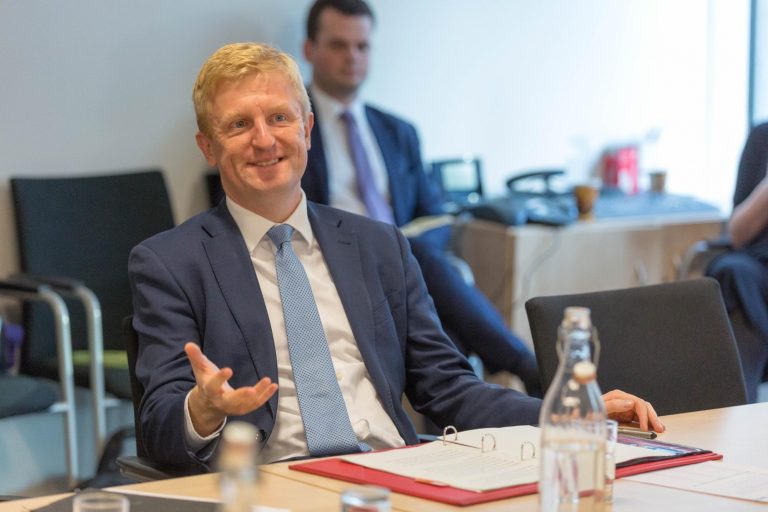 Ministerial foreword
When I became Digital Secretary, I vowed to be unashamedly pro-tech. This has to begin with data. Data is now the driving force of the world's modern economies. It fuels innovation in businesses large and small, and has been a lifeline during the global coronavirus pandemic. The fact that governments, businesses, organisations and public services were able to share vital information quickly, efficiently and ethically during the pandemic has not only saved countless lives, but has enabled us to work from home, keep the economy running and stay connected with loved ones during a period of unprecedented disruption. As we enter into recovery, it is vital that we make the most of what we have learnt.
This National Data Strategy aims to do exactly that, building on our manifesto pledge to improve data use in government, and going further. It seeks to maintain the high watermark of data use set during the pandemic, and to free up businesses and organisations to keep using data to innovate, experiment and drive a new era of growth. It seeks to harness the power of data to boost productivity, create new businesses and jobs, improve public services and position the UK as the forerunner of the next wave of innovation.
Under this strategy, data and data use are seen as opportunities to be embraced, rather than threats against which to be guarded.
This means asking fundamental questions about what data should and should not be made available across the UK. It means maintaining a regulatory regime that is not overly burdensome for smaller businesses and that supports responsible innovation. It means driving a radical transformation of how the government understands and unlocks the value of its own data to improve a range of public services and inform decisions at scale, through a whole-government approach driven from the centre. It means taking the risks of increased data use seriously. And it means positioning the UK as a global champion of data use, and encouraging the international flow of information across borders.
The strategy is a central part of the government's wider ambition for a thriving, fast-growing digital sector in the UK, underpinned by public trust. We want the UK to be a nation of digital entrepreneurs, innovators and investors, the best place in the world to start and grow a digital business, as well as the safest place in the world to go online. We will set out more on how we propose to support a digital drive for growth in our Digital Strategy, which we will be publishing in the Autumn.
This document is a framework for the action this government will take on data. It is not the final answer, but part of a conversation about the way that we support the use of data in the UK. We lay out the opportunities that we want to realise, the pillars that we have identified as core to unlocking the power of data for the UK, and the missions that we must prioritise now.



Rt Hon. Oliver Dowden CBE MP
Secretary of State for Digital, Culture, Media and Sport
Executive summary
The opportunity
Better use of data can help organisations of every kind succeed – across the public, private and third sectors. It can support the delivery of existing services, from manufacturing to logistics, and it can be used to create entirely new products. It is a driver of scientific and technological innovation, and central to the delivery of a whole range of vital public services and societal goals, from tackling climate change to supporting the National Health Service. As businesses embrace technology, data creates jobs, opens up whole new markets and drives demand for a highly skilled workforce.
On an individual level, the use of data benefits us every day – from the lives saved due to data-driven medical discoveries, to personal budgeting, understanding how much we have exercised and identifying better transport routes.
The UK is already a leading digital nation. The data market in the UK (i.e. money made from products or services derived from digitised data) is the largest in Europe. UK tech grew dramatically in 2019, with the UK securing 33% of European tech investment.[footnote 1] Globally, the UK now sits behind only the US and China in terms of venture capital investment.
But the last five years have seen huge technological changes, and national governments need to respond accordingly. We need a data strategy that reflects the opportunities and challenges of our new hyper-digital world, one that ensures we weigh the priorities and potential trade-offs of data in a deliberate and evidence-based way, and, above all, one that drives growth in the UK economy and powers our recovery from the coronavirus pandemic.
This strategy looks at how we can leverage existing UK strengths to boost the better use of data across businesses, government, civil society and individuals. Having left the European Union, we will take advantage of being an independent, sovereign nation to maximise those strengths domestically, and position ourselves internationally to influence the global approach to data sharing and use. We will act ambitiously at home and on the international stage, aligning our history of problem-solving in science and technology with progressive values and the competence and pragmatism of our regulatory institutions.
The UK response to the global coronavirus pandemic has powerfully illustrated the potential benefits of data. Our understanding of this disease, our ability to support people and our cooperation across borders have all relied on the responsible and effective use and sharing of data.
But we have a duty to do more – especially with the data that the government itself holds, which can be used and shared for the benefit of society. Individual transactions, from applying for social security benefits to buying a house, are more resilient when personal information can be shared from trusted sources – for example, in the form of a digital identity.
Data is a non-depletable resource in theory, but its use is limited by barriers to its access – such as when data is hoarded, when access rights are unclear or when organisations do not make good use of the data they already have. These barriers undermine the performance of public services and our economy, risking poorer outcomes for citizens. We will ensure that data can be leveraged to deliver new and innovative services, promote stronger competition, and better prices and choice for consumers and small businesses. We will drive an approach to data that holds that all can benefit when data is used responsibly, and that withholding data can negatively impact society.
This strategy
As part of this document, we are asking for your views. Consultation questions are included throughout the text and in an accompanying document. In future updates, we will lay out the steps that we will take to implement the strategy, and the way that your responses and the evidence you have provided have shaped our approach.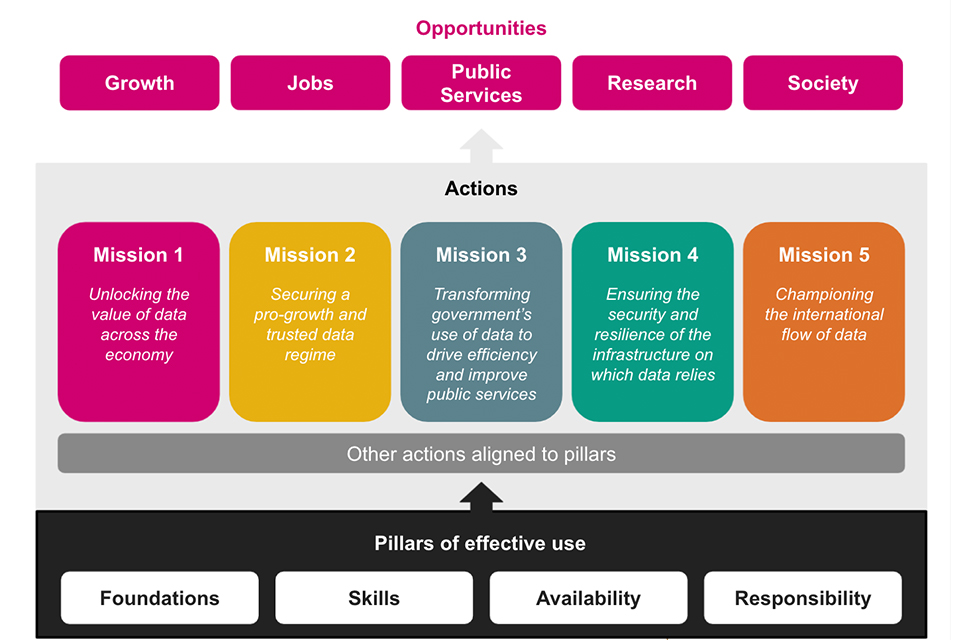 Together, the steps identified in this strategy build on UK strengths to drive better use of data – data use that is more secure, more innovative and more widely recognised as a force for good. Better use of data will drive growth and productivity, improve our society and public services and position the UK as a leader of the next wave of data-driven innovation. We have an obligation to realise this ambition.
1.

About the National Data Strategy

This strategy sets out how best to unlock the power of data for the UK. It builds upon initiatives such as the Industrial Strategy, the AI Review, the AI Sector Deal and the Research and Development Roadmap – setting out a framework for how we approach and invest in data to strengthen our economy and create big opportunities for us in the future. The government believes that unlocking the value of data is key to driving growth both within the digital sector and across the economy. This will be part of our Digital Strategy, which will be published in the Autumn and will consider more broadly how we can support a digital drive for growth.

In this publication, we set out the framework for the approach this government will take, the improvements we seek to deliver and the priority missions we will focus on now to realise that change. The increasing importance of data raises novel and complex policy questions. Some of these need further consideration before the UK government confirms its direction. As such, we are also asking for your views in relation to our general framing, along with some of the actions we are considering. These questions are included throughout the document and also collated in an accompanying publication.

This consultation is on a UK-wide basis: we welcome responses from organisations and individuals across the UK. The strategy covers both reserved and devolved areas: where the strategy covers reserved areas (and, in respect of Northern Ireland, excepted areas), it does so for the whole of the UK, and where it covers devolved or transferred areas, it applies to England only. We will publish a response to this consultation in early 2021.

A National Data Strategy will require activity and focus beyond government. In this framework strategy we have focused on the government's role in harnessing data. Following this consultation period, and as we move to implementation, we will work with stakeholders to set out how we will work with business and actors across the wider data landscape to land a strategy for the whole of the UK.
1.1

Evidence and working with stakeholders

This strategy, and the structure and substance of the pillars on which it is built, is drawn from a range of evidence sources, including desk research covering both case studies and published academic/sector research.

In June 2019, the government launched a call for evidence on the proposed framework of the strategy, receiving over 100 responses. Alongside this, a programme of stakeholder engagement was undertaken, including the hosting of 20 roundtables and workshops, with representatives from over 250 organisations across business, the third sector and local government. Through our call for evidence, roundtables and workshops held across the country in 2019, we consulted on our parameters and objectives, and gathered evidence that has underpinned this framework National Data Strategy.

We have analysed the call for evidence submissions and the discussions at the roundtables to make sure our evidence base is as wide and inclusive as possible. A summary of our call for evidence and of the stakeholder engagement can be found in the accompanying publication.

Data policy is a rapidly evolving area globally, and for many of the issues highlighted in this strategy a number of questions remain unanswered, with further research and analysis required. As the government takes this strategy forward, we will continue to draw upon available evidence to inform our actions. We will develop a monitoring and evaluation process for the strategy to help ensure it is achieving its intended outcomes, as well as building the evidence base on which we develop and evaluate future policy decisions. As we move to implementation, we will further continue to work with stakeholders to set out how we will engage with business and the wider data economy to land a strategy for the whole of the UK.
2.

The data opportunity

We are currently in the middle of a fourth industrial revolution. Technological innovation has transformed our lives, changing the way we live, work and play. At the same time, this innovation has brought with it an exponential growth in data: in its generation and use, and in the world's increasing reliance upon it.[footnote 2] By embracing data and the benefits its use brings, the UK now faces tangible opportunities to improve our society and grow our economy. If we get this right, data and data-driven technologies like AI could provide a significant boost to the entire economy. Data can improve productivity and provide better-quality jobs. But it can also transform our public services and dramatically improve health outcomes nationally. It can keep us safe and assist the reduction of crime, speed the journey to decarbonisation, and, used well, drive efforts to create a more inclusive, less biased society.

Importantly, data can also be used to harness the potential of regions right across the country,[footnote 3] ensuring that people and organisations from the whole of the UK can benefit from the full value of the digital revolution.

Like many things, the use of data also presents risks; those risks need to be fully understood and taken into account. Used badly, data could harm people or communities, or have its overwhelming benefits overshadowed by public mistrust. Equally, misplaced government reluctance to securely share and use data undermines the performance of public services and risks causing harm by missing opportunities to help those most in need. In the same way, unnecessary barriers to technological innovation could drive inefficiencies and slow down growth. So it is vital that we take decisive and evidence-led steps to make the most of data's potential.

We have identified five concrete and significant opportunities for data to positively transform the UK:
Achieving these opportunities will not be easy. While they are already being realised in some contexts, the means to do so are missing in many others. There is also a great deal of competition in the data space internationally, combined with differing global views on data and its use. As a digital leader, the UK is well placed to overcome this challenge.
In realising these opportunities, the UK can further enhance its world-class status in science and technology, and its reputation for finding pragmatic and innovative solutions to difficult problems. In the years to come, it can use these strengths as a springboard to become a global leader in data as well.
2.1

Boosting productivity and trade

Data is knowledge. By having access to more of it, combined with the ability to analyse it through modern techniques, we get greater insight into what works and what does not – both in terms of selling products and services, and in terms of making our own processes and practices more efficient. Data therefore has the potential to significantly enhance economic competitiveness and productivity across the UK economy, through new data-enabled business models, as well as through the adoption of data-driven processes by existing businesses.

There are various ways of defining and measuring the data market and the data economy.[footnote 4] A range of estimates suggest that the data economy grew about twice as quickly as the rest of the economy during the 2010s, making up about 4% of UK GDP in 2020. Beyond the impacts of data-driven products and services (i.e. the direct 'data economy'), the use of data has a more general role in underpinning digitally delivered trade. ONS estimates show that in 2018 the UK exported £190 billion in digitally delivered services (67% of total UK services exports) and imported £90 billion digitally delivered services (52% of UK services imports). Enabling and growing this data-driven trade will be a priority in our approach to free-trade negotiations.

While research into the business impact of increasing and improved data use is in its infancy and methodologically challenging, the existing evidence suggests wide-ranging economic benefits arising from better data use, in particular an association between efficiency, productivity and data-driven business practices.[footnote 5] There are also significant economic advantages from individual companies increasing data access and sharing. For example, Transport for London (TfL)'s opening up of its data sets to travellers and third-party providers contributed up to £130 million per year to the London economy through time saved by travellers.

In recent years, the UK government has taken significant and unprecedented steps to position the UK as a world leader in data-driven innovation. This includes committing to raising investment in (often data-heavy) research and development by 2.4% of GDP by 2027, establishing institutions such as the Centre for Data Ethics and Innovation (CDEI) and the Alan Turing Institute, launching brand new conversion courses in data science and AI, and conducting pioneering work on 'data trusts' – a novel data-sharing framework.[footnote 6] The importance of continuing and furthering this work will be even more vital in ensuring the UK's recovery from the coronavirus pandemic, and its economic success in the years beyond.
2.2

Supporting new businesses and jobs

Data skills – like many digital skills – are increasingly important for all aspects of life, but especially for the working environment. Increasing numbers of jobs require technical data skills. One estimate suggests there was over a 50% increase in data professionals between 2013 and 2020 – increasing from 1.1m to 1.7m employees. However, there are also over 100,000 unfilled data professional posts in 2020.[footnote 7]

But beyond these jobs requiring technical data skills, most jobs require some data and digital skills, and they are only set to increase in importance. Estimates from a DCMS-commissioned module of the February 2020 ONS 'Opinions and Lifestyle' survey found that nearly half (48%) of the working population use 'basic' data skills at work a lot, and just under a quarter (24%) use more advanced skills, such as data analysis and making graphs, a lot in their current job.[footnote 8]

We know that data is a basis for the creation of new jobs that use both general and more technical data skills. TfL's work on open data (below) is estimated to have created 500 jobs directly, and another 230 indirectly.[footnote 9] More widely, the European Data Portal predicts a baseline scenario of 1.12m open data employees and an optimistic scenario of 1.97m open data employees in the EU by 2025. And over 6% of new companies in the UK in 2019 were tech start-ups, with data and the aligned need for increasingly sophisticated data skills underpinning their business models.

By encouraging and supporting the use of data in the UK, we can ensure that the coming waves of technological innovation do not just drive new services but also foster the creation of new businesses and new jobs for the UK.
2.3

Increasing the efficiency and scope of scientific research

The UK is a leader in science and research, and data is at the heart of it. New scientific developments driven by data have potentially game-changing applications across the economy, such as tracking public health risks and aiding decarbonisation through smarter energy grids, predictive maintenance of infrastructure or better traffic management.

While data is critical in all research, some of the clearest examples of the benefits to society are in the life sciences. For example, data has been crucial in recognising and understanding the side effects of drugs, identifying the benefits of surgery for patients with Inflammatory Bowel Disease and demonstrating the impact of anti-smoking laws on the number of babies born prematurely in Scotland. The UK has also published five principles which will underpin the government's policy framework to govern fair, ethical and appropriate use of health data, while also supporting innovation. More advanced applications of data-driven technology have also provided responses to the coronavirus pandemic, with AI-driven systems being used to predict the virus's protein structure and determine which drugs may be effective for treatment, helping prioritise promising candidates for real-world trials.

However, barriers to accessing data represent a significant limitation on research; these range from legal barriers (real and perceived) through to cultural blockers and risk aversion. These barriers must be addressed if the UK is to remain at the forefront of science and research. For example, recent research into data use by the pharmaceutical and life sciences industry identified a number of systemic barriers that limit access to data. Most companies surveyed noted having experienced delays and uncertainties. These include time taken to access data, access constraints for commercial users, the effort to identify and assess the quality of data sets and, most notably, the cost of the data itself.

When dealing with sensitive data, the way forward must be considered and appropriate. For example, NHSX is developing a Data Strategy for Health and Social Care in Autumn 2020, which will aim to build on the permissive approach to data sharing for care seen during the coronavirus response, while still protecting the absolute need for patient confidentiality. A similar balance is needed in other instances where risks must be managed while unlocking the significant opportunities from data use at the forefront of science, research and technological development.
2.4

Driving better delivery of policy and public services

Data can revolutionise the public sector, creating better, cheaper and more responsive services. Public services are complex to deliver, with services such as the pensions system, the benefits system, the NHS, tax and the courts each engaging with millions of people across the UK every year. Likewise, keeping people safe requires access to the right information. These services and capabilities rely heavily on data, but the systems that handle this data have grown iteratively and independently, increasing in complexity over time. Many legacy systems are out of date, costly to operate and incapable of exchanging data with one another, presenting challenges in a world where public services are increasingly interconnected – be that between health and social care provision, tax and benefits or across policing, courts, prisons and probation.

Our experience responding to the coronavirus pandemic has demonstrated that when we treat data as a strategic asset and improve coordination between organisations, the delivery of services can be more agile, more innovative, more effective and more cost-effective. Indeed, it has underlined the need for the public sector to move away from a culture of risk aversion towards a joined-up approach, where the presumption is that, with appropriate safeguards, data should be shared to drive better outcomes. The rollout of the Coronavirus (COVID-19) Shielded Patients List showed how much can be achieved through appropriate data sharing across central and local government and the private sector, with over four million support packages distributed to some of the most vulnerable people in society.

For central government, better data also means better decision-making. It means policies that can be tailored and delivered more efficiently and significant savings for the public purse. Better evidence on whether policies are delivering their intended effects in different areas and for different groups means interventions can be far more effectively designed. This aligns with the public's new expectations in our increasingly digital context. As highlighted by the CDEI's public attitudes research, for example, 'there is an expectation that the public sector should use online targeting to ensure that advice and services are delivered as effectively as possible.

The problem and the opportunity are not limited to central government. Some of the biggest benefits can be realised by better, more coordinated use of data across the wider public sector – in education, the justice system, health and within local government. As we move to implementation, we will work with partners to better understand the needs and barriers faced by local government in utilising data to its fullest potential. We will cut down on bureaucratic burdens, tackle risk aversion and strengthen the incentives to share data across the public sector. Non-standardisation and a lack of coordination on data mean that data collected by one organisation cannot easily be used by another. This results in duplication of effort and wasted resources. Treating data in the public sector as a strategic asset, with appropriate governance, will save time and money and drive better outcomes for us all.
2.5

Creating a fairer society for all

Data holds great potential to empower people and civil society, delivering benefits that reach beyond the economy. Powered by better data, civil society organisations can be better equipped to reach the people most in need, at the time they most need it. Better data use could also significantly decrease operating costs, allowing charities to focus resources on protecting the most vulnerable parts of our society. Charities and other non-profits, and particularly smaller organisations, rarely have access to large enough datasets to be able to prove, to very high levels of certainty, the effectiveness of different interventions. Better coordination, re-use and sharing of data between civil society organisations can also lead to better understanding of societal issues, and of what interventions are effective in supporting those most at need. Data can drive applications that make our digital lives better. Artificial intelligence is increasingly being used to drive automated content moderation online, particularly in social media contexts, where it can help tackle misinformation. Data-driven online profiling technologies can help identify potentially vulnerable web users (such as people suffering from gambling addiction), and target support or prevent them from seeing potentially harmful content.

We can harness data as part of struggles to tackle bias and exclusion. Data can be used to hold a mirror up to society – to understand how different groups are faring, and to ensure that government and private sector actions treat people fairly, and are not unintentionally discriminating against protected groups.[footnote 10] We must further ensure that data-driven technologies and AI are a force for good. Biases arising from data or algorithm use will need to be addressed to ensure that data's potential is harnessed to drive a better, more inclusive and less biased society rather than entrenching existing problems. This is part of using data in an ethical and responsible way.
2.6

Realising the Data Opportunity

While the preceding examples show the significant promise of better data use, there are considerable challenges preventing us from realising this more broadly and consistently across our economy and society. Organisations do not always make the best use of the data they hold, whether due to a lack of skills, a lack of leadership or a lack of resources – government and the wider public sector provide examples of this. Many organisations are limited in their access to data, much of which is controlled by a small number of key players. When data is available, it may be in formats that are unhelpful or of undetermined accuracy. And while the UK does have a wealth of data skills, these are concentrated in areas of UK expertise like science and technology; we have identified an overall lack of data skills across the workforce as a whole.

To harness the opportunities and realise our vision, we need to drive improvement across the entire data landscape. Through thematic analysis of the responses to our call for evidence, stakeholder engagement and reviewing the wider evidence base, we have organised this into four highly interconnected pillars that describe the basis for better data use. These are:

These are:

To ensure that we drive focused change, we have identified five priority missions (outlined in the next section) where the government will emphasise activity across these pillars to begin realising the data opportunity set out above.
3.

Missions

This strategy sets out five priority areas of action for the government. By delivering against these missions, we will create the optimal environment for data to drive growth and productivity in the UK for the benefit of all, while helping to solve a number of societal and global issues.
Mission one: Unlocking the value of data across the economy
Data is an incredibly valuable resource for businesses and other organisations, helping them to deliver better services and operations for their users and beneficiaries. However, there is increasing evidence to suggest the full value of data is not being realised because vital information is not getting to where it needs to be.
For example, the Digital Competition Expert Panel's review of competition in Digital Markets and the Competition Market Authority (CMA)'s report into online platforms and digital advertising highlighted that smaller companies often do not have the same access to data as tech giants, potentially limiting their participation and innovation in digital markets. Improved public sector access to data can also lead to better decision-making at scale. For example, if the government had better data about infrastructure, it could reduce the disruption caused when underground pipes and cables are struck by mistake, or drive more informed choices about where to build new housing.
Our first mission is to create an environment where data is appropriately usable, accessible and available across the economy – fuelling growth in organisations large and small.
Much of the transformative potential of data lies in the potential for linkage and re-use of datasets across organisations, domains and sectors. We must ensure that the right conditions and incentives are in place to encourage organisations to work together across the economy, ensuring appropriate and timely access to data that is of sufficient quality. This can aid innovation, ensure the benefits of data can be realised by the maximum possible people in society and aid scientific research.
This is not simply a case of opening up every dataset. We must take a considered, evidence-based approach: government interventions to increase or decrease access to data are likely to have myriad consequences, intended and not. There is a balance to be struck between maintaining incentives to collect and curate data, and ensuring that data access is broad enough to maximise its value across the economy. For personal data, we must also take account of the balance between individual rights and public benefit.
This is a new and complex issue for all digital economies, one that has come to the fore as data has become a significant modern, economic asset. The first step must therefore be the development of a clearer policy framework to identify where greater data access and availability across and with the economy can and should support growth and innovation, in what form, and what government's role should be, in the UK and globally. We will move quickly to build that framework in the coming months by:
undertaking research to further develop our evidence base on the timely availability of appropriate quality data, set out the economic case and understand the opportunities and rationale for intervention
drawing on that work, and our existing evidence base, to scope out government's potential role, both with respect to short-term quick wins and longer-term projects
piloting the most promising interventions, working closely with industry and expert groups
working closely with the CDEI, the Open Data Institute (ODI) and others to leverage their expertise and capability to support delivery of this agenda
Mission two: Securing a pro-growth and trusted data regime
As the world becomes increasingly digitised, data has become a central driving force of the modern economy. So it is vital that the UK has a data regime that promotes growth and innovation for businesses of every size, while maintaining public trust.
The UK is already a world leader in technological innovation and robust data protection standards: two areas required to build and maintain privacy, security and public confidence.
We will build on these strengths to maintain a data regime that supports the future objectives of the UK outside of the EU. A pro-growth legal regime must include consideration of both regulation in the wider digital and technology landscape, which will be addressed in the government's forthcoming Digital Strategy, as well as our data protection laws.
As with all policy areas, the UK will control its own data protection laws and regulations in line with its interests after the end of the transition period. We want our data protection laws to remain fit for purpose amid rapid technological change. Far from being a barrier to innovation or trade, we know that regulatory certainty and high data protection standards allow businesses and consumers to thrive. We will seek EU 'data adequacy' to maintain the free flow of personal data from the EEA, and we will pursue UK 'data adequacy' with global partners to promote the free flow of data to and from the UK and ensure that it will be properly protected.
But data is now a far more influential force in our economy than ever before – with the potential to affect the structure and competitiveness of entire markets. This has serious implications for innovators, not least in the way our approach to data affects the ease, costs and risks of developing new technologies and services. The government needs to create the conditions to support vibrant competition and innovation, which will in turn drive future growth.
To build a world-leading data economy, we must maintain and bolster a data regime that is not too burdensome for the average company – one that helps innovators and entrepreneurs to use data legitimately to build and expand their businesses, without undue regulatory uncertainty or risk in the UK and globally.
Given the rapid innovation of data-intensive technologies, we also need a data regime that is neither unnecessarily complex nor vague. Businesses need certainty to thrive, and the government will work with regulators to prioritise timely, simple and practical guidance, especially for emerging technologies, and create more opportunities to experiment safely.
We want to encourage the widespread uptake of digital technologies more broadly – both for the benefit of the economy and wider society. We will work with regulators to provide more support and advice to small and medium-sized businesses to help them expand online, lifting compliance burdens where possible. We will also prioritise the development of sector-specific guidance and co-regulatory tools to accelerate digitisation across the UK economy.
Amid all this technological change, we want people to be active agents in the digital revolution. This is a shared responsibility of both businesses and individuals.
Businesses and other data-using organisations should be clear and transparent about how they collect and use data responsibly. Working with the CDEI, the government will partner with industry to identify and incentivise best-practice.

People should be empowered to choose whether and how to share data in both the public and private sectors, including where the use of their data can help others. In turn, the government will remain committed to high data protection standards so that data processing is fair and does not result in discriminatory outcomes.
People, businesses and other data-using organisations need the right data skills to participate actively. Individuals should have the basic data skills to be able to engage with and understand what is happening to their data. UK organisations will need access to top talent in data science, data engineering and related fields, as well as data-literate workforce.
Mission three: Transforming government's use of data to drive efficiency and improve public services
There is massive untapped potential in the way the government uses data. The coronavirus pandemic showed how much can be achieved when government departments and the wider public sector share vital information to solve problems quickly. We have a duty to maintain that high watermark after the pandemic, and will implement major and radical changes in the way the government uses data to drive innovation and productivity across the UK. In doing so, we will improve the delivery of public services, as well as our ability to measure the impact of policies and programmes, and to ensure resources are used effectively.
There is already consensus amongst experts both inside and outside government – including academics, civil society and parliamentarians – on the need to address this challenge and to capitalise on the opportunities.
However, there are numerous obstacles to achieving our ambitions, many of which are long-term and systemic. These include: real and perceived legal and security risks of sharing data; a lack of incentives, skills or investment to drive effective governance and overhaul data infrastructure; and a lack of consistency in the standards and systems used across the government, making it hard to share data efficiently.
These obstacles are not insurmountable, and we have both the ambition and the commitment to tackle them.
To succeed, we need a whole-government approach led by a Government Chief Data Officer from the centre in strong partnership with organisations. We need to transform the way data is collected, managed, used and shared across government, including with the wider public sector, and create joined-up and interoperable data infrastructure. We need the right skills and leadership to understand and unlock the potential of data – and we need to do so in a way that both incentivises organisations to do the right thing, as well as build in the right controls to drive standardisation, consistency and appropriate data use.
To achieve this objective, we will need to drive change across five key areas:
Quality, availability and access: striving towards improved data quality that is consistent, a clear understanding of what data is held and where, better data collection, and efficient data-sharing between organisations. All should be the norm, rather than the exception.

Standards and assurance: setting and driving the adoption of standards for data, leading to greater consistency, integrity and interoperability, and enabling data to be used widely and effectively across government.

Capability, leadership and culture: developing world-leading capability in data and data science across central and local government, so that leaders understand its role, expert resource is widely available, staff at all levels have the skills they need, and a 'data-sharing by default' approach across government tackles the culture of risk aversion around data use and sharing.

Accountability and productivity: opening government up to greater scrutiny and increasing accountability, ensuring that this drives improvements in productivity, policy and services for people, while also ensuring data security; and using procurement to drive innovation and better outcomes.

Ethics and public trust: this transformation will only be possible and sustainable if it is developed within a robust ethical framework of transparency, safeguards and assurance which builds and maintains public trust in the government's use of data.
Mission four: Ensuring the security and resilience of the infrastructure on which data relies
With data now a critical part of modern life, we need to ensure the infrastructure underpinning it is safe, secure and resilient. The infrastructure on which data relies is a vital national asset – one that supports our economy, delivers public services and drives growth – and we need to protect it appropriately from security risks and other potential service disruption.
In the UK, the government already imposes safeguards and enforcement regimes to ensure that our data is handled responsibly. But we will also take a greater responsibility in ensuring that data is sufficiently protected when in transit, or when stored in external data centres.
The government will determine the scale and nature of risks and the appropriate response, accounting for emerging trends.
We will tackle the cyber threats that arise from those seeking to harm the UK head on. We will shape a more secure technology environment, and improve cyber risk management in the economy to make the UK resilient to cyber threats. The increasingly international nature of data collection, storage and transfer can present data security risks. We will determine whether current arrangements for managing data security risks are sufficient to protect the UK from threats that counter our missions for data to be a force for good.
Data use creates other risks. Better use of data has the potential to help solve wider climate change problems and help the UK meet its net zero 2050 target, but we will also consider government's and businesses' responsibility for the environmental impact of increased data use. We will look to understand inefficiencies in stored and processed data, and other carbon-inefficient processes.
Mission five: Championing the international flow of data
In our hyper-connected world, the ability to exchange data securely across borders is essential. Economically, it drives global business, supply chains, trade and development; it will also be critical in enabling the global recovery after coronavirus. On a personal level, people rely on the flow of personal data to ensure their salaries are paid and to connect with loved ones from afar; this data in particular needs to be suitably protected. Finally, it has a huge impact on international cooperation between countries, including for law enforcement and national security, keeping the public safe.
Having left the European Union, the UK now has a unique opportunity – as a world leader in digital and as a champion of free trade and the rules-based international system – to be a force for good in the world, shaping global thinking and promoting the benefits that data can deliver while managing malign influences.
Using our international engagement and influence, we will:
Build trust in the use of data: We will create the regimes, approaches and tools to ensure personal data is appropriately safeguarded as it moves across borders. This will include looking to secure positive adequacy decisions from the EU to allow personal data to continue to flow freely from the EU/EEA to the UK, implementing an independent UK Government capability to conduct data adequacy assessments for transfers of personal data from the UK, and working with the Information Commissioner's Office (ICO) to build cooperation between national data authorities. The importance of data to our daily lives has made it a geostrategic tool. We will establish clear expectations of accountability when processing data – to protect personal data when it moves across the globe. These criteria will align with the UK's stance on promoting its wider values, ethics and national interests.

Facilitate cross-border data flows: We will work globally to remove unnecessary barriers to international data flows. We will agree ambitious data provisions in our trade negotiations and use our newly independent seat in the World Trade Organisation to influence trade rules for data for the better. We will remove obstacles to international data transfers which support growth and innovation, including by developing a new UK capability that delivers new and innovative mechanisms for international data transfers. We will also work with partners in the G20 to create interoperability between national data regimes to minimise friction when transferring data between different countries.

Drive data standards and interoperability internationally: We will cooperate with nations to develop shared standards that align with the UK's national interests and objectives. In a global arena, technical standards are increasingly expressions of ethical and societal values, as well as industry best practice. Recognising this, the UK will support global work on interoperability, which will facilitate the combination and cross-referencing of different data sources. This will include support to the collaborative on interoperability, an outcome of the UN World Data Forum in January 2017. The UK Government will also work with like-minded states to seek to ensure our values are considered and incorporated into the standards for new technologies which substantially impact data and their data trail.

Drive UK values internationally: The UK will be a champion of good-quality, available data across the globe. We want to ensure that UK values of openness, transparency and innovation are adopted worldwide. Now the UK has left the EU, we have an opportunity to set the UK apart and take an independent, individual approach that extols UK values. National competitiveness and the balance of power internationally are increasingly based on technology and the data that drives it. We want to ensure that UK values of openness, transparency and innovation, as well as the protection of security and ethical values, are adopted and observed globally. The UK will continue to play a leadership role to meet the urgent need for open, inclusive data, and its commitments under the International Aid Transparency Initiative. And we will continue to support the work of the Open Government Partnership to open up governments across the globe.
4.

Data foundations: ensuring data is fit for purpose

In this section:

If the UK is to fully realise the benefits of our ongoing technological transformation, we must start by getting the basics right. This means being more effective in how we collect, curate, store, manage and delete data. Left alone, data does not sort itself out. If it is to become a powerful tool that can transform organisations and society, data requires effective governance, management and stewardship. It also requires modern infrastructure, allowing data to be shared across systems that can interact with one another.

The case for change in public sector data use is clear. Presently, data is not consistently managed, used or shared in a way that facilitates informed decision-making or joint working across government and the wider public sector. Data remains undervalued and underexploited.

Modernising the way we manage and share data across government will generate significant efficiency savings and improve services. To succeed, we must expand work to treat data as a strategic asset, and create a whole-government, collectively responsible approach to investing in data foundations, so that everyone can benefit from the improved outcomes data can offer.

The picture is more varied across the private and third sectors. While the UK is home to many world-leaders in data use, driving innovation and better services for consumers, this is not universally the case. Responses to our call for evidence and the wider existing evidence base suggest that across all sectors of the economy – perhaps particularly for SMEs and the third sector – issues include a lack of understanding about how data can be used, and used well; these issues are felt at most levels of organisations.[footnote 11]

The lack of basic coordination and interoperability both within and between organisations can drive inefficiency, a lack of accountability and an inability to thoroughly evaluate or plan. Data that is not usable, linkable or comparable between organisations means that, nationally, we lose out on the 'positive externalities of data' – on the ability to pool data from multiple sources and sectors to create new economic opportunities, or to save lives.

Indeed, even those working on advanced technologies report that poor data foundations can be a real blocker for driving the transformative power of data. For example, when the source data needed to power AI or machine learning is not fit for purpose, it leads to poor or inaccurate results, and to delays in realising the benefits of innovation.

With better data, we can unlock new opportunities for businesses to grow and innovate. We can vastly improve and streamline public service delivery and offer consumers greater power and choice in the market.
4.1

Data foundations in the wider economy and society

Poor data quality and, relatedly, a lack of agreed standards are clear barriers to the effective use of data, from basic record-keeping to cutting-edge applications of data-driven technology. Responses to our call for evidence and stakeholder engagements highlighted common issues around:
a lack of (central) ownership of data standards/ metadata/ APIs
a lack of skills in managing data
the pace of change leading to a fragmentation in the systems used to manage data, with ongoing resourcing issues linked to set up and maintenance costs
Some respondents suggested these costs could be especially burdensome for smaller organisations, or for organisations who make data as a bi-product of their operations rather than as a discrete business product. There was anecdotal evidence from our call for evidence that in general SMEs find it more difficult than large companies to invest in and maintain high quality data. There are pockets of stronger evidence for particular types of business. For example, the construction industry has well recognised Building Information Management (BIM) standards.[footnote 12] However, a range of academic studies find SMEs in construction generally do not use BIM. The issues identified by SMEs include:
perception that BIM is only of benefit for larger construction projects
high set-up costs of software
licensing of software
lack of in-house skills and/or cost of training.
information retention across platforms (interoperability) – despite the industrial strategy supporting BIM
lack of demand from clients (so no push to adopt the greater functionality)[footnote 13]
Pulling together the pockets of evidence with the wider anecdotal points, it is likely these issues do act beyond just the construction industry. The wider evidence base on the impacts of improving data 'foundations', and conversely the effect of not investing in them, is not especially strong. There appears to be little robust and independent research into the case for – and means of – implementing data quality, standards and management-improvement measures. This could be for a number of reasons:
definitions vary, with a lack of consensus on how to measure the constituent elements of 'data foundations'
most organisations would not want independent analysts studying their proprietary data, because of the risks to reputation or intellectual property
This is an apparent evidence gap that the government intends to address. Taking the limited research that does exist, there appears to be widespread concerns for 'data foundations' in the private and third sectors, with some consensus that small businesses, charities and SMEs are particularly affected. These problems are seen to result in loss of time and risk lower quality business decisions and operation.
Any way forward must be carefully considered, and one size will not fit all. Some barriers to better data use, even when substantiated by evidence, will not necessarily warrant government intervention. Poor data quality within organisations, for instance, is unlikely to warrant government intervention, unless it stops them carrying out a legal or statutory requirement. Even then, it is more likely to be a question for enforcers or regulators (for example, if poor records lead to poor or negligent care, or if an organisation's poor data management procedures lead to a data breach that warrants ICO involvement).
What could warrant intervention is the need to drive better quality, more standardised and interoperable data to help drive economic growth or enable a public good outcome, especially where the value of the data sits beyond its immediate use. The government has taken decisive action to unlock the power of location data and data about the built environment – as exemplified by the Geospatial Commission and through our world-leading National Digital Twin programme. The government has acted to further ADR-UK's work to transform the way researchers are able to access public sector administrative data by using the Research Powers of the Digital Economy Act (2017). There may be a case for extending this approach to other areas of the economy. In the first instance, we will take the actions outlined in the section below, and are seeking your views where stakeholder input and debate might push the agenda forward.
4.1.1 Consolidating a clear framework for government action in the wider economy
The government is committed to tackling market failures that mean the foundations of data use in the wider economy are missing or misaligned. Interoperable and consistent data can bring wide economic benefits. However, data of sufficient quality comes with a cost, and businesses can lack the information they need to make resourcing choices. Organisations report being tied into contracts on legacy systems that make collecting and maintaining data in interoperable formats harder. We know that a lack of coordination can act as a barrier to interoperability. And where businesses require data in certain formats for their business practices, such data may be undersupplied by the current market.
This is a new and complex issue that has come to the fore as data has become a more significant modern, economic asset. We are committed to addressing these issues, as highlighted in Mission 1 (Unlocking the value of data across the economy). This is a complex area, with many actors and the potential for unintended consequences. Before moving to consolidate this framework, we are keen to work in partnership with stakeholders as highlighted by our consultation questions and plans for future engagement. We are further working to build on the evidence base by commissioning research that deepens how we understand the government's role in driving data availability in the economy.
The steps we will take to consolidate the framework and approach, working with regulators and the Better Regulation Executive where appropriate, will include the coordination and alignment of existing work to build on data foundations across the economy, such as:
working across the physical environment, including the standardisation of data about location, the built and natural environment, and transport and other infrastructures. This will include further developing the Information Management Framework, which will seek to establish a common language by which digital twins can communicate securely and effectively, part of the Centre for Digital Built Britain's work towards developing a National Digital Twin.
maximising the use of trusted data in innovation at the national and local level through supporting the new UK R&D roadmap. This will include taking decisive action to drive the standardisation and interoperability of data for research, science and innovation, and improving the access to trusted data resources at local and regional levels, with further actions to be confirmed as joint work on R&D progresses.
bolstering efforts to ensure that consumers' data is put to work for them
4.2

Data foundations across government and the wider public sector

In our call for evidence, issues related to 'data foundations' were particularly highlighted across government and the public sector. Key issues included:
data quality issues, and different standards for data used at all stages of the data lifecycle from collection to publicly available datasets, and the (in)consistent use of metadata – where it was provided at all
issues with legacy systems and different, often incompatible systems for inputting and recording data at different stages of the data journey
a lack of resources for local authorities to deal with data issues
a lack of senior buy-in and leadership on data
a lack of alignment across government
The case for change for government and the wider public sector's use of data is well established. The Chancellor of the Duchy of Lancaster stressed the importance of using data more effectively to measure the impact of policies and make the best value-for-money decisions, for the greatest benefit, while increasing accountability. As highlighted by the National Audit Office (NAO) report – Challenges in using data across government – too often data is not seen as a key priority, the quality of data is not well understood and there is a culture of tolerating and working around poor-quality data. Inefficiency and cost can arise not just from poor-quality data, but also from a lack of coordination in data systems.
The NAO report referenced above also found that a lack of standards across government has led to inconsistencies in the way data is recorded between departments, including identifying numerous methods of capturing and storing data on individuals and businesses. This makes it extremely challenging for the government to get a holistic view of problems and limits the ability of departments to benefit from new technologies and tools.
These problems extend into the wider public sector. For example, effective electronic health recording systems play an important role in direct care, service delivery and research. While many of these systems are likely working to the same data standards and many neighbouring Trusts have interoperable systems, a recent study indicated that, of the 117 NHS trusts using electronic health recording systems, 92 of them were using at least 21 different medical records systems, making it harder to coordinate and effectively share information. Ensuring these systems are fully functional and interoperable is vital if we want to continue to realise their benefits. The government took decisive steps at the March 2020 Budget, announcing the establishment of the Data Standards Authority, the Government Data Quality Hub and the development of an integrated platform for data across government. In July 2020, the Cabinet Office also assumed responsibility for government use of data to drive coordinated improvements in the use of data in policy making and service delivery. More remains to be done.
4.2.1 Data quality and technical barriers to data use and re-use across government
We will improve data quality across the public sector, ensuring that this data is not fragmented, siloed or duplicated across different organisations, and is deleted appropriately. Even the best-quality data cannot be maximised if it is placed on ageing, non-interoperable systems. The government is committed to removing the barriers to data interoperability presented by variations in the hardware and software used across government,[footnote 14] including by using processing techniques that make data 'independent' of the infrastructure that contains it.
4.2.2. Standards and assurance
To ensure that data is reusable and interoperable across government,[footnote 15] we have established a Data Standards Authority, with ongoing work to identify and agree a prioritised list of data standards to adopt across government. In the past, standards around data have been seen as voluntary. The result has been inconsistent adoption and a failure to realise the benefits – we will tackle this through a prioritised approach to mandating certain standards and using spend controls to drive others.
4.2.3. Productivity and accountability
To ensure that these changes are effective, we will tackle data governance across government, challenging risk aversion and data-hoarding, driving consistent levels of data maturity and ensuring a joined-up approach to establishing appropriate safeguards. A whole-government approach on data requires oversight and accountability from the top and centre of government, and through each department; we will ensure aligned accountability mechanisms, as well as a set of senior data leaders with the relevant expertise and backing and support from across government.
4.3

Supporting data foundations internationally

Beyond our borders, and as brought to the fore most recently, a lack of basic data maturity, standardisation and interoperability on the international stage can mean that it is difficult to thoroughly understand issues that affect us globally, such as the difficulty in comparing transmission or mortality figures in the early stages of the coronavirus pandemic.

In the global arena, technical standards are increasingly expressions of ethical and societal values, as well as industry best practice. As we set in place our domestic data strategy, we must engage our global partners to adopt complementary measures so they can fully embrace and harness the innovations that data can bring. We must also work with like-minded states to ensure our values are considered and incorporated into the standards of new technologies which substantially impact data and their data trail.

We want to be a data champion across the world.
5.

Skills: Data skills for a data-driven economy and data-rich lives

In this section:

Data skills deliver benefits across the board. Businesses are more likely to be competitive in today's digital-driven economy if they can use data effectively. Likewise, data-literate individuals are more likely to benefit from and contribute to the increasingly data-rich environments they live and work in, while data-driven companies can deliver significant productivity benefits to their own business and the wider economy.

The need for data skills continues to grow across the economy. The Royal Society reports that demand for specialist data skills has more than tripled since 2013, while DCMS-commissioned analysis of 9.4 million online job adverts predicts that data analysis skills will be the fastest growing digital skills cluster over the next five years. This characterises the exponential growth in the demand for advanced applications of data science and machine learning across all sectors of the economy, from cyber to construction. The growth in AI and cyber specialisms also drives the demand for broader supply of data skills at foundational level, to feed the pipeline of advanced skills and to provide business with the foundational skills they need to work with data. Notably, these scarce skills have been critical in the deployment of research capabilities to the coronavirus response. The portion of UK R&D that they support is significant and growing rapidly.

Consultation with data experts, the responses to the call for evidence and a review of existing research identifies a number of challenges involved in helping both individuals and companies develop the data skills they need. These include:
Lack of coordinated vision and leadership across multiple industry interests. Many of the issues with data skills lie parallel to the issues with AI and Cyber skills needs. For example, almost half of UK businesses are facing a cyber skills gap. A coherent approach across all skills stakeholders and landscapes will be required, as will enhanced efforts to drive diversity in skills provision.
Greater clarity needed in describing data skills required by industry, which will help assessment of individual skill sets and will ensure a better match of new recruits to company requirements.
The need for the formal and vocational education system to better prepare those leaving school, further education and university for increasingly data-rich lives and careers. Foundational data literacy will be required by all. Working with industry will be necessary to help ensure that the supply of specialist data skills meets and responds to companies' changing requirements.
Industries needing to develop their understanding of their own data skills needs, including how to define and source these requirements, and how to develop or source employees with the right mix of sector and specialist knowledge. Companies that are able to meet these challenges, particularly through senior buy in and advocacy, will likely thrive in a data-driven economy.
A limited pool of data-skilled individuals nationally, with the cost of hiring and retaining such staff preventing the government from accessing the data skills it needs. The NAO's 'Challenges in using data across government' report also highlights the current gap in skill sets "at several levels": legal and ethical data use; data storage, management and architecture; and planning and data governance. These points were reiterated in responses to the NDS call for evidence and roundtable discussions.
The government is committed to working with the devolved administrations to align activity on advanced data, digital and R&D skills to support vibrant career pathways and to attract talent. Further actions will be laid out through the government's upcoming Digital Strategy and through the next steps of the R&D Roadmap.
5.1

Driving clarity and coordination
5.1.1 Definition of data skills and role descriptors
Research commissioned by DCMS and the Royal Society, and responses to our call for evidence, all indicate that there is an inconsistent use of data role descriptors – an employee in a data scientist role at one company may have a distinctly different skill profile than a data scientist at another firm. There is often a lack of clear distinction between data skills, digital skills, AI skills and similar terms. This inconsistent use of role descriptors and the lack of clear distinctions between skills complicates skills assessment and makes it difficult to recruit staff with the specific skills required.
As highlighted in responses to our call for evidence, there is a need to develop and promote clearer career pathways for individuals looking to work in data roles. This is also true of related roles in AI and cyber security.[footnote 16] Importantly, many of these roles are underpinned by common skills, whether that be specific technical skills or more general aptitude.
This will build on industry initiatives, such as the Royal Statistical Society-led project to establish industry-wide professional standards for data science, and existing government initiatives to fully describe data skills within the existing DDaT framework.
5.1.2 National leadership in data skills
There are a number of national institutions that are involved in data skills related work. These include the Alan Turing Institute (National Institute for Data Science and Artificial Intelligence), the National Innovation Centre for Data, and the ODI. However, their respective roles in addressing the UK's data skills challenges are not clearly understood by all, which can lead to coordination issues, confusion among industry and the need for a more unified voice.
The Data Skills Taskforce was set up – partly in response to a recommendation in Nesta's Analytic Britain report – to act as a knowledge and best practice-sharing forum across key participants from industry and higher education, and to promote data skills and analytics. It has a wide range of members from industry, academia, Royal Societies and government.[footnote 17]
In related areas, the government has created the AI Council and UK Cyber Security Council. As independent bodies capable of providing authoritative advice and representing their communities, these are intended to serve as national leadership in AI and cyber security, respectively. The Data Lab, partly funded by the Scottish government, aims to help Scotland maximise value from data and plays a key role in helping to develop data skills in Scotland.
5.2

Ensuring formal and vocational education rises to the challenge
5.2.1 Schools
This data revolution has implications not only for experts with advanced analytical skills, but for the entire UK workforce. While we do not all need to become data scientists, everyone needs some level of data literacy in order to operate successfully in increasingly data–rich environments.[footnote 18]
To prepare the workforce of tomorrow to contribute to – and benefit from – a data-rich environment, it is important for everyone leaving our schools and universities to be better prepared for data-rich lives and careers. This has been emphasised by Royal Society and Nesta publications, which call for data science to be integrated across a wider range of subjects. It is similarly important that data science is accessible as an education pathway and to ensure that information about relevant qualifications and skills is widely available, as well as about career opportunities.
Post 16 T Levels are being developed to give young people a high quality technical option that delivers on the skills needs of employers. All T Levels technical qualifications will include the digital skills, and the Digital Production T Level will include content on data, digital analysis and software development.
Outside the formal curriculum, the education system offers opportunities to capitalise on students' interest in technical fields, enabling them to develop their technical skills and learn about options for further study and future careers.
Further measures will be announced as part of the digital strategy and through the National Skills Fund.
5.2.2 Universities and vocational education
The government's Higher Technical Education reforms will establish prestigious qualifications that meet employer needs, promote high quality courses and provision, and encourage HTE to be a more popular choice for learners and employers, starting with the Digital route from September 2022. The Department for Education is also working across government and with the organisations driving innovation, providers and industry on the adoption of emerging skills, and considering how links between universities and regional businesses could be more effectively coordinated.
In June 2020, DCMS and the Office for AI announced £13m for the Office for Students to support degree conversion courses in data science and AI, including £10m for up to 1,000 scholarships for people from diverse backgrounds, matched by an additional £11m from universities and industry partners. At least 2,500 graduate places will be created through the programme, with the first courses starting in Autumn 2020. This programme builds on a highly successful pilot of degree conversion courses in data science.
The Royal Statistical Society has highlighted the opportunity for UK Research and Innovation (UKRI) to further develop and strengthen data skills across the research landscape. There is interest from Research England, Economic and Social Research Council (ESRC) and others to address these gaps across the UK through the potential establishment of Data and Public Policy Centres for Doctoral Training (CDTs).
5.2.3 Labour market and industry
It is important for the UK to have data skills capabilities in companies, from basic data literacy to advanced technical skills. Those with both advanced data skills and sector knowledge will be in particular demand throughout the UK and internationally, meaning that companies – especially SMEs – will need to have access to viable training options. We will also need to build on the diversity and mobility initiatives in the workplace, and integrate the provision of data skills with the development of business skills at all levels to help develop data-driven companies. We will look to build on the recent government announcement about the establishment of a new Office for Talent that will make it easier for top science, research, digital and technology talent to come to the UK.
The Data Lab's engagement with industry over the past five years points to a need for an improved understanding of:
how specific roles and skills are best suited to deliver company requirements. This will help ensure first hires are more successful.
the opportunities for data to drive productivity improvements and innovation at leadership and board level
the need for all workers at board level to have basic data skills
5.3

Driving data skills across the public sector: capability, leadership and culture

Despite the many benefits that can be derived from data, institutionalised data culture – where data is seen as everyone's job and where data is seen to support outcomes at all levels – is lacking in many organisations across government and the wider public sector. There is not yet a consistent and mature approach to working with data based on knowledge, experience and best practice: we must strive to change this in the same way that the government has worked to instill a culture that emphasises value for money. In the future, the use of data in our work must become the norm, rather than the exclusive domain of specialists.

The lack of a mature data culture across government and the wider public sector stems from a fragmentation of leadership and a lack of depth in data skills at all levels. The resulting overemphasis on the challenges and risks of misusing data has driven a chronic underuse of data and a woeful lack of understanding of its value.

Senior leadership and effective governance will be key to establishing a data culture across government, but everyone, regardless of seniority or profession, should see data as a priority in their role – with data supporting each step of policy and delivery, from scoping to ongoing performance tracking, evaluation and improvement.

Work is underway to drive the importance of improving data culture across government and the wider public sector. At more senior levels, an innovation fellowship scheme, sponsored by No.10, will bring top data skills from the digital and tech sector into government. Fellows will support senior leaders on transformation projects of national importance.
6.

Availability: ensuring data is appropriately accessible

In this section:

With the increasing ascendance of data,[footnote 19] it has become ever-more important that the government removes the unnecessary barriers that prevent businesses and organisations from accessing such information.

The importance of data sharing was demonstrated during the first few months of the coronavirus pandemic, when government departments, local authorities, charities and the private sector came together to provide essential services. One notable example is the Vulnerable Person Service, which in a very short space of time enabled secure data-sharing across the public and private sectors to provide millions of food deliveries and access to priority supermarket delivery slots for clinically extremely vulnerable people.

Aggregation of data from different sources can also lead to new insights that otherwise would not have been possible. For example, the Connected Health Cities project anonymises and links data from different health and social care services, providing new insights into the way services are used.

Vitally, data sharing can also fuel growth and innovation.[footnote 20] For new and innovating organisations, increasing data availability will mean that they, too, will be able to gain better insights from their work and access new markets – from charities able to pool beneficiary data to better evaluate the effectiveness of interventions, to new entrants able to access new markets. Often this happens as part of commercial arrangements; in other instances government has sought to intervene where there are clear consumer benefits, such as in relation to Open Banking and Smart Data. Government has also invested in the research and development of new mechanisms for better data sharing, such as the Office for AI and Innovate UK's partnership with the Open Data Institute to explore data trusts.[footnote 21]

However, our call for evidence, along with engagement with stakeholders, has identified a range of barriers to data availability, including:
a culture of risk aversion
issues with current licensing regulations
market barriers to greater re-use, including data hoarding and differential market power
inconsistent formatting of public sector data
issues pertaining to the discoverability of data
privacy and security concerns
the benefits relating to increased data sharing not always being felt by the organisation incurring the cost of collection and maintenance
This is a complex environment, and heavy-handed intervention may have the unwanted effect of reducing incentives to collect, maintain and share data for the benefit of the UK. It is clear that any way forward must be carefully considered to avoid unintended negative consequences. There is a balance to be struck between maintaining appropriate commercial incentives to collect data, while ensuring that data can be used widely for the benefit of the UK. For personal data, we must also take account of the balance between individual rights and public benefit.
This is a new issue for all digital economies that has come to the fore as data has become a significant modern, economic asset. Our approach will take account of those incentives, and consider how innovation can overcome perceived barriers to availability. For example, it can be limited to users with specific characteristics, by licence or regulator accreditation; it can be shared within a collaborating group of organisations; there may also be value in creating and sharing synthetic data to support research and innovation, as well as other privacy-enhancing technologies and techniques.
6.1

Data availability for the economy and society

There is increasing evidence suggesting that the full value of data is not being realised in the economy, and that government intervention is necessary to address specific market failures in this area. The report of the Digital Competition Expert Panel and the CMA's market study into online platforms and digital advertising highlight data concentration and lack of interoperability as a critical factor to suboptimal competition and innovation in digital markets. Alongside this, research by the Bennett Institute and ODI argues that government intervention is necessary to realise the full value of data in the UK. Economic analysis by Ctrl-Shift uses the observed productivity and efficiency increases seen following the introduction of Open Banking to the financial sector, and looks at how equivalent changes would impact a variety of other sectors given differing levels of data use across them. This analysis suggests an average 1.4% increase to UK GDP, which in 2017 would have constituted a £27.8bn increase. The contribution to the economy that digital innovation represents is likely to be significantly greater, given multiplier effects.

Given this evidence, we anticipate that in certain circumstances increasing data availability across the wider economy and society has the potential to support greater innovation and drive economic growth. This would ensure that the benefits of data are realised by the maximum possible number of people in society and further aid scientific research.

These issues are addressed in Mission 1 (Unlocking the value of data across the economy). In addition to this, the government will continue to take action in a number of more specific areas, set out below.
6.1.1 Ensuring consumer's data works for them: Smart Data
Smart Data enables consumers and SMEs to simply and securely share data that firms hold about them with authorised third parties. The first and most advanced Smart Data initiative, Open Banking, has over one million users and an estimated gross annual benefit of £12bn for consumers and £6bn for SMEs. Following the issuing of the Retail Banking Market Investigation Order 2017 by the CMA, the advent of interoperable formats and new data flows have enabled new, innovative services to develop while increasing competition in the banking market and beyond, as different providers are able to offer services built on this newly available data.
For too long it has been unnecessarily difficult and time consuming for consumers to access and use the data that suppliers hold about them, or to access innovative new services that use this data. The government is committed to an economy where consumers' data works for them, and innovative businesses thrive. We expect that, in time, the extension of Smart Data will deliver new and innovative services, stronger competition in the affected markets, and better prices and choice for consumers and small businesses, including through reduced bureaucracy. Competitive data-driven markets can reduce friction for business and drive start-ups, investment and job creation.
In the 2019 Smart Data Review, the government committed to supporting existing initiatives in other regulated sectors such as finance, energy, telecoms and pensions. We believe that such measures will allow us to solve this problem, and that government intervention is needed to coordinate and incentivise action across sectors.
We are committed to an economy where consumers' data works for them, and innovative businesses thrive. As announced in the parallel Smart Data Review response, we continue to advance the Smart Data agenda. The extension of Smart Data will deliver new innovative services, stronger competition in markets and better prices and choice for consumers and small businesses.
6.1.2 Ensuring digital markets work effectively
Data lies at the heart of dynamic and competitive digital markets; it is central to the future of the UK's economy. We need the right incentives and structures to create, share and use data safely, and with consumer confidence, to drive the provision of new, improved and innovative digital products and services.
However, the economic characteristics of data may mean that it is not always allocated efficiently. The value of large, aggregated datasets set against the high costs required to build them leads to economies of scale, with the potential to inhibit market entry, undermine effective competition, reduce data sharing and result in unequal access to consumer data. A poorly designed regulatory regime can also reduce access to data. A pro-growth data regime must not drive concentration of data or limit data sharing at the expense of those individuals it seeks to empower.
The government has accepted in principle all six of the strategic recommendations made by the Digital Competition Expert Panel. The government has also established a cross-regulator Digital Markets Taskforce to consider the functions, processes and powers which may be needed to promote competition. The Taskforce is based in the Competition and Markets Authority (CMA), and draws on the expertise of ICO and Ofcom. The government is committed to ensuring that our overall approach to digital regulation is proportionate and supportive of innovation.
6.1.3 Open data
Since its introduction in the 2012 White Paper, 'Unleashing the Potential', the government has adopted the policy of 'Open by Default' for public sector data across all departments. This approach promotes the concept of open data release for a number of desired outcomes:
accountability (by openly publishing data and the evidence base behind policy, government will drive trust in decision making)
efficiency (publishing data to identify duplication,waste and other systemic issues that can be reviewed and remedied)
economic outcomes (catalysing the growth of innovative companies using data as the basis of new products and services)
By improving access to government-owned datasets – for example, by making them open – we unlock an abundance of value that can create and improve marketplaces to better meet people's needs. By moving away from document-based processes and systems, to one that is based on standardised data, we better support burgeoning industries like 'PropTech' (Property Technology). These industries are then equipped to drive innovation and improve people's engagement and experience with different services.
For open data to flourish, a number of underlying policies and mechanisms have been created. These include the technical frameworks for data use, governance forums and international commitments to transparency. Over time, the data landscape has evolved, and issues of impact measurement, effective governance and awareness for public officials have been raised. The government seeks to address these issues, and to drive the agenda to ensure that public sector open data is the backbone of innovation, efficiency and growth.
6.1.4 Shared models for deriving value from public and private data assets
Beyond the commitment to open data, the government has long recognised that new models and approaches are needed to drive value from data and data systems that span the private and public sector – this is particularly important in cases where the data itself is not appropriate to be shared as open data, be it for privacy, national security or commercial reasons.
This is well illustrated by the work of the National Infrastructure Commission and the Geospatial Commission, as further explored in the case studies below. To ensure that our focus on data availability supports both growth and the public good, the government will ensure an aligned approach to deriving value from these assets, supporting the future infrastructure required for emerging technologies such as driverless cars and smart cities.
This shared approach will be increasingly needed across the economy and society. For example, to improve systems for detecting and addressing online harms, the government is launching a £2.6m programme that will help companies to develop AI-based solutions to tackle these issues ever more effectively.
6.2

Data availability within government and the public sector
6.2.1 Frameworks to enable public sector data sharing
Barriers to the sharing, linking and reuse of data across government and the wider public sector are well understood. As outlined in Mission 3: Transforming government's use of data and the Data Foundations pillar, there is work underway to ensure that data is reusable across government, and that systems are in place to allow for that re-use.
Legislative barriers – perceived and genuine – have also historically prevented greater data sharing in the public sector. Historically, a proliferation of powers to share data for specific purposes has made it difficult for public authorities to understand what data can be shared, and, where powers did not exist, it could take years to establish legislation to introduce new data sharing powers.
The government has already taken measures to address these issues and simplify public sector data sharing. The Digital Economy Act 2017 sought to reduce these legal barriers, with the introduction of legal powers for the sharing of publicly held information for a specific purpose.
Research into the use of the public service delivery power within the Digital Economy Act (2017) identified additional barriers, ranging from resource constraints and a lack of awareness of the powers, to cultural barriers centred around a nervousness around data sharing.
These issues are addressed in Mission 3: Transforming government's use of data).
6.3

International data availability

It is hard to overstate the importance of flows of data across borders to support economic development and global cooperation. Accurate, available data of appropriate quality can help to improve transparency, accountability and economic activity, which are all critical in creating more stable and prosperous countries across the globe. International data flows drive global business operations, e-commerce, supply chains and trade in goods and services. They also support cooperation between policymakers, law enforcement, regulators and academics – the need for this cooperation has been clearly demonstrated by the coronavirus pandemic.

The proposition to our international partners is that data can be used to drive innovation, the economy, governmental cooperation and trade without compromising safety, security or privacy. We will take a holistic approach to enabling global data, through the removal of unjustified barriers, the development of frameworks for the transfer of personal data, and, where appropriate, by helping our international partners to increase data availability in their own countries.
6.3.1 Removing barriers to data flows
Unjustified barriers to cross border data flows, such as measures that require the use of local computing facilities as a condition for conducting business in that country, can be a barrier to innovation, market access, and trade. The UK will take a leading role in encouraging the removal of such barriers to unlock the growth potential of global digital trade.
6.3.2 Personal data transfers
Digitally-delivered trade, which requires and generates data flows, has expanded rapidly in recent years, creating great opportunities for businesses and consumers. However, such trade faces significant challenges, such as fragmented transfer mechanisms and rising restrictions on cross-border data flows.
The importance of data to the daily lives of modern citizens has made it a geostrategic tool. The government is committed to supporting international data flows while ensuring that transfers of personal data from the UK uphold high data protection standards. The UK must take responsibility for the different means by which personal data may be lawfully transferred to countries outside of the UK. In doing this we will ensure that UK businesses, charities and public sector organisations have effective and efficient mechanisms to transfer personal data from the UK, while safeguarding people's data. We will establish clear expectations of accountability to protect personal data when it moves across the globe. These criteria will align with the UK's stance on promoting its wider values, ethics and national interests.
6.3.3 Supporting availability in other countries
Available data is essential to understand and tackle global issues. The fight against climate change, international crime and the coronavirus pandemic are not confined to the borders of one country. Addressing them head on is made easier if data is available.
The UK has a strong track record here. For example, in 2019 cyclone Idai caused catastrophic damage over 17 days in Mozambique. The UK's response included collating evidence from a range of science and data providers. Using available and standardised data, we developed flood forecast and population exposure maps allowing response teams on the ground to prioritise where immediate action was needed. The UK has also helped to strengthen the capacity of the UK's international partner's National Statistics Systems to make data available, including setting up an Open Sustainable Development Goals platform.
7.

Responsibility: driving safe and trusted use of data

In this section:

The UK is already a major data user. This strategy sets out our ambition to make even greater use of data, recognising the benefits this will bring to all.

In order to reap the benefits of greater data use, we must maintain a fit-for-purpose legal and regulatory regime capable of keeping pace with, and responding to, the increasing importance of data in our economy, society and lives. A regime that reflects what people really care about and preserves their trust, while also enabling the opportunity that responsible data use creates.

The ever-growing importance of data will also increase our dependence on the infrastructure on which data relies, as well as on the systems and services that keep data both secure and accessible.

Getting safe and trusted use of data right requires action at all levels of society:
Government has a responsibility to ensure that there is a clear and predictable legal framework for data use that can both spur the innovative use of data, especially for purposes in the public interest, and earn people's trust. A pro-growth legal regime requires the consideration of regulation in the wider digital and technology landscape, which will be addressed in the government's forthcoming Digital Strategy, as well as in our data rights regime, explored in chapter 7.1. The government has a further responsibility to ensure that the infrastructure on which data relies is secure, sustainable and resilient enough to support ongoing digitalisation, economic growth and changes to the way that we live and work. The government must also be transparent and prepared to open itself up to scrutiny over its own use of data.


Organisations have responsibilities to upskill themselves so that they can both manage and use data efficiently as a strategic resource, and ensure such use is lawful, secure, unbiased and explainable. We want businesses and other organisations to place a greater value on ensuring that they have the right skills to collect, organise and manage data. This will bring collective benefits to the wider economy and to society. There is also a growing need to ensure that security is incorporated as part of product and system design. Currently, almost half of UK businesses have identified a cyber security breach or attack in the previous 12 months. To be effective, organisations must also ensure that they account for biases arising from data or algorithm use, as identified in the CDEI's interim report.


Individuals should be empowered to control how their data is used, and supported to have the necessary skills and confidence to take active decisions around the use of their data, in order to contribute to the wider societal benefit data can offer. Recent Ofcom research into consumer experiences online found that over 80% of those surveyed had concerns about using the internet, with 37% having specific concerns relating to data or privacy. Nonetheless, there is public benefit in the collective use of data that may derive from the activity of individuals. For example, our individual medical data has been critical in tracking the coronavirus pandemic and in making collective decisions about how quickly and in what areas it is safe for the UK to ease restrictions. Data about individuals is also critical to understanding threats to our collective security. We want people to recognise their responsibility to consider how their data – used responsibly and fairly – can create a better society for all. In particular, we want to strengthen the existing understanding that aggregated data about people – used responsibly and fairly – can have public benefits for all. Where people understand why data about them might be required, they tend to support it being used for the broader good. For example, a recent government survey revealed that 79% of british adults said that they would share some of their medical data if it helped develop new medicines or treatments. Enhancing individual awareness about the public benefits of data use requires transparency about such benefits, as well as a commitment to ensuring that people have trust and confidence in the use of their data and that it is adequately safeguarded.
7.1

A pro-growth data rights regime

As highlighted in Mission 2: Maintaining a pro-growth and trusted data regime, we will work to maintain a pro-growth data regime that the public trusts. We will focus on the key areas set out below.
7.1.1 Helping organisations to comply with the law
Responses to the NDS call for evidence highlighted a lack of clarity about certain aspects of data protection rules and regulations, which cause particular difficulty for SMEs. Businesses should not be driven to costly over-compliance or high risk aversion with respect to data sharing by unnecessary complexity or vagueness in the regulatory environment. This limits the societal benefits of responsible data sharing.
7.1.2 Fairness, transparency and trust
Our data regime should empower individuals and groups to control and understand how their data is used. It should also instil confidence in individuals, increasing their comfort with the use of data, including their personal data, to deliver benefits for the whole of society. Principles of fairness and transparency are central to the UK's data regime, which also safeguards people's access to their data and to information about how their data is collected, shared, analysed and stored. These principles require active interpretation and application to new and emerging technologies, such as big data techniques and machine learning. The use of algorithms has the potential to improve the quality and speed of decision-making, but there are also risks of human-introduced bias, discriminatory outcomes or unsafe applications, which must be mitigated if we are to harness their benefits.
In particular, the transformation of government data, and the data-driven transformation of government, will only be possible and sustainable if it is built upon a sound ethical and legal framework which engenders public trust. People need to have confidence that the government is collecting, storing and using their data safely and securely, in accordance with the highest standards of ethics, privacy and security.
A wide range of research suggests transparency around how data is used is important for building public trust, and the importance of trust as an enabler for public sector data sharing. Evidence on existing levels of public trust in government data use is mixed; estimates from a DCMS commissioned module of the February 2020 ONS 'Opinions and Lifestyle' survey found that nearly half of adults (49%) trust central government with data about them[footnote 22] (comparable to the estimate of those who would trust families and friends at 50%). In contrast, a 2019 study by the ODI found that only 30% of people trust central government to use their personal data ethically. These differences may stem from different methodologies.
Initiatives such as Project ExplAIn, a collaboration between the ICO and the Alan Turing Institute, are creating practical guidance to assist organisations with explaining artificial intelligence (AI) decisions to the individuals affected. The ICO has also recently published an AI Auditing Framework, focusing on best practices for data protection compliance. Nonetheless, a number of expert institutions – including the Alan Turing Institute, the Ada Lovelace Institute, the Oxford Internet Institute and AI Now – have emphasised the need for greater algorithmic transparency, particularly within the public sector.
We recognise and commit to addressing the need to develop appropriate mechanisms for increasing transparency and accountability in decisions made or supported by algorithmic systems, and for monitoring their impact. We will therefore collaborate with the leading organisations and academic bodies in the field to scope and pilot methods to enhance algorithmic transparency.
Finally, new technologies may help to create safe and secure environments for sharing data, including personal data. Privacy-enhancing technologies facilitate data sharing in ways that can improve privacy and in so doing build trust, while personal data stores could help people to exercise more control over their data. Nevertheless, ethical and legal questions remain.
The government will only be able to build and maintain public trust by ensuring and clearly demonstrating that its approach to data is rooted in appropriate levels of transparency, robust safeguards and credible assurances. To support this, the government must be willing to open itself up to scrutiny, increase public engagement and improve the publishing of data by which progress can be measured. The recently refreshed Data Ethics Framework guides appropriate and responsible data use in government and the wider public sector.[footnote 23] In the research and statistics community, the UK Statistics Authority has established the National Statistician's Data Ethics Advisory Committee and developed a self-assessment tool to help researchers and statisticians consider the ethics of their use of data.
7.2

Data use that is secure and sustainable
7.2.1 Security and resilience of UK infrastructure on which data relies
As our economy and public services become increasingly dependent on data, the security and resilience of the infrastructure on which data relies will also become more important.
The need to store and process data externally – for example, in data centres – will also become even more of a critical operating function. OECD figures show that the number of businesses in the UK purchasing cloud computing systems nearly doubled from 2014 to 2018. As data centres underpin an increasing amount of business and societal activity, having confidence in the security and resilience of the UK's infrastructure on which data relies is a key aspect of protecting individuals' rights, service delivery across private and public sector organisations and national interests.
Significant progress has already been achieved in managing the risks from threats and hazards to the infrastructure on which data relies, with the establishment of the National Cyber Security Centre (NCSC), as well as the GDPR and the Network and Information Systems Regulations. However, due to our dependence on the infrastructure on which data relies, the government must provide constant risk assurance in this area, taking into account the global and dynamic nature of the data storage and processing market. Accordingly, as outlined in Mission 4: Ensuring the security and resilience of the infrastructure on which data relies, we will keep apace with the risks that come with increasing reliance on data, taking steps as needed to build confidence in the security and resilience of the infrastructure on which data relies. We will also determine whether current arrangements for managing data security risks are suitable for protecting the UK from threats that counter our mission for data to be a force for good.
7.2.2 Sustainable data use
The trajectory for global warming is well documented, with a recent special report by the Intergovernmental Panel on Climate Change (IPCC) projecting a stark increase in climate-related risks to health, livelihoods, food security, water supply, human security and economic growth. Given such projections, business as usual is no longer an option.
Data and its supporting infrastructure are increasingly championed as key components of any solution to the global climate crisis and associated targets and goals. However, the true impact of data and digital on sustainability is not yet fully understood. Recent research has shown that while demand for data centre services increased by more than 500% between 2010 and 2018, the amount of energy consumed by data centers only increased by 6% over the same period. This can be attributed to improvements in energy efficiency. But issues remain around a lack of transparency from providers, in particular sustainability reporting related to specific services. Procurement teams and service designers could benefit from improved knowledge of the use of sustainability criteria in commissioning. End users are largely unaware of the impacts of digital consumption on energy use and wider sustainability issues. Poor data management and culture can also lead to a vast amount of data duplication, unnecessary data retention, migration and processing that contributes to carbon use.
8.

Next steps

This strategy proposes five priority missions where we can take action now to have the biggest impact. This document also captures further actions that will support the delivery of the National Data Strategy. A key area of focus will be to ensure that we put the right structures and mechanisms in place to monitor and assess progress against each of these actions.

It is equally important to recognise that the government cannot – and must not – deliver these actions alone. Given the cross-cutting nature of data, collaboration across a wide range of sectors and organisations will be essential. We are therefore seeking to consult further with stakeholders to sense-check our proposed actions, and make use of their expertise on how we can best deliver them and ensure that the strategy meets its overarching objective of unlocking the power of data across the UK.
Monitoring and evaluation
Each proposed priority mission and action will be delivered by an accountable owner across government (set out in Annex A). Annex A groups these actions by pillar to show alignment with the Strategy's framework.
In order to drive successful implementation, we will develop a monitoring and evaluation process for the strategy. This will monitor the Strategy's delivery and help ensure that it is achieving its intended outcomes, in line with the vision and opportunities set out in Chapter 2. We will provide further details of this monitoring and evaluation process in a future publication.
Consultation
A public consultation on this document was held in late 2020, and the government formally responded to the consultation in May 2021.
Read the full government's response to the National Data Strategy consultation.
Glossary
Term
Description
Adequacy (EU)
Adequacy decisions are how the EU determines if a non-EU country has an adequate level of data protection. They are unilateral decisions taken by the European Commission after an assessment of a country's data protection framework. 'Data adequacy' is the status granted by the European Commission to countries outside the EEA whose level of personal data protection is judged to be essentially equivalent to the EU's. Once a third country has received a positive adequacy decision, personal data can flow from the EEA to that country without any further safeguards.
Adequacy (UK)
Data adequacy is a status granted by the Secretary of State to countries outside the UK that provide high standards of personal data protection. When a country has been designated 'adequate', personal data can be transferred from the UK without further safeguards being required. In addition to countries, specified territories within countries or sectors of an economy or international organisations can be 'adequate'.
Data Availability
The terms data sharing, data discoverability, data access, data availability, data portability and data mobility are often used in combination and interchangeably. In this strategy we use 'data availability' to mean an environment which facilitates appropriate data access, mobility and re-use both across and between the private, third and public sectors in order to generate maximal economic and/or societal benefit for the UK.
Data Economy
See Digital Economy, below.
Data Foundations
In this strategy we are using the term 'data foundations' to mean data that is fit for purpose, recorded in standardised formats on modern, future-proof systems and held in a condition that means it is findable, accessible, interoperable and reusable.
Data Infrastructure
See Infrastructure below
Data Mobility
Data mobility refers to the efficient and safe flow of data between individuals and organisations, including but not limited to personal data.
Data Portability
The right to allow individuals to obtain and reuse their personal data for their own purposes across different services, as defined in the GDPR (see below).
Data Protection Act 2018
Act supplementing the General Data Protection Regulation (GDPR). The Data Protection Act is a complete data protection system, so as well as governing the processing of personal data covered by the GDPR, it also covers all other processing of personal data for UK law enforcement and national security. It makes a number of agreed modifications to the GDPR to make it work for the benefit of the UK, in areas like academic research, financial services and child protection.
Digital Economy
Economic activity featuring digital technologies, and changes to market activities based on the influence and changes digitalisation brings. The term Data Economy, while more specific, is often used interchangeably, and covers the direct, indirect, and induced effects that the use and selling of data has on the economy as a whole. It involves the generation, collection, storage, processing, distribution, analysis elaboration, delivery, and exploitation of data enabled by digital technologies.
Digital Economy Act
References to this act in the National Data Strategy refer to part 5 of the Digital Economy Act 2017, which gives government powers to share information across organisational boundaries for a number of purposes including improving public service delivery, reducing fraud against the public sector and improving the production of national and official statistics.
Five Safes
A framework for helping to make decisions about effective use, regulation and access to potentially disclosive information, developed by the ONS in 2003 and widely used across the public and private sectors. The 'five safes' are: Safe people; Safe projects; Safe settings; Safe outputs; Safe data.
General Data Protection Regulation (GDPR)
The GDPR is an EU regulation that applies directly across all EU Member States, including the UK, until Exit Day. It regulates the processing of personal data by organisations established in the EU/UK and those outside the EU who are processing the personal data of individuals in the EU/UK to provide them with goods and services or to monitor their behaviour.
Geospatial Data
Often used interchangeably with 'location data' or 'geographical information'. Geographic data is an umbrella term for any type of data with a location element. Fundamentally related to what we do, and where we do it. It tells us where people and objects are in relation to a particular geographic location.
Infrastructure
Data infrastructure – Data infrastructure is a broad concept that indicates the data assets and processes that are significant to acquire knowledge and take action about a specific context. This consists of data assets, such as datasets, identifiers and registers, the processes to acquire these assets, and the support process, including the people, standards, and technologies used, which can be both digital and non-digital. This also includes the policies that guide curation, access, management, and use of the data infrastructure.

The infrastructure on which data relies – The virtualised or physical data infrastructure, software, systems and services that store, process and transfer data. This includes data centres (that provide the physical space to store data), peering and transit infrastructure (that enable the exchange of data), and cloud computing that provides virtualised computing resources (for example servers, software, databases, data analytics) that are accessed remotely.
Interoperability
Data Interoperability – The ability of data services and products to interact and share data. The term tends to cover two main aspects: the digital protocols that allow for data exchange, and the data standards used to preserve compatibility while processing data. It is enabled through open or common technical standards, which create a shared protocol for the exchange of information.

In the context of data protection regimes – Increasing interoperability between data protection regimes usually indicates a willingness to remove barriers to data flows by, for example: increased alignment of rules, negotiated codes of conduct or similar schemes.
Open Banking
Open Banking is a banking technology that enables people and businesses to benefit from a range of new payment solutions and data-based products and services from regulated third-party providers, through secure connections to their customers' payment accounts. Following an investigation into the retail banking market, the Competition & Markets Authority (CMA) issued an Order requiring the nine largest banks in the UK to provide these third parties with API access to payment account data and payments initiation, in order to stimulate innovation and competition. The UK's Open Banking Standard guarantees interoperability between banks and third party providers, making it easier for new third parties to come to market and offer services to people and businesses.
Linked Data
Structured data that uses common standards and identifiers to allow multiple datasets to be used in conjunction with each other. It requires a common data model, and a technological and data standards that enable the use and interoperability of the data model. Z
Metadata
A set of data that describes contextual information on another set of data. It helps to organise, find, understand and manage data.
Open Data
Data that can be freely used, re-used and redistributed by anyone, subject only, at most, to the requirement to attribute and sharealike.
Personal Data Store
A means to manage and share personal information in a structured and secure manner with trusted parties.
Privacy Enhancing Technologies
A range of technical solutions to support the protection of personal data. This is done through either reducing personal data, or preventing undesired personal data processing, without losing the functionality of the information system.
Smart Data
A BEIS-led initiative that involves the secure and consented sharing of customer data with authorised third-party providers. These providers then use this data to provide innovative services for the customer, such as automatic switching and account management. This aims to save time, money and effort for consumers and SMEs, and increase competition in the sectors involved.
Responsible Data
In this strategy, we use 'responsible data' to mean data that is handled in a way that is lawful, secure, fair, ethical, sustainable and accountable, while also supporting innovation and research.
Annex A - List of actions and owners
This table reflects UK Government owners for each respective action:
Pillar
Action
Owner
Missions
Mission 1: Unlocking the value of data across the economy
DCMS
Missions
Mission 2: Securing a pro-growth and trusted data regime
DCMS
Missions
Mission 3: Transforming government's use of data to drive efficiency and improve public services
Cabinet Office
Missions
Mission 4: Ensuring the security and resilience of the infrastructure on which data relies
DCMS
Missions
Mission 5: Championing the international flow of data
DCMS
Data Foundations
We will launch a programme of work to tackle the cultural and coordination barriers to good quality data, including:

– creating a central team of experts able to ensure a consistent interpretation of the legal regime around data sharing (Cabinet Office)
– launching the Data Quality Framework (ONS)
– creating a Data Maturity Model for government (ONS/Cabinet Office)
– building a data management community of good practice
– learning and setting best practice and guidance through a series of demonstration – or 'lighthouse' – projects (Cabinet Office/ONS)
Cabinet Office / ONS
Data Foundations
We will implement the recommendations of the 'Joined-up data in government' report to improve data linkage methods, application and skill sets across government.
Cabinet Office / ONS
Data Foundations
We will commit to resolving the long-running problems of legacy IT and broader data infrastructure.
Cabinet Office
Data Foundations
We will drive data discoverability across government through:

– developing an Integrated Data Platform for government, which will be a safe, secure and trusted infrastructure for government's own data. It will be a digital collaborative environment that will support government to unlock the potential of linked data and build up data standards, tools and approaches enabling policy makers to draw on the most up to date evidence and analysis to support policy development, improving public services and improving people's lives.
– creating an audit of data inventories
ONS / Cabinet Office (audit of data inventories)
Data Foundations
We will work to better support local government in maximising the benefits of data
MHCLG
Data Foundations
We will develop and validate a set of data principles to be applied across government.
Cabinet Office / ONS
Data Foundations
We will set out a strategy for data standards across government to include:

– clarity on where the DSA will mandate some standards
– use of the DDaT spend controls process
–a parallel controls process for APIs and Technology Code of Practice to ensure consistent adoption of data standards across government
Cabinet Office
Data Foundations
We will recruit senior cross-government data leadership, including a Chief Data Officer for government.
Cabinet Office
Data Foundations
We will establish a cross-departmental governance mechanism with the authority to enforce standards across government.
Cabinet Office
Data Foundations
We will drive aligned governance structures across government through:

– undertaking a review of governance structures for data within departments
– ensuring central government departments include data management plans in their Single Departmental Plans
Cabinet Office
Data Foundations
We will support the global effort on interoperability, which will facilitate the combination and cross-referencing of different data sources.
FCDO / ONS
Data Foundations
We will collaborate with our international partners to build strong national statistical systems to drive economic growth and help to deliver inclusive, effective services.
FCDO
Skills
We will publish a working definition of data skills in the wider economy that sets out clear distinctions between data skills, digital skills and AI skills, and consider the benefits of providing information on pathways into data related careers.
DCMS
Skills
We will consider the roles of the Alan Turing Institute, the National Innovation Centre for Data, the Open Data Institute, the Data Skills Taskforce, the AI Council, the UK Cyber Security Council, the Data Lab, and others in the data skills ecosystem for ways to improve the leadership and facilitation of new and better collaborations between industry, the public sector, universities and institutes.
DCMS
Skills
We will work with the appropriate bodies to understand how data science is integrated into relevant technical qualifications, ensure that good quality data science courses are offered and that data related skills are given due consideration in their work to support emerging skills.
DfE
Skills
We will test the most effective ways to teach foundational data skills to undergraduates in two ways – through offering modules including wider subjects such as AI, cyber and digital skills, and by integrating data skills in other subject areas. Universities will take part in the pilot on a voluntary basis.
DCMS
Skills
We will examine ways of expanding the supply of advanced data skills across research engineers and professionals to help maximise R&D investments and to increase mobility across business and academia, and to foster the links between industry and universities at the regional level.
UKRI
Skills
We will launch an online portal that will support businesses' access to data skills training, helping signpost SMEs to good quality online training material matched to their technical data science capabilities and ambitions.
DCMS
Skills
We will recruit leaders with data and digital skills across government to build a strong cadre of technical, policy, legal and analytical data experts in the centre of government.
Cabinet Office
Skills
We will train 500 analysts across the public sector in data science by 2021, through the Data Science Campus at the ONS, the Government Analysis Function, and GDS. This will be reviewed in 2021 with a new capacity building strategy meeting the emerging needs of government up to 2025.
Cabinet Office/ONS
Skills
We will deliver the range of actions to be outlined in the Public Sector Data Science Capability Audit.
Cabinet Office/ONS
Skills
We will review the data training available to all civil servants and develop proposals to enhance and extend this offering.
Cabinet Office
Skills
We will design a career pathway for data expertise in government.
Cabinet Office
Skills
We will agree a shared definition of data expertise across central government.
Cabinet Office
Skills
We will review the needs of local government in having the capabilities to manage, use and disseminate data.
MHCLG
Data Availability
We will:

– establish a cross-sector Smart Data working group, which will coordinate and accelerate existing Smart Data initiatives in communications, finance, energy and pensions, while providing recommendations to support the development of high-quality standards and systems across sectors
–introduce primary legislation, when parliamentary time allows, to improve our ability to mandate participation in Smart Data initiatives and provide a legislative footing for all initiatives
BEIS
Data Availability
We will respond to the Competition and Market Authority's online platforms and digital advertising report and consider how its findings inform the establishment of a pro-competition digital markets unit.
DCMS / BEIS
Data Availability
We will continue work to implement the recommendations of the Energy Data Taskforce and drive forward the Modernising Energy Data Access programme.
BEIS
Data Availability
We will develop a clearer policy framework to identify where greater data access and availability across and with the economy can and should support growth and innovation, in what form, and what government's role should be in supporting the market.
DCMS
Data Availability
We will review open data publication and decision making processes to ensure their consistency; and support development of interoperable metrics to measure the impact of published data.
Cabinet Office
Data Availability
We will review and upgrade the data standards and systems that underpin the monitoring and reporting of online harms such as child sexual abuse, hate speech and self harm and suicide ideation.
DCMS
Data Availability
We will drive use of the Digital Economy Act (2017) powers, as well as addressing barriers to data sharing more widely.
Cabinet Office
Data Availability
We will seek provisions with trade partners – including current negotiations with the EU, US, Japan, Australia and New Zealand – that remove unnecessary barriers to cross border data flows, with specific commitments to prevent the use of unjustified data localisation measures.
DCMS
Data Availability
We will advocate for the importance of global data flows in the World Trade Organisation (WTO), G7, G20 and OECD.
DCMS
Data Availability
We will draw upon the expertise of the UK Co-Chaired Data Governance Working Group under the Global Partnership on AI, work with international partners and explore approaches to international data access and sharing.
DCMS / BEIS
Data Availability
We will establish an independent HMG capability to conduct the UK's own data adequacy assessments for transfers of personal data from the UK.
DCMS
Data Availability
We will review the transitional arrangements for international data transfers.
DCMS
Data Availability
We will review the use of alternative transfer mechanisms which ensure that transfers of personal data outside the UK are appropriately protected.
DCMS
Data Availability
We will seek positive adequacy decisions from the EU, under both the General Data Protection Regulation (GDPR) and the Law Enforcement Directive (LED), before the end of the transition period.
DCMS (GDPR) / HO (LED)
Data Availability
We will support countries to take a more open approach to their data and will continue to play a leadership role on the open data agenda internationally.
FCDO / Cabinet Office
Data Availability
We will develop methods to use big data and modelling analyses to support a greater resilience of vulnerable countries to extreme weather events and disease outbreaks, as part of our Official Development Assistance.
FCDO
Data Availability
We will support the implementation of standards such as the International Aid Transparency Initiative open data standard, Extractive Industries Transparency Initiative and Infrastructure Transparency initiative.
FCDO / Cabinet Office
Data Availability
We will work with international agencies such as the Red Cross and the UN to ensure data on crisis affected areas is handled safely, legally and ethically.
FCDO
Responsibility
We will:

– work in partnership with the ICO and other bodies to clarify aspects of the UK's existing data regime that generate confusion or inertia, including by fast-tracking guidance and the use of co-regulatory tools
– work in partnership with the ICO to lift compliance burdens wherever possible on businesses, especially SMEs
– boost proactive advice and support for innovators, including via world-leading interventions such as the ICO's regulatory sandbox
DCMS
Responsibility
We will run a national engagement campaign on the societal benefits of the use of government data.
Cabinet Office
Responsibility
We will explore appropriate and effective mechanisms to deliver more transparency on the use of algorithmic assisted decision making within the public sector.
Cabinet Office
Responsibility
We will work in partnership with the CDEI and other leading organisations in the field of data and AI ethics to pilot the proposed approach to algorithmic transparency this year, and consider what would be needed to roll it out across the public sector.
Cabinet Office
Responsibility
We will explore the role of privacy enhancing technologies to enhance consumer control and confidence.
DCMS
Responsibility
We will explore further measures to ensure appropriate fairness, transparency and trustworthiness in private and third sector data use.
DCMS
Responsibility
We will leverage our position as a founding member of the newly established Global Partnership on AI, collaborating with our international partners and drawing upon the expertise and recommendations on this agenda from the Responsible AI and (the UK Co-Chaired) Data Governance Working Group in particular.
DCMS / BEIS
Responsibility
We will promote the use of the government's Data Ethics Framework across the wider public sector, support data scientists and data policymakers to build lasting capability for ethical data use; and disseminate knowledge, resources and case studies through the data ethics community.
Cabinet Office
Responsibility
We will work with the CDEI to understand how to ensure public sector use of data is trustworthy, by exploring the potential for technical innovations, such as privacy enhancing technologies, and through research into public attitudes.
Cabinet Office
Responsibility
We will publish the Greening Government: ICT & Digital Services Strategy 2020-2025, that will look to address transparency, accountability, responsibility and resilience to reduce carbon and cost related to government procurement. Alongside this we will commit to producing a Data Sustainability Charter that will inform how government works with its suppliers to manage and use data sustainably.
DEFRA