[Withdrawn] The health and care system explained
Published 26 March 2013
This guidance was withdrawn on
This guidance is out of date following the implementation of the Health and Care Act 2022, and the replacement of Public Health England by the UK Health Security Agency and the Office for Health Improvement and Disparities.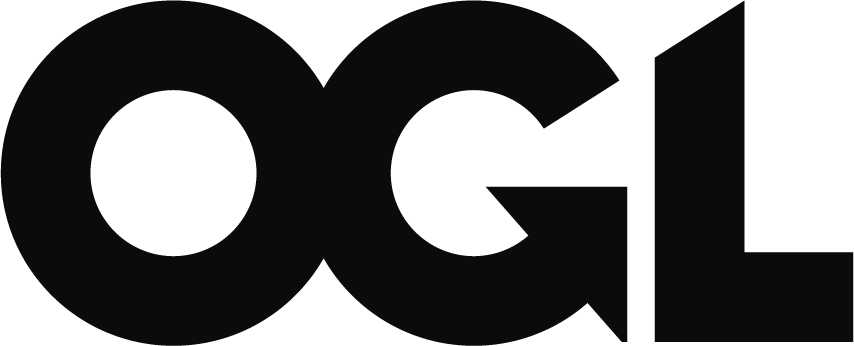 © Crown copyright 2013
This publication is licensed under the terms of the Open Government Licence v3.0 except where otherwise stated. To view this licence, visit nationalarchives.gov.uk/doc/open-government-licence/version/3 or write to the Information Policy Team, The National Archives, Kew, London TW9 4DU, or email: psi@nationalarchives.gov.uk.
Where we have identified any third party copyright information you will need to obtain permission from the copyright holders concerned.
This publication is available at https://www.gov.uk/government/publications/the-health-and-care-system-explained/the-health-and-care-system-explained
The new health and care system becomes fully operational from 1 April to deliver the ambitions set out in the Health and Social Care Act. NHS England, Public Health England, the NHS Trust Development Authority and Health Education England will take on their full range of responsibilities.
Locally, clinical commissioning groups – made up of doctors, nurses and other professionals – will buy services for patients, while local councils formally take on their new roles in promoting public health. Health and wellbeing boards will bring together local organisations to work in partnership and Healthwatch will provide a powerful voice for patients and local communities.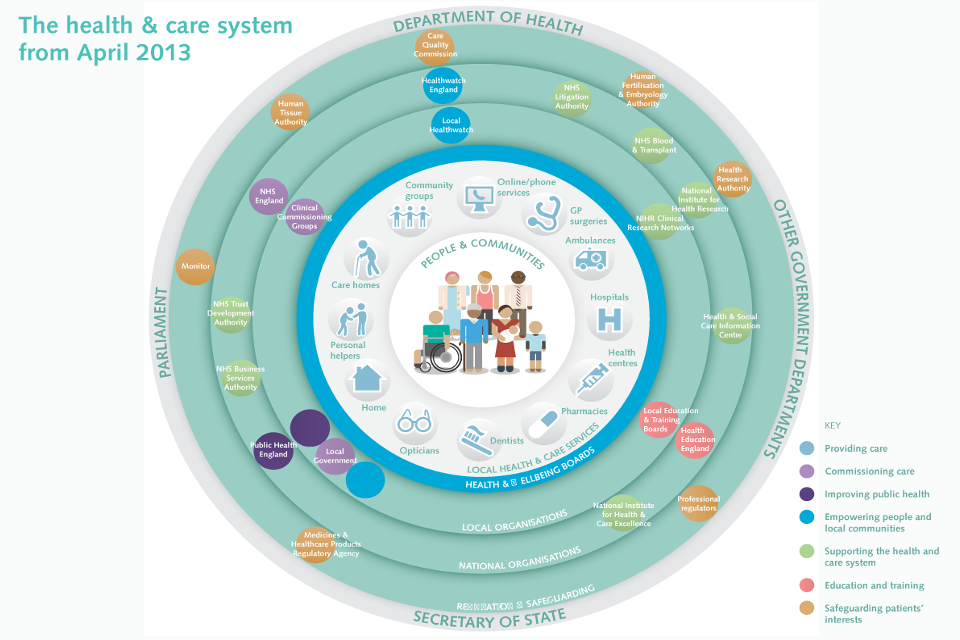 View an interactive version of this graphic
The health & care system: reduced size version
The health & care system: full size version
The role of the Department of Health in the new system
The Department of Health's purpose is to help people live better for longer. We lead, shape and fund health and care in England, making sure people have the support, care and treatment they need, with the compassion, respect and dignity they deserve. The new and changing health and care organisations work together with the Department to achieve this common purpose.
We enable health and social care bodies to deliver services according to national priorities and work with other parts of government to achieve this. We set objectives and budgets and hold the system to account on behalf of the Secretary of State.
The Secretary of State for Health has ultimate responsibility for ensuring the whole system works together to meet the needs of patients and the public and reflect their experiences.
What the changes to the health and care system mean for patients and local communities
Most people won't notice any immediate difference to how they get the care they need: they will still contact their GP when unwell, or their local council with ongoing personal care needs, and they will continue to receive healthcare free at the point of need just as before. However, some important underlying changes are being made to how the health and care system is run.
These changes are about giving local communities and patients more say in the care they receive and doctors and nurses more freedom to shape services to meet people's needs, to improve the quality of the support, care and treatment we all receive.
For instance:
greater direct control over planning and commissioning means that doctors, nurses and other health and care professionals can better shape what kind of support, care and treatment is available locally

more emphasis on preventing illness and helping people stay independent in older age or disability means we can improve everyone's long term health and wellbeing

more power devolved to local groups and organisations means that communities now have more influence than ever over how their local health services support them

opening up to a wider range of health care providers, including independent and charitable organisations, means that there will be more choice for patients and greater pressure on services to improve
How health and care organisations will work together locally
Clinical Commissioning Groups (CCGs) are made up of doctors, nurses and other professionals who use their knowledge of local health needs to plan and buy services for their local community from any service provider that meets NHS standards and costs – these could be NHS hospitals, social enterprises, voluntary organisations or private sector providers. This means better care for patients, designed with knowledge of local services and commissioned in response to their needs.

Health and wellbeing boards in every area ensure that services work together to respond to communities' needs and priorities. They will involve people and community organisations, including elected representatives, in deciding what services the community needs – this will inform CCGs and local authorities when they commission services.

Local Healthwatch, which are represented on health and wellbeing boards, give patients and communities a voice in decisions that affect them. Local healthwatch will report their views and concerns to Healthwatch England so that issues can also be raised at a national level.

Local authorities commission care and support services and have a new responsibility to protect and improve health and wellbeing. They use their knowledge of their communities to tackle challenges such as smoking, alcohol and drug misuse and obesity. Working together with health and care providers, community groups and other agencies, they prevent ill health by encouraging people to live healthier lives.
How health and care organisations will work together nationally
How the interests of people using health and care services are protected
As the new system brings more freedom for those who plan, commission and provide services, new and existing health and care regulators will safeguard the interests of patients and the wider public.