The digital communications infrastructure strategy
Published 18 March 2015
© Crown copyright 2015
This publication is licensed under the terms of the Open Government Licence v3.0 except where otherwise stated. To view this licence, visit nationalarchives.gov.uk/doc/open-government-licence/version/3 or write to the Information Policy Team, The National Archives, Kew, London TW9 4DU, or email: psi@nationalarchives.gsi.gov.uk.
Where we have identified any third party copyright information you will need to obtain permission from the copyright holders concerned.
This publication is available at https://www.gov.uk/government/publications/the-digital-communications-infrastructure-strategy/the-digital-communications-infrastructure-strategy
0.1

Foreword

The UK's digital communications infrastructure has undergone a step change over the last five years. When this government came into office, superfast broadband was in its infancy. 4G was still two years away from deployment.

In 2010 we set out our goal for the UK to have the best superfast broadband network in Europe. Today we announce our ambition that ultrafast broadband of at least 100Mbps should become available to nearly all UK premises. This document sets out our strategy to deliver this ambition.

We are well on the way to meeting our original target. By 2017, superfast coverage will have reached 95% of premises, and we expect mobile operators to have achieved 4G coverage to 98%. This has been achieved thanks to a balance of components – a competitive private market, a strong independent regulator and targeted government intervention.

We remain committed to ensuring that the benefits of better broadband are felt across the UK. Freeing up further 4G spectrum, piloting superfast satellite connections and looking to increase the Universal Service Obligation will ensure that rural communities are not left behind.

Looking ahead, the market is mobilising to deliver ultrafast services, including gigabit services on demand. Government's role in supporting industry is to remove barriers to investment, to cut the red tape that increases the cost of rollout, and to ensure the continuance of the stable regulatory framework that makes the UK such an attractive place to invest.

We will continue to engage with suppliers, investors and consumers in the UK and internationally, to promote the message that the UK is a digital leader and to better understand how the communications infrastructure we will need in the future can, and should, be unlocked.

Chief Secretary to the Treasury - the Rt Hon Danny Alexander MP

Secretary of State for Culture, Media and Sport - the Rt Hon Sajid Javid MP
1.

Broadband
1.1

Government strategy for the future

The government's ambition is that ultrafast broadband of at least 100Mbps should become available to nearly all UK premises. This is a challenging ambition, but realising it will ensure that the UK remains among the best connected nations in the world.

The ultrafast market is in its infancy, but the market is beginning to mobilise to deliver it at scale. As this deployment gains momentum, competition between different network providers will drive further investment and innovation, and see the reach of ultrafast grow across the UK.

Government's role is to support these market developments and ensure that they progress as quickly as possible. First and foremost, we ensure that the UK has the right regulatory regime. Strong, independent regulation has been core to the UK's success in attracting investment and developing competitive markets wherever possible. The UK's system of independent sectoral economic regulation is widely recognised as one of the best in the world, which makes the UK attractive to investors from across the globe.

The government welcomes Ofcom's first strategic review of the UK's digital communications markets for 10 years, which will ensure that communications providers and services continue to meet the needs of consumers and businesses. Key issues for the review are ensuring the right incentives are in place for private sector investment, maintaining strong competition and deregulating where possible.

Government can also act directly to ensure that it enables the rollout of ultrafast broadband. One example is through the UK Guarantees Scheme, which is in place to help infrastructure projects raise debt finance; the government has announced that it has prequalified the expansion of Virgin Media's ultrafast broadband network for the UK Guarantees Scheme, supporting Virgin's proposed £3 billion investment. There is capacity within the £40 billion scheme to support significant further investment, and we are actively engaging with UK broadband operators to explore how the UK Guarantees Scheme can be used to support and accelerate their respective investment programmes.

In 2013, government funded the auction of 2.6GHz and 800MHz spectrum which has enabled the market to deliver 4G mobile communications to more than 70% of the UK population so far, with coverage expected to reach 98% by 2017 at the latest.

The government wants to support the market to go even further, and to future-proof the coverage, capacity and quality of the UK's 4G network. In November 2014, Ofcom decided that the 700MHz spectrum band should be made available for mobile data use, and at Autumn Statement 2014 the government asked Ofcom and DCMS to work up delivery options to support that decision. Budget 2015 has today confirmed that government will allocate up to £600 million to support the delivery of the change of use of 700MHz spectrum, which will further enhance the UK's mobile broadband connectivity. The funds will support the infrastructure costs of clearing the spectrum frequency, including support to consumers where appropriate, and retuning broadcast transmitters to enable broadcasters to move into a lower frequency. This will free up 700MHz spectrum for 4G mobile communications use through an auction next Parliament.

In addition, we are taking action in a number of areas which will support the rollout of better broadband, including:
Inviting industry to highlight particular barriers to private investment in new ultrafast infrastructure. The government will explore with providers of both the networks and the finance how these might be overcome, perhaps through innovative financial and commercial models.

Reforming the Electronic Communications Code. The government encourages responses to its consultation by 30 April 2015 and will reform the Code as soon as possible.

Implementing the European Broadband Directive to reduce the cost of rollout. Government will bring forward a consultation on implementation this year.

Reducing regulatory red tape, including reviewing the planning related changes implemented in England in 2013, and encouraging and supporting a range of innovative approaches in street works.

Supporting local leadership to deliver digital connectivity. The government is calling on all local authorities to be supportive of applications by telecommunications companies which will result in improved digital connectivity in their area. We also call on all local enterprise partnerships (LEPs) to ensure that the broadband needs of their local small and medium-sized enterprises (SMEs) are reflected in future strategic planning.
These measures will support the emerging rollout of ultrafast broadband, the continued rollout of superfast broadband, 4G mobile communications services and other communications infrastructure. These are explored in detail in Section 3.
We are committed to support the market to deliver the broadband capability the UK will need in the future, and we will continue to engage with suppliers and investors to understand how best to fulfil this role.
1.2

Government strategy for rural areas

We remain committed to ensuring that people in rural areas can access high-speed broadband. Ensuring that rural communities can enjoy the benefits of faster broadband in the same way as their urban counterparts is an essential element of our ambition for ultrafast broadband to nearly all. Delivering to this ambition is critical to balancing the economy and levelling the economic playing field for businesses in rural areas - we forecasted that 89% of the benefits of the government's superfast broadband investment would be in areas outside of London and the South East of England. Having access to quality broadband allows a business in rural Scotland, Cumbria, or Wales to compete with a business in London or Manchester.

The government has invested £1.7 billion in its rural broadband programme, which is taking superfast broadband to 95% of premises by 2017. More than two million premises have already been given access to superfast broadband, with over three million more to go. 40,000 extra premises are being passed every week. Local authorities have made online postcode checkers available so that people can find out when their area will be reached.

Our landmark agreement with the mobile network operators (MNOs) in December 2014, which guaranteed voice coverage from each of the four UK MNOs across 90% of the UK geographic area by the end of 2017, will also deliver significant improvements to mobile internet coverage. Mobile operators are increasingly developing products targeted at improving the experience of rural users and, through the rollout of 4G, many rural communities will be able to access quality mobile data connections for the first time.

The current and planned investment activity by industry and government means that by 2017 at least 95% of premises will have access to superfast broadband and 98% should have access to 4G mobile broadband indoors, with the vast majority having access to both. In order to ensure that those who are outside of these plans do not miss out, the government is taking a number of further actions:
At Autumn Statement 2013, £10 million was allocated to market test innovative solutions for delivering superfast broadband services to the most difficult to reach areas of the UK. Seven market test pilots are now in deployment, and are generating evidence about the costs and challenges of delivering superfast speeds in hard to reach areas. In particular, the pilots will build capacity and capability in the market, provide information on take-up in the areas not currently served by superfast broadband, and test how different technologies and operating models perform in the field. Initial feasibility reports were published on 9 February 2015. The government will review and publish further evidence gathered from the pilots later this year, and will consider the economic and social case for further government action in this area.

The government is committed to ensuring that every single household in the UK has access to the basic broadband needed to live and work in the modern world. So we will look to raise the Universal Service Obligation (USO) – the legal entitlement to a basic service – from dial up speeds to 5Mbps broadband. This commitment to all goes further than any other country in Europe. Once in place, a USO would mean that consumers gain a legal right to request installation of 5Mbps capable services at an affordable price.

We will act now to help households and businesses in the hardest to reach areas. Starting with premises experiencing the lowest speed broadband, the government will launch a scheme with local bodies across the UK this year to subsidise the costs of installing superfast capable satellite services. This will build on the government's commitment that there will be at least 95% superfast broadband coverage by 2017 by offering a superfast capable solution to around a further 1% of premises, and help to ensure that no one is left behind. The government will carefully monitor the scheme, and keep under review the future potential to use superfast capable satellite services to reach even more premises in the hardest to reach areas.

Together, these measures ensure that government is not just delivering on its commitment to ensure everyone has access to basic broadband by 2016, it is raising the bar and looking to write it into legislation, to ensure that everyone has the right to a good broadband connection.
By 2017, through the actions taken by government and industry, we expect to see a significant improvement in fixed and mobile broadband coverage and quality of services in rural areas. However, we will carry out a further assessment in 2018 of coverage levels, use and demand. This assessment will include taking account of the impact of the deployment of both fixed and mobile services across the UK, and will ensure that everyone has access to the services they need.
The government will also work with Ofcom and industry to set up meaningful metrics to measure quality of the user experience. This data will be made accessible to consumers and business users to help inform the purchasing of broadband services and encourage investment in infrastructure to meet user demand.
2.

The case for better connectivity

The UK broadband market is evolving at a rapid pace. As recently as 2004, the number of UK households with internet connections was only 50%, of which two-thirds were narrowband dial-up connections. Mobile broadband was an emerging technology.

Now, more than 80% of the UK can access superfast services of at least 24Mbps, with services being made available to 40,000 extra premises every week. 4G is spreading rapidly across the UK, changing the mobile broadband landscape by providing average download speeds of 15Mbps, and upload of 12Mbps. The average price of a broadband package decreased by 48% between 2004 and 2012, whilst the price of a typical bundle of mobile services more than halved over the ten years to 2014. Take-up of superfast broadband has now passed 25%, and there are over 6 million active 4G subscriptions. Users are increasingly demanding a better quality experience from digital networks.
2.1

Economic value

Improvements in digital connectivity have supported a vibrant digital economy within the UK, currently worth more than £120 billion each year. The digital sector1 has grown over seven times faster than the economy as a whole between 2008 and 2013. [In 2013 the digital sector contributed 7.5% (£113 billion)]http://www.ons.gov.uk/ons/dcp171778_384804.pdf) to the UK's Gross Value Added and supported 1.3 million jobs, around 4% of the total workforce. Radio spectrum is worth £52 billion per annum to the UK economy.

UK consumers are rapidly embracing the digital economy. Ofcom estimates that the UK has the highest e-commerce spending among major nations, with consumers spending an average of almost £2,000 online on goods each year. This is significantly higher than the next-highest valued market of Australia, where spending is £1,356 per head. On most of the metrics relating to broadband provision and usage of the internet, Ofcom score the UK in first place when compared to the US and the EU5.

Increasing the speed and capacity of our broadband infrastructure will promote economic growth in all areas of the UK. Investment in superfast broadband infrastructure will also support long-term economic growth, with Gross Value Added increasing by £6.3 billion, causing a net increase of 20,000 jobs in the UK by 2024.

Faster broadband has already empowered many businesses, particularly SMEs. It's been shown that SMEs that are active online are more successful, grow more quickly and reach wider markets than their peers. A recent report from the Federation of Small Businesses stated that 94% of small business owners consider a reliable internet connection critical to the success of their business, while 60% expect to increase their online presence in the next year. As many as 14% of small businesses consider lack of reliable and fast broadband connectivity to be their main barrier to growth.

Similarly, the Confederation of British Industry reports that over four-fifths of its members see fixed and mobile broadband as critical to their future success. In its 2014 Infrastructure Report, Ofcom reported that reliable and high-quality broadband and mobile connections are becoming ever more important to commerce and to the wider economy.Faster broadband connections are contributing to growth in productivity, efficiency and labour force participation, particularly by encouraging flexible working and working from home.
2.2

Rising demand for data capacity

We know that demand for digital services and applications will continue to rise rapidly, with a consequent acceleration in the amount of data being carried over networks:
Analysys Mason forecasts that fixed internet traffic in Western Europe would grow at 42% per annum between 2012 and 2017, almost doubling every two years.

Cisco's Visual Networking Index (VNI) predicted that in the United Kingdom, mobile data traffic would grow 11-fold from 2013 to 2018, with a growth rate of 51% per annum, reaching 445 Petabytes per month by 2018, the equivalent of 111 million DVDs each month or 1,226 million text messages each second.

Ofcom have found that average household data usage has risen to 58GB per month, with the figures for those with fibre-to-the-cabinet (FTTC) or fibre-to-the-premises (FTTP) connections being considerably higher (91GB). Data consumption has more than doubled since 2012, when it was 23GB per household per month.
To support this demand, the UK needs infrastructure that is high capacity, reliable, resilient, secure, affordable and fast. Over the next decade we can expect the emergence of completely new services, applications and devices currently not conceived of but which will create additional demands on future networks. The diagram below summarises currently anticipated growth areas and their key demands of infrastructure.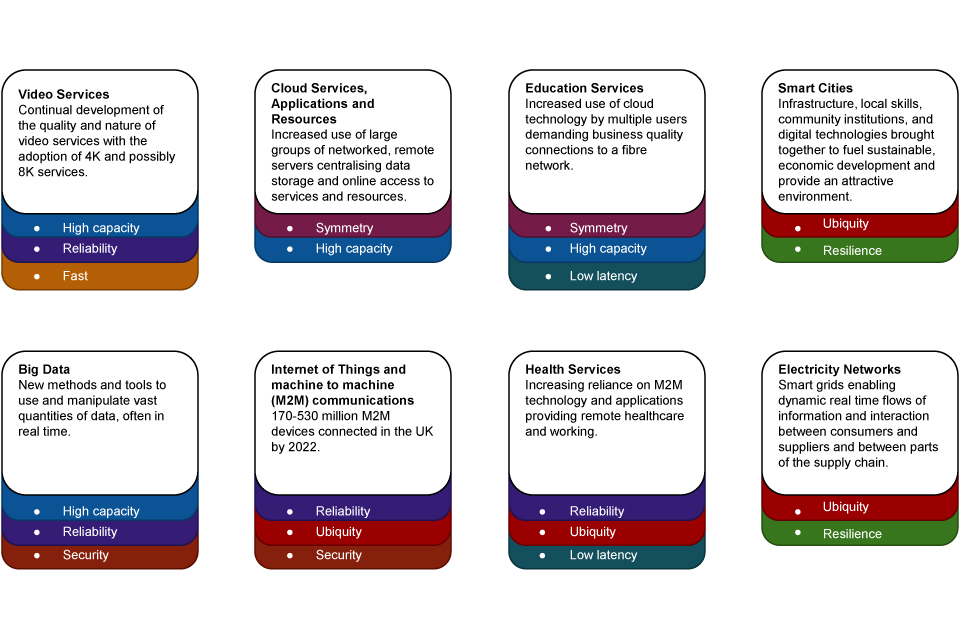 Fibre is a particularly important element of infrastructure because it underpins not only fixed broadband access but also mobile and WiFi networks. As data traffic over mobile networks rises and higher speed services become available, mobile operators will increasingly require access to pervasive fibre infrastructure to make the best use of the valuable and finite spectrum available to them.
Many have suggested that a fit for purpose network necessitates the extension of FTTP to meet future demand. This could be particularly critical for businesses, which are increasingly looking for reliable, standardised fibre products. However, there is little consensus about the wider consumer need, as many benefits can be realised through alternative solutions (such as fibre to telegraph poles or to more street-side cabinets).
2.3

Government strategy

To meet these future demands, the government announced in July 2013 that it would publish a longer-term digital communications infrastructure strategy so that the UK could remain a leading digital nation. In August 2014 we consulted on the objectives for that strategy. We received nearly 100 responses from industry, academia, consumers, business organisations and institutes. These responses have been published alongside this document. There was a variety of opinions on the role of government, yet almost all respondents agreed that the government should be ambitious in its approach to connectivity to ensure users' future needs are met. Many thought the government should create the right conditions to enable further market investment, and a number of respondents advocated a focus on competition to deliver the necessary outcomes.

The UK's digital infrastructure has evolved to support the particularities of the UK, in terms of geography, population density and existing network infrastructure. Fundamentally, we need the right infrastructure for the UK. The G20 nations would provide an appropriate benchmark against which to measure the UK's infrastructure, and the government will work with Ofcom to determine the most appropriate method of achieving this.
2.4

Strong independent regulatory regime

Since the privatisations of the 1980s, the UK has developed a system of independent sectoral economic regulation which is widely recognised as one of the best in the world, and which makes the UK attractive to investors from across the globe. A strong independent system is achieved by building a stable and transparent regulatory environment with a long track record of consistent regulatory decision making. In turn, this stability helps both investors and consumers to predict regulatory decisions and reduce risk, and boosts investor confidence. Independence and stability are key to attracting the investment needed to ensure that the UK gets the digital infrastructure it needs for the future.

On 12 March 2015 Ofcom announced its first strategic review of the UK's digital communications markets for 10 years, which will ensure that communications providers and services continue to meet the needs of consumers and businesses. This will, amongst other things, look at ensuring the right incentives are in place for private sector investment.
2.5

Competitive market

Competition has proved a powerful driver of innovation, faster services and improving customer experience. For example, Ofcom has helped deliver competition in the broadband retail market: Sky and TalkTalk have both invested heavily in unbundling BT's connections to premises, each unbundling local exchanges reaching over 90% of premises, and now have significant shares of the residential broadband market. Without the right regulatory and competitive environment, this investment could not have occurred. Ofcom is responsible for monitoring this environment, and for ensuring that the regulatory regime remains appropriate as the market develops.

At a network level, Virgin compete with BT across more than 40% of the UK and challenger businesses such as Colt, CityFibre, Gigaclear and others are building networks and increasing the choices available to businesses and households. Strong competition between MNOs has driven significant investment in mobile infrastructure. In this fast moving and innovative sector competition helps to drive the investment that is needed for the long-term.
2.6

Market activity

Over the next few years there will be increasing demand for services which go beyond superfast, for ultrafast and gigabit provision, particularly among businesses. The market has already started to respond to this demand, and is showing its desire to deliver innovative new technologies which meet the changing needs of users:
BT announced in January the development of G.Fast, a technology which uses a wider frequency band to deliver faster speeds over copper lines, which it has suggested will enable BT to deliver ultrafast speeds of up to 500Mbps to most of the UK within a decade. BT is also planning a premium fibre broadband service for those customers such as small businesses which will need gigabit speeds. BT will begin trialling G.Fast in Gosforth and Huntingdon this summer. KCom is also rolling out ultrafast services.

Virgin's network is already capable of providing ultrafast speeds of up to 150Mbps, and it started trialling speeds of up to 1Gbps in Cambridgeshire in late 2014. In February Virgin announced that it is investing £3 billion to extend its network to a further four million homes over the next five years. Virgin's parent company Liberty Global has announced that it is preparing trials of DOCSIS 3.1 technology later this year, which has the potential to provide speeds of up to 10Gbps.

There are a growing number of smaller providers, such as CityFibre, Gigaclear and Hyperoptic, who base their entire business models around providing 1Gbps connections via FTTP. The role of these providers is growing rapidly, helped in part by partnership agreements such as that between CityFibre, Sky and TalkTalk, which is resulting in FTTP being rolled out to 20,000 premises across York. All three parties to that joint venture have suggested that if it is successful they will look to pursue similar ventures in at least two additional cities.

4G mobile communications is a different proposition to traditional, fixed broadband, but its importance in the sector is expected to grow in the coming years. The mobile broadband industry is delivering 4G to the vast majority of premises in the UK, with coverage above 70% and rising rapidly. Although mobile broadband is not currently capable of ultrafast speeds, 4G+ (LTE Advanced) will be capable of providing headline speeds in excess of 100Mbps, and will become widely available across the UK in the coming years. UK Broadband has recently launched Relish, a domestic broadband product which uses 4G to provide superfast fixed wireless broadband.

The four MNOs are committed to investing £5 billion up to 2017. In addition to guaranteeing voice and text coverage across 90% of the UK's geographic area, we will also see 4G reach 98% of the population, and 4G+ begin to spread across the UK: Vodafone is already rolling out in Birmingham, Manchester and London; and EE has the capacity live across central London now and estimate that 4G+ will be available in 20 cities by 2018. Vodafone with its Open Sure Signal technology and EE with its micro-network technology are providing improved services to rural areas.
This activity is encouraging, and demonstrates the desire of market participants to drive innovation and to invest in new technologies. However, delivering the digital communications infrastructure the UK needs in the future will be challenging, and much of the technology is still in its infancy.
3.

Supporting the market to deliver better connectivity

The government's role is to facilitate private investment in UK infrastructure, provide policy stability, and support the market. We have created a favourable, competitive climate that encourages companies to develop innovative new services.
3.1

Current government actions
Broadband connections for businesses
The government has taken steps to support small businesses, charities, social enterprises and sole traders through its broadband connection voucher scheme, which provides grants of up to £3000 to SMEs looking to upgrade their broadband connections. Over 12,600 businesses have taken up vouchers so far, resulting in significant benefits to their businesses. In Autumn Statement 2014, the government provided £40 million to continue this support to March 2016. By 1 April 2015, the vouchers will be available in 28 additional cities across the UK, taking the total to 50 cities.
Public Sector Infrastructure
The Cabinet Office and Department of Culture, Media and Sport's Telecommunications and Digital Infrastructure Portfolio Board was established to explore the potential for collaboration across government's existing and planned networks. Among early results of the Board's work is the publication of details of over 13,000 miles of publicly owned or leased digital communications infrastructure and an outline of steps to help these networks to be used to improve connectivity for users and businesses across the country. The Board will provide strategic leadership to public sector telecommunications projects to support the government's objectives.
Future Technologies
By 2025 we expect that 5G networks will be deployed in the UK and across the world. Standards should be put together and manufacturing of network equipment commenced by 2017 to 2020. Over £70 million of public and private funding has already been secured by the 5G Innovation Centre at the University of Surrey involving a worldwide consortium of mobile and fixed operators and equipment suppliers. The centre is already delivering world beating results, including a recent announcement that it had achieved a connection speed of 1 terabit per second in tests. We have world class research institutes in the UK and these are cooperating with industry to ensure that the UK contributes to the global development of 5G as much as possible. In particular, UK universities are seeking to collaborate with their German counterparts on 5G research as part of the UK-Germany initiative announced in 2014.
We recognise that 5G is expected to deliver the connectivity essential for the full realisation of the Internet of Things and believe the two technological developments should be considered together.
The government intends the UK to be at the forefront of the development of the Internet of Things. Sir Mark Walport, the government's Chief Scientific Adviser, published a report on actions that the government could take to catalyse the development of the Internet of Things.
Drawing on the recommendations of the Walport review, we will:
Work with experts to develop a roadmap for an Internet of Things infrastructure, to prevent fragmented and vulnerable networks.

Help shape standards through our procurement practices. Whilst the UK cannot unilaterally develop standards, we will play a role in seeking to achieve wider consensus with other governments and standards bodies.

Establish an Advisory Board bringing together the public and private sectors to oversee and coordinate Internet of Things activity and where relevant, contribute views on the development and deployment of 5G.
Building on the Walport review, Budget 2015 provides £40 million for demonstrator programmes, business incubator space and a research hub to develop applications for Internet of Things technologies in health and social care and Smart Cities. Smart City technology could prove transformative, and provide significant opportunities for supporting jobs and growth. To ensure that the UK can take advantage of this technology local areas will need to be empowered to make decisions, and collaborations will need to be built between cities, universities and businesses. As part of the Internet of Things programme, the government will support a competition to fund a Smart Cities demonstrator to trial and showcase these new technologies.
We are also reviewing the current use of IPv6 in the UK to determine whether any specific action is required to remain in step with industry, user and future innovation needs in relation to IPv6. IPv6 is the latest set of internet addresses and is designed to accommodate the growing number of people and devices connecting to the internet.
3.2

Scope for further government activity

The government wants to support the development of the UK's digital communications infrastructure, and help industry to realise our ambition that ultrafast broadband of at least 100Mbps should become available to nearly all UK premises. As part of this, we expect to see higher capacity gigabit services being made available on demand to businesses on standardised terms. In doing so, the government wants to maintain the principle that intervention should be limited to that which is required for the market to function effectively. In the case of ultrafast broadband, this market is only just beginning to emerge.

The government has identified a number of areas where action can help support the market to invest in better communications infrastructure. These measures are wide ranging and will support the upgrading and improving of all of the UK's communications infrastructure.
UK Guarantees Scheme
The UK Guarantees Scheme was introduced in 2012 to support investment in UK infrastructure by helping to accelerate infrastructure investments that might otherwise have stalled because of a lack of access to financial markets. Under the scheme, Her Majesty's Treasury (HMT) guarantees that lenders to infrastructure projects will be repaid in full and on time in return for a market-orientated fee linked to the risk that HMT takes. Since the UK Guarantees Scheme was established, HMT has approved guarantees in excess of £1.7 billion for eight projects, supporting investments worth almost £4 billion, and "prequalified" (deemed eligible for support) around 40 more.
The UK Guarantees Scheme is flexible and can be used to support a range of financial structures; the expansion of broadband infrastructure is explicitly included in its scope; the government has prequalified the expansion of Virgin Media's ultrafast broadband network for the UK Guarantees Scheme, supporting Virgin's proposed £3 billion investment. There is sufficient capacity within the £40 billion scheme to support significant further investment and discussions are being held with UK broadband operators to explore how the scheme can be used to support and accelerate their respective investment programs. HMT will continue to encourage applications from those seeking to invest in and expand the UK's fixed and mobile broadband infrastructure.
The government is also keen to understand whether there are particular barriers to private investment in new ultrafast infrastructure, and to explore with providers of both the networks and the finance how these might be overcome – including innovative financial and commercial models.
Public Sector Spectrum
The public sector holds a considerable amount of valuable spectrum. Government set a target in 2010 to release 500MHz by 2020. Currently, individual government departments are responsible for managing public sector spectrum assets. To ensure that public sector spectrum is managed in the most efficient manner possible, the government will centralise the operational management of public sector spectrum, and will reset the release target. This will enable government to better prioritise spectrum management and maximise the economic value of public sector spectrum.
Electronic Communications Code reform
The Electronic Communications Code ("the Code") regulates the relationship between electronic communications network operators and site providers. It supports and enables the rollout and maintenance of the physical networks of apparatus that support the provision of electronic communications services throughout the UK. It is widely agreed that the Code is out of date and in urgent need of reform.
The government is taking action to reform the Code, and is committed to delivering a modern and rigorous legal framework for the rollout of electronic communications apparatus. A consultation on proposals for reforming the Code, based on the Law Commission's recommendations, was published on 3 March 2015, and runs until 30 April. The government strongly encourages all parties with an interest to read and respond to this consultation. The government will then consider the views of respondents and look to reform the Code as soon as possible.
Implementing the European Broadband Directive
The government is assessing the steps it needs to take to implement the EU Directive on measures to reduce the cost of deploying high-speed electronic communications networks by 1 January 2016.This includes a requirement that all new buildings and major renovations of existing buildings have high-speed ready in-building physical infrastructure up to network termination points. It also requires all utility providers (other than networks used to provide water for human consumption) and all communications providers to make ducts and other infrastructure facilities available to enable new broadband and other fibre networks to be installed. Analysys Mason has estimated that, across Europe, this set of measures could reduce total investment costs for telecoms operators by 20 to 30%. Government will bring forward a consultation on implementation of the Directive later this year.
The directive proposes that broadband connectivity labelling would apply on a voluntary basis to buildings and apartments with access to high-speed in-house broadband infrastructure. We intend to go further, and are considering options for introducing a connectivity rating for new and existing buildings, so that people can see at a glance how well home and business premises are served for broadband.
Reducing regulatory red tape
The government has taken decisive action to improve legislation to support the rollout of digital communications infrastructure. For example in England, two important changes were introduced in 2013 to support the rollout of fixed broadband in all areas, apart from Sites of Special Scientific Interest:
Introduced the need to promote economic growth when making changes to the Code regulations and removed the requirement to underground new telecommunications cables.

Further improvements to planning legislation by removing in protected areas the prior approval requirements which enabled local planning authorities to consider sighting and external appearance. This change grants planning permission through permitted development rights for the installation of: broadband street cabinets, telegraph poles and overhead lines, which can now be installed in any location other than Sites of Special Scientific Interest.
These improvements will run until 2018, and are designed to help speed up the deployment of superfast broadband, reduce uncertainty and delays for communications providers. Government will review the effectiveness of both changes to legislation early in the next Parliament to determine whether they should be made permanent.
In August 2013 we also made planning improvements in England to support 4G rollout in non-protected areas including extending and widening existing masts, permitting larger and taller antennas and small cell antennas. Specific changes for protected areas saw the addition of an allowance of three antennas to masts and dish antennas to existing masts, as well as small cell antennas.
In 2013 Electronic Communications Code operators published, in partnership with government organisations and other interested parties, two codes of best siting practice to complement the statutory changes.2 The overall aim is to help code operators to take advantage of the changes whilst minimising any adverse visual impact. We will review the effectiveness of both codes early in the next Parliament.
The government is also encouraging and supporting a range of innovative approaches in street works which comply with the street works specification, and which can lower the cost and speed up deployment of faster broadband. The standards that street works reinstatements must meet are set out in a statutory code, the Specification of the Reinstatement of Openings in Highways (SROH). The SROH sets out a range of deployment methods and approved materials that can be used when carrying out street works, including narrow trenching and the use of foamed concrete as a reinstatement material. The Department for Transport wrote in December 2014 to local authorities in England to clarify that where narrow trenching is compliant with the SROH it should be permitted.
Local leadership
Local authorities play an important role in facilitating the delivery of digital infrastructure. We encourage local authorities to be supportive of requests from infrastructure providers to use local government infrastructure, including street furniture, and to share best practice in operating planning processes and street work management. The success of the superfast programme has shown what can be achieved when local authorities are engaged and supportive of broadband rollout. The government is calling on all local authorities to support the expansion of telecommunications and broadband when preparing Local Plans, and applications by telecommunications companies which will result in improved digital connectivity in their area.
The government is also calling on all LEPs to ensure that the broadband needs of their local SMEs are reflected in their future strategic planning. This will help to ensure that SMEs are strongly represented and that communications infrastructure providers are left in no doubt about the appetite of local firms for better, faster broadband. To support this, the government is also inviting LEPs to engage with the Telecommunications and Digital Infrastructure Portfolio.
The role of the Devolved Administrations
The Northern Ireland executive, Scottish government and Welsh government share the UK government's commitment to making sure the UK has the digital communications infrastructure it needs. Recognising that each of the devolved administrations has operational and policy responsibilities which have a part to play in delivering a UK-wide vision for connectivity, the government will continue to engage with them to establish appropriate joint working arrangements to facilitate the delivery of better broadband.
Reforming the EU Framework for Communications
The EU Commission has announced that it will review the EU Framework for Communications (the Framework) later this year. The Framework sets out the legal basis for communications infrastructure across the EU. The government welcomes the commission's decision to review the Framework, and will actively engage with the commission and other member states to ensure that the potential of the Framework to support the development of digital infrastructure and economic growth is maximised.
The government is considering its position on a number of areas where reform of the EU Framework could be advantageous. For example, industry has highlighted to us that it would like to see Ofcom's Market Reviews moved to a five yearly, rather than a three yearly, cycle, as this would create greater regulatory stability which would support investment and build on the outcome of Ofcom's recently announced strategic review. The government will carefully consider its position on this, and other, issues before engaging with the commission's review later in the year.
4.

Next steps

The government has set out a clear vision for future infrastructure and a set of actions that will encourage and facilitate future investment. We believe this strategy will support delivery of the infrastructure needed to underpin the future growth of the UK's economy and digital society, including the ambition of ultrafast broadband becoming available to nearly all. The government is committed to working with stakeholders across the private and public sector.

Recent announcements by key industry providers highlight how competitive market forces drive innovation, but also highlight how much the technology to deliver ultrafast is still evolving. The government is therefore keen to learn from the results of recently announced pilots and the performance of new technologies in the field using fibre, copper and wireless infrastructure to deliver ultrafast performance to consumers and standardised gigabit services to small businesses.

We also need to be responsive to future changes in technology and demand and so policy will continue to evolve over time. To ensure the UK keeps up with the rapid pace of change, the government will review progress against our ambition annually, including a formal review in 2018 when the current investment in superfast broadband and roll out of 4G networks will be completed.
We have used the UN and OECD definition of ICT to define the 'digital sector' ↩