PM at CeBIT: UK and Germany can lead technological revolution
David Cameron set out new initiatives on 5G, the Internet of Things and spectrum at the CeBIT 2014 trade fair.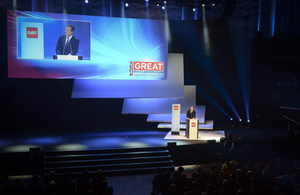 The Prime Minister joined Chancellor Merkel in Hanover to open one of the most important events on the IT business calendar - the CeBIT 2014 trade fair.
Seizing the opportunity of the UK's role as the event's official partner country, the Prime Minister promoted Britain's extraordinary tech and innovation sector to more than 2,500 industry representatives and set out how the United Kingdom and Germany should partner to lead the next digital revolution. Strengthening the innovation sector will help to create a new wave of jobs and provide a more financially secure future for Britain, for hardworking people and their families.
A world on fast forward
The Prime Minister said:
This is a world on fast forward. A world of permanent technological revolution. And in this world, countries like the UK and Germany will only succeed if we have a relentless drive for new ideas and innovations.

My mission here at CeBIT is to promote the extraordinary tech sector we have in the UK. 4 years ago, we put in place a long-term economic plan to turn our country around – and innovation is right at the heart of that plan.

The UK tech scene today is dynamic. Relentlessly ambitious. Leading the way. It is our ambition to make the UK the most digital nation in the G8 and it is my mission to show the world that we're getting there.
UK and Germany working together
He set out 3 specific areas where the UK wants to work with Germany:
5G – faster internet quick enough to download a full length feature film in less than a second.

Internet of Things – getting everyday objects talking to one another to simplify daily life.

Strengthening the EU's digital single market.
The Prime Minister unveiled a package of measures to achieve this, including:
£45 million funding for research in areas linked to the 'Internet of Things', taking total pot available to £73 million
a new spectrum strategy that aims to double the economic benefits of spectrum to £100 billion by 2025
a new 'innovation one stop shop' within UKTI for securing science and innovation investment from large international funds and corporate companies
a review by government's Chief Scientific Advisor to identify how we can exploit potential in this area
£1 million 'European Internet of Things' grant fund to support companies who want to exploit these new opportunities
new collaboration to develop 5G between the University of Dresden, King's College University in London and the University of Surrey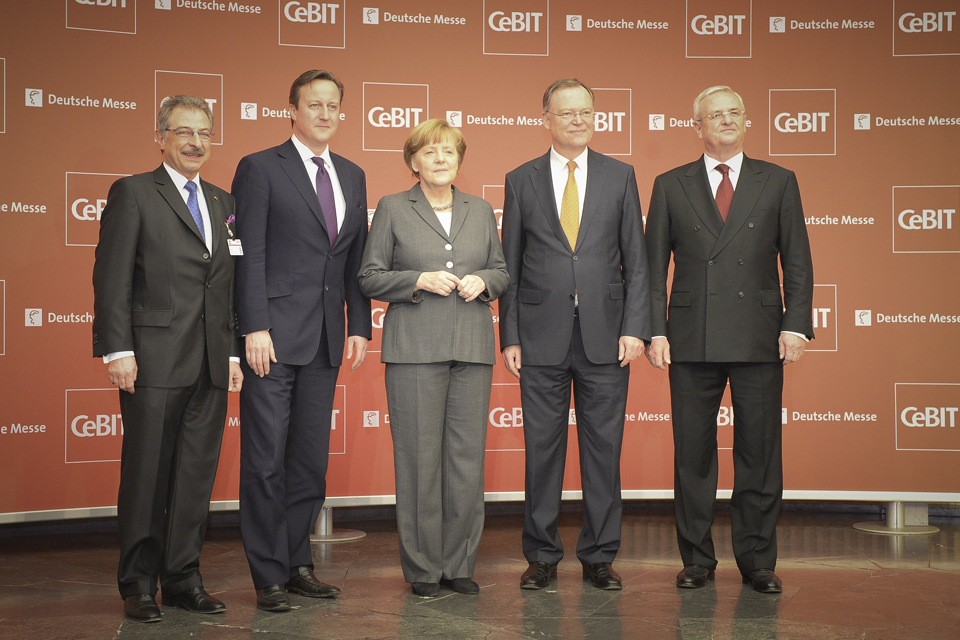 Internet of Things
On the Internet of Things, the Prime Minister said:
These are developments that could allow literally billions of everyday objects to talk to each other over the internet – using low-cost, low-power chips. And this has enormous potential to change our lives.

Electricity meters that talk to the grid to get you the best deals. Health monitors that keep an eye on your heart rate. Water pipes that warn of a fall in pressure.

I see the Internet of Things as a huge transformative development - a way of boosting productivity, of keeping us healthier, making transport more efficient, reducing energy needs, tackling climate change.

We are on the brink of a new industrial revolution and I want us – the UK and Germany – to lead it. Take British ingenuity in software, services and design, add German excellence in engineering and industrial manufacturing and together we can lead in this new revolution.
The Prime Minister was joined on his visit to Hanover by Trade Minister Lord Livingston, Joanna Shields (Tech City), Hossein Yassaie (Imagination Technologies), Ian Stevens (Touch Bionics), Stan Boland (Neul), Eben Upton (Raspberry Pi).
Spectrum
The government will publish today (10 March) its strategy for securing the best economic and social value for the UK from the radio spectrum – the airwaves over which all wireless communications devices communicate - over the coming decades.
Spectrum is an invaluable tool for many new technologies. Companies need to use spectrum for testing, research and development before their products are commercialised.
The UK Spectrum Strategy sets out a framework up to 2025 and beyond with the aim to double the annual contribution to the economy to £100 billion by 2025 through offering business the access it needs to innovate and grow, and everyone in the UK the services they need to live their lives to the full.
The strategy sets out 13 specific actions to achieve this, including:
the government working with Ofcom and with spectrum users to adopt a holistic approach to managing spectrum, and in particular to managing change of use well
applying the same core principles to all who use spectrum in the UK, or want to use spectrum, whether they are from the public sector or private sector
introducing clear incentives to encourage the use of spectrum by those who will deliver best value
seeking to attract those who will innovate by making spectrum available to those who will venture into new areas
developing a single source of information on spectrum managed by the public sector which clearly identifies what frequencies are in use at what geographic locations, and hence what frequencies are available for use
Supporting the UK's innovation and tech sector
The UK's innovation and tech sector is worth £58 billion to the UK economy and employs 1.3 million people. The government has already implemented a number of measures to support its growth as part of our long-term economic plan.
Examples include:
tax breaks on early stage investment
tax breaks on video games
a Patent Box so if you invent in the UK you only pay 10% tax on those profits
special visas for entrepreneurs
£200 million investment into science equipment for science teaching at our universities
Published 9 March 2014
Last updated 10 March 2014
+ show all updates
Updated with information about spectrum

First published.