Guidance
Heat Networks market study: summary of final report
Published 23 July 2018
© Crown copyright 2018
This publication is licensed under the terms of the Open Government Licence v3.0 except where otherwise stated. To view this licence, visit nationalarchives.gov.uk/doc/open-government-licence/version/3 or write to the Information Policy Team, The National Archives, Kew, London TW9 4DU, or email: psi@nationalarchives.gsi.gov.uk.
Where we have identified any third party copyright information you will need to obtain permission from the copyright holders concerned.
This publication is available at https://www.gov.uk/government/publications/heat-networks-advice-for-customers-and-the-industry/heat-networks-market-study-summary-of-final-report
Our report sets out our analysis of relevant issues in the markets for communal heating and district heating schemes building on the work already undertaken by others including Citizens Advice, Which?, BEIS and the Scottish Government and engaging with a wide range of stakeholders.
(a) We undertook an analysis of prices based on a representative sample of heat networks.
(b) We gained a thorough understanding of heat networks including the supply chain, heat network delivery models, the potential environmental and economic benefits of heat networks, government proposals for expanding the sector and international experiences of heat networks.
(c) We undertook a high level financial analysis of the sector.
(d) Kantar Public completed in-depth interviews to examine consumer awareness, understanding and expectations about heat networks before moving into a property.
(e) We have worked with the UK government, the devolved nations and Ofgem. In particular, BEIS is considering future options for regulating the sector and the Scottish Government has already consulted on a number of options to improve outcomes.
(f) We examined customer complaints and reviewed key customer documents.
Our analysis
Our analysis of prices has indicated that, consistent with other research, for many customers, heat networks appear to offer an efficient supply of heat and hot water at prices which are close to or lower than those of other potential sources of supply (such as gas or electricity) and with comparable service standards.
However, for some customers – particularly those on certain privately-operated schemes – we have identified poorer outcomes in terms of price and service.
Where service and reliability issues arise, heat network customers do not automatically have the same protections as electricity and gas customers - there is limited consumer protection and redress, and there may be issues with accountability.
What Heat Networks are and how they work
Heat networks supply heat from a central source to consumers via a network of pipes. The networks distribute thermal energy in the form of steam, hot water or chilled liquids to multiple properties for the use of heating, cooling or hot water.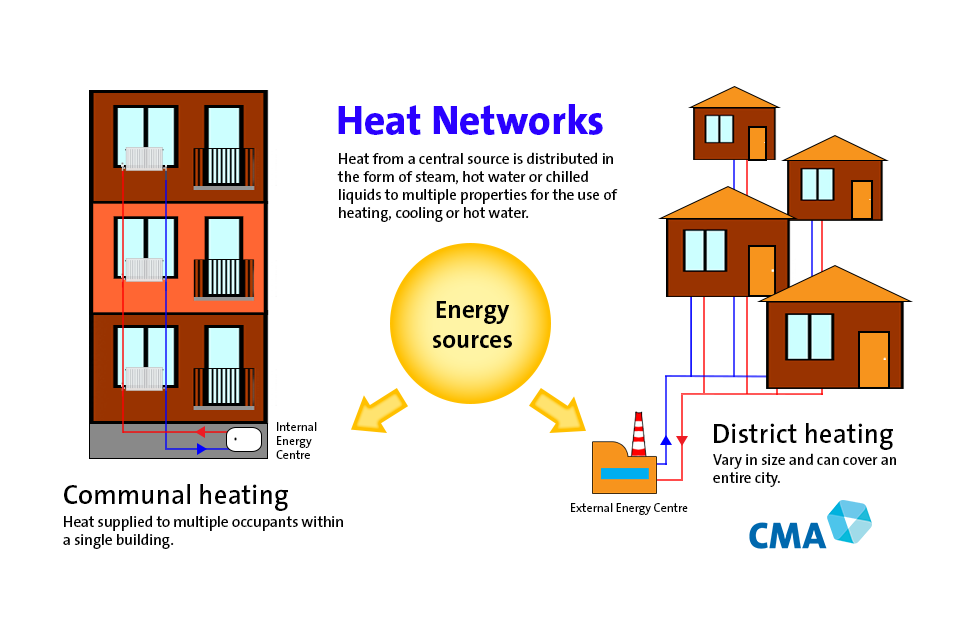 When talking about heat networks we distinguish between district heating and communal heating.
District heating: These networks vary in size and length, carrying heat from just a few hundred metres between homes and flats, to several kilometres and can even cover an entire city. This avoids the need for individual boilers or electric heaters in every building.

Communal heating: Heat is supplied within a single building to multiple occupants, e.g. heat supply in a block of flats. (Source: BEIS)
Heat networks form an important part of the government's plan to reduce carbon emissions and cut heat bills as a heat network enables valuable energy, which is all too often wasted in power generation or industrial processes, to be captured and supplied to consumers, which removes the need for additional energy to be generated. (Source: ADE)
Currently, there at least 14,000 heat networks in the UK (of which around 2,000 are district heating and the rest communal), together providing around 2% of UK buildings heat demand. There are nearly 492,000 connections in total including 446,517 domestic customers. (Source: ADE)
But, given their potential environmental benefits and scope to address fuel poverty, BEIS and the Scottish Government are seeking to expand the number of heat networks significantly over the next decade. We are conscious therefore that that the sector is still at an early stage in its development.
It is estimated that around 18% of UK heat will need to come from heat networks by 2050 if the UK is to meet its carbon targets cost effectively. (Source: CCC)
Outcomes
Prices
We found that some networks offer poor value for money to heat customers, and our research indicates that unit prices and average bills vary significantly between schemes. Higher unit prices and annual charges were associated with privately-operated schemes, and individually metered schemes.
However, overall, average prices on the large majority of heat networks within our sample are close to or lower than the price of a gas heating-based comparator.
Quality
We identified that the main concerns regarding quality relate to customer access to information about their heating, frequency and content of bills, and consumer redress. Where problems do arise with specific schemes the impact on residents can be significant, there is limited consumer protection and redress, and there may be issues with accountability. Heat network customers do not have the same regulated customer protections as domestic gas and electricity customers.
Key drivers
We identified three key drivers of outcomes for heat network customers in relation to price and quality:
The incentives of property developers, heat network operators and customers of heat networks: Planning requirements can lead to heat networks which are expensive to operate and in turn, lead to customers facing higher prices than alternative heat and hot water solutions. The lack of enforceable technical standards can further compromise the operational efficiency of the network and increase costs for heat network customers. Disengaged consumers may not put pressure on developers to provide a customer-focused heat supply.

Monopoly supply and delivery models: Heat networks have features of natural monopolies. Customers have no or limited ability to switch to an alternative heating system. Heat networks also require a relatively large capital expenditure to build the infrastructure.

Transparency regarding heat networks before moving into a property and during residency: Before moving into a property, consumers are not sufficiently informed regarding the characteristics of heat networks and ongoing costs which may restrict the ability of consumers to make informed decisions and challenge heat network providers regarding the price and quality of their networks. During residency there may be a lack of transparency for customers regarding heat bills. Where bills and charges are not transparent, customers may be less able to challenge suppliers about costs, prices and services – potentially reducing the pressure on suppliers to provide reliable, value-for-money heat.
Our recommendations for action
We set out a wide range of options for recommendations to address the concerns that we identified above. We have concluded that the sector should be regulated by a public-sector body which has statutory powers to set regulation, monitor compliance, and enforce against heat network operators that do not comply with that regulation.
The CMA is therefore recommending that the regulator once it is established:
introduces consumer protection for all heat network customers so they get the same level of protection as customers in the gas and electricity sectors

addresses low levels of transparency so customers know they are on a heat network and there are clear agreements or contracts between customers and heat network operators

makes sure customers are aware of what they are paying as this is often unclear

protects customers from poorly designed, built and operated heat networks by preventing developers from using cheaper options to meet planning regulations that end up being paid for by the customer over the longer-term
The consideration of future schemes is important as we expect that the number of heat network customers will grow over the next years and we need to ensure that further growth can be delivered in a way that maximises benefits for the users of the networks alongside the wider economic and environmental benefits.
Establishment of a statutory regulatory regime
We recommend to BEIS and the Scottish Government that a statutory framework should be set up that underpins the regulation of all heat networks.
The regulatory framework should be designed to ensure that all heat network customers are adequately protected. At a minimum, they should be given a comparable level of protection to customers of gas and electricity in the regulated energy sector

The scope of regulation should include price, quality of service, transparency and minimum technical standards

The sector regulator should be given formal powers to introduce regulation in these areas, and to monitor and enforce compliance with regulations

Ofgem would be well placed to take on the role of the sector regulator
Regulation of prices
We recommend that the sector regulator requires all heat networks to comply with 'principles-based' rules or guidance on pricing and service quality.
The regulatory regime should have an appropriate balance between:
protecting domestic customers from the incentives and ability of suppliers to exercise their monopoly power

allowing heat network operators to finance their activities, including a suitable return on investment
The sector regulator should:
apply flexibility in its guidance as to the appropriate pricing and tariff mechanisms, referenced to appropriate price benchmarks or cost plus a reasonable profit margin

require heat networks to disclose their prices to customers, including how bills are calculated

adjudicate on cases where prices deviate significantly from the guidance and principles
The sector regulator should also work with the industry to determine measurable performance indicators for service quality, with the objective that heat networks should be required to report against performance targets to the regulator and to customers.
We recommend that:
the regulatory framework should require heat networks to give due consideration to whole life costs during the design and build phases, and how this is likely to impact prices for consumers

where the whole life cost for customers of a new heat network exceeds that of alternative fuels, the additional cost should be met by the developer of the heat network

when developers are considering installing a new heat network, they should compare the price that heat network customers would pay based the whole life costs of the network to the price if customers were supplied by gas (or electricity). This should include the choice of design of heat network, where a heat network is the preferred solution
Regulation of quality of service
We recommend that domestic heat network customers should be given similar protections to gas and electricity customers, particularly in relation to the quality of service and protections for vulnerable customers.
This also includes mandatory access to an ombudsman with the ability to investigate suppliers and make binding recommendations.
Transparency
We recommend that the government, including where appropriate a future sector regulator, implements rules or guidance as to the level of information which is necessary to help heat network customers.
This should include information required to allow people to make appropriate decisions when considering whether to live in a property with a heat network and information for heat network customers to understand and act upon their bills.
We consider that industry standards could be prepared in advance of the introduction of any statutory mechanism for monitoring and enforcement.
Minimum technical standards
We recommend that all heat networks comply with a new set of minimum technical standards, focusing on measurable performance outcomes, such as operational efficiency.
New standards should be developed, drawing on existing industry expertise including CP1, to allow monitoring and compliance with quality standards.
Additional training and certification should be made available to engineers to improve their knowledge and technical understanding of heat networks across their various stage of development, up to and including operation and maintenance.