Health matters: health and work
Published 31 January 2019
© Crown copyright 2019
This publication is licensed under the terms of the Open Government Licence v3.0 except where otherwise stated. To view this licence, visit nationalarchives.gov.uk/doc/open-government-licence/version/3 or write to the Information Policy Team, The National Archives, Kew, London TW9 4DU, or email: psi@nationalarchives.gov.uk.
Where we have identified any third party copyright information you will need to obtain permission from the copyright holders concerned.
This publication is available at https://www.gov.uk/government/publications/health-matters-health-and-work/health-matters-health-and-work
Summary
Being in good work is better for your health than being out of work. 'Good work' is defined as having a safe and secure job with good working hours and conditions, supportive management and opportunities for training and development.
There is clear evidence that good work improves health and wellbeing across people's lives and protects against social exclusion. Conversely, unemployment is bad for health and wellbeing, as it is associated with an increased risk of mortality and morbidity.
For many individuals, in particular those with long-term conditions such as mental health problems, musculoskeletal (MSK) conditions and disabilities, health issues can be a barrier to gaining and retaining employment.
Combined costs from worklessness and sickness absence amount to around £100 billion annually, so there is also a strong economic case for action. Addressing and removing health-related barriers requires collaborative work between partners from across the private, public and third sectors at both national and local level.
Scale of the problem
Why employment matters to health
As adults in employment spend a large proportion of their time in work, our jobs and our workplaces can have a big impact on our health and wellbeing. In fact, employment can impact both directly and indirectly on the individual, their families and communities. Therefore, work and health-related worklessness are important public health issues, both at local and national level.
There is clear evidence that good work improves health and wellbeing across people's lives, not only from an economic standpoint but also in terms of quality of life. 'Good work' means having not only a work environment that is safe, but also having a sense of security, autonomy, good line management and communication within an organisation.
There is also evidence that shows that good quality work protects against social exclusion through the provision of:
income
social interaction
a core role
identity and purpose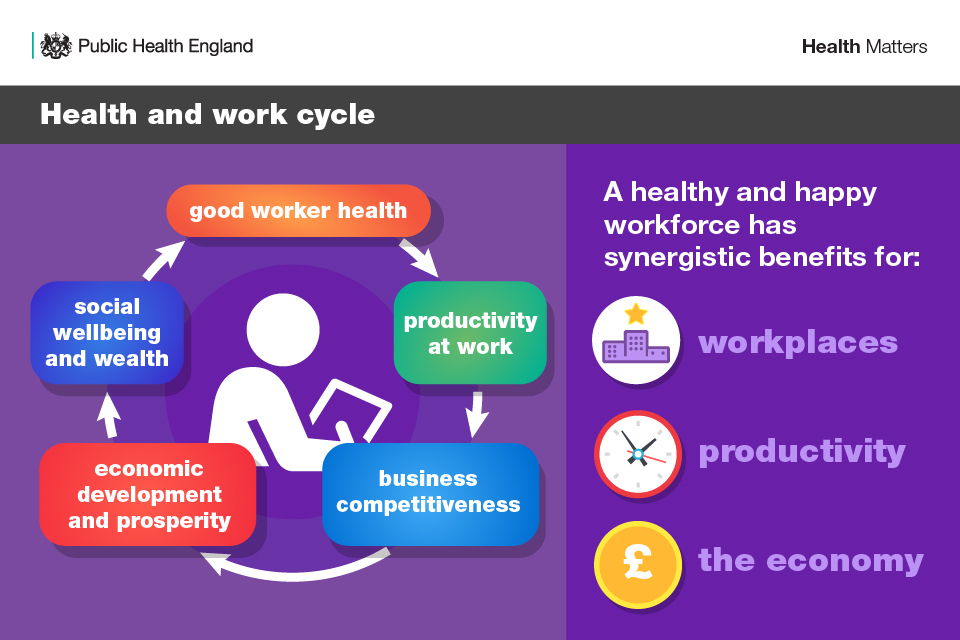 Source: WHO Health Workplace Framework and Model
Conversely, there is also clear evidence that unemployment is bad for your health as it is associated with an increased risk of mortality and morbidity, including:
limiting long-term illness
cardiovascular disease
poor mental health
suicide
health-harming behaviours
Just as unemployment can be a risk factor for various health conditions, long-term health conditions including MSK conditions such as back pain can also be the cause of unemployment. This is known as 'health-related worklessness'.
The cost of ill health
From an employer perspective, the benefits of a healthy workforce are clear. Healthy staff are more productive, take less time off sick and do not necessarily need to retire early.
An unhealthy workforce negatively impacts our economy and society due to:
lost productivity
a reduction in income tax receipts
increases in long-term sickness
increased informal caregiving
increased healthcare costs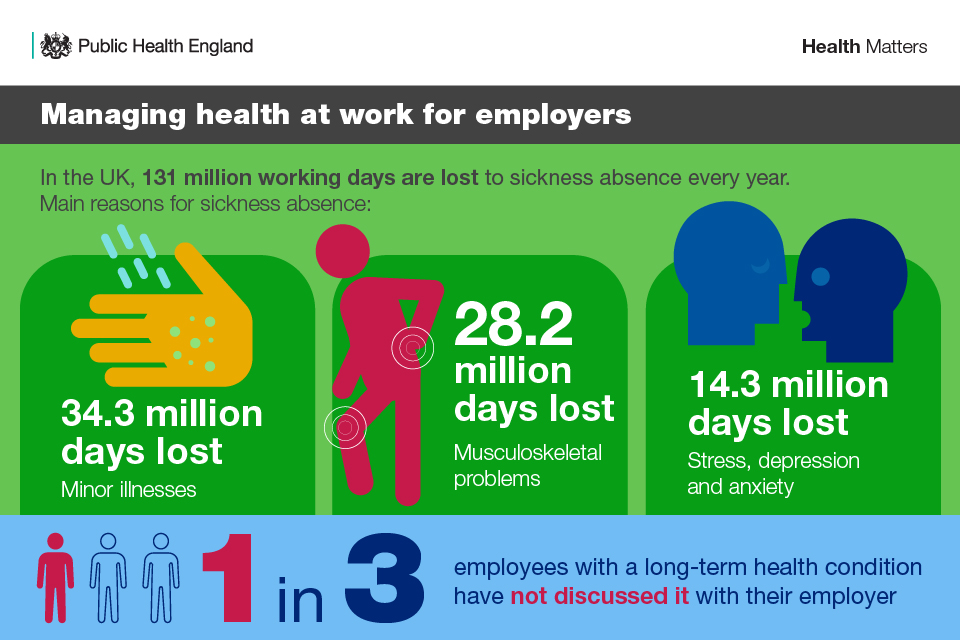 Looking at the wider economy, combined costs from worklessness and sickness absence amount to approximately £100 billion annually, so there's a strong economic case for action. The costs of ill health to the UK government is estimated to be around £50 billion a year, as a result of benefit payments, additional health costs, taxes and national Insurance.
A healthy and productive workforce
Enabling people with health issues to obtain or retain work, and be productive within the workplace, is a crucial part of the economic success and wellbeing of every community and industry.
Therefore, it is important that people are supported to gain employment and maintain economic independence for themselves and their families, especially as they age. This is of particular importance for individuals with long-term conditions and disabilities, due to the barriers they face in gaining employment and retaining a job.
Collaborative work between partners from across the private, public and third sector is essential for creating pathways to good jobs. Local government plays an important role in bringing these partners together, as well as leading by example within their workforce. The call to action section below expands on the actions local authorities can take in the health and work agenda.
Health of the working age population
As of September 2018, in the UK there were an estimated:
32.4 million people in work, with the employment rate for 16 to 64 year olds who were in work being 75.7%
1.38 million unemployed people (people not in work but seeking work and available to work), with the unemployment rate estimated at 4.1%
8.74 million people aged from 16 to 64 years who were economically inactive (not working and not seeking nor available to work), with the economic inactivity rate estimated at 21.2%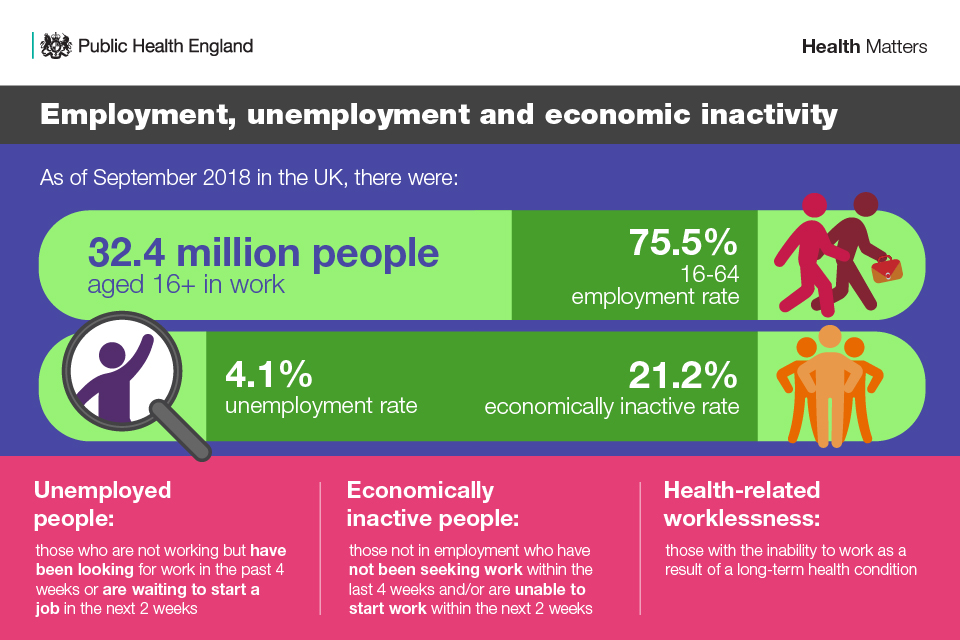 Around 12.8 million (31%) of working age people in the UK have a long-term health condition. One in 4 UK employees reported having a physical health condition, and 1 in 5 of those employees with physical health conditions also reported having a mental health condition. People with one health condition have an employment rate of 61%, while those with 5 or more have an employment rate of 23%.
Of the 5.3 million people with a non-disabling long-term health condition in the UK, 81.6% are in employment compared with 81.2% of the 28.4 million people with no long-term health conditions. This suggests that the existence of a health condition does not in itself affect the likelihood of people being in work, but whether it is perceived to limit a person's day-to-day activities.
Employment rates are lowest among disabled people, with only 51.3% in work, meaning there is a substantial employment rate gap in the UK between disabled and non-disabled people (81.4% in employment). Among these working age disabled people in the UK, 54% have a mental health or MSK condition as their main health condition.
Almost 9 in 10 disabled people that are out of work are economically inactive.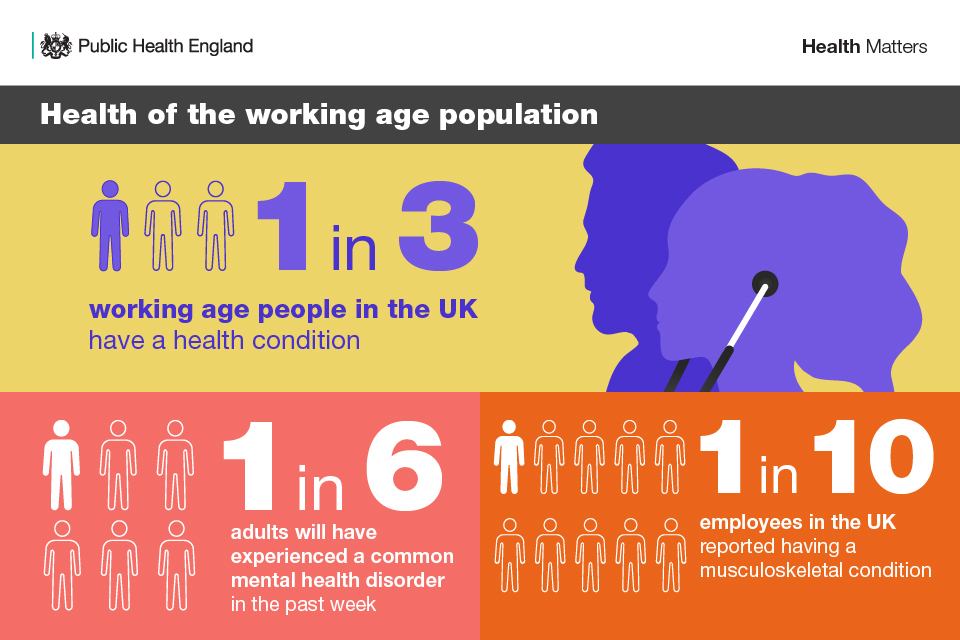 As the population of the UK ages, there will be an increase in the number of people with one or multiple long-term conditions and limiting long-term conditions. It also means that people are likely to be working for longer, with over 9 million people aged 50 to 64 in the UK who are employed, an increase of more than 2 million since 2008.
In 2017, the UK government published Improving lives: the future of work, health and disability. This sets out the actions that are being taken across 3 settings (welfare, the workplace, and the health system) to transform employment prospects for disabled people and people living with long-term health conditions. It also includes the government's commitment to see 1 million more disabled people in work over the next 10 years.
The UK government also published the Industrial Strategy in 2017. This sets a path to improved productivity while keeping employment high, with the objectives of raising living standards, providing funds to support public service, and improving the quality of life for all citizens. The strategy strengthens the 5 foundations of productivity: ideas, people, infrastructure, business environment and places. Furthermore, it sets out 4 'grand challenges', one of which is meeting the needs of an ageing society, which is of great importance for the work and health agenda.
Creating healthy workplaces
Creating healthy workplaces entails supporting disabled people and people with long-term health conditions. It is also important to ensure the health and wellbeing of healthy employees who do not have existing health conditions is maintained, as work and the workplace also play a pivotal role in this.
Jobs need to be sustainable and offer a minimum level of quality, which should include:
a decent living wage
opportunities for in-work development
flexibility to enable people to balance work and family life
protection from adverse working conditions that can damage health
Mental health and MSK conditions remain 2 of the leading causes of sickness absence. The following sections outline the burden these conditions place on individuals of working age and their employers.
MSK and work
The pain and disability of poor MSK health limits independence and the ability to participate in family, social and working life. It is estimated that 17.8 million people live with an MSK condition in the UK, and according to Arthritis Research UK, only 59.4% of people of working age with an MSK condition are in work. Furthermore, around 1 in 5 people with arthritis have depression.
In 2017, MSK problems were the second most common cause of sickness absence, accounting for 28.2 million days lost in work (17.7% of total sickness absences). The most common cause of sickness absence was acute illnesses such as cough and colds, which accounted for 34.3 million days lost.
You can read more in productive healthy ageing and MSK health edition of Health matters.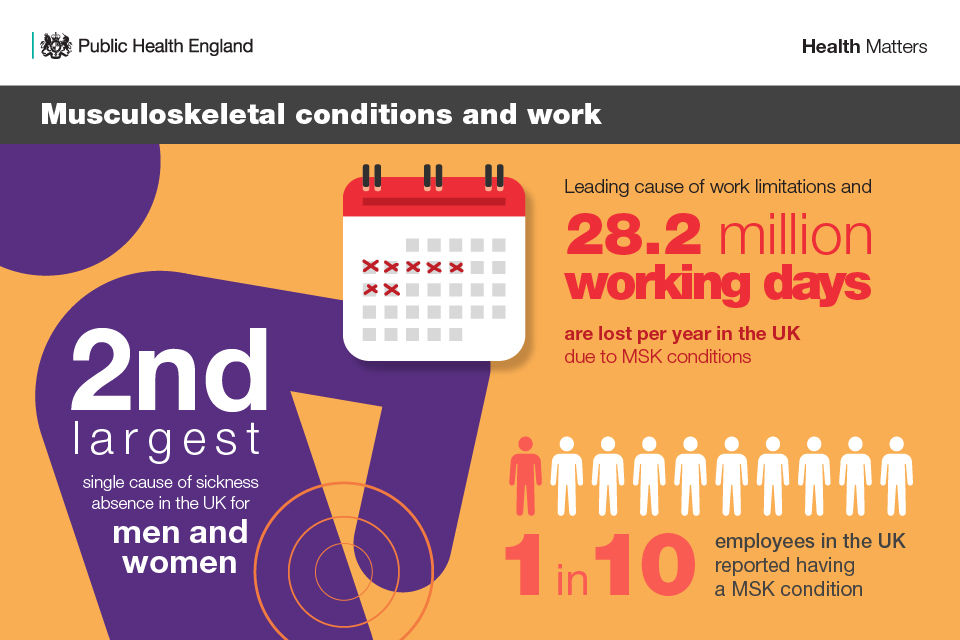 Mental health in the workplace
1 in 6 employees in the UK reported having a mental health condition, and stress, depression and anxiety are leading causes of sickness absence. In 2017, these conditions accounted for 14.3 million working days lost per year (7.6% of sickness absence). The estimated cost to UK employers of mental health-related absence is £7.9 billion.
People with mental health problems are also often over-represented in high-turnover, low-paid and often part-time or temporary work.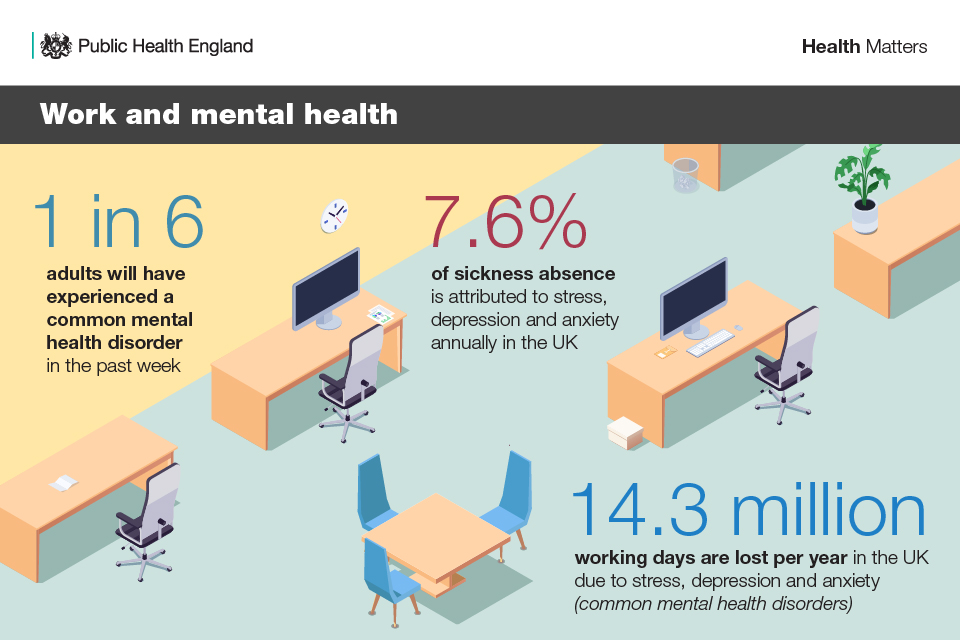 Being in good employment reduces the risk of mental health conditions such as depression and psychological distress but, for some people, can also be a cause of stress and common mental health problems.
The NHS is on track to support up to 20,000 people with severe mental illness to find and retain employment by 2020 to 2021. Employers also have an important role to play in supporting their staff to stay well and in work. The government has published a framework to help employers record and voluntarily report information on disability, mental health and wellbeing in the workplace.
The 2017 independent Stevenson/Farmer review of mental health and employers makes a number of recommendations for the public sector, government and employers on managing mental health at work. The Public Health England (PHE) and Business in the Community (BITC) Mental health toolkit for employers is well reflected in the report and provides a strong road map for the steps to achieving the changes that the review proposes.
You can read more about mental health conditions and employment in reducing health inequalities in mental illness edition of Health matters.
How PHE can support you
PHE has multiple tools to support the health and work agenda, which can be used to start the conversation at local level to shape local action.
Fingertips data tool
PHE's Fingertips Wider Determinants of Health data tool provides public health professionals with intelligence regarding the wider determinants of health - to help improve population health and reduce health inequalities.
The tool includes data on the following topics for each area:
employment rate, economic inactivity rate, and unemployment rate
employment rate trend
long-term Jobseeker's Allowance claimants
learning disabilities employment gap
long-term conditions employment gap
mental health conditions employment gap
MSK conditions
employment issues and over 50 year olds
local spotlight on young people
local spotlight on sickness absence
These profiles are a rich source of indicators across a range of health and wellbeing themes that have been designed to support Joint Strategic Needs Assessment (JSNA) and commissioning to improve health and wellbeing, and reduce inequalities.
With these profiles you can:
browse indicators at different geographical levels
benchmark against the regional or England average
export data to use locally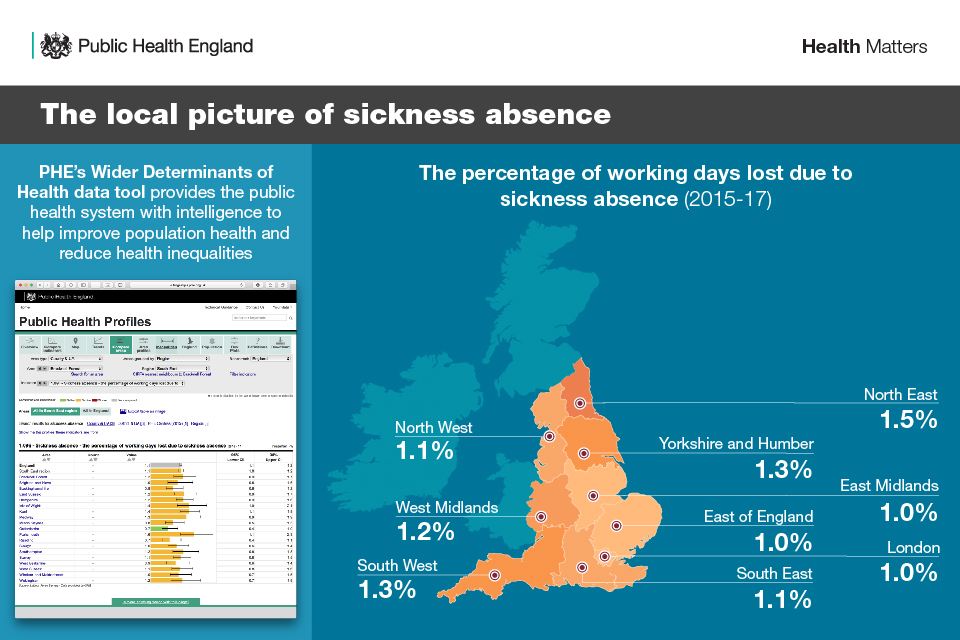 Return on investment tool
PHE's interactive return on investment (ROI) tool, Movement into employment: estimation of benefits from moving individuals into employment, can be used by local decision-makers to assess the health and financial benefits (for individuals, the economy and wider society) of helping people in their area back into work.
The ROI tool focuses specifically on the impact on mental health of moving from unemployment to employment. The results can be used by local authorities, clinical commissioning groups (CCGs), Jobcentre Plus and national policymakers to make the case for greater investment in health and work interventions.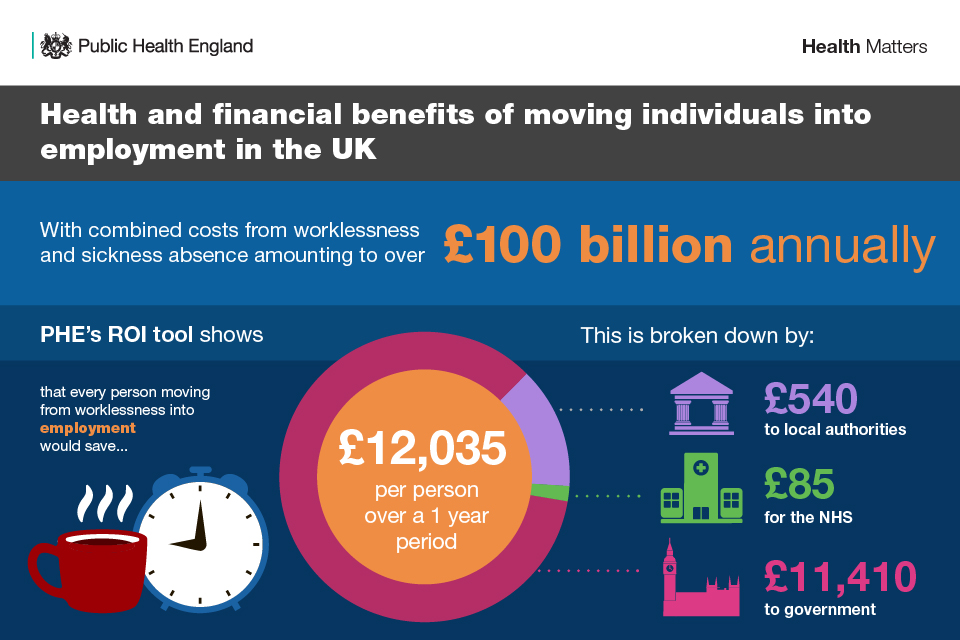 Workplace health tools and employer toolkits
A health-needs assessment is a simple way to gather anonymous information about the health of a company's workforce and provides a baseline of data to track progress against. It helps employers to understand areas to invest in within staff health and wellbeing, especially beyond the basic legal health and safety requirements.
PHE and Healthy Working Future's Workplace health needs assessment document provides practical advice on workplace health and a tool for carrying out workplace health needs assessments for employers of all types and sizes.
PHE has also developed multiple employer toolkits, in partnership with BITC, to help employers support their workforce to be productive and have good health and wellbeing.
These toolkits include:
Work, worklessness and health
PHE and the Local Government Association (LGA) developed a guide for local authorities on health, work and health-related worklessness. This provides resources for local government and highlights practical ways local authorities can address worklessness while promoting health in the workplace, alongside case studies of best practice from across the country.
Local enterprise partnerships
Local enterprise partnerships (LEPs) are partnerships between local government and businesses, as well as the primary leaders on transport, housing and infrastructure investment and development. Therefore, LEP decisions have a significant impact on the health and wellbeing of local populations.
LEPs help determine local economic priorities and drive job creation and economic growth within local areas. To date, England's 38 LEPs have supported over 196,000 businesses and created over 180,600 jobs.
PHE has produced a briefing for decision makers in LEPs who are developing local economic strategies. It explains the relationship between health and work, worklessness and economic growth, and proposes effective ways to address issues around this.
National infographics series
PHE and the Work Foundation collaborated to produce a series of health and work infographics to help raise awareness and understanding of the relationship between health and work.
They are intended to help public health practitioners, local authorities and policy makers to make the case and inform planning on embedding health, work and worklessness within and across:
mental health
cost of ill health
health of the working age population
health of UK employees
MSK conditions
managing health and work for employers
small medium enterprises (SME)
unemployment and economic inactivity
welfare
the local picture
supporting older workers with health problems
young people and health at work
alcohol, drugs and tobacco
Local infographics series
PHE's Work, worklessness and health: local infographic tool, developed from the national work and health infographics, include Work, worklessness and health slide sets with regional and local level data relating to work, worklessness and health for each county or unitary authority in England.
This tool can help local stakeholders raise awareness of work, worklessness and health issues, and embed them into policy planning.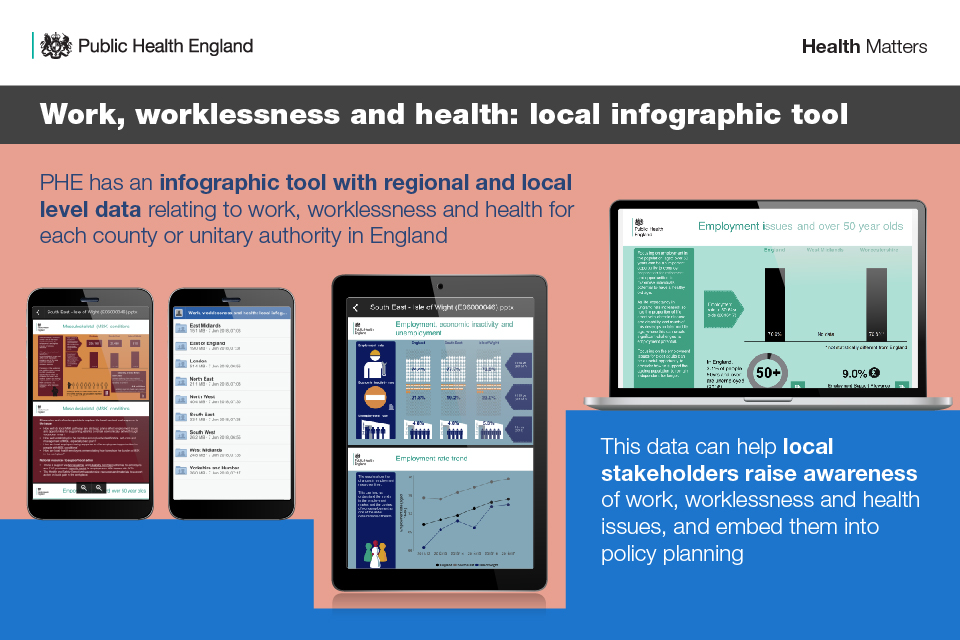 Campaigns
PHE's One You campaign provides simple steps to help adults take control of their health, including:
eating a healthier diet
drinking less alcohol
doing more physical activity
quitting smoking
This, in turn, will help adults get into and retain a job, which itself is good for health.
There is a wide range of One You resources that can be downloaded and ordered for free, including banners, posters, toolkits and key messages.
Evidence reviews
In collaboration with other organisations, PHE has conducted multiple evidence reviews relating to work and health. These can be used by employers, including the NHS and local authorities, to inform decisions that concern the health and wellbeing of their workforce.
PHE's evidence reviews include:
Evidence reviews conducted by other organisations, including:
Call to action
This section presents some actions on healthy workplaces for all employers in general, local authorities and the NHS workforce. Not all of these actions will be relevant to all areas.
All employers
There are some actions all employers can take to ensure the health and wellbeing of their workforce is looked after, regardless of the size of their organisation or the sector in which it lies. These actions range from ensuring workplace health is prioritised by senior members of staff, to encouraging healthy behaviours in the workplace such as taking regular breaks and eating well.
The PHE resources and BITC employer toolkits outlined in this edition can be used to inform decisions around specific issues in the health and work agenda, including leading causes of sickness absence such as MSK and mental health conditions.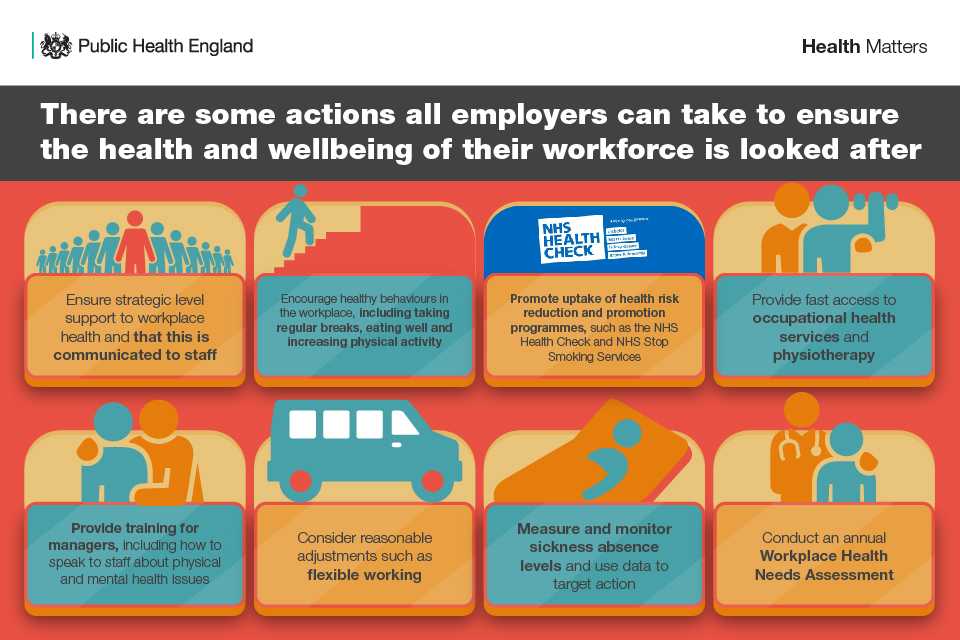 Local authorities
As strategic leaders of people and places, local authorities have existing and emerging powers to facilitate system change that enables more people to get into work, and for the workplace to support health and wellbeing.
Local authorities can engage with a range of people and groups to achieve this, including:
LEPs
devolution partners
Health and Wellbeing Boards (HWBs)
employers
employees
NHS CCGs
the voluntary sector
Analysis of evidence on local employment should form a part of local needs assessment processes and, in England, should be discussed at HWB level.
The Health, work and health related worklessness report, published by PHE and the LGA, can be used by local authorities as a guide to inform decisions around improving health and work outcomes in their communities.
The Association of Directors of Public Health's report Policy position: living and working well also recommends at both the national and local level to:
promote this agenda when speaking to partners and employees
gain senior council and clinical leadership support
use their unique position to bridge the gap between the health and economic agendas, linking HWBs and LEPs to help them develop joint approaches and programmes
use devolution powers and the change in business rates to drive action to improve health outcomes
promote close working with Job Centre Plus and local health services
identify Health Champions for this agenda amongst elected members and key local businesses and include employment in their training
promote efforts by supplier companies within the local government supply chain to employ and retain people with disabilities or health conditions
foster a vibrant charity and social enterprise sector to help people with disabilities or health conditions back into work, and focus on the specific needs of particular groups within the community most affected by these issues
ensure a workplace wellbeing scheme for employers is in place
ensure local health risk reduction and promotion programmes, such as NHS Health Checks and NHS Stop Smoking Services, are used to maximise opportunities to partner with employers
promote and increase awareness of the NICE quality standard on employee mental and physical health and wellbeing
prioritise employment through the HWB, including consideration in the JSNA and Joint Health and Wellbeing Strategy (JHWS)
co-commission health and employment services between the local authority and NHS CCGs
As employers who create jobs for members of their communities, local authorities can prioritise this agenda and apply these actions . In some areas, local authorities can even be the main employer with the largest workforce.
The NHS
As with local authorities, the NHS can also prioritise the health and work agenda in the same way that other businesses are encouraged to do.
The NHS requires staff who are well and at work to deliver effective, quality care for patients. Therefore, it is important that NHS workplaces are environments that encourage and enable staff to lead healthy lives and make choices that promote positive wellbeing.
As set out in the NHS Long Term Plan, the new Chief People Officer will lead work to improve the health and wellbeing of NHS staff. Building on existing work with 70 organisations, the NHS will provide targeted support to trusts to access fast track occupational health services and a line management development programme.
This complements the recent publication of the NHS health and wellbeing framework, which includes recommendations from Thriving at work: the Stevenson/Farmer review of mental health and employers.
The NHS health and wellbeing framework sets out the standards for what NHS organisations need to do to support staff feeling well and healthy at work. It sets out clear actionable steps and provides guidance on how NHS organisations can plan and deliver a staff health and wellbeing plan.
The framework focuses on:
organisational enablers: the essential leadership, structural and cultural building blocks for improving staff health and wellbeing, including:

leadership and management
data and communication
healthy working environments

health interventions: the core health areas to focus support for staff, informed by research on the leading causes of absence due to poor health from NHS organisations
NHS Employers also published the Creating healthy NHS workplaces toolkit in 2015.
This provides practical, step-by-step information on how to implement the 6 pieces of NICE workplace guidance on:
A vending machine intervention in Leeds Teaching Hospitals NHS Trust showed that increased availability and visibility of healthier products could support a positive shift in purchasing behaviour and encourage healthier choices, while remaining commercially viable. Read more about the trial and what the findings showed in the hospital vending machines: helping people make healthier choices blog.
Resources
These resources can be used in presentations of your own or to share with colleagues:
Health matters case studies highlight projects and approaches that have been put in place to improve public health: