Guidance
Guide to MOT risk reduction
Updated 22 November 2017
© Crown copyright 2017
This publication is licensed under the terms of the Open Government Licence v3.0 except where otherwise stated. To view this licence, visit nationalarchives.gov.uk/doc/open-government-licence/version/3 or write to the Information Policy Team, The National Archives, Kew, London TW9 4DU, or email: psi@nationalarchives.gsi.gov.uk.
Where we have identified any third party copyright information you will need to obtain permission from the copyright holders concerned.
This publication is available at https://www.gov.uk/government/publications/guide-to-mot-risk-reduction/your-guide-to-mot-risk-reduction
Introduction
About this Guide
The Driver and Vehicle Standards Agency (DVSA) has produced this Guide to provide an introduction to the running of a Vehicle Testing Station (VTS) regardless of its location, business size or what class of vehicles are tested.
The systems explained in this Guide are useful for Authorised Examiners (AEs), testers and all those who are responsible for providing support or assistance in the operation of a compliant VTS. This guidance will apply if you perform your own site assessments, contract out some of your management and quality management systems, or a combination of both.
DVSA periodically assesses every VTS to gauge its potential risk of non-compliance with the MOT service requirements. This will involve an unannounced visit to your VTS by a site assessor who will look for evidence of systems and practices that will reduce the potential risk of non-compliance. This Guide gives some best practice advice on systems and how to evidence them. For more information on the scoring process please refer to the separate publication, Site Assessment Risk Scoring Guide.
New Authorised Examiners
If you are a new AE, you will find advice on how to devise, establish quality management systems to monitor MOT standards and procedures to ensure that your customers get the correct MOT result.
Established Authorised Examiners
If you are an established or experienced AE, you will be able to use this Guide as a benchmark to assess whether your current systems are sufficient or should be reviewed and improved, to ensure that your MOT operation's being run correctly and testers are are arriving at the correct result.
Best practice
To ensure best practice, you will need to combine good quality work and assessments with supervision and effective management. The ultimate test will be whether or not the customer has been provided with the correct test outcome for the condition of their vehicle at a compliant VTS.
Following a site assessment visit by a DVSA examiner, the AE will receive a notification and the site roles for that VTS to let them know that the assessment's been conducted. Any comments or advice resulting from the visit should be reviewed and actioned.
Maintenance of this Guide
DVSA reserves the right to modify the content of this Guide to reflect changes in the MOT service requirements and in light of experience and feedback. The definitive copy of this document is available online at https://www.gov.uk/become-an-mot-station/meeting-ongoing-standards and will be updated as changes take place. If you prefer to use paper documents, you should ensure these are updated as soon as possible after the online version has changed.
Doing it your way
DVSA recognises that a VTS can be managed effectively and your site operated in a compliant manner, by using systems and methods different to the ones described within this Guide. However, if you use a different system, you must satisfy yourself and the site assessor that it is effective in assisting you to operate your VTS correctly.
What this Guide contains
This Guide refers to written records, reports, planners and other documentation. As a general principle, computer records are acceptable provided that they contain the information described. This information can be viewed by or shared with the site assessor.
Getting it right
DVSA recognises that AEs will not get everything right all the time. However, we do want you to be vigilant and responsible. The penalties and consequences of non-compliance to you and/or your tester and the general public can range from the inconvenient to the very serious. This Guide has been produced to help you to identify and resolve any areas for concern in your management of your VTS.
Availability of this Guide and other site assessment related material
These are only available online at: https://www.gov.uk/become-an-mot-station/meeting-ongoing-standards
Using this Guide
This Guide is laid out in four sections, each covering the questions which come under the following general areas:
| Area | Abbreviation |
| --- | --- |
| Customer | CUS |
| Employee | EMP |
| Management | MAN |
| Vehicle Testing Station | VTS |
This guide should be used in conjunction with:
the Site Assessment Risk Scoring Guide
MOT Testing Guide
the relevant MOT Inspection Manuals, which detail the methods of inspection and reasons for rejection used for MOT testing
Special Notices (SNs) issued periodically by DVSA to inform testers and AEs involved with MOT testing about changes to MOT service requirements and to highlight areas of concern
any other relevant MOT guidance issued by DVSA
Self assessment
AE representatives are advised to assess their own site against the criteria contained in the Site Assessment Risk Scoring Guide. Appendix 11 of this document contains an aide memoire that will enable you to assess your own site, score your findings and record what actions may be required as a result. All actions should be remedied as soon as practical and documented.
How to contact us
MOT testing service desk
Contact the MOT testing service if you or your site experience a system fault with the MOT testing service on telephone number 0330 123 5654.
The MOT testing service desk will operate between the hours of 07:30 to 20:00 (Monday to Friday) and 08:00 to 14:00 (Saturday).
Calls to this number are provided by BT and are charged at a local rate. Charges from other providers may vary. Your call may be monitored or recorded for lawful purposes or training.
Note: If you are unable to contact the MOT testing service desk, you should contact the DVSA customer service centre.
DVSA customer service centre
The DVSA customer service centre (0300 123 9000) provides support between the hours of 07:30 - 18:00, Monday to Friday. All callers may use this service to record:
technical enquiries regarding any of the services operated by DVSA
queries regarding the methods of inspection or reasons for rejection applied to vehicles under test
Calls to this number are provided by BT and are charged at a local rate. Charges from other providers may vary. Your call may be monitored or recorded for lawful purposes or training.
Useful web links
You can reduce your risk score if you:
regularly review your VTS in relation to DVSA's Site Assessment Risk Scoring Guide
implement effective systems that will prevent non-compliance
manage quality control frequency in relation to the vehicle age profile of your VTS
promptly address any compliance issues identified during your site assessment
keep your passwords, security cards and personnel data secure
maintain clean and usable customer areas
ensure that all public notices and information signs are clearly visible, accurate and in good condition
actively manage all your workshop activities
implement a readily retrievable document system
use an effective vehicle handover process
understand how and when MOT service changes will impact on your business
make sure your staff understand and implement MOT service changes
make sure all relevant staff understand contingency testing procedures
actively retain experienced staff
base staff incentive schemes on quality
use an effective quality management system that delivers improvements in :

MOT standards
procedures
producing the correct test outcome to the customer

document your staffs training requirements and implement requirements
clearly define work areas to enable efficient working practices
organise the layout of your tools, equipment and consumables
keep work areas clean, tidy and free from hazards
implement a systematic approach to equipment maintenance, repair and calibration
Remember, the site assessor will look for evidence of any systems or improvements made since the last visit.
Managing a Vehicle Testing Station
Introduction
AEs are, by law, fully responsible for ensuring that MOT testing at their VTSs is carried out to the required standard and in the manner instructed by DVSA. An AE must put procedures in place to ensure the VTS is well managed, maintained and operated and provides a high quality service to the public.
Q1 Vehicle age (MAN)
Older vehicles and those with higher mileages are more likely to develop faults. Graph 1 demonstrates the age related change in initial fail rates by year of first use and graph 2 demonstrates the mileage related change in initial fail rates for every 10,000 miles travelled.
The average age of the vehicles tested at your VTS can be determined from your MOT test logs that are available to download and view within the MOT testing service.
Statistically there is a greater risk of defects going undetected in an older or higher mileage vehicle. Although you cannot control the age of vehicles being presented, you can take steps to minimise the risk of defects being missed. How you go about this will depend on your particular operation, but you could consider:
using your quality management check to re-examine recently tested vehicles (rather than observing your tester's routine)
increasing the frequency of quality management checks relative to the average age of the vehicle presented
ensure that you allow sufficient time in the test schedule to enable a thorough examination, including issuing the relevant documentation
encourage the sharing of product knowledge on specific defects between testers
keeping yourself and your staff up to date with changes in vehicle technology
reviewing test duration times using test logs
Final failure rate by year of first use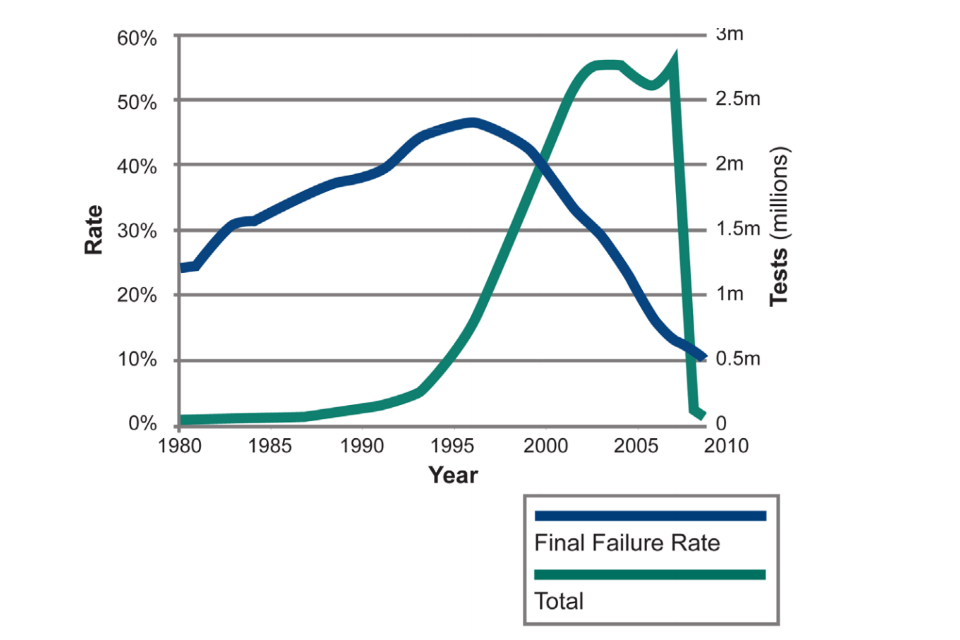 Final failure rate by mileage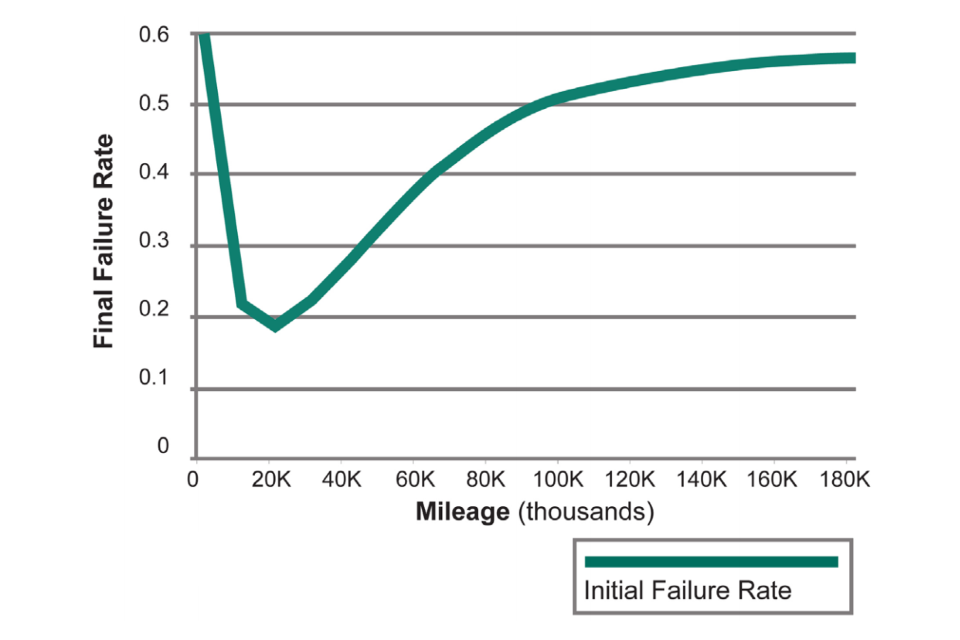 Q2 AE details (MAN)
It is paramount that you ensure that the information contained on your Certificate of Authorisation is correct.
DVSA issues this certificate when an AE is authorised. It specifies the classes of vehicle that the AE can test at the named premises and must be publicly displayed on the designated MOT notice board at the VTS.
The Authorised Examiner's Designated Manager (AEDM) or other responsible person can update some authorisation details, such as phone, fax, email and correspondence addresses directly via the MOT testing service. Any other changes, as described in the MOT testing guide, should be notified to DVSA. The AE or AEDM must confirm that the authorisation details are correct as requested via the MOT testing service.
DVSA publishes these details online to help customers to find you and we update the details on a quarterly basis.
Actions to consider:
ensure that your business details and staff lists are up-to-date
inform DVSA immediately of any changes to the business entity and AEDM
Q6 Test fee discounting (MAN)
The MOT test fee is not fixed but is limited to a maximum. This allows the AE to react to market forces. The fee is calculated based on the national average test time to conduct a test of that class.
If you offer discounts or other marketing initiatives you must ensure that no pressure's placed on testers to complete tests quicker or affect the outcome of the test.
To help control this risk, you can conduct audits of test outcomes to provide evidence that you actively check and compare individual and site performance against national statistics.
It is important that your audit system is capable of demonstrating that no bias exists, particularly if you provide MOT services for traders or a car sales department linked to your business.
Actions to consider:
audit recently tested vehicles to check there is no bias and the test outcome's correct
Q8 Workload management (MAN)
As part of your authorisation for the MOT service, you must use a suitable booking-in system that enables customers to lawfully present vehicles without a current MOT certificate and those seeking to clear a Prohibition Notice, see the MOT Testing Guide for further information.
You can provide a booking system for managing the workload at your VTS in a number of different ways, ranging from a simple diary or T-card system through to a computer-based system linked to the workshop, staff and parts availability. Your system will depend on the characteristics of your VTS and the number of staff you employ.
The site assessor will ask to see records of a booking system dating back at least three months. Routine use of a customer booking system will also ensure that customer demand can be met and workshop efficiency improved.
By regularly reviewing data and reports within the MOT testing service for your VTS and staff and comparing the data from these with other data available to you from the workshop planner and financial information, you can gain an accurate overview of the operation of your VTS.
This overview, together with the information from any additional internal or external monitoring systems, should enable you to:
ensure that your bookings are achievable
amend your opening hours to suit your customers' needs and to receive alerts for tests done outside of opening hours
account for all tests conducted
The ability to identify trends and take appropriate action prior to a visit from the site assessor will benefit the AE. The AE must demonstrate that an effective quality management system has been implemented and reduce the risk score at that VTS.
Actions to consider:
request, review and act on the data available in reports available within the MOT testing service
make sure your current booking system complies with the minimum standards
make sure that the importance of maintaining a booking system is understood by staff
Q10 Service changes (MAN)
The ability to demonstrate that your staff are aware of the current service requirements and where to find them is fundamental to reducing your risk score. To achieve this you must allow your staff sufficient time for training that includes changes to the service and reading and acknowledging any special notices, sent by DVSA.
To make sure your staff are accessing up-to-date information, you should encourage them to use GOV.UK when accessing MOT information. The electronic versions of the inspection manuals and the MOT Testing Guide are updated automatically and are regarded as the definitive copy.
If you or your staff use paper copies of the Inspection Manuals and/or the MOT Testing Guide, these should be updated in line with the electronic copies so that mistakes are not made by acting on out of date information.
DVSA also uses informal communications to raise awareness and improve understanding of changes to the service. The DVSA Matters of Testing blog is updated periodically and is available to those who sign up for it. Matters of testing contains up-to-date news and highlights current testing and policy issues. If you experience any difficulty in receiving Matters of Testing, email the editor at social.media@dvsa.gov.uk.
You should ensure that the AE and all MOT staff have kept their email up-to-date to receive relevant MOT correspondence from DVSA.
If staff meetings, bulletins or notice boards are a part of your business you can use these to highlight any service changes.
Actions to consider:
keep copies of all documentation issued during contingency testing in a single location
consider the training needs of key staff
encourage the use of electronic reference documents to ensure access to up to date information
provide staff with access to DVSA's blog, Matters of Testing
allow time for staff to familiarise themselves with any changes before the implementation date
view, action and archive any alert messages quickly
ensure all special notices are read and acknowledged
Q11 Membership of an Approved Code of Practice (MAN)
When conducting a Site Assessment DVSA are recording whether AEs are members of a Chartered Trading Standards Institute (CTSI) approved code of practice. Details of approved codes can be found on the CTSI website.
Continued Membership of an approved code requires compliance with certain standards and trading ethics which may enable DVSA to consider such VTS as low risk MOT garages, resulting in reduced regulatory checks.
DVSA is committed to providing the public with information relating to Vehicle Testing Stations in order that they are able to make an informed choice.
Your VTS
Introduction
The AE's signature on the VT01 (section 8) acknowledges that all statutory testing must be carried out at the premises shown on the authorisation certificate, using only the equipment and facilities specified and without avoidable distraction or interruption. Your VTS is a window on your business and should be operated efficiently and effectively in order to provide an MOT provision to the public in the interests of road safety. The site assessor will evaluate the operation of your VTS as part of the site assessment.
Q4 System security (VTS)
Access to the MOT testing service (MTS) is password protected and requires a security card. The security arrangements used to access MTS must be kept secure. It is the AEs responsibility to ensure that users keep any personnel details safe and secure including any security cards and passwords used to access the database.
Any security cards and passwords remain the property of the named individual and must be kept secure at all times. Managing security in accordance with MOT Service requirements will not only lower your risk score, but also safeguard your business from unauthorised access to data. Remember, a breach in security leading to the improper issue of a test certificate or unauthorised access to the MOT system is a serious issue and may lead to formal disciplinary action.
Best practice is to keep your details, security cards and passwords safe, as you would your bank card and password. Actively encourage your staff to do the same and carry out checks to ensure compliance.
AEs should also be alert to staff leaving personal details or security cards unattended or written down, particularly in public areas that may lead to unauthorised access to the MOT database.
Actions to consider:
remind staff of their responsibilities
regularly check compliance with all current personal security requirements
Q16 Workplace throughput (VTS)
You can identify test volumes, either by tester or by VTS by downloading and analysing test logs available within the MOT testing service. Take time to look at your workshop and the current layout, not just in terms of the MOT service and check that it supports you current business needs.
Is there anything you can do to improve/increase the workflow? Consider MOT parking areas, defining individual test bays or walkways, the storage of consumables and tools.
The site assessor will want to see evidence that the workplace throughput is consistent with the level recorded from data within the MOT testing service.
Actions to consider:
encourage working practices that improve efficiency
does the location of the MOT test bay mean that vehicles are continually passing through the bay to gain access to other areas of the workshop
do staff or customers have to walk through the MOT test bay to gain access to other parts of the building
do vehicles regularly block the MOT test bay door
does the layout of the equipment assists with the efficient operation for your VTS
Key information point:
Remember to apply for permission from DVSA before making any changes to your MOT test facilities using a VT01 form.
Q17 Workshop appearance (VTS)
The VTS should contain a safe and efficient environment for the testing, repair and manoeuvring of vehicles which will require regular time investment.
Establish procedures to ensure that any problems are easily identified, managed and resolved as quickly as possible. Keep a record of any problems with the VTS and the steps taken to rectify them.
Store your equipment and tools safely, so that work can be carried out efficiently, without distraction or disruption particularly where the MOT test is concerned. Make sure that information and safety signage, particularly around the public areas, is clear, accurate, visible and easily read. The storage of consumables, spare parts, waste and recyclables should not interfere with the operation of the workshop.
Actions to consider:
whether, as a customer, you would want leave your vehicle at this garage
what the appearance of your workshop says to the customer about your business
identify and resolve any problems with the infrastructure
improve the working environment to reduce the risk of distraction or disruption of a test in progress
is there a better way/place to store tools and materials
what is the condition of your safety and information signage, particularly that mandated by the MOT service
Q18 Workshop equipment and calibration (VTS)
The MOT service requires that all testing equipment must be kept in good working order and measuring apparatus must be kept calibrated in accordance with DVSA's requirements.
A best practice suggestion is to keep records of all your equipment maintenance and calibration dates displayed on a wall planner that is easily visible to staff, alternatively an electronic record held to remind staff of any future calibrations or maintenance due.
Actions to consider:
identify calibration dates for all tools on a wall planner that is visible to all staff
set up a defect reporting system for all workshop equipment
identify a single location, visible to all, where the MOT test tools can be kept when not in use
Q19 Garage hand tools (VTS)
The Requirements for Authorisation Common to all Classes states that you must keep all miscellaneous equipment associated with the MOT test in good working order and that that equipment must be laid out so that testing can be performed effectively.
The site assessor will look for evidence that:
hand tools are stored in good condition and are readily available, particularly where MOT testing is concerned
equipment is located so that other garage activities will not affect the proper conduct of the test
Some VTS prefer to use a shadow-board, the location of which will depend on whether you use a pit or lift for your underside inspection.
Actions to consider:
are hand tools easily located and in best place for the job
does access to tools interfere with MOT testing
are your tools maintained in good working condition
how do you identify defective tools
Key information points:
Use a simple process to report defects with the VTS or equipment;
Every AE must, at all times, properly maintain the premises, facilities and testing equipment at all VTSs for which he is responsible (MOT Testing Guide Section B).
Employees
Introduction
Well trained, knowledgeable and experienced staff are an important asset to any business. The MOT service specifies mandatory roles, including tester and Site Manager (SM). The Authorised Examiner (AE) is responsible for all staff and it is important that they are capable of fulfilling their role. Site assessors will gauge the knowledge of both the tester and AE representative as part of the site assessment.
Q12 Staff retention (EMP)
Good staff retention means that staff spend less time on training, have greater familiarity with the needs of your customers and a better understanding of your business. The more frequently a VTS has to go through a change of staff, the less productive it will be and exposure to risk increases.
When hiring new staff, AEs can request that a potential employee produces their MOT history record. This will provide you with key data, including any formal disciplinary actions for that individual. You can also produce a plan that introduces new staff to all the essential areas of your business.
Actions to consider:
ask to review applicants' disciplinary history before employing them
produce a plan for introducing new staff into your workplace and MOT operation
Q13 Incentives (EMP)
AEs are advised to use the MOT test reports and the VTS test log to monitor MOT throughput and other data to assess test quality. DVSA has found that staff who are recruited and retained with pay schemes linked to MOT throughput are more likely to take chances with their approval to test and consequently with your authorisation. Instead, you might link reward-related pay to positive customer feedback.
Actions to consider:
if incentives are part of your business link them to quality as opposed to quantity
use data within the MOT testing service to identify any anomalies in test statistics between individual
Q14 Quality Management systems (EMP)
AE's benefit from having a quality management system (QM) at each of their VTS's.
The type of QM approach adopted by an AE should help to ensure that testing standards and good management practices are in place.
The decision on the methods used will be left with the AE. Factors that may affect the type of QM approach used could include the number of VTS's, the number of testers employed, volumes of tests, experience of staff, the type of services the Vehicle Testing Station offer, what systems are currently in place and if there is any third party involvement.
QM systems as a minimum should cover the following areas:
People
This should include policies for recruiting staff, probation criteria and policies around what you will do when there are quality failings. This will also include information about site managers where they are used. Where AEs do have a responsibility across sites there would be an expectation that site managers are suitable individuals with suitable training to manage MOT operations at the VTS where they are listed.
Training
This will include what checks you will do to make sure that all of your staff have the necessary training – both mandated training from DVSA, but also any other training they need to safely work in your garage. It would be expected that any system should be designed to ensure that all staff conducting MOTs have followed the in-year training and passed the assessment.
Procedures
You need to ensure that your staff know how MOTs operate in your VTSs including:
what documents to use
how to access information such as manuals
how bookings are operated
There are a number of reports available in the MOT testing service such as:
test Logs
test quality information
slot usage
transaction history
Equipment
All relevant staff should understand how to ensure equipment upkeep and calibration and the process is clear and there are clear procedures for dealing with any equipment failures.
Assurance
A procedure needs to be in place to check that at least a sample of MOTs are checked to ensure that the correct routines and procedures are followed and that the correct standards are applied.
An AE may consider implementing an assurance approach which could include a third party or Trade representative. Any third party should cover aspects relating to MOT test standards and the administrative management of the MOT business. Alternative approaches could be to nominate an experienced and well regarded tester to conduct the assurance checks, to rotate the responsibility across the team or to partner with neighbouring garages. It would be expected that all those carrying out assurance checks should be trained as MOT testers.
The frequency of checks may typically be expected to be 1 per tester every 2 months. However, this is based on the average garage throughput of 2-3 tests per day for experienced testers – so should be varied to reflect the volume of tests done or any other special circumstances – such as the experience of testers.
The assurance processes in place should be subject to regular review, this will enable an AE to monitor the effectiveness and if necessary make changes where required.
Assurance checks should include:
the operation of the VTS
the test quality of the MOT tests carried out by the testers at the VTS
Whoever is conducting the quality assurance check must:
closely watch all parts of the test as they are carried out
closely observe the testing process, and conduct a full re-examination of the vehicle to check standards application
Once the Tester has completed the test, which will be the subject of a QC check any difference in the test result, test standards or observed defects must be discussed and resolved prior to confirmation of the test result on the MOT Testing Service.
The result of the assurance check must be recorded – including any agreed action. That agreed action could be additional training, a garage development session or any other appropriate action. The key thing here is to show that corrective action is taken.
Where unusually high numbers of failings are found – then it would be expected that the frequency of checks is increased until such time as it is evidenced that the problem has now been solved.
If evidence of a third party QM system can be verified during a Site Assessment visit, this will be recognised and give an AE a reduced MOT Risk score. Any third party documentation should be retained as evidence and made available at the Site Assessment.
Improvement
Overall the system needs to demonstrate that things are fixed when they are found wanting. A good quality system will find problems, and record their resolution – so there is a culture of learning and improving.
Q15 Staff training (EMP)
Staff management and training starts from the moment they are employed. Your staff are your most important business asset and their training is a key consideration when hiring new employees, particularly for approved roles such as Authorised Examiner Designated Manager, Site Manager or tester.
A member of staff can hold many different roles within the MOT service.
AEDMs must be trained and have a good understanding of the MOT testing service requirements. They must gaina qualification in MOT test centre management, which covers:
testing responsibilities
administrative arrangements
disciplinary
appeal processess
Site managers must have a good general knowledge of the MOT testing service and be capable of operating your VTS on a day to day basis. They must understand the practical implications of changes to staff and for the operation of your VTS.Site managers or other key staff will also benefit from attending the MOT test centre management course.
Testers are fundamental to the quality of work completed and must therefore have a good knowledge of the test routine and standards for all the vehicle types they are authorised to test. MOT testers must plan and record 16 hours of training over a rolling 5 year period, with at least 3 hours a year. This training must reflect that year's DVSA syllabus for each of the classes of vehicle they test. Testers must also successfully complete and annual assessment.
Key information points:
Make sure all MOT testers plan and record their annual training and assessment in good time.
You may instigate additional or more frequent training, depending on need.
It is good practice to keep a record of any training provided to your staff, whether formal or informal.
The Institute of the Motor Industry (IMI) regularly assesses a registered individual's skills and requires that they are signed up to the IMI code of practice. More information can be found at www.theimi.org.uk.
Actions to consider:
individual training plans for your staff including annual training and any additional training
implementing a continual assessment process
formalising skills that are essential for the MOT service
Section 5 Authorised Examiner competency and integrity (EMP)
The AE or the Designated Manager (DM) must be able to apply their knowledge, skills and experience to support, manage and develop MOT testing at the VTS.
The site assessor will look for evidence of:
a thorough knowledge of the MOT procedures and standards
staff and resource management skills demonstrated through the performance and systems operated in the VTS
improvements to the operation of the VTS brought about by the AEDM's knowledge and experience
a high level of awareness and understanding of the practical implications of changes to the MOT service
Section 6 Tester competence and integrity (EMP)
A tester is both the biggest asset and potentially the biggest risk to any authorisation. The AE should provide all reasonable support to this key role. The tester must be able to apply suitable knowledge, skills and experience in the consistent application of MOT test criteria. Testers can view and generate reports on their recent performance from within the MOT testing service. AEs can request reports on all testers under their management.
The site assessor will look for evidence of:
ongoing training and development to improve technical and professional knowledge
the outcomes of any DVSA enforcement intervention
a high level of awareness of the latest developments affecting the MOT service
improvements to the testers testing knowledge and skills as a result of regular, documented quality control checks
Key information points:
Ensure that all testers complete their annual training and assessment in good time and that a good pass mark's achieved.
Ensure that new testers are familiar with your testing operation before they conduct a test.
When recruiting existing testers, consider any previous disciplinary history they may hold.
Customers
Introduction
Part of DVSA's remit in managing the MOT service is to ensure that the customer receives consistency when visiting a VTS. DVSA will assess the processes and management you use to keep customers fully informed about the condition of their vehicle and ensure that the test outcome is correct. Additionally the customer facilities will be checked as part of our visit.
Q5 Customer areas
The VTS must provide a suitable environment for customers to visit, wait and view a test. The site assessor will ensure that the minimum requirements, contained in the Requirements for Authorisation, are complied with. However, any additional investment or improvements beyond the minimum standard together with evidence of maintenance and repairs will reduce your risk score.
Actions to consider:
whether you would want to use your waiting room or viewing facility as it is currently presented
Q7 Notices and public information
The display of DVSA's mandatory posters and signs are covered in section H of the MOT Testing Guide. Other public information used by your business, including direction and safety signage, should be accurate, up to date and clearly displayed. Checks should include the external business name signs that help customers to easily find you. Some business types may also have a requirement to comply with the Business Names Act. Visit GOV.UK for more information.
The site assessor will look for evidence of:
up to date mandatory information clearly displayed on the MOT notice boards
clearly displayed customer leaflets
a documented complaints procedure that includes evidence of follow up action.
Q9 Vehicle documents and Handover
When dealing with your customers, it is good practice to retain all documentation relating to that vehicle together in one place. Whilst this will be dependent on the work completed it may include MOT documentation, diagnostic reports, wheel alignment printouts and an invoice.
The VTS must retain other relevant test documentation including emissions printouts. It's best practice that these are stored by the VTS so they can be retrieved easily. The minimum retention period for MOT and related documentation can be found in the MOT testing guide.
An AE must retain copies of all MOT certificates issued during a contingency testing outage.
The site assessor will look for evidence of:
use of a specific document system
evidence of a comprehensive handover process
documents retained in a single readily retrievable location
emissions printouts that cross match with retained documents
a professional and structured process for the receipt, care and return of vehicles
Key information points:
Clearly display all mandatory signage.
Ensure the viewing and waiting areas are clean and tidy.
Have an effective hand over system that is understood by all relevant staff.
Ensure that all business information is up to date.