Corporate report
Government Digital Strategy: quarterly progress report December 2013
Published 10 December 2013
© Crown copyright 2013
This publication is licensed under the terms of the Open Government Licence v3.0 except where otherwise stated. To view this licence, visit nationalarchives.gov.uk/doc/open-government-licence/version/3 or write to the Information Policy Team, The National Archives, Kew, London TW9 4DU, or email: psi@nationalarchives.gsi.gov.uk.
Where we have identified any third party copyright information you will need to obtain permission from the copyright holders concerned.
This publication is available at https://www.gov.uk/government/publications/government-digital-strategy-quarterly-progress-report-december-2013/government-digital-strategy-quarterly-progress-report-december-2013
The Government Digital Strategy was published in November 2012, setting out 14 actions including: - what we will do to create digital services so good that people will choose to use them - support those who can't - build digital capability across government - use digital to improve policymaking
Foreword by Mike Bracken
The final quarter of 2013 has shown steady progress on all fronts. A lot of our work has been done in the background, preparing the conditions and infrastructure for future public facing projects. We'll see the benefits of this work in early 2014.
As examples of background work done in this quarter, we've been preparing the new identity assurance hub and identity providers for implementation next year. We have moved more exemplar services from discovery phase into alpha. Increasingly, departments are getting the right people in place to help move services toward digital at all levels and are running targeted events and initiatives to help everyone understand how digital can give them practical ways of doing their jobs better. We're transforming the way technology operates across government, so it can support digital effectively. Our new Digital Services Framework went live, which gave departments access to new smaller suppliers that can deliver innovative, cost-effective solutions based on user needs.
Other work we've done this quarter is more visible.
We secured ministerial agreement for 2 new actions in the digital strategy. Both will help increase access to digital services in different ways.
The first new action is a commitment to digital inclusion: getting more people online. We can only achieve this by working closely with public, private and voluntary sector partners. We'll be publishing a digital inclusion strategy in the spring, where we will set out what joint work we'll do to make digital inclusion a reality. Meanwhile, departments have started building digital inclusion activities into relevant policies and programmes.
The second new action centres on increasing our focus on opening up government information and transactions. We want to put information wherever people are on the web. We will do this by syndicating our content so commercial organisations and charities can create new services and better information access for their own users.
We're forging ahead with moving the remaining agency and arm's length body websites across to GOV.UK. Despite some resourcing delays earlier in the year, we've transitioned a third of the 330-odd sites over. Vitally, we've been training hundreds of people across government on how to write and handle content, so we can sustain the style and quality we think users should expect for the future.
There's much more detail in the report below, but in brief, in quarter 4 (October to December), we:
gained ministerial approval for the addition of 2 further actions to the Government Digital Strategy:
moved 4 exemplars from discovery to alpha, and 4 more services from alpha into beta
ran the Sprint Share event in Birmingham, a chance for teams working on exemplar projects to share what they've learned
completed building the new identity assurance hub and connected the first identity providers to it, ready for the first exemplar services to start using it early in 2014
migrated 15 more agency and arm's length body websites to GOV.UK
provided training for 70 lead editors from 30 organisations on user needs, and content editors from 35 organisations on web writing, style and publisher tools
began publishing our Digital by Default service standard assessment reports
began Cabinet Office technology transformation to showcase better approaches to IT projects; pilots were running by December
held the first meeting of our new technology leaders' network, which endorsed a revised (beta) technology operating model
made the Digital Services Framework available for use during November
released a prototype dashboard to measure policy performance, and opened it up to third parties to develop dashboards on our Performance Platform
put forward proposals to build digital skills across government, and contributed to a digitally themed induction event for newly appointed senior civil servants
Service transformation
Exemplar services
The Government Digital Strategy required major transactional departments to identify 'exemplar' services for transformation. Work is underway on all 25 exemplar projects. Progress has been good; by the end of December, there will be 1 service with live elements, 14 in beta and 6 in alpha. All exemplar projects completed discovery stage last quarter; delivery plans for each service will be in place by the end of December.
Following discovery on exemplar 20 (criminal records checks), GDS and Home Office (HO) have agreed that due to contractual constraints and competing policy and legislative priorities, there would be more opportunity to effect transformational change by March 2015 in another service. GDS and HO have agreed to investigate working with HM Passports Office as an alternative, and details of the new service will be confirmed publicly on the transformation dashboard when finalised.
By the end of the quarter, the services in public beta will be lasting power of attorney, employment tribunal fees, carer's allowance and patent renewals.
We've set up a new forum with digital leaders from the departments running exemplars. This group met for the first time in November and is considering cross-cutting issues and how these can be addressed.
We want to make sure we learn from the transformation work. We're looking at how organisational structures and culture need to adapt, alongside improving staff skills. To do this, GDS developed an approach to assess capability within exemplar departments which will be used to inform future capability building initiatives: both in the teams and departments involved and potentially more widely across the civil service.
We also ran Sprint Share in Birmingham, an event for people working on digital transformation projects to share what they've learned. The event was attended by service managers and other colleagues from across the exemplar programme. It was a good opportunity for those working on the exemplars to meet each other and collaborate.
People attending Sprint Share talk about how it has helped them:
We worked with Her Majesty's Treasury on guidance for using agile in the business case approval process, and we're aiming to publish this early in 2014.
Channel shift
We have published guidelines on increasing digital take-up alongside case studies of how public sector organisations have successfully achieved channel shift; we intend to expand on this with additional case studies.
We're doing further research with users of 2 services (online passport applications and Carer's Allowance) to learn more about:
how we can get offline users to use a digital service for the first time
why users revert to non-digital channels
We'll publish the outcomes of the research along with the guidance we develop from it.
Assisted digital
The assisted digital team, which regularly blogs on progress, is working with exemplar services using the assisted digital action plan in the Service Manual. We completed alpha work on assisted digital approaches with the Defra (Department for Environment Food and Rural Affairs) waste carrier registration and rural support (Common Agricultural Policy) exemplars, and with Department for Transport's (DfT's) 'view driving record' exemplar. We also started assisted digital beta work with Ministry of Justice's (MOJ's) lasting power of attorney exemplar service.
The GDS team has been working with the Government Procurement Service to develop a common procurement route for assisted digital, and engaging with potential suppliers. In October we revised procurement timings in response to suppliers' input on what information they would need to apply.
GDS has been running a research project with the Helen Hamlyn Centre for Design on how assisted digital support can meet the needs of older people. The project has helped government to understand the reasons why older people are completely or partially offline, and with exploring potential design solutions.
We've updated the guidance we give people running assisted digital assessments of new services, and also started developing a process that services will need to go through if they want to provide assisted digital support in-house. We've identified a need for a quality mark for assisted digital. Work has begun with external organisations to explore this further.
Other services
Outside the 25 exemplars, service transformation continues to take place in other departments. In October, Department for International Development's (DfID's) Development Tracker went live. This allows users to track how government funding is being spent by project. The data was released in a standard format as part of the International Transparency Initiative, making it easier to compare data between countries.
Foreign and Commonwealth Office (FCO) have been digitising the process of verifying an 'apostille' issued by the UK government (a certification of authenticity that allows a document to be formally recognised overseas).
Achieving the Digital by Default service standard
The Government Service Design Manual, published in mid-April 2013, aims to help departments achieve the Digital by Default service standard. Meeting the standard will be mandatory for all new and redesigned services handling over 100,000 transactions each year from April 2014.
GDS has begun looking at other ways to share and disseminate best practice, eg by establishing a wider range of specialist digital communities to support service transformation and publishing.
We've been doing user research and analytics analysis to see how the service manual is used. Users want access to more reusable resources, case studies about how other services are being built and clearer guidance linking to the service standard criteria. We're now developing a plan to take those points forward.
We want the service standard requirements to be as clear as possible. We worked with service managers to order and group the 26 service standard criteria into themes and topics, then shared and tested these with past and current teams and assessors. We also blogged about them and sought views more widely.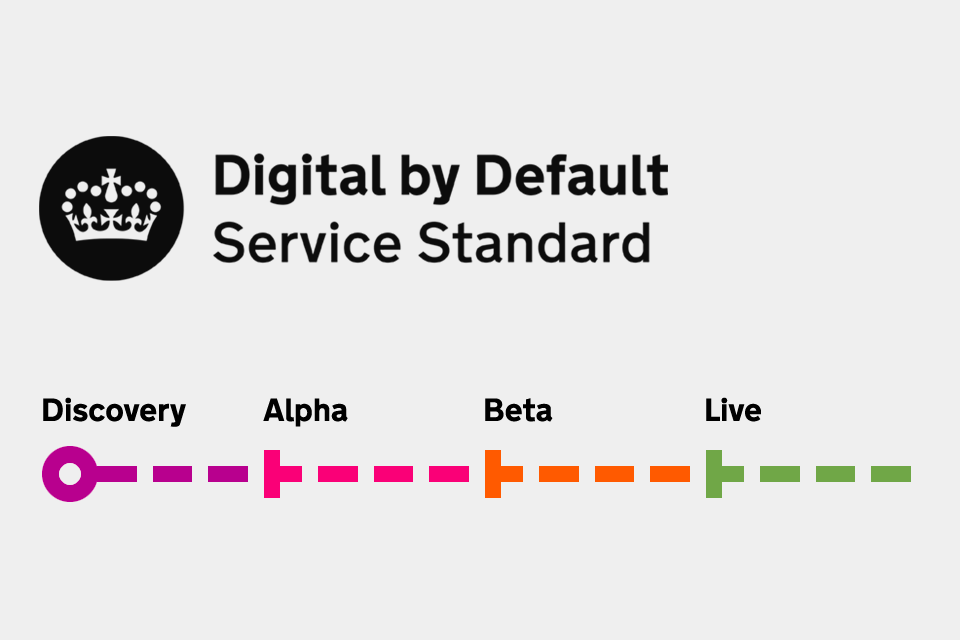 Assessments against the standard are already taking place for new services applying to be made available via GOV.UK. These look at the service's:
fit with user needs
capacity to develop and improve
compliance with information security requirements
Thirteen assessments have taken place over the last 3 months. A number of exemplar projects have been through the process, including:
We've started developing a self-certification tool for smaller services likely to handle fewer than 100,000 transactions per year, and we're going to train independent assessors in departments in early 2014. We'll start publishing the assessment reports so the process is more open, and made it easier to share knowledge from the assessments between government services.
GOV.UK
All ministerial departments have now moved their corporate information publishing across to GOV.UK.
GOV.UK is now averaging more than 9 million visits and 6 million unique visitors a week – equivalent to twice the population of Wales. In early October for the first time, we achieved more than 10 million visits in 1 week.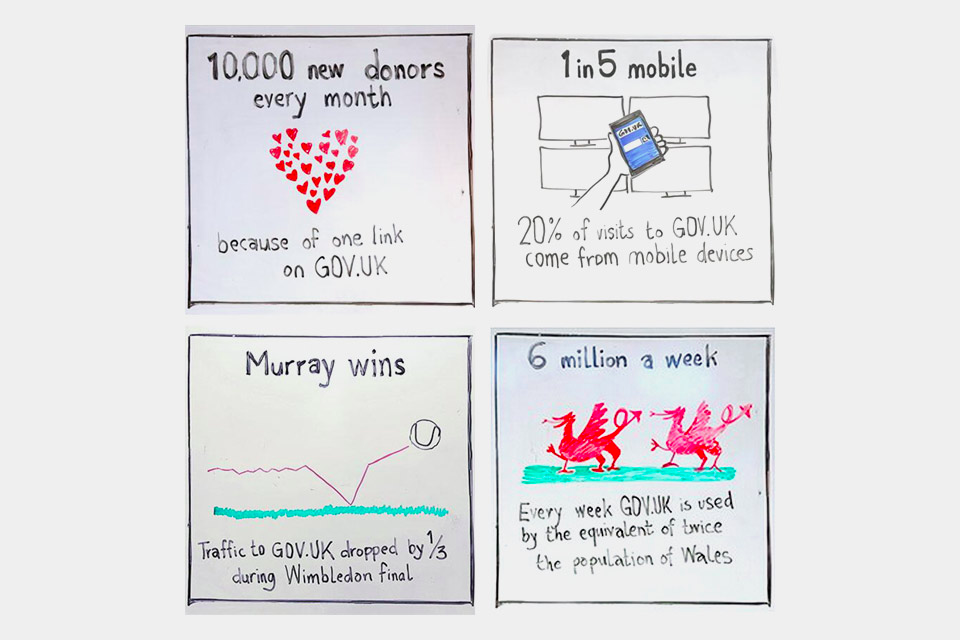 We had originally intended to transfer the information publishing aspects of all department, agency and arm's length bodies websites (other than those granted a specific business-based exemption) to GOV.UK by March 2014. This was delayed because of difficulties in resourcing, which meant we didn't have enough people to do all the work. However, we have now resolved this and will complete transition by July 2014; we've revised the Government Digital Strategy commitment to reflect this. Similarly, we are aiming to move HM Revenue and Customs (HMRC - a non-ministerial department) across to GOV.UK by summer 2014.
By the end of December, we saw over a third (100-plus out of around 330 agency and arm's length body websites) moved across. See our transition blog for more details.
To support the transition, GDS is providing user needs and content training to these organisations. By the end of 2013, we'll have trained over 400 lead and content editors, around 80 in this quarter. We're starting to build a community to share experience and learning; in January we're holding the first sprint event to bring editors together, and we're looking at building a network of super-users and champions to support the wider group.
Digital capability and leadership
The Civil Service capabilities plan, published in April, identified building digital capability as a high priority. When we say 'digital capability', we mean having civil servants who truly understand the internet and technology, and how they can be used to make government policy and digital services better.
advising on recruitment of senior people with the right digital and technology skills, and integrating those roles with the rest of the team - we're building a picture of current and projected demand across departments to help decide on the best approaches to recruit who we need
talking with HO about its staffing needs, and with Land Registry about its ideas for working in a more agile way
responding to departments' requests for help in resourcing senior level technology and digital positions across government as well as supporting them in increasing their digital capability - 16 departments and arms length bodies have lodged approximately 100 permanent and interim recruitment requests with the Recruitment Hub and numbers are on the increase
assessing the nature and urgency of the requests to decide on the best recruitment approaches to take, eg at senior civil servant (SCS) level, 12 interims and 4 permanent/fixed term members of staff have already been found; we're considering how we can use cross-government approaches where different departments want to recruit to similar roles
working through our technology bench to approve over 30 people departments can call on for interim specialist support, with 12 people already placed in post
working with a growing range of Civil Service professions (such as operational delivery, policy delivery, procurement and communications) to ensure that they're making the most of digital services - eg GDS is supporting the communications profession to review digital communications and associated training materials
providing specialist training; continuing the service manager induction development programme and training lead and content editors to support the process of moving their websites to GOV.UK
supporting broader leadership training initiatives for senior civil servants - we've worked with Civil Service Learning to run a digitally themed induction session for over 80 newly appointed senior civil servants, and we're covering digital in their various leadership development programmes
running a digital workshop at Generalist Fast Stream induction events, reaching hundreds of future leaders - and supporting digital postings for those already on the programme
reviewing user needs in the Technology in Business (TiB) Fast Stream, so we can make better plans for the future
providing support to departments on user research, product analytics and data science to develop a data-driven culture - this is supported by a new datablog to share information and learning
embedding experts in digital exemplar teams at HMRC, Department for Business, Innovation and Skills (BIS), Department for Work and Pensions, and Defra, as well as within GOV.UK, the identity assurance programme and digital policy teams at GDS
Two departments - DWP and HMRC - appointed new digital leaders during the quarter. DfID's digital advisory panel, introducing digital expertise at board level, had its first meeting.
We established the Technology Leaders Network to ensure we equip government with the right technology to deliver great digital services. The first meeting of the network approved a revised beta technology operating model, which is now in place.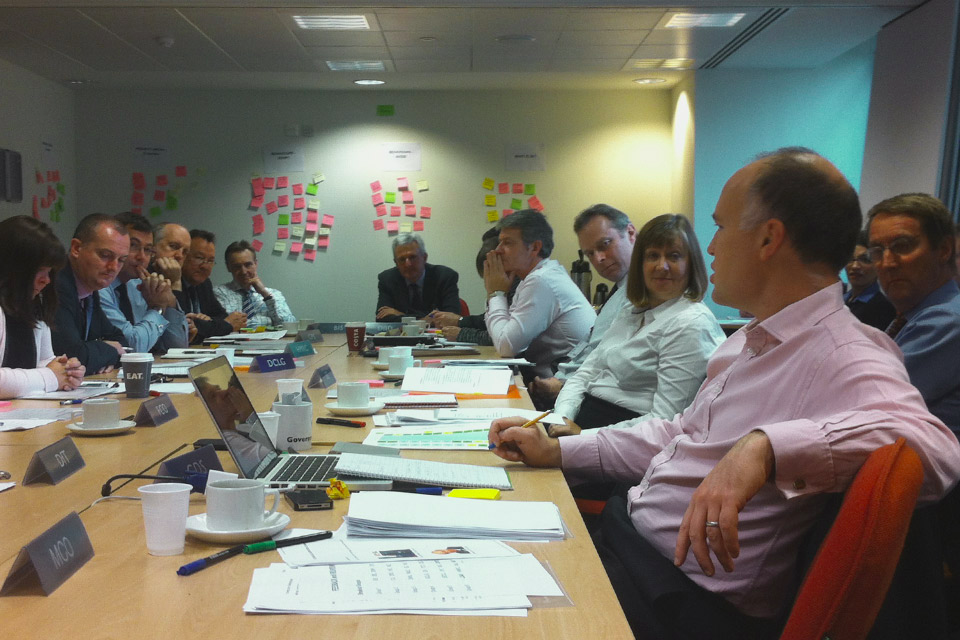 The best way for civil servants to further understand and embrace the opportunities of digital in the workplace is to learn by doing. GDS has therefore developed a simple product that lists the open internet tools that departments are already using successfully. It links to guidance, examples of how and where they are used and to reliable and free training resources that are available on the internet.
Encouraging civil servants to learn by using digital tools:
Mike Bracken Video from open internet tools
More departments have made progress in building capability. For example:
the central digital team in Department for Energy and Climate Change has undertaken a skills and capability audit which will be used to build its digital skills development plan
BIS followed up on its digital capability review by running a customer insight and data analytics event at Companies House and will soon test senior leadership capability building approaches with a partner organisation - learning from these will then shape how BIS continues to work with its partner organisations to build capability and share skills through further events and guidance over the next year
Department of Health (DH) rolled out a full digital capability programme, starting with executive coaching and the creation of a hands-on Digital Champions group; it's envisaged that they will test new digital products and be involved in co-creating the department's 2014-15 digital strategy
DfT is piloting departmental digital awareness workshops
the new DWP director general who leads on digital transformation is looking at growing in-house capability in addition to recruiting to specialist roles - assisted by the GDS Recruitment Hub, he is setting up a Digital Centre of Excellence with around 30 posts by early 2014, drawn from both internal and external recruitment; he is considering supplementing this with an academy training approach
HO has been mapping digital development needs and opportunities across the department, and is working to build capability with an emphasis on expert and specialist roles
MOJ expanded the specialist digital capability in its Digital Services division and its headcount is expected to reach 70 before the end of December 2013
Digital inclusion
We are committed to helping people go online and have now added a new action on digital inclusion in the Government Digital Strategy.
Our digital inclusion team, based in GDS, has started working with departmental colleagues and with partners across the public, private and voluntary sectors (especially Go ON UK who will act as the link between government and non-government partners).
Anna-Maren Ashford, Deputy Director for Partnerships and Digital Inclusion and Michael Windmill, Head of Policy for Digital Inclusion, discuss why the new action has been introduced:
Digital inclusion in a nutshell
We're benchmarking the success of digital inclusion initiatives, sharing what works and what doesn't work, to help people go online. We will publish digital inclusion principles, developed with help from our departmental colleagues and our cross-sector partners, early in the new year. We will be consulting the public on these principles as a first step towards a digital inclusion strategy that we will publish later in the spring. This will say what departments, partners and GDS will do to help people go online.
Other government-wide initiatives supporting departmental digital work
The identity assurance programme is working with central government departments and agencies, as well as other public service providers, to plan their use of the new identity assurance service that will be available from 2014 onwards. We're seeing increased interest from other market sectors including mobile and financial services.
The public consultation for the draft identity assurance principles closed in September. Responses are being reviewed and updated principles will be ready early in 2014. Alongside this Cabinet Office will publish an explanation of how it will apply the principles to the identity assurance programme.
GDS completed building the new identity assurance hub in October and connected the first identity providers to the hub in November, ready for the first exemplar services to connect early in 2014.
Since July this year, the G-Cloud framework has been based in GDS and now has a permanent budget to iterate and improve the current CloudStore. CloudStore is an online marketplace where suppliers offer cloud-based services to the public sector via the G-Cloud framework. G-Cloud 4 opened at the end of October with 999 suppliers on the framework, bringing the total in the CloudStore to 1186 (84% of these being SMEs) and over 13,000 services. Total sales to date on CloudStore exceed £63.5 million, with 56% to SMEs.
To support better procurement for digital services, in the summer we invited suppliers to help us deliver our digital agenda. The Digital Services framework launched on 11 November with 183 suppliers. 84% of these are SMEs and a third of these are completely new to government. The store will allow buyers to find suppliers within 8 capabilities listed, who work in an agile way, to join their existing digital teams, or create entire digital teams to help them design and build public services that are digital by default and focused on user needs.
The total spend for the framework is expected to be £40 million over the next 9 months. This will help support wider economic growth by giving opportunities to new entrants (especially smaller suppliers) who can deliver innovative, cost-effective solutions. Working with colleagues in the Government Procurement Service, GDS will provide one of the first fully managed services to certain areas of government to help commission the right skills and increase the digital skills understanding within these departments.
We are aiming to establish the Crown Hosting Service (CHS), targeting legacy hosting requirements; we are working with departments on an outline business case, to be submitted in the new year. We're developing a common, cross government approach to the things that everyone uses like desktops, hosting, etc (we're calling this Common Technology Services, or CTS). The first project for CTS is Cabinet Office technology transformation, to shape the common service design and operating model and showcase better approaches to IT projects.
Common platforms continue to be developed and extended. The Performance Platform has grown rapidly in breadth and depth since September. In October, dashboards for both the lasting power of attorney and car tax transactions were launched, delivering real-time service data for 2 services which taken together are used over 46 million times a year.
As well as extending easy access to operational data, we've also started work to develop dashboards that automate data collection and presentation for policy performance. An alpha prototype will be published by the end of this year. The GOV.UK performance pages were improved by using the Performance Platform API.
Scaling the Performance Platform to cover a wider range of government data will be one of our big challenges for 2014. We have produced guidance for third parties explaining how they can build on the platform's infrastructure, and we've begun discussions with departments on how they can begin to exploit this opportunity over the next quarter. We have also brought in several SMEs to support departments on sourcing data and rolling out dashboards.
DfT have plans to migrate transactional technology platforms to more open architecture, using exemplar services to trial cloud hosted open source platforms and develop APIs to enhance integration of driver data with other related services and systems.
Now integrated into the suite of tools available as part of the Performance Platform, the Transactions Explorer has published its fifth update of top-line service performance data. This provides important baseline information for the transformation exemplars, where GDS is helping departments to identify future savings.
After selecting the first open standards for government in September, we're now working on the next set of challenges that open standards might help to solve. In December, we published document format challenges on the Standards Hub on viewing government documents and sharing or collaborating with government documents.
The document format challenges are descriptions of the problems that users face when they try to read or work on documents. We are asking users for ideas on how we should solve these challenges, including which technical standards we should use across government.
Departments are exploring the use of digital tools to engage with the public and to improve policy-making. For example:
Defra won the 'Best Use of Twitter' award at the UK Social Media Awards, based on its work in embedding digital into news and external affairs work
Department of Health (DH) has developed a communications dashboard focusing on dementia issues, to be used at the G8 Dementia Summit in December, which pulls together live data from the GOV.UK website, social media monitoring tools and other live feeds
DH is also starting to draw together policy, digital, analysis and customer insight expertise to develop new digital tools to support open policy making and increase staff efficiency by analysing consultation responses and other text data
DWP has set up a central team supporting digital communications and engagement, created a smart database to ensure policy staff talk to the relevant experts in various fields, and is developing a digital skills training product for policy staff for launch in the early new year
HO is developing a digital knowledge management tool to improve shared access to policy reference materials, and has published guidance on open policymaking to its staff
Departments agreed to highlight any legislative barriers that would obstruct the development of digital processes and services. So far relatively few have been identified:
Student Loans Company is investigating other options to a 'wet signature' to authorise the completion of a range of services
Land Registry is working with the Law Society to ensure that future plans for digital service delivery support and integrate with the conveyancing process and property market requirements
DfT has started work on changing legislative requirements for the return of registration documents to the Driver and Vehicle Licensing Agency (DVLA) in the post
FCO is looking to help British nationals marry in some countries by reducing the current bureaucratic processes required and replacing them using a downloadable form