News story
New board appointments at DFID
Eric Salama and Tim Robinson appointed as Non-Executive Directors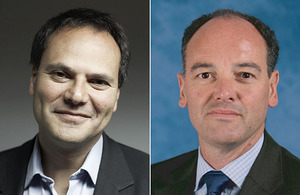 The International Development Secretary Justine Greening has appointed 2 new Non-Executive Directors – Tim Robinson and Eric Salama.
Commenting on the appointment Justine Greening said:
I am delighted to announce the appointments of Tim Robinson and Eric Salama. DFID now has a strong group of Non-Executive Directors with broad external experience, and I look forward to the expertise and challenge they will bring to the Department.
Tim Robinson is CEO of the LGC Group, a scientific analysis company that traces its origins to the privatised Laboratory of the Government Chemist. He is also Non-Executive chair of Glory Global Solutions, and was previously Chief Executive of Talaris, a global leader in technology systems for cash management (now part of Glory Global Solutions) and Xafinity (Pensions BPO, consulting and software company) and Senior Vice President of the worldwide Civil Security Division at Thales Group. Tim has previously held numerous Non-Executive positions, including at Camelot, UKTI, and Oxfam.
Eric Salama is the Chairman and CEO of Kantar, the consumer insight division of WPP, the largest marketing services and communications company in the world. Previously, Eric was a Main Board Director of WPP Group, and CEO of WPP . Eric has also worked in consultancy and political roles, and was a Non-Executive Director of The British Museum and The Horse's Mouth Foundation.
In addition to being Non-Executive Board Members, Tim has been appointed to advise on the department's digital strategy, and Eric on the department's communications.
Tim and Eric will join Vivienne Cox, Lead Non-Executive, and Richard Keys, Non-Executive chair of the Audit Committee.
Published 21 May 2013