Guidance
Guidance on fracking: developing shale gas in the UK
Updated 13 January 2017
© Crown copyright 2017
This publication is licensed under the terms of the Open Government Licence v3.0 except where otherwise stated. To view this licence, visit nationalarchives.gov.uk/doc/open-government-licence/version/3 or write to the Information Policy Team, The National Archives, Kew, London TW9 4DU, or email: psi@nationalarchives.gsi.gov.uk.
Where we have identified any third party copyright information you will need to obtain permission from the copyright holders concerned.
This publication is available at https://www.gov.uk/government/publications/about-shale-gas-and-hydraulic-fracturing-fracking/developing-shale-oil-and-gas-in-the-uk
1.

Overview

The government believes that shale gas has the potential to provide the UK with greater energy security, growth and jobs. We are encouraging safe and environmentally sound exploration to determine this potential.

Fracking, or hydraulic fracturing, is a technique used in the extraction of gas from shale rock. It is estimated that more than 2.5 million wells have been 'fracked' worldwide.

The UK has a strong regulatory regime for exploratory activities, and over 50 years of experience of regulating the onshore oil and gas industry nationally. We are bringing that experience to bear and measures are in place to ensure on-site safety, prevent environmental contamination, mitigate seismic activity and minimise greenhouse gas emissions.
2.

Why do we need gas?

We need energy in every aspect of our lives - for heating and lighting our homes, for transport, and in industry. In 2015, just over a third of the UK's energy came from natural gas, and another third from oil. Coal (13%), nuclear (7%), and renewables – mostly biomass and wind (10%) - supplied the rest. Just over two fifths of this natural gas came from the North Sea and Irish Sea. The rest was imported from Belgium, Norway and the Netherlands via pipelines, and also shipped from Qatar, Algeria, Trinidad & Tobago and Nigeria as Liquefied Natural Gas (LNG). The Government predicts that by 2030 nearly three quarters of UK gas will be imported.

Around two fifths of the gas we use is for household heating and cooking. Four out of five of us use gas to heat our homes. Gas was also used to generate nearly a third of UK electricity in 2014. A live measure of the UK's electricity sources can be found at the UK Energy Watch website.

The rest of the gas is used in industry - for power and heat, and as a raw material for products including fertiliser, antifreeze, plastics, pharmaceuticals, fabrics, and chemicals such as ammonia and methanol. Gas is also used as a heat source in making glass, steel, cement, bricks, ceramics, tile, paper, food products and many other commodities.
3.

What is shale gas and fracking?

Video: What is shale gas and oil

This video is available in Welsh/Fideo ar gael yn y Gymraeg (https://youtu.be/FREK5CiuISA)

Hydraulic fracturing, known as fracking, is a technique used in the extraction of gas from 'shale' rock formations by injecting water at high pressure. Shale gas is the same natural gas as is obtained from conventional gas fields, such as the North Sea.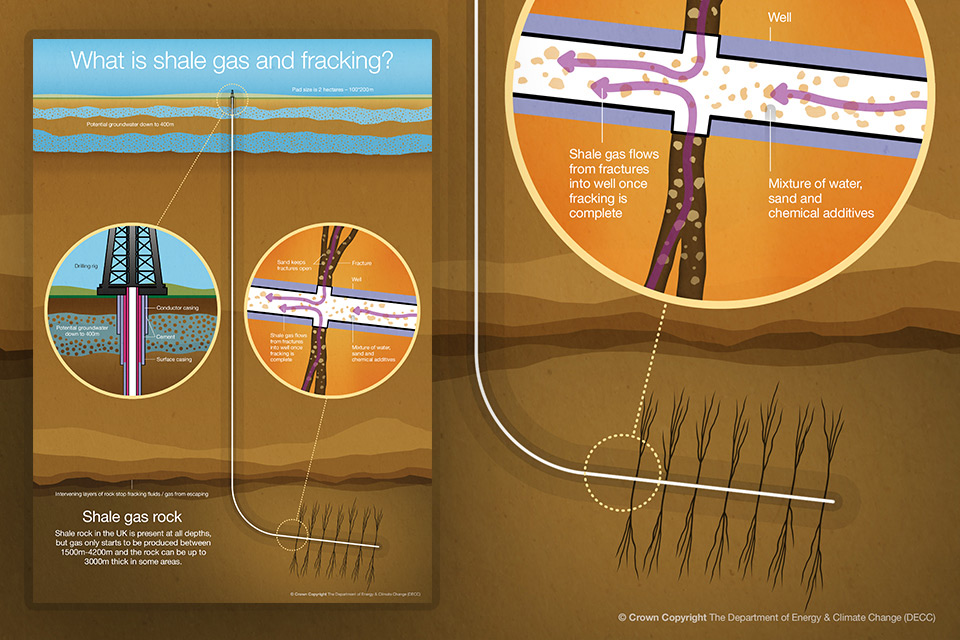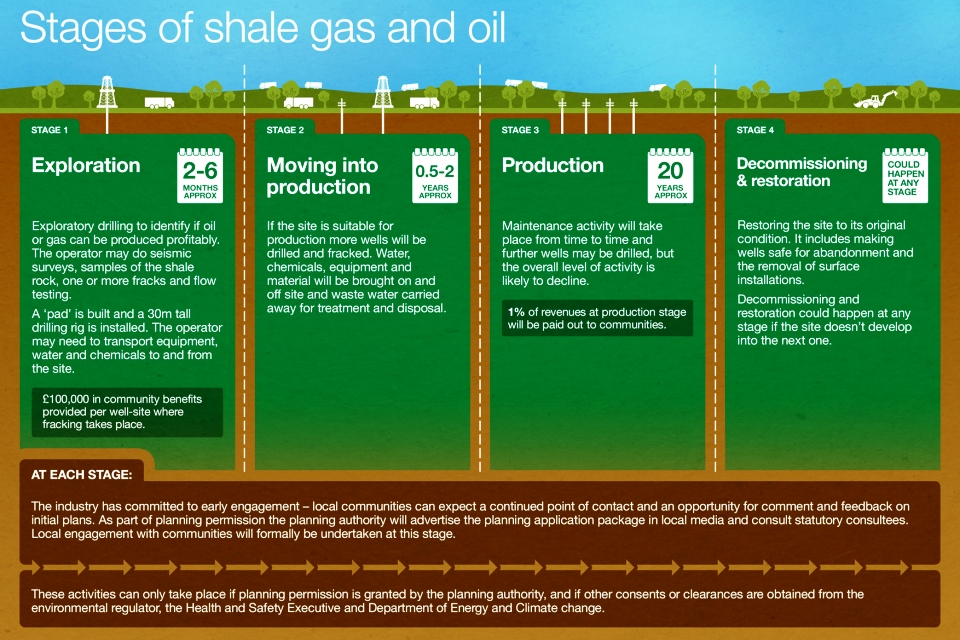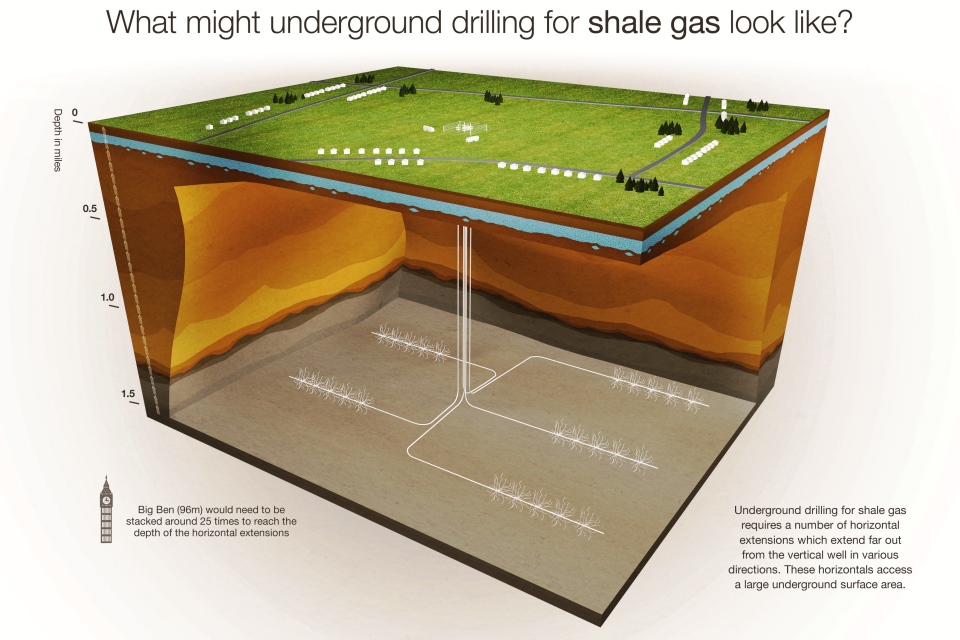 4.

The potential of shale gas and oil

Scientists from the British Geological Survey (BGS) have estimated that the total volume of gas in the Bowland-Hodder shale in northern England is some 1300 trillion cubic feet (central estimate).

But it is not possible to estimate how much shale gas and oil the UK can produce until there has been some exploration and testing.
5.

Evidence on safety and the environment

Video: The role of the Health and Safety executive

This video is available in Welsh/Fideo ar gael yn y Gymraeg (https://youtu.be/TZvpsrQp3uk)

The Government takes the safety of the public and protection of the environment very seriously. The Government believes that the regulation is robust for exploration. As the industry develops, we will continually review this position. The Royal Academy of Engineering and Royal Society has reviewed the scientific and engineering evidence on shale gas.

The review concluded that "the health, safety and environmental risks associated with hydraulic fracturing (often termed 'fracking') as a means to extract shale gas can be managed effectively in the UK as long as operational best practices are implemented and enforced through regulation."

Public Health England has assessed the risk to human health of extracting shale gas. They evaluated available evidence on issues including air quality, radon gas, naturally occurring radioactive materials, water contamination and waste water. They concluded that "the risks to public health from exposure to emissions from shale gas extraction are low if operations are properly run and regulated."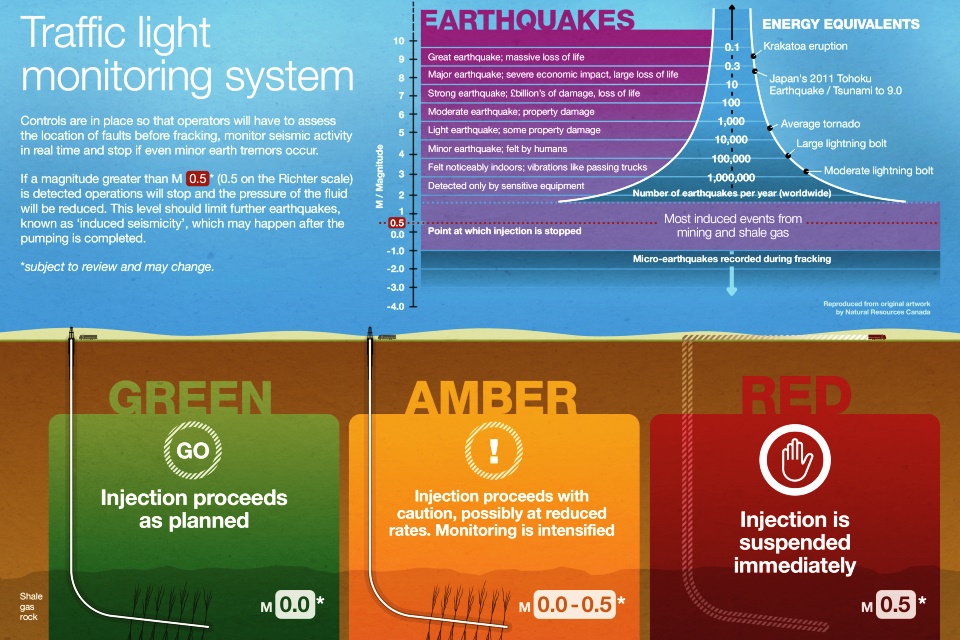 In September 2013 Professor David MacKay (then the Department of Energy and Climate Change's Chief Scientist) and Dr Timothy Stone wrote a report on potential greenhouse gas emissions from UK produced shale gas. They concluded that the overall effect of UK shale gas production on national emissions is likely, with the right safeguards, to be relatively small. Indeed emissions from the production and transport of UK shale gas would be comparable to imported Liquefied Natural Gas (LNG), and much lower than coal, when both are used to generate electricity.
BEIS currently grant-funds a research consortium led by the British geological Survey to deliver a baseline environmental monitoring programme in and around sites in the Fylde (Lancashire) and Kirby Misperton (North Yorkshire), for which applications for shale gas wells have been made. The researchers are gathering data on features including water and air quality, seismicity and ground motion. Data gathering began in the Fylde in January 2015 and in Kirby Misperton in August 2015.
The monitoring is characterising the environmental baseline before any hydraulic fracturing takes place, in the event that planning permissions and other permits are granted. Future shale gas projects' data can be checked against these "baseline" data. This allows any significant changes to be flagged for further scrutiny. The investigations are independent of any monitoring carried out by the industry or the regulators, and information collected is freely available to the public.
BGS Environmental Monitoring website
6.

Regulation

Video: The regulatory regime for hydraulic fracturing (fracking)

This video is available in Welsh/Fideo ar gael yn y Gymraeg (https://youtu.be/0yMJ5QYZdMg)

Before any shale operation can begin in the UK, operators must pass rigorous health and safety, environmental and planning permission processes.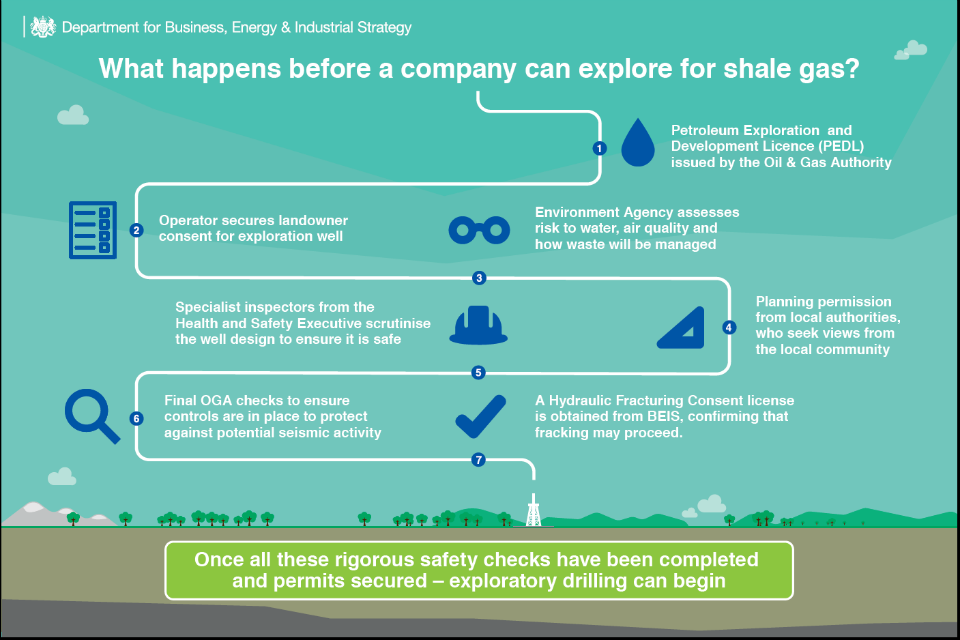 The process of obtaining consent to drill a well is the same whether the well targets conventional or unconventional gas. First, operators bid for exclusive rights to an area in competitive licence rounds. These areas are known as Petroleum Exploration and Development Licences' (PEDLs).
The Oil and Gas Authority (OGA) is responsible for issuing PEDLs. Previously this responsibility belonged to the Department of Energy and Climate Change (DECC). The OGA works closely with regulatory partners to make sure any exploration and development activity associated with the development of new oil and gas resources is safe and sustainable.
The operator then needs the landowner's and planning permission, which may require an environmental impact assessment. They also need environmental permits from the relevant environment regulator, (the Environment Agency, Natural Resources Wales, or the Scottish Environment Protection Agency). Currently, however, all planned shale gas developments are located in England. Therefore the processes described below relate primarily to developments in England. The Environment Agency ensures that any shale gas operations are conducted in a way that protects people and the environment. The Environment Agency's environmental permitting regulations cover:
protecting water resources, including groundwater (aquifers) as well as assessing and approving the use of chemicals which form part of the hydraulic fracturing fluid
appropriate treatment and disposal of mining waste produced during the borehole drilling and hydraulic fracturing process
suitable treatment and management of any naturally occurring radioactive materials (NORM)
disposal of waste gases through flaring
The Environment Agency is also a statutory consultee in the planning process and provides local mineral planning authorities (normally the county or unitary local authority) with advice on the potential risks to the environment from individual gas exploration and extraction sites.
The operator must notify the Health and Safety Executive (HSE) of the well design and operation plans at least 21 days before drilling is due to start. The HSE inspects the well design, its construction and upkeep to ensure that measures are in place to manage risks effectively throughout its life cycle. The HSE and Environment Agency will meet all new or first time shale gas operators and advise them of their legal duties under the relevant legislation, and conduct a joint inspection of the key operations at the site. The operator then seeks final consent from the OGA.
Planning permission is one of the approvals required before any activity may start on a site. The planning authority decides whether the activity is acceptable at that particular location, after local communities and other interested people have had the opportunity to set out their view on the benefits and impacts of the proposal.
BEIS's Regulatory Roadmap publication provides detailed information on the process operators must follow when seeking to drill for any form of onshore oil and gas in the UK.
The Infrastructure Act 2015 simplifies the procedure for obtaining the right to use underground land 300 metres and below for the purpose of exploiting oil and gas (petroleum) and deep geothermal energy, whilst ensuring that communities benefit and that the UK has a robust regulatory regime. More information is available in the press statement and the Infrastructure Act 2015, Sections 43 to 48.
In addition, Section 49 of the Act requires the Secretary of State for Business, Energy and Industrial Strategy to regularly seek, and publish, advice from the Committee on Climate Change on the impact of emissions from the onshore oil and gas sector on the ability of the UK to meet the carbon limits set by the Climate Change Act. It also introduces a range of safeguards (Section 50), such as requiring independent well inspections, monitoring of groundwater, restoration conditions, and banning hydraulic fracturing within protected areas.
The regulations that define the protected areas in which hydraulic fracturing is prohibited ensure that the process of hydraulic fracturing can only take place below 1200 metres in specified groundwater areas (source protection zones 1), National Parks, Areas of Outstanding Natural Beauty and World Heritage Sites.
7.

Community and public engagement

The shale gas industry has set its commitment to community engagement in its Charter. This Charter sets out what communities can expect from companies developing shale in their areas. Operators will engage communities in advance of any application for planning permission and then again at each stage of development.

The industry has committed to a package for communities that host shale development. This includes:
At exploration stage, £100,000 in community benefits per well-site where fracking takes place
1% of revenues at production will be paid out to communities.
Operators will publish evidence each year of how they have met these commitments.
This Charter and offer to communities will be regularly reviewed as the industry develops and operators consult with communities.
In addition to this, the government has announced that it will create a Shale Wealth Fund to ensure that communities which host shale sites can share the benefits of shale development. The fund will initially consist of up to 10% of tax revenues arising from shale gas production and could provide up to £1 billion of funding in total, a proportion of which could be paid out to each community over 25 years. The government has consulted on the priorities and delivery models for the Shale Wealth Fund.
8.

Exploration in your area

Oil and gas sites have long been part of the landscape in many parts of Great Britain. Around 2,100 conventional wells have been drilled in the UK.

The 14th Onshore Oil and Gas Licensing Round was launched in 2014 and resulted in 93 new licences being awarded to successful applicants in 2016.

Licences themselves do not give consent for drilling or any other operations (see effective regulation above). Questions about future activity should be addressed to the operator. The industry has committed to early engagement with local communities to identify and address local issues and concerns proactivity among other things.

All onshore licences in the UK
9.

Government development of shale gas industry

The government established the Office of Unconventional Gas and Oil (OUGO) in December 2012 to develop the shale gas industry in the UK. Now known as the Shale Gas team, as part of the Department for Business, Energy and Industrial Strategy (BEIS), the office works closely with regulators and the industry to ensure that the regulatory regime is as clear and simple as possible while protecting the environment and ensuring public safety.

We are taking steps to encourage the safe and environmentally sound development of shale gas, for example:
In the Autumn Statement 2013, the Chancellor announced support to encourage investment in onshore oil and gas, including shale gas, by halving the tax rate on early profits
Following the Autumn Statement of 2014, DECC was allocated £1.7m for 2015/16 from this fund to deliver independent environmental monitoring. The Department (now BEIS) grant-funded a research consortium led by the British Geological Survey to expand an existing Lancashire-based programme, which was gathering a baseline of environmental data, to North Yorkshire, where a planning application for a shale gas project had been submitted.
The Department for Communities and Local Government (DCLG) has published planning guidance that clarifies the interaction of the planning process with the environmental and safety consenting regimes.
The EA has developed new standard rules permits, which reduce the time it takes to get a permit for certain types of low risk oil and gas activities to up to four weeks. The speeding up of the process is not at the expense of environmental protection.
Government has welcomed a package of community benefits that was brought forward by industry. Further to this, councils will be able to retain 100% of business rates, which could be worth up to £1.7m per year for a 12 well site. This will be directly funded by central government. *Government introduced the Infrastructure Act (2015), which brought forward measures to simplify the procedures for underground access below a depth of 300m for oil and gas exploration. It also included significant measures to provide the public with confidence that shale development is being taken forward in a balanced way, including measures on environmental impact assessments, groundwater monitoring, community benefits and protected areas.
Related documents
Shale gas related documents can be found on the 'Development of onshore oil and gas industry in the UK' document collection page