Independent Chief Inspector of Borders and Immigration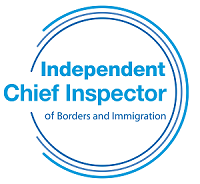 Contact ICIBI
Independent Chief Inspector of Borders and Immigration
Conventional mail is not currently being processed. Please see note below.
5th Floor, Globe House
89 Eccleston Square
London
SW1V 1PN
United Kingdom
Office
+443000 720128
Press Enquiries
+443000 710784
In line with Government Covid 19 advice to work from home where possible, the Chief Inspector and his staff are not currently based at Globe House. Please ensure you contact us via email only as conventional mail will not be opened and processed until staff return to office based working.

Please note the Chief Inspector and his staff are not part of the Home Office or the UK Immigration or customs system and cannot give advice or assistance on any immigration or customs issue or application. We are not able to advise of any direct contact details for the Home Office other than the general contact number of 020 7035 4848.
General Data Protection Regulation - Data Protection Officer
ICIBI
5th Floor
Globe House
89 Eccleston Square
London
SW1V 1PN
United Kingdom

The Independent Chief Inspector of Borders and Immigration has a Data Protection Officer who can be contacted via the details above.

For more information on data protection and your rights please visit: https://www.gov.uk/data-protection