Independent Chief Inspector of Borders and Immigration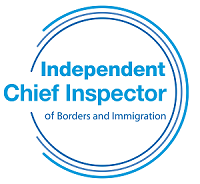 Contact ICIBI
Independent Chief Inspector of Borders and Immigration
5th Floor, Globe House
89 Eccleston Square
London
SW1V 1PN
United Kingdom
Office
020 3513 0487
Press Enquiries
020 3513 0442
Please note the Chief Inspector and his staff are not part of the Home Office or the UK Immigration or customs system and cannot give advice or assistance on any immigration or customs issue or application. We are not able to advise of any direct contact details for the Home Office other than the general contact number of 020 7035 4848.
General Data Protection Regulation - Data Protection Officer
ICIBI
5th Floor
Globe House
89 Eccleston Square
London
SW1V 1PN
United Kingdom

The Independent Chief Inspector of Borders and Immigration has a Data Protection Officer who can be contacted via the details above.
Corporate information
Jobs and contracts