The Independent Chief Inspector of Borders and Immigration monitors and reports on the efficiency and effectiveness of the immigration, asylum, nationality and customs functions carried out by the Home Secretary and by officials and others on her behalf. The Chief Inspector is a public appointee and independent from government, his reports are laid before Parliament.
---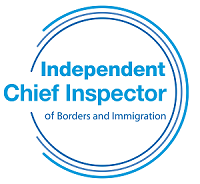 The role of the Chief Inspector of Borders and Immigration was established in section 48 of the UK Borders Act 2007. The Chief Inspector does not investigate individual cases, but may consider or draw conclusions about an individual case for the purpose of, or in the context of, considering a general issue.
The Chief Inspector's team currently consists of 30 members of staff.
Purpose
The ICIBI's purpose is to help improve the efficiency, effectiveness and consistency of the Home Office's border and immigration functions through unfettered, impartial and evidence-based inspection.
Priorities
The Chief Inspector published a revised three year inspection plan in April 2018 (https://www.gov.uk/government/publications/icibi-inspection-plan-2018-19-to-2019-20). The plan takes account of identified or perceived areas of risk and of the views and priorities of stakeholders, including within the Home Office. The Chief Inspector may vary the published plan in-year, if necessary.
Values
The ICIBI shares the Civil Service Values.
Integrity
Honesty
Objectivity
Impartiality
Vision Statement
ICIBI's 'Vision Statement' is intended to sit alongside its stated Purpose. ICIBI will:
be highly-skilled, professional and effective, with a reputation for the highest standards of work and conduct
operate thorough, rigorous and transparent processes to reach sound, evidence-based conclusions
deal with others consistently and reliably
be efficient, forward-thinking, committed to continuous improvement and focused on delivery
enable and develop its people"
Corporate information
Access our information
Jobs and contracts
Our Personal information charter explains how we treat your personal information.