News story
Women's Engagement Newsletter: Introduction from Maria Miller
Welcome to the summer edition of the women's engagement newsletter.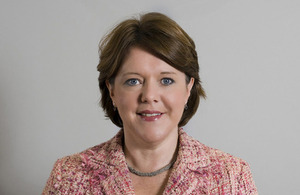 As Minister for Women and Equalities, one of my key priorities is promoting women's contribution to economic growth. I was thrilled to join members of the Women's Business Council on 4 June at the London Stock Exchange to launch their report and recommendations.
The Council's report demonstrates clearly the importance of ensuring that those women who want to work, or want to work more hours, are able to contribute fully to the economy of this country. We simply cannot afford to ignore the additional economic contribution that women could make if some of the problems identified by the WBC can be resolved. Equally, it cannot be right that women who want to fulfil their talent and maximise their financial wellbeing so often face obstacles to doing so.
This is not just an equality issue; it's a very important economic issue for the country. The facts are striking. By equalising the labour force participation rates of men and women, the UK could further increase economic growth by 0.5 percentage points per year, with a potential gain of 10% of GDP by 2030. If women started businesses at the same rate as men we could have an extra one million female entrepreneurs.
I am delighted with the many thoughtful and positive recommendations made by the Council. I will be bringing ministers together to drive forward delivery of these recommendations and we will publish an action plan this autumn.
This government believes that everyone should be able to fulfil their potential and we aim to help by removing those barriers which stand in the way. That's why we are extending the right to request flexible working to all employees, introducing a system of shared parental leave, so that parents can choose how best to share caring responsibilities and have announced tax free childcare for working families, which will be worth up to £1,200 per child per year. We are also driving greater transparency around women in the workplace through our Think, Act, Report initiative – which I am pleased to report now has more than 100 companies supporting it.
Published 27 June 2013