Press release
Women on boards 2013: Two years on
Lord Davies of Abersoch has today published the second annual progress report into Women on Boards.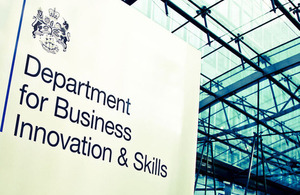 Two years on from the ground-breaking review in 2011, Lord Davies and his review panel report a growing number of women in decision-making roles. There continues to be good progress made with greater female representation in the boardroom of the UK's top companies and a growing recognition of the benefits gained by business, the economy and wider society.
Lord Davies said:
The onus was firmly placed on business to bring about this necessary change, and I am pleased to say that evidence clearly shows that they have, and are, stepping up and responding.
They are making real efforts to find and appoint capable women to their boards. We are now moving to a place where it is unacceptable for the voice of women to be absent from the boardroom.
This has never been a hard sell. Companies see that having more women at their top table makes good business sense, especially if we are operating in a global market. We've come a long way over the last two years but we must not get complacent and take the foot off the gas.
This has always been a business-led approach with the support of government. If we are to fend off the prospect of quotas and regulation then business cannot rest on their laurels and think the job is done.
Business Secretary Vince Cable said:
The argument for more women in our boardrooms is clear - they bring fresh perspectives and ideas, talent and broader experience which leads to better decision-making. This is not just about equality at the top of our companies. It is about good business sense.
Some progress has been made in the last three years. Today 94 of the FTSE 100 companies count women on their boards as do over two thirds of all FTSE 350 companies. However, the momentum appears to be slowing and there has been much less progress in executive appointments at the top.
Government continues to believe that a voluntary led approach is the best way forward. But today's report also serves as a timely reminder to business that quotas are still a real possibility if we do not meet the 25% target of women on boards of FTSE 100 companies by 2015.
Minister for Women and Equalities Maria Miller said:
It is more important than ever that we make the most of the talents and skills that women have to offer if we're going maximise Britain's prospects for economic growth.
We are making good progress; two thirds of women are in work, the gender pay gap is closing and both Lord Davies' and Cranfield's reports indicate that we are heading in the right direction when it comes to women's representation at senior levels.
But there is much more work to do. The priority now is to maintain that momentum, not only within listed companies but across the economy as a whole. Our equalities agenda isn't solely about women in the boardroom. It's also about unlocking the untapped potential of women at all levels in the workforce, getting more women into work, priming the talent pipeline and bringing sustained benefit to the British economy in the longer term.
As of 1 March 2013 the figures show within the FTSE 100:
women now account for 17.3 per cent of all directorships, up from 10.5 per cent in 2010
women have accounted for 34 per cent of all board appointments (45 out of 134 appointments)
there are currently 94 boards with female representation
there are now 192 women directors on FTSE 100 boards out of a total of 1,110.
In the FTSE 250 the figures show:
women now account for 13.2 per cent of directorships, up from in 6.7 per cent in 2010
women have accounted for 26 per cent of board appointments
there are currently 183 boards with female representation
for the second year running, all-male boards are in the minority at 26.8 per cent.
Between 2008 and 2010, the number of women directors had effectively plateaued, stalling at less than a single percentage point rise year-on-year. Since work began on this area ago the percentage of female board appointments has increased by nearly 50%.
Secretary of State Vince Cable wrote to the remaining all-male FTSE 100 boards in January asking them what steps they were taking to increase the diversity in their boardrooms. Today he has also written to the remaining all-male boards in the FTSE 250.
Cranfield School of Management's Female FTSE Report, also published today, notes that progress with the Women on Boards agenda in the FTSE 100 has stalled over the last six months. It does, however note that the UK is on target to meet Lord Davies' recommendation from his original report that the UK should have 25% women on FTSE 100 boards by 2015.
Notes to editors
1.To see the annual report go to Lord Davies's Review of Women on Boards
2.In February 2011 Lord Davies of Abersoch published his report Women on Boards which set out a strategy aimed at ensuring that more women were appointed to boardroom positions. He asked all FTSE 350 companies to set targets for the number of women they expected to have on their boards and executive committees in 2015. Lord Davies recommended that FTSE 100 boards should aim for a minimum 25% female representation on their boards by 2015.
3.The Cranfield Female FTSE report will also be published on Wednesday. More information can be found here www.cranfield.ac.uk/som/news
4.Vince Cable announced on 22 January 2013 the appointment of Lucy Armstrong, Chief Executive of the Alchemists, chair of the CBI's SME Council and chair of Capital for Enterprise Limited, Caroline Green, Finance Director at Arc Specialist Engineering and Baroness Patience Wheatcroft, non-executive director of Fiat SpA and of St James's Place Plc, and advisory board member of Huawei Plc and Pelham Bell Pottinger are to join the Business Bank Advisory Group. They are to be joined by Stephen Welton, Chief Executive of the Business Growth Fund plc and Brendan Barber, former General Secretary of the TUC.
5.As of 31 March, BIS has 74 female Deputy Directors (out of 168), 15 female Directors (out of 30) and four Director Generals (out of eight).
6.The government's economic policy objective is to achieve 'strong, sustainable and balanced growth that is more evenly shared across the country and between industries'. It set four ambitions in the 'Plan for Growth' (PDF 1.7MB), published at Budget 2011:
to create the most competitive tax system in the G20
to make the UK the best place in Europe to start, finance and grow a business
to encourage investment and exports as a route to a more balanced economy
to create a more educated workforce that is the most flexible in Europe.
Work is underway across government to achieve these ambitions, including progress on more than 250 measures as part of the Growth Review. Developing an Industrial Strategy gives new impetus to this work by providing businesses, investors and the public with more clarity about the long-term direction in which the government wants the economy to travel.
Published 10 April 2013