Press release
Wind in the sails of the offshore wind industry council
First meeting of new government and industry partnership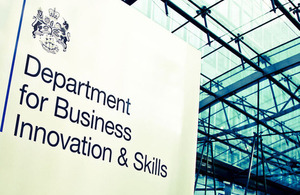 The first meeting of the new offshore wind sector council will take place today co-chaired by Keith Anderson, Chief Corporate Officer (CCO) of ScottishPower and Business and Energy Minister Michael Fallon.
The meeting comes as government and the industry prepare to deliver the offshore wind industrial strategy which will be published in the coming months. The strategy aims to increase investment in the UK supply chain and outline how government and industry will work together to build and maintain a competitive advantage in this crucial sector.
Business and Energy Minister Michael Fallon said:
Britain has a real chance to lead the world in the offshore wind sector, not least because of our weather. I am determined that government and industry should work together and make sure the UK makes the most of the opportunity for growth and jobs that this sector presents, as well as a vital contribution to our energy mix.
This first meeting of the offshore wind industry council is a step towards realising that objective. By building an enduring partnership between government and industry, we can set out a clear strategy which encourages the development of the supply chain, and delivers a strong benefit to the UK economy.
Keith Anderson, CCO of ScottishPower, said:
It is vital that the renewable energy industry and the government continue to work closely together to unlock all of the social and economic advantages of developing offshore wind power, as well as the major environmental benefits.
The UK continues to lead the world in offshore wind, and we need to use this position to leverage as much global investment as possible to secure jobs across the supply chain, and see infrastructure upgraded to support this industry. The offshore wind industrial strategy is an important development that should act as a blueprint to guide both the industry and the government in helping the UK to achieve these goals and benefits.
The offshore wind industrial strategy is one of eleven sectors that the government has chosen to develop a long term strategic partnership to help realise the potential for growth this industry has in the UK.
Already the government has published strategies in the Health and life sciences, aerospace, nuclear and oil and gas sectors which aim to boost skills, research and development, develop the UK supply chain and maintain the UK's market share in these high growth industries.
Notes to editors
1.The full list of offshore wind industry council members is:
| | |
| --- | --- |
| The Rt Hon Michael Fallon MP | BIS and DECC |
| Keith Anderson | ScottishPower |
| Julian Brown | AREVA Wind UK |
| Mark Hanafin | Centrica Energy |
| Jim McColl | Clyde Blowers |
| Benj Sykes | DONG Energy |
| Sven Utermöhlen | E.ON Climate and Renewables |
| Christian Egal | EDF Energy Renewables |
| Dan Finch | EDP Renewables |
| Guy Madgwick | Eneco |
| Ian Thomas | Fluor |
| Chris Hill | Mainstream Renewable Power |
| Akio Fukui | Mitsubishi Power Systems Europe |
| Paul Gibson | MPI Offshore |
| David Edwards | OGN Group |
| Julio Cortezon Santaclara | Repsol Nuevas Energias |
| Paul Cowling | RWE Innogy GmbH |
| Young Byeng Kang | Samsung Heavy Industries |
| Matthew Chinn | Siemens Energy |
| Jim Smith | SSE |
| Bjørn Drangsholt | Statkraft |
| Siri Espedal Kindem | Statoil |
| Peter Wesslau | Vattenfall |
| Representatives from: | Welsh Government |
|   | Scottish Government |
|   | Northern Ireland Executive |
|   | The Crown Estate |
2.The government's industrial strategy is about looking to the future, presenting a long-term, whole of government approach to supporting British business, giving them the confidence they need to invest, hire staff and grow. Long-term strategies are being developed in partnership with industry in key sectors.
3.The full list of sectors in which the government is developing a strategic partnership with industry is: Health and life sciences, aerospace, nuclear, oil and gas, offshore wind, information economy, agri-tech, education, construction, professional business services and automotive.
4.The government's economic policy objective is to achieve 'strong, sustainable and balanced growth that is more evenly shared across the country and between industries'. It set four ambitions in the 'Plan for Growth' (PDF 1.7MB), published at Budget 2011:
to create the most competitive tax system in the G20
to make the UK the best place in Europe to start, finance and grow a business
to encourage investment and exports as a route to a more balanced economy
to create a more educated workforce that is the most flexible in Europe.
Work is underway across government to achieve these ambitions, including progress on more than 250 measures as part of the Growth Review. Developing an Industrial Strategy gives new impetus to this work by providing businesses, investors and the public with more clarity about the long-term direction in which the government wants the economy to travel.
Published 16 May 2013