Press release
Westmorland flag flies in the heart of government
Westmorland flag flies outside the Department for Communities and Local Government to celebrate the important role of historic counties.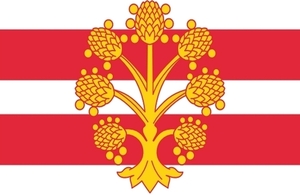 Communities Secretary Eric Pickles raised the flag of Westmorland today (29 September 2014) outside his department's headquarters in Westminster to celebrate the important role historic counties continue to play in the nation's cultural heritage.
The flag was hoisted to mark Westmorland Day, which is celebrated every year in recognition of Ralph Neville being appointed the first Earl of Westmorland by King Richard II in 1397.
England's traditional counties date back over 1,000 years of history, but many of them have been sidelined in recent years, including the municipal restructuring by Edward Heath's government in 1965 and 1972. The administrative local authority of Westmorland was absorbed into Cumbria in 1974.
By contrast, this government is championing local communities continuing to cherish and celebrate such traditional ties and community spirit. Ministers have previously changed the law to make it easier to fly flags without a permit from the council – these new freedoms include flying the Westmorland flag.
Secretary of State for Communities and Local Government, Eric Pickles, said:
Today it is right to celebrate Westmorland and I am delighted to fly the flag of this historic county outside my department's headquarters.

England's historic counties continue to form an important part of our cultural and local identity in this country and many people remain deeply attached to their home county. This sense of pride and shared identity is one of the things that binds communities together. No amount of administrative tinkering with boundaries can change that.
Picture Wikicommons copyright, courtesy of The Westmorland Association.
Further information
This is part of a series of steps to champion England's national identities. Earlier this year, the department launched a new initiative to support the 'tapestry' of traditional English counties being displayed on street and road signs.
The government also published a new online interactive map of England's county boundaries.
Planning rules have been changed to allow for councils to put up boundary signs marking traditional English counties – including the likes of Cumberland, Huntingdonshire, Westmorland and Middlesex.
The government has proposed changes to highways regulations to allow traditional county names to appear on boundary road signs.
The Westmorland Association designed and developed the Westmorland flag in consultation with the Flag Institute and its design is based on the banner of arms of the former Westmorland County Council.
The flag was formally registered in 2012.
Office address and general enquiries
2 Marsham Street
London
SW1P 4DF
Contact form http://forms.communiti...
General enquiries: please use this number if you are a member of the public 030 3444 0000
Published 29 September 2014