West Africa: Minister sees food aid saving lives in Sahel
Minister Stephen O'Brien is in Niger to see for himself how British aid is helping thousands of people survive the food crisis in West Africa.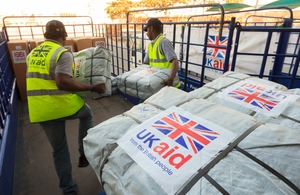 Today the International Development Minister is meeting mothers and children receiving life-saving treatment at British-supported emergency feeding centres assisted by UNICEF, the World Food Programme and World Vision.
He will also discuss with the heads of United Nations and other aid agencies what more the international community can do to avert a looming catastrophe before travelling to Senegal to see the impact of the food crisis there.
Britain is now helping a total of more than 1.4 million people at risk of hunger across Mali, Niger, Chad, Mauritania and Burkina Faso. More than 100,000 children at risk of starvation will receive immediate lifesaving treatment.
Support includes nutritional treatment, health, water and sanitation, animal feed and vaccinations to keep farmers livestock alive and seeds and tools for families to feed themselves next year.
A deadly combination of conflict and poor harvests has pushed many families in the region to the brink, with 8 million people in need of urgent assistance now, and with a further 10 million requiring additional support.
Stephen O'Brien warned that agencies need extra support to treat the effects of acute hunger before the rainy season makes vast swathes of West Africa inaccessible for aid workers. This will happen in as little as four weeks' time.
As donors meet in Brussels for a conference on the situation in the Sahel, he called on countries - particularly those with strong links to the drought-stricken region - to follow suit and step up their efforts.
Stephen O'Brien said:
Britain will not sit back while children starve to death in the Sahel and the feeding centres I will visit prove how our swift and early action is saving lives. 

The crisis is already desperate and is getting worse. Now is the time for others in the international community to step up.
The landmark trip, the first by a British minister in seven years, follows the President of Niger's positive visit to the Britain last week.
It is a signal of the British Government's growing concern that the crisis could reach tipping point with up to 1.5 million children facing imminent starvation in the coming months if the world does not take urgent action.
Published 19 June 2012