West Africa: Food aid for half a million people in the Sahel
British help will support families who have been hit hardest by the hunger crisis in Mali, Niger, Burkina Faso and Mauritania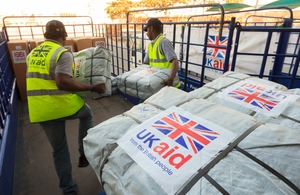 Britain will send lifesaving aid to over 500,000 people in the Sahel region of West Africa who have been hit by the current hunger crisis.
The new UK aid will will reach families in Mali, Niger, Burkina Faso and Mauritania.
Development Secretary Justine Greening announced the new support today, including high-protein food to treat 80,000 severely malnourished children.
The latest package of British assistance will support those that have been hit hardest by the current food and nutrition crisis.
Early figures from the United Nations suggest that in 2013 millions of children will continue to be at risk of developing acute malnutrition.
One million children are at risk of dying without urgent nutrition and medical treatment. UK aid is vital to prevent the crisis turning into an emergency.
Political instability in Mali is also likely to cause a major increase in the number of people forced to leave their homes and facing an uncertain future.
The support announced today will reach more than:
International Development Secretary Justine Greening said:
2013 will be a hugely difficult year for the people of the Sahel. Rising food prices and political instability in the region could combine to put millions at risk of hunger and force many more out of their homes.

That's why it is crucial that Britain, with our international partners, acts now to ensure the most vulnerable are protected. This support will help hundreds of thousands of people across the Sahel get the food, medicine and supplies they need to survive.

In 2012, the international community's early, pre-emptive action helped to blunt the impact of the food crisis. By taking similar steps this year, we can continue to ensure the most vulnerable people in the Sahel are not forgotten.
The International Development Secretary announced the support in response to the United Nations Annual Appeals launch event on Friday 14 December.
In total, the UK's support for the Sahel has helped 1.6 million people across seven different countries over the course of 2012.
Published 20 December 2012