Wearmouth-Jarrow monastery nominated for World Heritage Site status
Former home of Venerable Bede could join list including Giant's Causeway and Great Barrier Reef.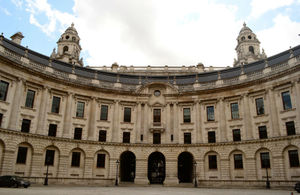 The twin monastery of Wearmouth-Jarrow has been put forward by Culture Secretary Jeremy Hunt as the UK's latest nomination for World Heritage Site status.
The monastery, which is located on two sites in north-east England, was founded in the late seventh century AD and parts of it which are still in use today date from the lifetime of its most famous inhabitant, the Venerable Bede.
Nearly 30 sites in the UK have already achieved World Heritage Site Status, including the Tower of London, Edinburgh and the Giant's Causeway. They form part of a select group of sites around the world such as the Great Barrier Reef, Venice and Machu Picchu.
UNESCO will examine the nomination and make a final decision next year.
Mr Hunt said he was "delighted" to give the bid his full support and spoke of the importance of the site. "The Twin Monastery of Wearmouth-Jarrow looking out on to the North Sea coast had a profound influence on learning in the Middle Ages and played a huge part in the emergence of European identity," said Mr Hunt. "The outstanding library and teaching assembled at Wearmouth-Jarrow by founder Benedict Biscop was unlike anything else available in its day and it became the primary intellectual centre of Western Europe."
Partnership working
Rt Revd Mark Bryant, Bishop of Jarrow and Wearmouth-Jarrow Partnership Chair, said: "The submission of the nomination of the Twin Monastery of Wearmouth-Jarrow for inclusion on the World Heritage List is a massively significant milestone in more than a decade's partnership working. The organisations and communities responsible for this historic site have put an enormous amount of work in to seek recognition of Wearmouth-Jarrow as a World Heritage Site, to celebrate the vision and drive of its founder, Benedict Biscop.
"He created a remarkable, forward-looking centre of learning, creativity and international cultural exchange. The new architectural ideas and monastic plan he introduced can still be seen at the sites today, and through the legacy of Bede, his vision lives on."
The site is the last that will be put forward from the 1999 UK Tentative List and the Government is now drawing up a new Tentative List. An independent expert panel is considering all the bids for inclusion on the new list.
Further information
Published 8 February 2011