Press release
Warmer homes, secure supplies and lower bills
Household energy bills this year are an average £90 lower than they would otherwise have been, thanks to the impact of Government energy policies.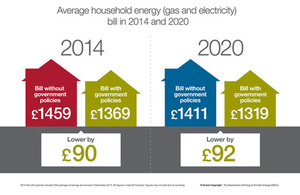 Household energy bills this year are an average £90 lower than they would otherwise have been, thanks to the impact of Government energy policies.
An average household dual fuel bill in 2014 costs £1369, compared to £1459 if policies to support cleaner energy, keep the lights on, support vulnerable households, and promote energy efficiency were not present.
This includes action to take an around £50 off the average household bill this year announced in December 2013.
Government policies aimed at supporting cleaner energy and keeping the lights on account for £62 (or 4.5%) of the bill in 2014, while support for vulnerable households and energy efficiency accounts for £40 (2.9%). When bills are averaged out to take account of the £140 Warm Home Discount paid to around 2 million households, support for vulnerable households and energy efficiency accounts for £27, or 1.9%, of the bill.
By 2020, household bills are estimated to be £50 cheaper in real terms than today's bills, dropping to £1319. This is due to a combination of Government energy efficiency policies and current expectations of future wholesale gas and electricity prices. Without Government policies, the average bill in 2020 would be £1411.
Energy and Climate Change Secretary Ed Davey said:
"We have the best energy security in Europe – and to stay that way we need to deal with a legacy of underinvestment and build a clean, secure energy system based on home grown supplies. I'm determined that while we tackle these challenges, consumers don't pay a penny more than they have to for the energy they use.
"We're making homes warmer and cheaper to run, giving particular help to the most vulnerable people and avoiding the predicted energy crunch, meaning we can drive down bills and support investment in the economy with more secure energy supplies and more stable bills.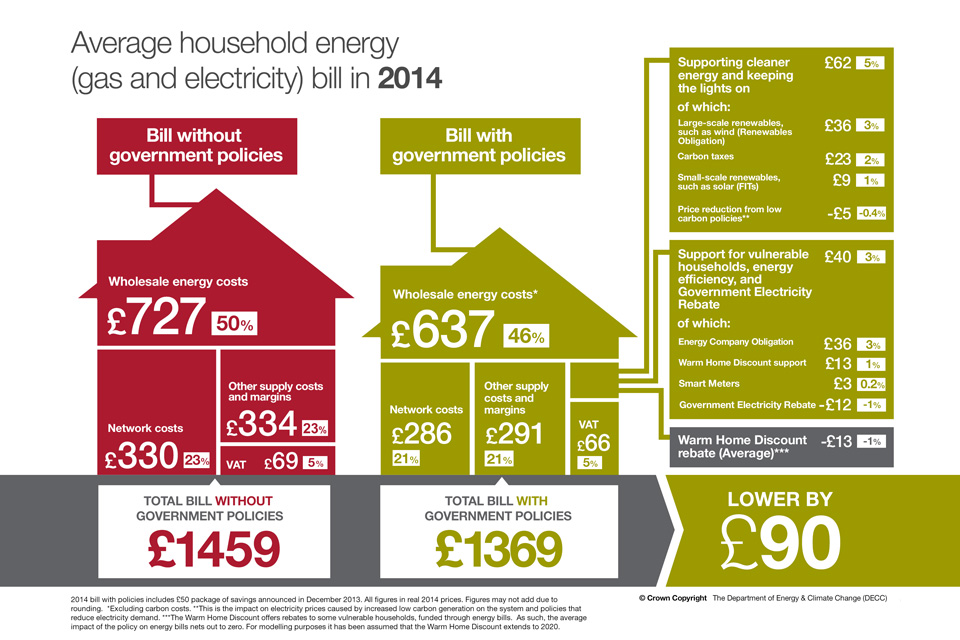 The move to an energy secure, low-carbon future requires significant investment which carries costs to gas and electricity customers. Great Britain needs up to £100 billion investment in new electricity infrastructure by the end of the decade, with £45 billion having already been invested by the private sector since 2010.
But people also need help to cut their energy use and their bills permanently, through better insulated homes and appliances and other household products that use less electricity.
If there was no investment in clean energy, efficiency, or infrastructure, then homes would be paying more – an estimated £1459 in 2014. This is because homes would leak more heat, meaning people have to use more energy to keep warm. This increased demand, coupled with the fact that there would be less low-carbon electricity generation (which has lower running costs than gas and coal) means the wholesale price of energy would be higher, pushing bills up further.
By 2020, the impact of policies is estimated to reduce bills by £92 or 7%. Energy and climate change policies will account for an estimated £188 – or 4% for supporting vulnerable households and energy efficiency and 10% for keeping the lights on - of the total household bill. But without policies that make domestic properties and appliances more energy efficient, increase the amount of renewable generation, and ensure supply meets demand then more energy would be wasted, the lights would be at risk of going out, and household bills would cost an average £1411. That's £92 higher than without these policies.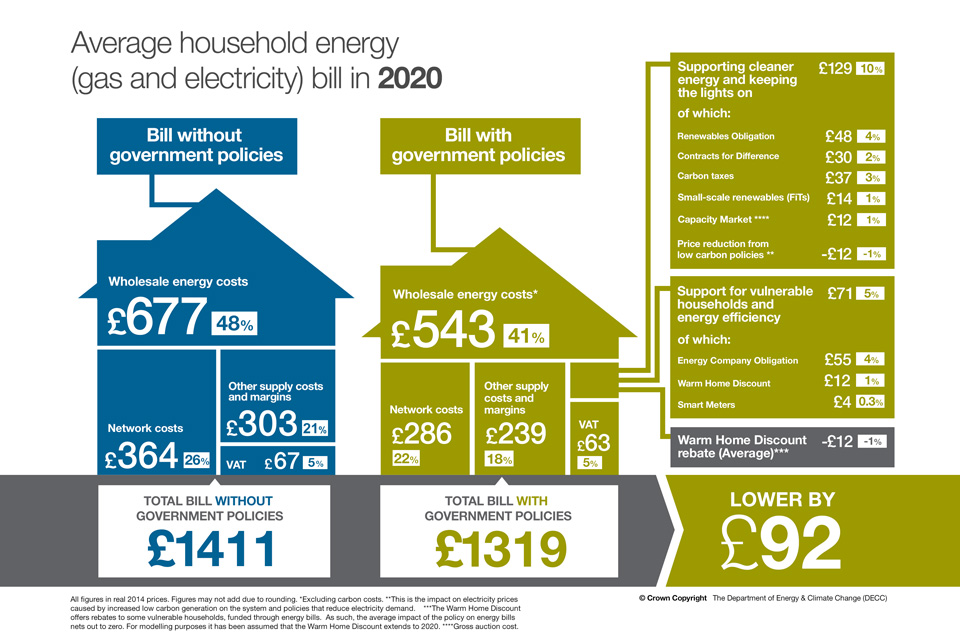 Key energy saving policies, such as the Energy Company Obligation (ECO) and regulations on more efficient household appliances have directly contributed to this saving.
The calculations also reflect the package of measures announced in December 2013, that are designed to take an average £50 off household bills this year; this includes £30-35 off bills through changes to the ECO scheme a £12 rebate paid to all household electricity customers and a one-off £5 deferral in electricity distribution costs.
Other findings from today's report show:
Without policies to improve energy efficiency and support low carbon energy, bills will become more reliant on volatile international fossil fuel prices;
Wholesale gas and electricity costs currently make up the largest proportion of an average household energy bill (46%);
Between now and 2020 an extended ECO scheme, in conjunction with the Green Deal, could see a further 3.2 million have insulation and heating measures installed.
Lower energy demand caused by more energy efficient homes and more low carbon generation on the grid depresses the wholesale price of electricity, reducing bills by £5 this year and £12 by 2020.
The proportion of the energy bill attributable to government policies for businesses tends to be higher than for households (between 9-21% for low to medium users of energy). However, on average energy costs are a smaller proportion of total business costs (less than 3% across all business sectors).
For energy-intensive industries, policies account for 12% of their energy costs. However, in order to ensure businesses in the UK are able to remain competitive during the shift to a low carbon economy, Government has introduced a number of measures to help mitigate the impact of its policies – by up to 80% in 2020. This includes £34 million worth of compensation for the indirect costs of the EU Emissions Trading Scheme.
The move to a low-carbon power sector is bringing thousands of jobs and investment to every corner of the country today. Since 2010 £45 billion has been invested in the UK's energy infrastructure, and by 2020 we expect to see up to 250,000 jobs supported by the low carbon electricity sector.
Notes to editors
The 'Estimated impacts of energy and climate change policies on energy prices and bills 2014' assesses the impact of Government policies on gas and electricity prices and bills and updates the analysis published in March 2013.
The average UK household dual fuel (electricity and gas) energy bill is estimated to be around £1369 in 2014 based on average consumption of 15.0 MWh of gas and 3.7 MWh electricity per year.
Business energy users do not face costs or benefits associated with the ECO, Warm Home Discount and the domestic sector Smart Meter roll-out. However, they do share the costs of supporting low-carbon generation and face specific costs focused on improving business energy efficiency as this is the most effective way to reduce energy bills. Government also recently consulted on the new Energy Savings Opportunity Scheme, which will help business identify energy efficiency measures resulting in bill savings of £56,400 per year on average.
Annual Energy Statement 2014 package of documents:
Published 6 November 2014