Press release
Wales Office Ministers mark Remembrance Sunday
Wales Office Ministers will attend Remembrance Day services in London and Wales this Sunday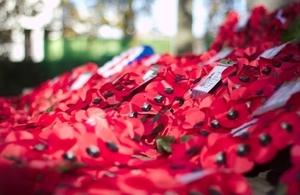 Wales Office Ministers will each commemorate the contribution of British military and civilian servicemen and women, past and present at Remembrance Day services this Sunday (10 November 2013).
Secretary of State for Wales, David Jones MP will attend the National Service of Remembrance at the Cenotaph on Whitehall in London.
Wales Office Ministers, Baroness Jenny Randerson will attend a Remembrance Service and lay a wreath at the cenotaph at Cathays Park in Cardiff, whilst Stephen Crabb MP will attend services in Neyland and Haverfordwest Pembrokeshire.
Secretary of State for Wales, David Jones said:
On Remembrance Sunday, we stand together as a nation to mark the bravery and commitment of our servicemen and women in conflicts around the world. We honour and pay our respects to their unyielding courage and dedication on this important day.

I am privileged to represent the people of Wales at the Cenotaph. My thoughts will be with the Welsh men and women who have pledged their lives to the service of our country, be it overseas or at home.

This year, the UK Government has announced that it will deliver a four-year, UK-wide programme of commemoration to mark the centenary of the First World War. Wales will play a strong part in these events and will help ensure that the sacrifices our servicemen and women have made, and continue to make, for our country will never be forgotten.
Baroness Randerson said:
It is important that we all take this opportunity to show our gratitude and appreciation for the sacrifices being made every day on our behalf by so many courageous men and women around the world.

Whether we reflect on the horrors of war, remember family members who served, or visit a memorial, Remembrance Sunday provides an opportunity to better understand our past - and how it still shapes us today.
Stephen Crabb MP said:
In Wales, we are privileged to have a long and proud military history. On Remembrance Sunday, we will remember and honour the sacrifices of all those who fought and continue to fight in the service of our nation. We want to let them know that their commitment does not go unnoticed.
The UK-wide programme of First World War centenary events will begin with a service for Commonwealth leaders at Glasgow Cathedral and a candle-lit vigil at Westminster Abbey on 4 August 2014. This will be followed by events to mark a further five key dates: the centenaries of the Gallipoli landings, the Battle of Jutland, the first day of the Battle of the Somme, the first day of Passchendaele and, finally, Armistice Day.
Notes to editors
To support the centenary programme, the UK Government has announced that more help will be made available for local communities commemorating the centenary in exciting and imaginative ways. The Heritage Lottery Fund has announced the first grants under its new £6 million 'First World War – Then and Now' small grants programme to support projects ranging from restoring and refurbishing war memorials, to creating educational exhibitions or theatrical performances.
Heritage Lottery Fund
HLF provides funding to help groups, communities and organisations mark the centenary by exploring, conserving and sharing the heritage of the Frist World War from memorials, buildings and sites to photographs, letters and literature. A variety of grants are available from £3,000 - £100,000 upwards.
Successful projects will include:
researching, identifying and recording local heritage;
creating a community archive or collection;
developing new interpretation of heritage through exhibitions, trails, smartphone apps etc;
researching, writing and performing creative material based on heritage sources; and
the new programme can also provide funding for the conservation of war memorials.
Published 10 November 2013