News story
Vital new UK help for vulnerable girls and women in Haiti
New funding for female survivors of violence and exploitation in Haiti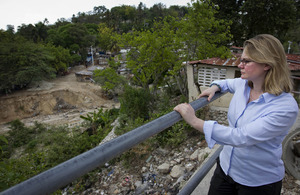 A new drive to help female survivors of violence and exploitation in Haiti has been announced by International Development Secretary Justine Greening during a visit to the disaster-afflicted country.
The new £300,000 package of support is part of Britain's commitment to helping women and girls worldwide. It will:
provide legal support and counseling for up to 500 victims of rape and violence and

assist up to 300 girls aged 10-14 to protect themselves against sexual exploitation, including setting up safe spaces and educating them to build self-confidence, to know where they can to turn in times of crisis and to understand their rights
Justine Greening said:
Improved rights and safety for women is just 1 ingredient necessary for Haiti to have a social, physical and financial infrastructure able to withstand setbacks and to continue on its path to development and growth. Haiti can only have a bright future if Haitians of both genders play a full and confident role in building prosperity.
Haiti is one of the most disaster-prone countries on earth, suffering a succession of earthquakes, tornadoes, floods, famines and epidemics. Over 320,000 of the 1.5 million people displaced by 2010's devastating earthquake remain in camps, where vulnerability to future disasters and the threat of violence and rape is increased.
In insecure situations like these, women and girls can become especially vulnerable. The UK is committed to making sure women and girls are safe in disaster situations - more on how we support them can be found here.
Justine Greening and UN Development Programme head Helen Clark are in Haiti leading a visit by the Political Champions on Disaster Resilience, an international ministerial-level group established in 2012 to look at how to put disaster risk at the heart of development investment - more on this visit is found here.
Published 22 April 2013