News story
UK calls for 'disaster-proofing' earthquake prone countries
Best approach to humanitarian disasters is to build resilience, says UK Minister Justine Greening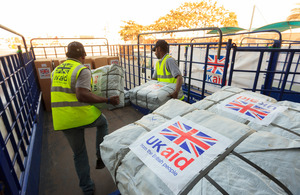 UK aid to countries prone to earthquakes and other natural disasters will in future focus on 'disaster-proofing', International Development Secretary Justine Greening pledged today.
Justine Greening is in Haiti to see how the country will use UK international assistance to ensure that recurring disasters like hurricanes, floods and landslides are less damaging to Haiti's people, businesses and infrastructure when they strike.
The 1 day visit - which she is undertaking alongside the former New Zealand prime minister and head of the United Nations Development Programme Helen Clark and UN Emergency Relief Co-ordinator Valerie Amos - comes 3 years after Haiti was devastated by one of the deadliest earthquakes of modern times with the loss of 230,000 lives.
Justine Greening, the first serving British Cabinet Minister to visit Haiti, said:
Britain is a world leader in humanitarian emergency response but it makes complete sense to invest in helping Haiti to take earthquakes and hurricanes in its stride.
As the devastating earthquake in China this weekend has shown, natural disasters hit the poorest hardest. There is no point in getting involved only when the latest catastrophe hits if we know that simple improvements to infrastructure and training people to consider the risks of natural events mean that the country's development is not wiped out every time a major disaster strikes.
It is also makes sense for the British taxpayer to be using funds in projects that withstand the passing of natural events which for this particular country happen with depressing regularity.
Resilience is a good investment for donors: as well as protecting people in disaster prone countries, every £1 spent on preparing people for disaster can save up to £7 in future responses.
Working with the United Nations, the UK has committed £10 million towards building disaster resilience in Haiti and assisting the Haitian government in responding to urgent needs on the ground, including:
resettlement of displaced people (there are still over 350,000 people in camps established after the 2010 earthquake)
stimulating the private sector and making it more engaged in disaster risk management
building on the existing small loans and insurance programme for women entrepreneurs, and
investing in livelihoods that help address food insecurity
Justine Greening and UN Development Programme head Helen Clark are in Haiti leading a visit by the Political Champions on Disaster Resilience, an international ministerial-level group established in 2012 to look at how to put disaster risk at the heart of development investment.
They are expected to meet President Martelly and Finance Minister Laleau to discuss how the international community can help the government build disaster resilience in Haiti, including making sure donors commit to disaster resilience and putting resilience into practice on the ground. They will discuss reducing risks and protecting the vulnerable, including girls and women, when disaster strikes.
More on how UK aid is helping Haiti increase resilience to disasters can be found here.
Published 22 April 2013