News story
Changes to the update charity details service
During the autumn we will improve our service so charities can keep their details up-to-date as soon as they change.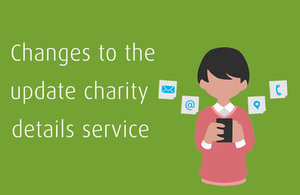 All charities must keep their details up-to-date by law. We will be improving the current service so you can keep a regular check on your details, and update them when they change.
Because of General Data Protection Regulation (GDPR) we must let people know if any of their personal information is updated on the register of charities.
The simplest and quickest way of doing this is to email you when your information is updated.
We also use email to help trustees comply with charity law and run their charity effectively, by sending important regulatory alerts and updates.
We will be asking you to check that the register details for your trustees remain up to date. This includes adding any new trustees and their contact details. You also need to remove the details of any trustees who are no longer involved with your charity.
As part of service improvements we will ask that all trustees supply their email address, or confirm that they do not have one.
We are planning for the improved update charity details service to go live during the autumn.
Published 22 June 2018
Last updated 2 July 2018
+ show all updates
Added more information about the changes to the update charity details service.
First published.