Press release
Update on UK military healthcare workers evacuated from Sierra Leone
Sixth individual returned to the UK following possible Ebola virus exposure via needle-stick injury.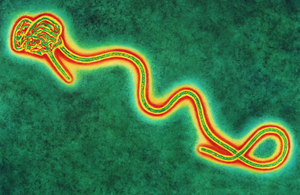 Public Health England (PHE), the Department of Health, the Ministry of Defence and NHS England can confirm that the return of 6 UK healthcare workers to the UK has been completed.
On Thursday 12 March 2015, the UK military healthcare worker with Ebola was safely transported to the Royal Free Hospital in London, and admitted to their special high level isolation unit. Two military personnel identified as contacts of the diagnosed individual returned on the same plane. They were assessed by the Royal Free Hospital on 12 March, and have now been discharged.
Two further UK military healthcare workers, also identified as contacts, were transported to the Royal Victoria Infirmary in Newcastle for assessment. One has now been discharged.
None of the 4 individuals identified as contacts have been diagnosed with Ebola. The 3 discharged individuals will reside in appropriate private accommodation and will be monitored for any symptoms for the remainder of their incubation period, in line with standard protocols.
Also on Thursday 12 March, a sixth individual, a UK healthcare worker in Sierra Leone, was identified as potentially being exposed to the Ebola virus via a needle-stick breach of their Personal Protective Equipment (PPE). The individual was evacuated to the UK and is being admitted to the Royal Free Hospital for assessment. This individual has not been diagnosed with Ebola and is not exhibiting symptoms of Ebola. This incident is unrelated to the UK military healthcare worker evacuations.
Dr Jenny Harries, Ebola incident lead at PHE, said:
All appropriate support has, and will continue to be offered, to these six individuals. Our thoughts are with all the healthcare workers, and their families, affected at this time.

The UK has robust, well-developed and well-tested systems for managing Ebola. All appropriate infection control procedures continue to be followed to minimise any risk of transmission. There remains no risk to the general public's health and the overall risk to the UK continues to be very low.
Background
The individual with Ebola was exposed to the virus in a frontline care setting in Sierra Leone. The patient arrived back in the UK on an RAF flight on Thursday 12 March, and is now at the Royal Free Hospital for treatment.
Two individuals that had potential contact with the individual with Ebola returned on the same RAF flight. The additional 2 individuals with potential contact were evacuated via 2 separate flights, both arriving at Newcastle Airport followed by ambulance transfer to the Royal Victoria Infirmary.
A sixth UK healthcare worker, an individual working at the Hastings treatment centre in Sierra Leone, experienced a needle-stick injury with PPE breach on Thursday 12 March. This individual was evacuated and transferred to the Royal Free Hospital for assessment.
Decisions on immediate and ongoing care will be made by the clinical teams looking after the individuals. We would request confidentiality is respected at this time.
There are between 600 to 700 MOD personnel currently deployed in Sierra Leone. Since deployment, MOD personnel have also trained over 4,000 local healthcare workers working in treatment centres and handed that task over to a contractor, the Institute of Migration (IOM). Despite there being stringent procedures and controls in place to safeguard UK service personnel, there is always a level of risk in deployments on operations of this type.
PHE is responsible for monitoring the health of individuals returning to the UK from Ebola affected countries. The purpose of PHE's returning worker scheme is to enable a consistent follow-up of workers on their return to the UK, to protect their health and that of the wider public. It operates in parallel to the screening arrangements that are in place for all travelers both on exit from the affected countries and on entry at major ports in the UK.
Public Health England exists to protect and improve the nation's health and wellbeing, and reduce health inequalities. It does this through world-class science, knowledge and intelligence, advocacy, partnerships and the delivery of specialist public health services. PHE is an operationally autonomous executive agency of the Department of Health. www.gov.uk/phe. Twitter: @PHE_uk, Facebook: www.facebook.com/PublicHealthEngland
PHE Press Office, infections
61 Colindale Avenue
London
NW9 5EQ
Published 13 March 2015