Press release
Update on Ebola in a British national working in Sierra Leone
A British national healthcare worker residing in Sierra Leone, who has been diagnosed with Ebola virus disease, is being repatriated.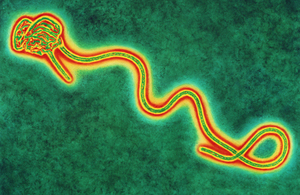 The Department of Health, Public Health England (PHE) and NHS England can confirm that, following clinical advice, a decision has been made to repatriate a British national healthcare worker residing in Sierra Leone, who has been diagnosed with Ebola virus disease.
The patient is not currently seriously unwell and is being medically evacuated in a specially equipped C17 Royal Air Force (RAF) plane to RAF Northolt in the UK. Upon arrival in the UK, the patient will be transported to an isolation unit at the Royal Free London NHS Foundation Trust.
The UK has well established and practised infection control procedures for dealing with cases of imported infectious disease and these will be strictly followed to minimise the risk of transmission while the patient is in transit and receiving treatment at the Royal Free Hospital.
Ebola is transmitted by direct contact with the blood or bodily fluids of an infected person. No cases of imported Ebola have been reported in the UK.
Professor John Watson, Deputy Chief Medical Officer, said:
It is important to be reassured that although a case of Ebola in a British national healthcare worker residing in Sierra Leone has been identified and is being brought back to the UK the overall risk to the public in the UK remains very low.

We have robust, well-developed and well-tested NHS systems for managing unusual infectious diseases when they arise, supported by a wide range of experts.

UK hospitals have a proven record of dealing with imported infectious diseases and this patient will be isolated and will receive the best care possible.
Dr Paul Cosford, Director for Health Protection at Public Health England, said:
The patient is being transferred to the Royal Free Hospital for appropriate treatment in an isolation unit, with all appropriate protocols promptly activated by the Department of Health, PHE and NHS England. Protective measures will be strictly maintained to minimise the risk of transmission to staff transporting the patient to the UK and healthcare workers treating the individual.

For Ebola to be transmitted from one person to another contact with blood or other body fluids is needed and as such, the risk to the general population remains very low.
Dr Bob Winter, National Clinical Director for Emergency Preparedness and Critical Care for NHS England, said:
NHS England, together with PHE, the Department of Health and other key stakeholders has been working hard over the past few weeks to ensure any patient who contracts Ebola and needs to be repatriated to the UK receives the best possible care and treatment. The NHS has a special unit at the Royal Free in London which is well prepared to receive this patient.
ENDS
Notes to editors
No further details about the patient will be provided due to patient confidentiality.
The Royal Free Hospital will issue a statement to confirm the arrival of the patient but it will not issue daily condition checks. An update will only be provided if there is a significant change to the patient's condition. Pooled film footage of the high level isolation unit is available from BBC Health and ITV Health. More information about the Royal Free Hospital's isolation unit.
Ebola is a form of viral haemorrhagic fever and currently more than 2,400 cases have been reported in Guinea, Liberia and Sierra Leone, of which there have been more than 1,300 deaths. This is the first documented Ebola outbreak in West Africa, and it is the largest ever known outbreak of this disease.
PHE continues to work with the World Health Organisation and a wide range of technical partners including UNICEF, Médecins Sans Frontières, to provide technical support to the affected countries. By the end of August, PHE will have deployed 10 staff to the affected areas, providing virological and epidemiological support.
All front line medical practitioners in the UK have been advised to be alert to signs and symptoms of Ebola in those returning from affected areas. Advice has also been given to Border staff on what to do if a person who may have Ebola is identified.
PHE has published a risk assessment of the current Ebola outbreak for the UK resident population and UK citizens in West Africa.
PHE has also published advice for humanitarian workers working in the affected areas and also a general information factsheet.
The Department for International Development has committed more than £5 million in response to the Ebola crisis in Sierra Leone and Liberia.
More information on Ebola is available from NHS Choices.
Media enquiries: Department of Health news desk 07050 073581

Published 24 August 2014