Press release
Unused public sector land will provide over 100,000 new homes
The amount of land sold by the government surpasses the original commitment set by the Prime Minister.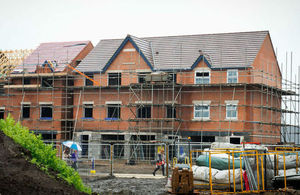 Enough unused public sector land has been released to build over 103,000 new homes, Communities Secretary Eric Pickles announced today (4 March 2015).
The amount of land sold by the government surpasses the original commitment set by the Prime Minister, and is expected to rise again by the end of March this year.
Now, the government is calling on councils and developers to help turn it into housing as soon as possible, and is urging local authorities up and down the country to follow this example and sell their redundant sites and buildings.
Communities Secretary Eric Pickles said:
House building is at the heart of the government's long-term economic plan. That's why, rather than leaving surplus public sector land idle, we are putting it to good use by releasing it to build new homes across the country.

This is part of wider efforts that have got Britain building again, leading to the delivery of 700,000 new homes since the end of 2009.

I now want to see councils following Whitehall's example and explore what they can do to release land and deliver new homes and savings for local taxpayers.
Housing Minister Brandon Lewis said:
Housing starts are at their highest annual total since 2007, but it's clear we need to maintain this momentum and build the homes communities want and need.

That's why for the last 4 years we've pulled out all the stops to release formerly-used surplus public sector land for house building – meaning we have now exceeded our own target.
Getting the country building again
The amount of land sold by the government surpasses the original commitment set by the Prime Minister in June 2011, and is expected to rise again by the end of March this year. On top of this, there are plans to release land with capacity for 150,000 homes between 2015 and 2020.
The government has already taken major steps to boost house building and get more people into a home of their own – simplifying the planning system, making it easier to convert empty buildings into new homes and prioritising development on brownfield land.
And the results are clear – house building starts are now at their highest since 2007, empty homes are at their lowest level since records began and government backed schemes have helped nearly 192,000 people buy or reserve a property since 2010.
The land released to date comprises of 899 sites across England, and includes:
Ministry of Defence land at Aldershot in Hampshire – planning permission has been granted for up to 3,850 homes as well as road improvements, 2 new primary schools, providing 1,050 new school places; extensions to 2 secondary schools, providing over 675 new school places; 2 new pre-schools and day care centres and 110 hectares of new managed green space, play areas, sports and community facilities

Norton Barracks, site of the former Army archives in Worcestershire, sold by the Ministry of Defence to Rooftop Housing Group in partnership with Wychavon district council; it is now the site for 10 new affordable homes for returning services personnel and those who have retired from the Armed Forces

Bexhill former galley sidings – a derelict former oil storage depot with railway sidings site sold by the British Railways Board; Barratt has permission to build 64 properties on the sites, a mixture of 2, 3 and 4 bedroom properties, including affordable homes

Stratford City former railway land, sold by London and Continental Railways in 2011, which is now the site of 'Stratford One', a 28-storey building next to the Queen Elizabeth Olympic Park; it holds accommodation for more than 1,000 students including ensuite rooms and studio apartments
Further information
The release of land is as follows:
Ministry of Defence – enough land for 38,661 homes, released ahead of schedule
Homes and Communities Agency – enough land for 18,307 homes
Department of Health and NHS – enough land for 13,039 homes
Department for Environment, Food and Rural Affairs – enough land for 11,675 homes
London Legacy Development Corporation – enough land for 6,321 homes
Department for Transport – enough land for 4,653 homes
Public Corporations, such as Crown Estates – enough land for 4,113 homes
Greater London Authority – enough land for 2,652 homes
Ministry of Justice – enough land for 1,804 homes
other smaller departments – enough land for 1,967 homes
Public sector land released in each local authority area (PDF, 65.8KB, 6 pages)
The Infrastructure Act provides the Homes and Communities Agency with additional powers in its role as the government's main agency for releasing surplus public sector land, reducing bureaucracy and speeding up land disposals.
Office address and general enquiries
2 Marsham Street
London
SW1P 4DF
Contact form http://forms.communiti...
General enquiries: please use this number if you are a member of the public 030 3444 0000
Published 4 March 2015