Press release
UN Special Envoy de Mistura meets UK ministers on future of Syria
Foreign Secretary and FCO Minister met UN Special Envoy Staffan de Mistura today to discuss how to make political progress in Syria.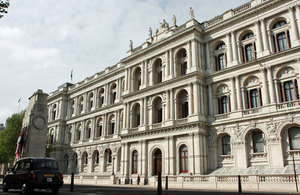 The UK is clear that only a comprehensive political solution can end the conflict in Syria. The war has claimed more than 200,000 lives, has left more than half of the pre-conflict population in need of aid and has forced millions to flee their homes and the country. It has seen the Assad regime starve and kill his people, including with chemical weapons, and precipitated the growth of ISIL.
Speaking today, Tobias Ellwood, Foreign Office Minister for the Middle East, said:
Today the UN Special Envoy for Syria de Mistura and I discussed Mr de Mistura's proposals for a 'freeze' in fighting in Aleppo. The UK strongly supports efforts to reduce the appalling bloodshed in Syria. But it is crucial that these efforts are not abused by the brutal Assad regime to inflict more suffering, and are part of a broader process that leads to the end to the war in all of Syria. An inclusive political solution is the only way to end the conflict in Syria, to counter terrorism and deal with ISIL for good.
Further information
Published 11 December 2014