World news story
UN Human Rights Council 39: UK Statement on Yemen
The UK expressed its continued concern with the human rights situation in Yemen and made clear the UK's support to extend the mandate of the Group of Experts.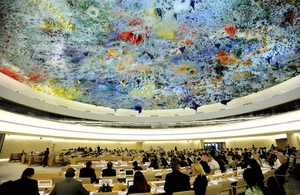 The UK is deeply concerned by the deteriorating human rights and humanitarian situation in Yemen.
The human rights situation in Yemen over the past 12 months has clearly not improved. International law should be respected in this conflict, as in all conflicts.
The UK supports international efforts to ensure that alleged violations and abuses of human rights are properly investigated, and that accountability is possible. That's why we strongly supported the Human Rights Council resolution agreed by consensus last September which called on OHCHR to continue providing technical assistance to the Yemeni National Commission of Enquiry and requested the High Commissioner to establish a Group of Eminent International and Regional Experts.
Enabling the investigation of alleged abuses at the national level in Yemen is essential for long term accountability. Moreover, we strongly believe that where states are carrying out credible investigations of alleged violations of International Humanitarian Law themselves, they should be allowed to, and encouraged to do so.
The UK is disappointed that it was not possible to agree a single consensus resolution this year. It is important that the international community works together to improve the situation of the Yemeni people.
Given the findings and recommendations in the Group's report and the gravity of the situation in Yemen, the UK believes it is important to give the Group of Eminent Experts more time to fully examine the conflict and to ensure that their conclusions accurately reflect the conduct of all parties in future reporting. It is clear that many incidents and alleged violations committed by all parties have not yet been fully documented, particularly those committed by Houthis. For these reasons, we support the renewal of the existing mandate of the Group of Eminent Experts for a further year.
The humanitarian situation in Yemen remains of great concern too. Over 22 million people – 75% of the population – are in need of humanitarian assistance. The UK is at the forefront of the international response in Yemen and the fourth largest donor to Yemen in the world. We also welcome the very significant humanitarian contributions made by Saudi Arabia and the UAE.
The way forward remains a political solution, as the UN Security Council set out on 5 September. The UK is committed to helping the UN Special Envoy end this conflict which has brought such severe suffering.
Published 28 September 2018