World news story
UN Human Rights Council 39: UK Statement on Yemen
The UK expressed its concern with the humanitarian and human rights situation in Yemen and called for the renewal of the Group of Expert's mandate.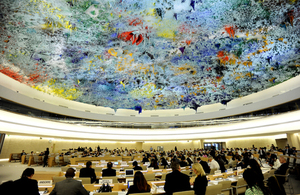 Thank you, Mr President.
We thank the Deputy High Commissioner for her statement and remain deeply concerned by the Yemen crisis.
We note the recent report by the Group of Eminent Experts that underlines the concerning human rights situation. The Group of Experts need more time to fully examine the conflict ensuring their future conclusions fully reflect the conduct of all groups. The existing mandate renewal is therefore important.
The report raises concerns of adherence to international humanitarian law by all parties to the conflict. We regularly raise the duty to comply with IHL with the Coalition. Saudi Arabia has stated that it is investigating reports of alleged violations and over 80 investigations have been released most recently on 12 September. We urge the Houthis to demonstrate IHL adherence, to avoid endangering the lives of Yemeni civilians suffering most from this conflict and cease the indiscriminate targeting of Saudi cities with ballistic missile attacks.
The current human rights situation in Yemen is clearly dire and we call on all parties to address this. We regularly raise the importance of human rights with the Coalition. It is clear that in areas under Houthi control people are being persecuted for their religious beliefs, including the mass trial of Baha'is which began on 15 September. There are credible reports of cases of arbitrary detentions and abuse. The UK strongly condemns any mistreatment. We work closely with partners to secure the release of detained individuals and call upon the Houthis to adhere to appropriate standards.
Mr President,
We would like to ask how the [the Group of Eminent Experts/High Commissioner] would assess engagement with the various parties to the conflict so far, and what their priorities would be, should they receive another mandate?
Thank you.
Published 26 September 2018