Press release
UK welcomes initial report into airstrike on funeral hall in Yemen
The UK welcomes the release of the initial investigation into reports of an airstrike hitting a funeral hall in Sana'a, Yemen on 8 October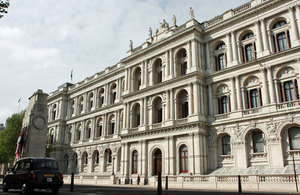 The UK welcomes the release by the Coalition's Joint Investigations Assessment Team (JIAT) of the outcome of an initial investigation into reports of an airstrike hitting a funeral hall in the Yemeni capital Sana'a on 8 October. We expect further detail to be provided in a subsequent report. Our consideration of the reports will be used to contribute to our overall view on the approach and attitude of Saudi Arabia to International Humanitarian Law, as part of all the information available to us. This, in turn, informs the risk assessment made against the arms export criteria. We welcome the commitments to take action against those responsible and to review rules of engagement and compliance procedures.
Speaking following the release of the report Minister for the Middle East Tobias Ellwood said:
There can be no military solution to the conflict in Yemen. We urge all sides to recommit to political talks and to implement a Cessation of Hostilities. I stressed this in meetings with Yemeni and Saudi leaders, including President Hadi and Foreign Minister Al-Jubeir, in Saudi Arabia this week. We are considering the Saudi investigation report in detail.
Notes to Editors
On 9 October the Foreign Secretary raised concerns with the Saudi Foreign Minister and Mr Ellwood spoke to the Saudi Ambassador to London to urge that the Saudi-led Coalition's announced investigation into the incident take place as a matter of urgency. The Defence Secretary spoke to the Saudi Defence Minister on 12 October and Mr Ellwood visited Riyadh on 13 October for meetings with Yemeni President Hadi and the Saudi Foreign Minister. Discussions focused on the airstrike on a funeral hall in Sana'a and attempts to revive the stalled political process in the country.
Further information
Published 15 October 2016