Press release
UK to provide medical assistance to Ukrainian Soldiers
Foreign Secretary announces UK to provide medical assistance for five wounded Ukrainian servicemen.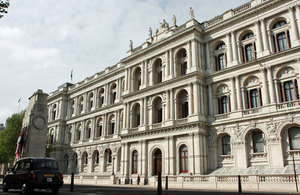 The Foreign Secretary Philip Hammond has announced that the UK will provide reconstructive surgical treatment for up to five Ukrainian soldiers with severe injuries sustained fighting in eastern Ukraine. The treatment will be provided at the Queen Elizabeth Hospital in Birmingham.
The first injured soldier arrived in Birmingham this week and has begun surgical treatment. A second will travel to the UK in January and a surgical team from the Queen Elizabeth Hospital will travel to Kyiv in January to identify up to three more injured service personnel for treatment.
Foreign Secretary Philip Hammond said:
The UK stands squarely behind the Ukrainian people and government as they defend their nation's independence and work towards the political, economic and governance reforms that are vital to rebuilding the country. The surgical unit at Queen Elizabeth Hospital has extensive experience and skill in treating battlefield injuries and I am pleased that we can use that expertise to rebuild the lives of those who have been severely wounded in the conflict in eastern Ukraine.
Further information
Published 14 December 2014