Press release
UK to be 'world leader' on health technology, says Hunt
100,000 people with long-term conditions to benefit from technology in 2013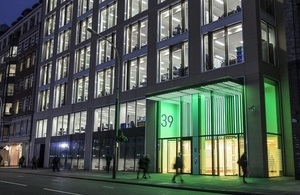 One hundred thousand people across the country are set to benefit from new health technologies, Jeremy Hunt said today as he set out his vision for improving the lives of people with long-term conditions.
Speaking at an Age UK conference, Jeremy Hunt kick started the roll out of telehealth as a way of giving people with long-term conditions control over their own care. This followed the launch of the NHS Mandate yesterday where he announced that significant progress will be made towards three million people being able to benefit from telehealth by 2017.
Telehealth is the use of electronic information and technology to help people manage their health independently, reducing the need to go to the doctor or hospital.
He confirmed that seven 'pathfinders' - NHS and local authority organisations including clinical commissioning groups - are to agree contracts with industry suppliers that will mean that 100,000 people will be able to benefit from telehealth in the course of next year.  Leading technology companies will be supplying the NHS with the technologies and services at no upfront cost.
This commitment alone is on a scale never before seen in theUK and already makes England the leading centre for telehealth outside theUS, but the move is part of the overall ambition to make progress towards three million people benefitting from telehealth by 2017. Tenders for the work are being developed and the NHS Commissioning Board will lead on promoting telehealth from April next year.
Health Secretary Jeremy Hunt said:
"People with long-term conditions see doctors and nurses more than most of us - seven out of every ten pounds spent on the health budget go towards supporting them. I want to free people with long-term conditions from the constant merry-go-round of doctors' surgeries and hospitals.
"Technology can help people manage their condition at home, free up a lot of time and save the NHS money. In a world where technology increasingly helps us manage our social and professional lives, it seems logical that it should also help people manage their health.
"With our industry partners, we will makeEnglanda world leader on telehealth. Getting another 100,000 people to benefit from this technology is a very important step and I congratulate all involved on their hard work. I hope it will be the first of many steps towards our overall goal of getting three million people to benefit in the years to come."
David Nicholson, Chief Executive of the NHS Commissioning Board, said:
"Telehealth not only saves lives, it transforms them, so that people with a long term condition can feel in control of their life.  The seven pathfinders that are offering this new technology to patients will give the NHS Commissioning Board important insight into how best to extend this option to any patient managing prolonged ill health or a chronic condition. 
"Working closely with the local commissioners involved and informed by their experience, we plan to promote vigorously the use of telehealth acrossEnglandfrom next April."
Michelle Mitchell, Charity Director General at Age UK said:
"Talk of the ever-growing costs of an ageing society and the increasing number of people living with long-term conditions misses a fundamental point - poor health and use of services are not always inevitable.
"Supporting people to care for themselves and equipping them with the skills and tools to manage their health must be a priority for the NHS. For some, telehealth will play an important part in achieving this. Empowering people to respond to changes in their long-term conditions or helping them take control of their symptoms could help them to remain independent for longer and avoid the need for health services. For older people, this can mean staying in their own home and retaining confidence to carry on with their day-to-day lives.
"We welcome this strong commitment to self-management of long-term conditions. Whilst telehealth is not a replacement for face-to-face appointments and direct care, it could give many people a real chance of taking control of their health and improving wellbeing."
Findings from the Whole System Demonstrator programme showed that using telehealth could result in a 20 per cent reduction in emergency admissions, a 15 per cent reduction in A & E visits and a 45 per cent reduction in mortality.
**Notes to Editors **
For further information, as well as case studies and examples of telehealth in action, call the Department of Health press office on 0207 210 5707.
The Whole System Demonstrator project was research funded by the Department of Health to find out how technology can help people manage their own health while maintaining their independence. The WSD programme is believed to be the largest randomised control trial of telecare and telehealth in the world to date. The headline findings were released by the Department of Health in December 2011. The first academic paper, on hospital utilisation and effects on mortality, was published in the BMJ in June 2012.
The seven pathfinders are:
Worcestershire (3 CCGs and Worcestershire County Council)
NHS Merseyside
North Yorkshire & York and Humber PCT Cluster (will involved the CCGs as they develop)
NHS South Yorkshire & Bassetlaw (Sheffield, Barnsley Rotherham Doncaster and Bassetlaw PCTs but will include CCGs as they develop)
KernowCCGandCornwall& Isles of Scilly PCT
NHS Kent & Medway (8KentCCGs, Kent Community Health Trust and Medway Unitary Authority)
CamdenCCG(withUCLPartners)
The discussions between industry suppliers and these pathfinders are ongoing. There will be a competitive tender process in the new year with contracts to be signed as soon as possible thereafter.
Published 14 November 2012