News story
UK takes Shakespeare to new audience of one billion people in China
Government funding of £1.5 million to Royal Shakespeare Company allows the Bard's complete works to be translated into Mandarin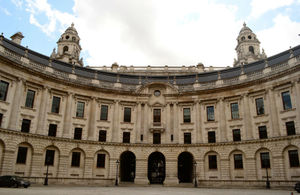 Culture Secretary Sajid Javid pledged his full support to measures announced today by the Chancellor to boost business and cultural links between China. Helping to make the works of Shakespeare, our greatest playwright and poet, more accessible to the billion people living in China is at the heart of the strategy.
The plans announced today as part of the Economic and Financial Dialogue with Chinese Vice President Ma Kai, include:
Funding of £1.5 million to pay for a complete translation by the Royal Shakespeare Company (RSC) of all Shakespeare's works into Mandarin, and for the very first time translating a number of classic Chinese dramatic works into English;

£300,000 to help fund an RSC tour throughout China in 2016 to help commemorate the 400th anniversary of Shakespeare's death; and

A further £300,000 to support a series of Museum Exchanges through the British Museum on behalf of the World Collections Programme, which will enable museums and galleries to share their knowledge and skills.
Power of Cultural Diplomacy
Chancellor George Osborne said:
The year after is the 400th anniversary of Shakespeare's death.

Shakespeare is one of our greatest cultural exports – beloved in China as well as here.

We are delighted that Madame Chen Hong (Premier Li's wife) visited the Globe during her visit to the UK in June; and that both the Globe and the RSC are active in China, with the RSC taking a series of new productions to China as well as bringing more classical Chinese plays to the UK. In fact, the Globe is touring a Midsummer Night's Dream in China as I speak.
Culture Secretary Sajid Javid said:
Creating stronger links with China is a top priority for the Government, and sharing the very best of our respective cultures is a brilliant way to make this happen. This funding means Western and Eastern cultures can learn from and be enriched by one another and what better way than using the works of Shakespeare. The package marks a really important step for both China and the UK to grow a strong and progressive relationship.

Our culture and heritage is what makes the UK GREAT and by making them accessible to new audiences abroad it will also help drive more visitors to our shores.
The measures will help foster mutual understanding whilst also promoting the best of Britain's unique and varied cultural scene to an international audience.
Gregory Doran, RSC Artistic Director, said:
I profoundly believe that we foster deeper understanding between cultures by sharing and telling each other our stories. Therefore, I am hugely excited by the ambitions of our Chinese cultural partners and their interest in working with the Royal Shakespeare Company on these new collaborations. China has a rich dramatic heritage that mirrors the epic scale, complexity and universality of Shakespeare's work and a national curriculum which requires young people to study his plays.

Our plans to translate Shakespeare into Mandarin, to see translation and performance of more Chinese classics in the UK and to tour RSC productions to China will celebrate the arts and culture of both nations. We are delighted that the DCMS and the Treasury are able so generously to support our artistic vision and bring more Shakespeare and classical drama to new audiences both here and in China.
Nadhim Zahawi MP added:
As the MP for Shakespeare's home, I'm thrilled with today's announcement. His legacy is far reaching and finding new audiences in every generation. It's wonderful that the Government is working with the RSC to promote this literary giant.
Published 12 September 2014