Press release
UK steps up aid for Northern Iraq
International Development Secretary Justine Greening has confirmed a third round of successful UK aid drops, including much-needed shelter, to help thousands of people on Mount Sinjar in northern Iraq.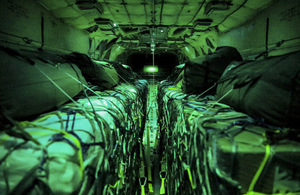 The supplies dropped over Mount Sinjar last night included 2 C130 consignments with a total of:
2,640 reusable water purification containers filled with clean water (13,200 litres of water in total);
528 shelter kits to provide shade in temperatures of over 40°C.
There have now been a total of 5 successful air drops over 3 nights. A link to footage of the latest UK aid drops can be found below.
International Development Secretary Justine Greening said:
As thousands of Iraqi people remain cut off away from their homes, we are focussed on getting help to those in need, particularly those trapped on Mount Sinjar.

After last night the RAF have successfully made 5 drops, including thousands of containers filled with clean water that can also be used to purify dirty water and hundreds of shelter kits.
VIDEO: Footage of last night's successful third round of UK aid air drops from an RAF C-130 following a mid-air refueling of the aircraft. Credit: RAF/MOD/Crown Copyright 2014.
Third round of UK aid air drops to Iraq
More aid leaves UK for Iraq
A further delivery of UK aid for people caught up in the violence in Iraq has left East Midlands Airport this afternoon, International Development Secretary Justine Greening has confirmed.
The commercial flight will carry 1,750 water containers to the region, including many with water purification capability. These will subsequently be filled with approximately 39,000 litres of water before onward delivery to Iraq.
The supplies were flown from East Midlands Airport aboard an Antonov AN-12.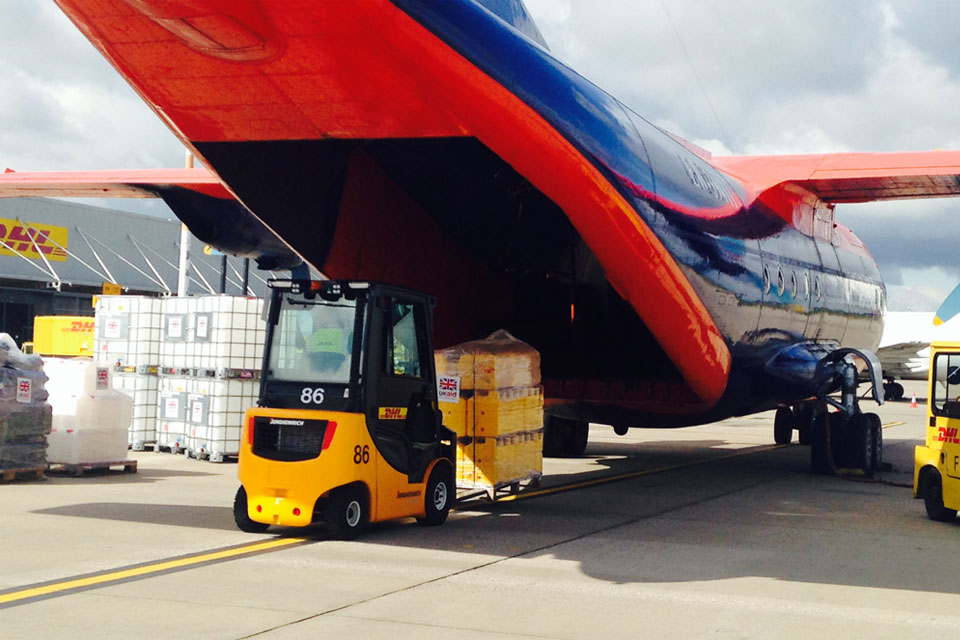 Justine Greening announced £8 million in new assistance for those displaced in Iraq on 8 August. This brings to £13 million the total committed by the UK in response to the crisis.
This includes:
£2 million of emergency humanitarian supplies for 75,000 people, including aid that can be air dropped to help those trapped in the Sinjar Mountains as quickly as possible. Supplies will include reusable filtration containers filled with clean water, tarpaulins and basic shelter equipment, and solar lights that can also recharge mobile phones to enable communication;
£3 million of fast-tracked funding that will go to charities and NGOs who are already on the ground and helping displaced people in northern Iraq. This will go via DFID's Rapid Response Facility, which has now been activated to deal with the crisis;
£2.5 million of support for the International Committee of the Red Cross (ICRC) to provide immediate medical and humanitarian assistance; and
a further £500,000 that will ensure Kurdish and UN systems are able to coordinate and respond to humanitarian needs in the region.
Infographic: How the UK is supporting those affected by the humanitarian crisis in Iraq
Footage of latest UK aid flight
Media outlets can download footage of last night's 2 successful flights from the MoD's defence imagery website
The preview quality is a low resolution file. The other is the broadcast quality version.
General media queries
Follow the DFID Media office on Twitter - @DFID_Press
Published 13 August 2014
Last updated 13 August 2014
+ show all updates
Updated with latest PR issued afternoon of 13 August.
First published.